Writing Right with Dmitri Archive
Created | Updated Last Week
Back Issues | Arts and Film | Artwork | Cartoons | News, Sport, Science and Information | Regular Columns and Columnists
Serials and Stories - Fact and Fiction
| Travelogues and Previous Columns | Post Pages
Campaigns, Puzzles and Competitions
This page contains the archive for the Writing Right with Dmitri articles

written by Dmitri Gheorgheni which have appeared in The Post.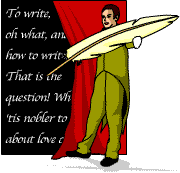 Date
Column Subjects


08.08.11
De facto Fictionalising
15.08.11
How to Build a Character Who Doesn't Fall Apart in Two Paragraphs
22.08.11
Show and Tell
29.08.11
Know your Audience
05.09.11
Being There
12.09.11
When in the Woods, Do as the Woodsies do
19.09.11
Trading Licks
26.09.11
How to Be a Literary Imposter
03.10.11
Visualising the Black Box
17.10.11
Xenoglossophobia, or Dealing with Oodle-Doodle-Flip
24.10.11
How to Watch Television (for Writing Practice)
31.10.11
How to Write a Horror Story
07.11.11
How to Stalk the Wild Idea
14.11.11
The Universes we Make
21.11.11
Taming the Rewrite Monster
28.11.11
How Reliable Is Your Narrator?
05.12.11
Your Character's Passport Photo
12.12.11
Getting the Holiday Right
19.12.11
Writing the Three-Hanky Story
09.01.12
Dialoguing
16.01.12
Stealing from RL
23.01.12
Stealing from RL: Stealing History
30.01.12
Stealing from Yourself
06.02.12
Inspiration
13.02.12
How to Be a Ferguson
20.02.12
Talking the (Local) Talk
27.02.12
Taking Your Characters Down a Peg
05.03.12
Offing Your Villains
12.03.12
Youthful Characters
19.03.12
Moral Issues
26.03.12
The Rules of the Game
02.04.12
Getting from Here to There
09.04.12
Voices from the Past
16.04.12
Cussing A Blue Streak
23.04.12
Remaining Neutral in the Gender Wars
30.04.12
Dressing Your Characters
07.05.12
My Normal, Your Normal
14.05.12
Laughing With or Laughing At?
21.05.12
Let's Pretend
28.05.12
More Thoughts on Laughter
04.06.12
The Quantum Moment
11.06.12
Fun with Trope
18.06.12
Background Music
25.06.12
What are Editors Good for?
02.07.12
Darwinian Writing
09.07.12
A Google Challenge
16.07.12
Reading and Writing about Science
23.07.12
Digging Deeper
30.07.12
Writing for the Edited Guide
06.08.12
Writing the Other
13.08.12
Going for the Gold
20.08.12
What I'm going to read this summer
27.08.12
Mis-Fitting your Characters
03.09.12
Firing Chekhov's Gun
10.09.12
Terse or Worse?
17.09.12
Adventures in the Skin Trade
24.09.12
Writing out of Time
01.10.12
Messing About with History
08.10.12
Using Picture Prompts
15.10.12
Attention-Getting Headlines
22.10.12
Chipping Away at the Writer's Block
29.10.12
Halloween Space Party
05.11.12
Changing Hearts and Minds
12.11.12
Cluing the Reader In
19.11.12
What's hot, what's not
19.11.12
(Extra) How to Have Fun with NaJoPoMo: A Subversive's Guide
26.11.12
Mental Maps
03.12.12
Where do you keep your notes?
10.12.12
How to Accentuate the Positive
17.12.12
Christmas cards
24.12.12
Inventing Santa Claus, and Other Christmas Writing Humbug
31.12.12
How to Be Witty
07.01.13
Pushing the envelope
14.01.13
Exaggerating for Effect
21.01.13
Living on writer time
28.01.13
Stepping into a Different Stream
04.02.13
Too Many Cooks
11.02.13
A Pinched Idea
18.02.13
Reasoning Backwards
25.02.13
Depth of Field
04.03.13
Where Do You Get Your Ideas?
11.03.13
Storyboarding
18.03.13
What the Edited Guide Needs
25.03.13
Spring Cleaning Checklist
01.04.13
Winning Book Ideas
08.04.13
Staying on Message
15.04.13
Tolerance, Curiosity, and the Both/And
22.04.13
Follow The Money
22.04.13
Save the Planet
29.04.13
How to Let People Know You Are Witty
06.05.13
The Sacredness of Laughter
13.05.13
Why Do You Write?
20.05.13
Building Your Mythology
27.05.13
Location, Location, Location.
03.06.13
Mining Memory
10.06.13
Writing Tolerance
17.06.13
Learning from the Best
24.06.13
How to Get That Tune Out of Your Head
01.07.13
The Strategies of Men and Women
08.07.13
Writing Mental Pain
15.07.13
Having Your Cake and Eating It
22.07.13
Drinking from an Empty Cup
29.07.13
Writing Terror
05.08.13
Writing the Times
12.08.13
Mash It Up
19.08.13
Listen to the Music
26.08.13
Being a Nature Lover
02.09.13
Results of the Mash-Up Challenge Dmitri Gheorgheni with Freewayriding and minorvogonpoet
09.09.13
How Not to Be a Travel Bore
16.09.13
Getting the Religion Right
23.09.13
Re-Purposing Memory
30.09.13
Don't Forget the Food
07.10.13
Defective Detectives
14.10.13
The Telling Detail
21.10.13
Strong, Talkative Types
28.10.13
The Horror, the Horror
04.11.13
Writing Revealing Prose
11.11.13
Bang the Drum Slowly
18.11.13
Made to Be Broken
25.11.13
Old Tales Retold
02.12.13
Writing Peacefully
09.12.13
Ripped from the Headlines
16.12.13
Not Talking to Yourself
23.12.13
The true meaning of...
30.12.13
Ring Out the Old, Ring in the New
06.01.14
Exercising Your Historical Imagination
13.01.14
Writing Purposefully
20.01.14
Making a Short Story Long
27.01.14
Applied Research Exercise
03.02.14
Organising Your Thoughts
10.02.14
Attention-Seeking Behaviour
17.02.14
Keep 'Em Laughing
24.02.14
Gee, We Love That Kind of Talk
03.03.14
What's Their Motivation?
10.03.14
Exercising Empathy
17.03.14
Back-Vectoring the Story
24.03.14
The End and the Beginning by Freewayriding
24.03.14
Dreaming Up Plots
31.03.14
Blah Blah Ginger
07.04.14
Einstein's Hobby
14.04.14
In Your Own Words
21.04.14
Weather Writing
28.04.14
Grown-up Entertainment
05.05.14
Writing Without Sexism
12.05.14
Treating Your Subject Well
19.05.14
True to Life
26.05.14
The Landscapes of Your Mind
02.06.14
The Reveal
02.06.14
Willem's Challenge
09.06.14
Knowing When to Stop
09.06.14
Twin by Florida Sailor
09.06.14
The Power of Art
16.06.14
I am Neither of One Kind by FWR
23.06.14
Face of a Ghost by Willem
23.06.14
Gimmick or Productive Plot Device?
30.06.14
Fiction as Teacher
07.07.14
Deconstruct!
14.07.14
The Not-So-Great American Novel
21.07.14
Precision Prose
28.07.14
Beyond Words
04.08.14
Columbo's Dog and Chekhov's Gun
11.08.14
Bringing People Together
18.08.14
If You Had a Hammer
25.08.14
Responsible Criticism
02.09.14
Corroborative Detail
08.09.14
Last Meals and Other Teachable Moments
15.09.14
Information or Misinformation?
22.09.14
Making It Exciting
29.09.14
Changing Things
06.10.14
Atmosphere
13.10.14
The Patina of Science
20.10.14
Fear in a Handful of Dust
27.10.14
Vulnerability
03.11.14
Keeping Track
10.11.14
Watching Your Symbolism
24.11.14
Showing Research
01.12.14
Mining Social Media
01.12.14
December Reading Tip: Ghosts in the Library
08.12.14
December Reading Tip: Ghosts, Just for Laughs
08.12.14
The h2g2 Post Guest Lecture: Dorothy Scarborough on Science Fiction
15.12.14
Looking Up and Around
22.12.14
Holiday Originality
29.12.14
Messages in Bottles
05.01.15
Describing the Unseen
12.01.15
Op-Ed Extra: Why Write for the Guide?
12.01.15
Talking to, or Talking at?
19.01.15
Epic, Shmepic
26.01.15
Kentucky Johnson and the Kitchen Gadget of Doom by Freewayriding and Willem
26.01.15
Provoc, Anyone?
02.02.15
Getting the Real Stories
09.02.15
Handling the Past
16.02.15
Pheromone Control
23.02.15
Show Your Work
03.03.15
Inconsequential Moments
09.03.15
Geometries
16.03.15
Writing That's Good for Something
23.03.15
Purple History
30.03.15
Are People the Same Everywhere?
06.04.15
Digging Up the Obscure, and Making It Interesting
13.04.15
Writing by Autohypnosis
20.04.15
Listening for Research
27.04.15
A Fresh Pair of Eyes
04.05.15
How Not to Lose the Reader
12.05.15
Waste Not, Want Not
18.05.15
How Not to Lose the Reader, Part II
25.05.15
Two for the Price of One
01.06.15
First Sentences
08.06.15
Last Words
15.06.15
Adaptability
22.06.15
Fun with Editing
29.06.15
Knowing Where to Kick
06.07.15
Rename That Tune
13.07.15
Despise Not the Day of Small Things
20.07.15
What Kind of Porn Are You Writing?
27.07.15
To Jump or Not to Jump (Over One's Own Shadow)
03.08.15
The World as It Is, or As It Should Be?
10.08.15
Slippery Memories
17.08.15
Rules of the Game
24.08.15
Source Material
31.08.15
Hook, Line, and Sinker
07.09.15
Travel or Tourism?
14.09.15
Bucking the Trend
21.09.15
The Insidious Invasion of the Bloodcurdling Apocalyptic Terrorist Cadaver
28.09.15
Runaway Imaginations
05.10.15
An Exercise in Description
12.10.15
Feeding the Soul
19.10.15
A Call to Arms
26.10.15
Impressions
02.11.15
On Not Being Stingy
09.11.15
NaJoPoMo Update: What's Up in Journals
09.11.15
The Thousand Words Challenge
16.11.15
Magpies Anonymous
23.11.15
Culture Gap
30.11.15
In Praise of O Henry
07.12.15
'Tis the Season
14.12.15
Christmas Resistance
21.12.15
A Christmas Story for You
28.12.15
What's New About History?
04.01.16
Alternate (Sur)Realism
11.01.16
Writing Sociably
18.01.16
How Do You Think You Think?
25.01.16
For Whom the Bell Tolls
01.02.16
Getting an Education
08.02.16
Greatest Hits Challenge
15.02.16
Clever Ideas
22.02.16
Write Like Charlotte
22.02.16
Greatest Hits Challenge: A Sweeping Tale
29.02.16
Taking Your Work Seriously
07.03.16
Greatest Hits Challenge: Motorway Cafe
07.03.16
Inverting the Pyramid and Other Tricks of the Trade
14.03.16
Good Neighbours
21.03.16
Gaining New Perspectives
28.03.16
Sing, Sing a Song
04.04.16
What's That You Say?
11.04.16
New Day, New Theme
18.04.16
Slow News Day
25.04.16
Dodgy Sources and Temporal Provincialism
02.05.16
Odd Inspiration Challenge
09.05.16
What Not to Do
16.05.16
Seeing Things in Perspective
23.05.16
Complicated or Complex?
30.05.16
Story Ideas, Episode 42
06.06.16
Extremely Extreme Action
13.06.16
Runaway Analogies
20.06.16
Meanwhile, Back at the Ranch...
27.06.16
To Do Good and Communicate
04.07.16
Preaching to the Choir
11.07.16
Changing the Conversation
18.07.16
Shifting Gears
25.07.16
Failure of Imagination
01.08.16
Minimising Teacher Talking Time
01.08.16
Time Travel Book Offer
08.08.16
The Train of Thought
15.08.16
State-Dependent Skills
22.08.16
How to Be Satirical
29.08.16
On Not Cutting to the Chase
05.09.16
Answering 'Why' Questions
12.09.16
Get Back on the Horse
19.09.16
How to Become a Raconteur
26.09.16
The Sublime Inspiration of Slavoj Zizek
03.10.16
The Ghosts of Traumas Past
10.10.16
Writing Piano or Organ?
17.10.16
Watching the Parade
24.10.16
Character Counts
31.10.16
Change One Thing
07.11.16
Adding Flavour
14.11.16
Lazy Writer Day
21.11.16
Personal Touches
21.11.16
Writing Right Challenge: Lazy Writer Day, triumphantly conquered by Freewayriding
05.12.16
How 'Intellectual' Is Your Humour?
12.12.16
Going Mythological
19.12.16
Imaginative Commitment
26.12.16
Our Hearts Will Go On?
02.01.17
Default Faulty
09.01.17
Noticing the Odd
16.01.17
Out of Place Characters
23.01.17
Do People Really Act Like That?