Willem's painted us some monkeys. He said, 'Everything goes better with monkeys.' We suspect monkeys think, 'Everything goes better with bananas.' But how much do you know about the magical fruit? Take the banana quiz.
The Post Quiz: Banana Lore
Peel away the layers to separate fact from fiction.
True or false?
A cluster of bananas is known as a hand.
Bananas were more popular than potatoes in colonial America.
There is such a thing as banana beer.
Banana-related accidents have never occurred in the UK.
Sam 'The Banana Man' Zemurray was famous for writing the song 'Yes, We Have No Bananas'.
There are no bananas grown in the EU.
Josephine Baker was famous for throwing bananas off the Eiffel Tower.
A 'Top Banana' is a kind of South American fruit exporter.
Smoking banana peelings can lead to hallucinations. (So don't do it.).
In the 'Banana Boat Song', the singer is hiding from the immigration authorities.
Think you knew them all? Grab a tasty banana, click on the picture below, and ask the Tally-Man to tally your results.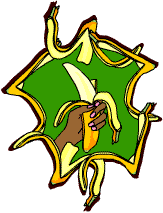 Post Quiz and Oddities Archive