Late Lounge
A bit of an update. I thought it may be useful to explain that I am one of the Guide Editors for h2g2. As well as helping the organisation of the Edited Guide, I am also keenly supporting Create. Do take a look at Create's home page to find out what is happening.
If you are looking at this page in Alabaster or Goo, you will also notice that I have badges for other things that I volunteered for, which has been very rewarding and has helped me to make friends here. (You can't see these badges in Brunel, due to some form of bug.) If you feel like volunteering, or better still by writing something for the Guide, do please get in contact. There's a great atmosphere of camaraderie amongst the volunteers, and we are always really happy when someone puts themselves forward.
I'm also one of the volunteers on the moderation team, but this is separate from the duties of a Guide Editor. You can find out more about moderation here
. ______________________








_______________________________
A little intro - found my way here by way of the improbability drive, courtesy of the art of Zen Navigation. Literally, a link from the BBC website.
I was surprised to say the least to find myself here, but surprised in a pleasant sort of way.
Lucky I always carry a towel.
Anyway it's quite a surprise to find this community being here without me knowing about it, in another dimension as it were. So I'm VERY pleased to meet you and hope we can get to know each other well.
I have led a long and mostly harmless life; I fully intend to live a lot longer yet. I've done far too many things without a great deal of evidence to show for it. I'm interested in people, I do try not to be critical, but can't stop myself asking impertinent questions.
I'm restless, I get easily bored, I've read lots of books and watched lots of films and then forgotten them. I don't do favourite lists as I have difficulty in making choices, I want them all...But I do like this very much. Why don't you click to see if you like it too?
I use three dots at the end of sentences far too much, this is because I forget what I was going to ...
Things I am useless at: being PC, Geography, knowing where to stop, correct punctuation.
The answer to everything in my life has always and will always be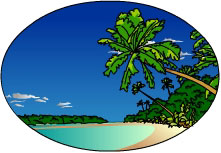 Sometimes I am here on this lovely island....and other times I might be travelling the high seas
in company with some rather wicked
Pirates on the Blood of the Zaphodista
A579684

Messages left for this Researcher

Posted
Conversation Title

Latest Post

Latest Reply

No Posting

No Posting
Title

Status

Created

This user has no Entry subscriptions
Researcher Details
Name: Lanzababy - Guide Editor -

Most Recent Approved Entries
Disclaimer
h2g2 is created by h2g2's users, who are members of the public. The views expressed are theirs and unless specifically stated are not those of Not Panicking Ltd. If you consider any Entry to be in breach of the site's House Rules, please register a complaint. For any other comments, please visit the Feedback page.