Is this thing on?
This page looks
best in Goo!
Hi there , welcome to my space!
A few great places to see
The GuideML Clinic Check it out if you're a little stuck with writing your pages
The H2G2 Post Curious? Find out for yourself...
Some interesting statistics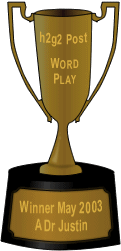 I won The Post Word Play on 15/05/2003, with a total score of 102
----BEGIN H2G2 CODE BLOCK----

Version: 1.1
RGB Y++ N+ SG+P A+>++ P:L++ M-- s+@ V<++ E+ PR-<+>++ p+ a>++ B++(-) TV-@ r+ D T- nh C-<+ m++ t+(++)

-----END H2G2 CODE BLOCK-----
Messages left for this Researcher

Posted
Conversation Title

Latest Post

Latest Reply

No Posting

No Posting

No Posting

No Posting
Title

Status

Created

This user has no Entry subscriptions
Researcher Details
Name: The Researcher formally known as Dr St Justin

Most Recent Approved Entries
Disclaimer
h2g2 is created by h2g2's users, who are members of the public. The views expressed are theirs and unless specifically stated are not those of Not Panicking Ltd. If you consider any Entry to be in breach of the site's House Rules, please register a complaint. For any other comments, please visit the Feedback page.
This user has no Bookmarks