Welcome to Dom's Packet-of-Three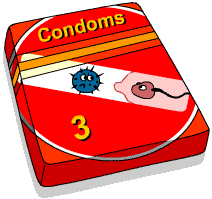 Amazing! I just came back from ages away from h2g2 - real life, you know what I mean - found out that they've got bleedin' moderation now, and thought: "Well, I bet my condom entries have been zapped"...
But they're still there! Bugger me! Looks like I'll have to think of something a bit more risqué if I'm going to join the elite ranks of those who've had stuff zapped.
Ideas, anyone?

Messages left for this Researcher

Posted
Conversation Title

Latest Post

Latest Reply

No Posting

No Posting

No Posting

No Posting
Title

Status

Created

This user has no Entry subscriptions
Most Recent Approved Entries
Disclaimer
h2g2 is created by h2g2's users, who are members of the public. The views expressed are theirs and unless specifically stated are not those of Not Panicking Ltd. If you consider any Entry to be in breach of the site's House Rules, please register a complaint. For any other comments, please visit the Feedback page.
This user has no Bookmarks