Redbeard
Welcome to my home. The galley is in the back... it's stocked with a variety of food and beverages, including a full bar. Coffee is always freshly brewed.
The hatch is open and the steps are down, so come on in and make yourself at home!
Between now and 8 October, I won't be able to spend a lot of time here, because I'm performing in a production of The Grapes of Wrath, but I'll check messages on a regular basis.
Jean-Luc and Falstaff are my cats -- identical twins who are always on board. Both are fairly shy and usually spend a lot of time under the bed, or curled up in the warp coil (they love the warmth). You may see them peeking out of one of the windows sometimes.
Virtual Prez Race
Chief Political Operative for
Celery for Prez Campaign

Support The Celery and Dolores A. Webjello, h2g2 creations running for Virtual Prez and V.P. of h2g2. They're the only candidates who live here, and truly believe in the imaginative potential of this site. They also have a fun campaign staff!


Interesting h2g2 Activities
---
| | | |
| --- | --- | --- |
| | I am now working as the Roving Reporter for the h2g2 Post. Recent features include: Archives here. Contact the Roving Reporter here. | |
Some of my h2g2 pages
My Submitted Guide Entries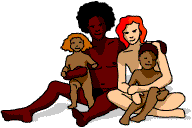 Naturism (edited)-- a detailed entry with the history of naturism, its relationship to religion and sex, how to spot a naturist, and frequently asked questions about going naked in public. (submitted version)

Normal, Illinois, USA (edited) -- Yes, there is a normal place to live, in the middle of the cornfields in central Illinois. Find out why it's normal, and how it's not. (submitted version)
IRL
In real life, I serve as Assistant Chair of the Theatre Department at Illinois State University as well as General Manager of the summer Illinois Shakespeare Festival in Bloomington-Normal, Illinois.
I am also a fine art photographer, focusing on photography of the human body through light and shadow as well as the use of the body as canvas for projections and bodypaint. My online gallery is TheLivingCanvas.com.
In addition to teaching courses in Theatre Management, I also teach some computer classes, including Photoshop, Quark, and beginning web page design. I have an online beginning HTML tutorial called Web Tricks.
Other interests:
The War on Drugs (Makes the Vietnam war look like a good idea. Regardless of what you think of drugs, the war is a failure, and has been extremely destructive of life and liberty)
Naturism (If we were meant to be nude, we'd have been born that way.)
The Bill of Rights (The most important document for a free society, quickly crumbling.)
Music (I've played the piano since I was seven, and now I plan to learn the musical saw!)
Playing Four-Square(it's not just for 5th graders any more)
Sci-Fi/Fantasy
My email address:
[email protected]
Campaign Links
Messages left for this Researcher

Posted
Title

Status

Created

This user has no Entry subscriptions
Researcher Details
Name: Redbeard (Thanks to all who supported The Celery!))

Most Recent Approved Entries
Disclaimer
h2g2 is created by h2g2's users, who are members of the public. The views expressed are theirs and unless specifically stated are not those of Not Panicking Ltd. If you consider any Entry to be in breach of the site's House Rules, please register a complaint. For any other comments, please visit the Feedback page.
Redbeard (Thanks to all who supported The Celery!)) has no Friends
This user has no Bookmarks