Confusion
Hi ! Have a
or
. I'll be with you in a minute (or a bit more, it depends).

So, here I am. And so are you. It must be something you are looking for at this page and I don't know what it is.
There's always the chance that sooner or later you'll write me and ask your question. Until then I can only guess.
My name - Hati - comes from a Moomin Troll character hattifattener. Someone said once that I am like hattifatteners. I didn't argue. You have to read the books to understand. You won't regret - the books are good.

**Some people feel the rain. Others just get wet**
(Bob Dylan)
Who am I? What am I doing with my life? I wish I knew... Usually I am falling in and out of love (currently in) and by that you may guess already that I am a female human being. The guess would be correct. Not young anymore, not old yet. Age is a state of mind they say.
But do ask if you want to know more or something else. I am too lazy to keep guessing.
Conversations
Random Entry
The Nordic Researchers Club
H2G2 Grey Hair Society
My Summerhouse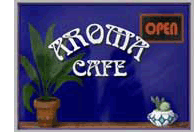 Researchers I've met IRL
U40491
U51488
U55226
U62867
U86204
U109937
U123888
U132240
U135628
U138596
U150740
U154942
U155449
U168814
U172473
U175291
U185155
U187820
U201000
U153664
U200355
U178834
U174280
U206500
U8897788
U1528154

And then I was at H2G2 Spring meet-up in London 2007 and met many people there as well. However, with some of those nice people I managed to only to say Hi, I'm Hati. And then there was a whole lot whom I met at Solnushka's, with them I talked much more, of course. One day I will surely get around to find all those names and U-numbers.
Oh well, I am just not good with names and numbers. But I met even more people at London meet in May 2009. Old friends and new ones.


I am Muse of Mostly Harmless Cactus and Other Friendly Houseplant.
My other home is Musehome
.
Take a look at the Mostly Harmless Cactus and other cacti at
Henrik Helms Madsen Kaktus
, as my own cactusgarden is gone now.
I am a Guardian Angel, Patron Saint of the Homeless Houseplants

My guardees are
Yossarian Prefect
Rupert
Greta_9
Filifjonka
Fatmike
Marvin
Stealth Kam.
terryterry
U2565417
Meet the Guardian Angels!
=== ~~~
I am Keeper of Menthol Cigarettes.
CLAIM YOUR KEEPER TITLE!
Thanks
Archangel Galaxy Babe
for this and for a lot more...

When is your birthday?
E-mail: hatifnat [at] gmail.com
hatifnat42 @ yahoo.com is where you can reach me on Yahoo Messenger and MSN.
Skype: hatifnat
AIM: Hatifnat4242
Note to myself (so that I shouldn't ask Ottox every year) I joined h2g2 at May 17th 2000.

Messages left for this Researcher

Posted
Conversation Title

Latest Post

Latest Reply

No Posting

No Posting

No Posting

No Posting
Title

Status

Created

This user has no Entry subscriptions
Most Recent Approved Entries
Disclaimer
h2g2 is created by h2g2's users, who are members of the public. The views expressed are theirs and unless specifically stated are not those of Not Panicking Ltd. If you consider any Entry to be in breach of the site's House Rules, please register a complaint. For any other comments, please visit the Feedback page.