See What Happens (Schau'n mer mal...)
U132240 : 1 - 3 + 2 + 2 + 40 = 42
Electronics is the art of commanding electrons and electromagnetic waves to do what you want them to do. It is an art because electrons and waves tend to not obey, otherwise it would be a science. (himself)
For more details see Intro to Radar and a couple of entries linked from there... Earned me another badge
I'm driving tremendous amounts of kilometres on Autobahns in Germany. I am fond of M.C. Escher's Graphics (aaaah, Tesselations), Weizenbier (mmmh, and Weizenbock
) and Mike Oldfield (nothing beats QE2 and Amarok could well play in an endless loop).
I have come to terms now with contact lenses, have limited abilities in ventriloqism and I am addicted to pizza and surfing (the internet variety), sometimes also to garlic. I'm living in Munich, I can wiggle my ears and independently move eyebrows and knee caps. And no, I'm not a cannibal!
Why 'Bossel'
Well, this happened to be a nickname at school time. There's no particular meaning associated with it whatsoever! At least not what you might be thinking. But... there's more about the Bossoleon Empire further below.
Why 'Sir'?
The *Sir* was bestowed on me by the AGG/GAG folk. I was somewhat reluctant in the beginning but then... I wouldn't get a chance to become a Sir in RL, would I?
Actually, I'm a Member of the Board!
Board Members:AGG/GAG-homepage~jwf~Tonsil Revenge=X Subcom.DeidzoebMartinSpiffBosselHobbesZaphodShazz PRMEThe h2g2PostTeam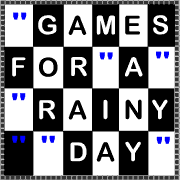 AGG/GAG Repository of Games for a Rainy Day
I'm a Scout
I might or might not carry the more meaningful Scout badge
appendix around...
Scouting is fun but eats up lots of time. There's a good chance of meeting me in Peer Review. For some further background you may want to read A View From A Scout  
. For some more background, you may also read this piece from a few days ago: h2g2 feedback.
Find a colleague here:
. 
This space intentionally left blank
Tomorrow...
Plans for tomorrow include a whole lot of things. At least I have managed to sign in to the Royal h2g2 Procrastinator's Society. If you could find some time, say, next week, why not sign in there as well?
Keeper of Quietsche-Entchen
Yeah, those beautiful rubber-duckies! They were built to last. Ships have wrongly been called unsinkable, but Quietsche-Entchen are. You're never alone with a rubber duckie
. Why do I talk about them? I am the official Keeper of rubber duckies!
grrrrrrmpf!!!!
Yeah! I've pondered the question very long, but after stumbling over a conversation which contained 21 postings, of which 20 were *****ed on the grounds that they were written in German
, the decision was made. I'm going to join the Zaphodista, full stop!!

All's Bosselish In The Bossoleon Empire!
Maybe you'd like to join me...
on the beach at Bosselcun...
and sip a little cactus juice...
but don't get drunk too soon...
There's much to view and do my love...
before the sun has set...
the show is just beginning...
giving no cause for regret...
We'll sing and dance and play awhile...
until the moon comes up...
then snuggle by the Bosselfire...
and empty someone's cup...

Courtesy of lilithcookie

Bosselshire is a lovely little county in the English Midlands. The renowned Bosselford University recently announced major breakthrough in the field of Bossel-Einstein Condensation research, and the Bosselhenge observatory collects imagery of Bosselnovas in deep space. Bosselshire has close ties with the county of Bosselsex where Bossel's court resides in the city of Bosseldon. Inhabitants mostly feed on Bosselmatos and Bosseltatoes. The main harbour is Bosselsmouth which is the home port of the Bosselmada.
Because Bosselshire and Bosselsex are mindbosseling pieceful and easy to reign, Sir Bossel quite often finds the time to sail abroad and do some, er..., research for the Bosseloneon Geographic Institute. Favourite destinations are the holiday islands of Bosselhiti and of course, the Bosselhamas. If you've ever seen Bosselitas dancing Bosselhoola then you know why! Pastimes on Bosselhiti Island are Bosseluba diving and watching the sun set behind Bosselnut trees on Bosselcabana Beach. These islands and the Great Bossel Reef off the shores of Bosstralia form the Bosselmuda Triangle, which is where many a ship of the Bosselmada has gone lost forever in one of those disastrous Bosselnados.
A Poem: The Dead Swans
The dead swans lay in the stagnant pool
They lay, they rotted, they turned
around occassionally
Bits of flesh dropped off them from time to time
and sank to the pools mire
They also smelt a great deal


From Vogon and other Poetry
Other Stuff
Ever wanted to be granted a medal? I bet you wouldn't want a Darwin's Award!

Well, if a Darwin's Award is not your kind of thing, then how about going for a H2G2 Wilde Award? This award is bestowed on h2g2 researchers who have shown outstanding capabilities in wisd-, er..., witdom and eloquence!

The Haiku Challenge! and the other Haiku Challenge!!!!. Wonder what a Haiku is? Easy: read the Haiku entry or simply write a poem with only one rule to follow: a topic is covered in three lines which have 5, 7, and 5 syllables each. That's it! . Want some examples? Here you go:

Afterglow

There's a look she gets
after I've found the spot named
after Grafenberg
(Hoovooloo)
Elephants

Elephants can hide
easily in cherry trees.
It's their eyes, it works!
(yours truly)
Scotland

Scotland: land of Scots.
Scot McGonagle, for one.
There might be more, too.
(Paul H)
Internet servers

Server's poor response
Not quick enough for browser.
Timed out, plum blossom.
(Rik Jespersen)
Clouds

Clouds are very nice
as decoration for my
castle in the sky.
(yours truly)
Coffee

need mug of coffee
to open eyes. Need eyes to
see coffee - deadlock!
(yours truly)
The Heart

Poor thing a heart is
has to pound and pound and pound.
Often gets broken.
(yours truly)
Windows

Seeing my great fault
Through darkening blue windows
I begin again
(Chris Walsh)
System Crash

Having been erased,
The document you?re seeking
Must now be retyped.
(Judy Birmingham)
Alfred Hitchcock

Girl in the shower
eerie music, killer's close
Alfie knows 'how to...'!
(yours truly)
Babies

cute ickle goo goo
babbykins! coochy coochy
coo!! ugh! baby puke
(Clelba)
Bad Surprises

Woke up this morning
found a pimple on my nose.
Drat! That cheeseburger!
; (Fräulein Grafenberg)
Server Down

Horrified diners
watch as waiter serving drinks
slips and falls on face.
(..?..)
Rocked Powered Condoms

As a method of
contraception, they would seem
utterly useless.
(St. Emily)
Grubby Keyboards

ew-- how disgusting.
Did the last person here eat
ribs at the keyboard?
(Wayfarer)

How about a or at Bolle's Berliner Bulettenbude? It's all free!

Ever needed a scapegoat to blame for all and everything? Don't worry, h2g2 covers just about *everything*, see the h2g2 scapegoat service!

Other places to hang out and find splendid stuff (in DEutsch) are ElkesWelt and Autsch which won't get http links, but just try to guess!
The Archive
This is the archive of some previous name tags. Just so I don't forget.
Bossel, Baron of Bosselshire and Bosselsex
Sir Bossel --- Beware the sharks of the Bosselmuda Triangle!
Bossel's Scouting Enterprises (BSE)
Bossel --- Time flies like an arrow. Fruit flies like bananas.
Monsignore Pizzafunghi Bosselese (off to Milano)
Kampai gai-jin Bossel-san (off to Japan)
Finally...
Need something to cheer up? Just load this page ( ~200k) but
: .... :-)
Messages left for this Researcher

Posted
Conversation Title

Latest Post

Latest Reply

No Posting

No Posting

No Posting

No Posting
Title

Status

Created

This user has no Entry subscriptions
Researcher Details
Name: Monsignore Pizzafunghi Bosselese

Most Recent Approved Entries
Disclaimer
h2g2 is created by h2g2's users, who are members of the public. The views expressed are theirs and unless specifically stated are not those of Not Panicking Ltd. If you consider any Entry to be in breach of the site's House Rules, please register a complaint. For any other comments, please visit the Feedback page.
This user has no Bookmarks