Uncharted Territory
(This page looks better in Brunel)

Major Statistics
This section in particular is always changing. When I came to h2g2 in 2005 I was 19, living with my parents and going to uni. I have come so far since then. I'm now 25, I've graduated and moved countries, finally figured out that I prefer girls, had an executive job and lost it in the GFC, and rediscovered my love for animals. I'm now trying to get into a pet sitting franchise. A lot of what's below has changed or should be added to, but I'm going to leave it the way it is. The time I spent on hootoo while at uni was easily the best time of my life, the only time I really felt alive, and I honestly owe my life to some of its members. I'm not online much any more, partly because h2g2 has changed, and partly because I have, but I still like to come here to reminisce. As always, enjoy the pictures, ignore most of the content, but make the time to read the quotes at the bottom, they're the best bit.
-Australian (finally released from in exile in New Zealand
)
-25 years old
-ever-changing hair - I have a pink mohawk right now
-athiest/heretic/heathen
Loves:
-History
-Animals
-Cheesecake

-Johnny Depp
-My Shih-Tzu Muppet
Though not necessarily in that order
Loathes:
-swimming, and large bodies of water in general
-cockroaches
My Edited Guide Entries:
Please choose oneThe Afro-Eurasian Trading System in the 13th and 14th CenturiesAmerican History - The Compromise of 1850American History - The Missouri CompromiseCamp Life in the American Civil WarThe Catholic Relief Act (1829)Christina Ricci - ActressDaniel O'ConnellThe DreamtimeEamon de ValeraEarly American TradeEarly North American Colonies'Emma' - a novel by Jane AustenHamilton, New ZealandHistoriography - The Annales School of ThoughtHistoriography - The Rankian School of ThoughtLife as a Union Black Soldier During the United States Civil WarMakybe Diva - the Legendary RacehorseMichael Collins - Irish Revolutionary LeaderSoul Coughing - the BandThe Tuskegee ExperimentWilliam the ConquerorWT Cosgrave
Links:
I can has cheezburger?
The Best Thing Ever in All Human History
Little Dee
The funniest thing I've seen in a while

Classic Simpsons
Silly girl jumping off perfectly good bridge
So cute
42ism:
1572880: 15+7+28-8-0=42
Johnny Depp Quiz
I did a test to find out what Johnny Depp character I am. Check it out.
"You Are Edward From Edward Scissorhands.
You are very shy and often misunderstood. Innocent, sweet, and artistic, you like to pass your days by daydreaming and expressing yourself through the arts. You are a truly unique individual. Unfortunately, you are quite lonely, and few people truly understand you."
I've taken the Dante's Inferno Hell Test four times1, with the same result every time. I think I'm evil.
The Dante's Inferno Test has banished you to
the Sixth Level of Hell - The City of Dis!
"You approach Satan's wretched city where you behold a wide plain surrounded by iron walls. Before you are fields full of distress and torment terrible. Burning tombs are littered about the landscape. Inside these flaming sepulchers suffer the heretics, failing to believe in God and the afterlife, who make themselves audible by doleful sighs. You will join the wicked that lie here, and will be offered no respite. The three infernal Furies stained with blood, with limbs of women and hair of serpents, dwell in this circle of Hell."
Here is how you matched up against all the levels:
My adopted cats!
Okay, not really, these two kitties are just the online version of my real kittens.
I crossed the streams on the Beta rpg


Music I love:
-H.I.M.
-Soul Coughing
-The Cure


-Bad Religion
-Better than Ezra
-Filter
-Goo Goo Dolls
-Queen
-Foo Fighters
-Ween
-Tonic
-Smashing Pumpkins
-Eminem
-Lily Allen
-System of a Down
-Long White Cross by Pluto
Plus heaps more I couldn't be bothered adding

Music I loathe:
-Rap (except Eminem)
-Pop
-Country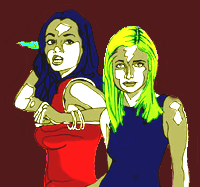 TV I love:
-Farscape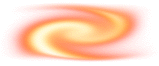 -Buffy (Mmm Spike)

-Hogan's Heroes
-Quantum Leap
-Highlander (the series not the movies)
-M*A*S*H
-The X-Files
-Doctor Who
-NCIS
-Firefly
TV I loathe:
-Reality TV - including but not limited to: Big Brother, Idol, Survivor or any survivoresque show, makeover shows, dancing shows etc
-teen angst shows (OC etc)
-annoyingly UNfunny American sitcoms like Everybody loves Raymond etc
Favourite movies: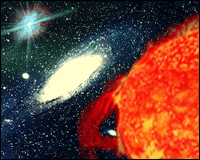 -Anything with Johnny Depp, but particularly Pirates of the Caribbean, Once Upon A Time In Mexico, Dead Man and The Brave
-The Crow
-Back to the Future trilogy
-Midnight Run
-Lethal Weapon
-Lord of the Rings
-Anything with Christina Ricci
,
but particularly Black Snake Moan, The Addams Family, Now and Then and The Opposite of Sex
-Anything with Sidney Poitier, but particularly Lilies of the Field, Buck and the Preacher and In the Heat of the Night
-Pitch Black and Chronicles of Riddick
-Sin City
Favourite Books:
-Luck in the Shadows, Stalking Darkness and Traitor's Moon by Lynn Flewelling
-Hawk and Fisher series and Blue moon Rising and Beyond the Blue Moon by Simon R. Green
-Harry Potter series, especially The Order of the Pheonix by J. K. Rowling
-Of course, The Hitchhikers series and Dirk Gently series by DNA
-Dark Tower series by Stephen King
-Tin Tin by Herge
The Best Things in Life are Free:
- Help me out here Spock, I don't speak loser" Spike - Buffy
-
Desiderata
Go placidly amid the noise and the haste
and remember what peace there may be in silence.
As far as possible without surrender
be on good terms with all persons
...
Max Ehrmann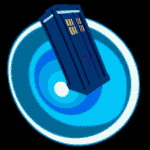 -
Kubla Khan
In Xanadu did Kubla Khan
A stately pleasure-dome decree:
Where Alph, the sacred river, ran
Through caverns measureless to man
Down to a sunless sea
...
Samuel Taylor Coleridge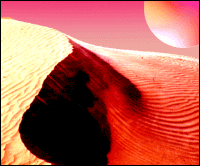 -"I'm insane. What's his excuse?" Spike - Buffy
-"I will rise, but I refuse to shine" Gabrielle - Xena
-"Oh, I don't drink these days. I'm allergic to alcohol and narcotics. I break out in handcuffs." Robert Downey Jr
-"Is everyone here very stoned?" Willow - Buffy
-"Sometimes I think the surest sign that intelligent life exists elsewhere in the universe is that none of it has tried to contact us"Calvin - Calvin and Hobbes
-"I saw two shooting stars last night. I wished on them, but they were only satellites. It's wrong to wish on space hardware... I wish, I wish, I wish you'd care." Billy Bragg
-"The supreme irony of life is that hardly anyone gets out of it alive." Robert Heinlein
-"America's one of the finest countries anyone ever stole." Bobcat Goldthwaite
-"Mutilated lips give a kiss on the wrist / Of the worm like tips of tentacles expanding / In my mind, I'm fine, accepting only fresh brine / You can get another drop of this, yeah you wish" Mutilated Lips - Ween

"Only two things are infinite, the universe and human stupidity, and I'm not sure about the former." Albert Einstein
-"We Americans live in a nation where the medical-care system is second to none in the world, unless you count maybe 25 or 30 little scuzzball countries like Scotland that we could vaporize in seconds if we felt like it" - Dave Barry
"It's too bad I'm not as wonderful a person as people say I am, because the world could use a few people like that." - Alan Alda
-"The only difference between me and a madman is that I'm not mad." Salvador Dali
-"Once you eliminate the impossible, whatever remains, no matter how improbable, must be the truth." Sherlock Holmes (Sir Arthur Conan Doyle)
-"When you gaze long into the abyss, the abyss also gazes into you." Friedrich Nietzsche
-"I'm reminded of a story, you've probably all heard it. The king and queen of this country were playing golf with five clubs. Their son Jack remarked how strange it was that they only had two hearts between them. And just then his sister Little Deucy and her dog Tre started singing 'Four Diamonds are a Girl's Best Friend'; whereupon the whole family beat her to death and buried her with two spades." Hawkeye - M*A*S*H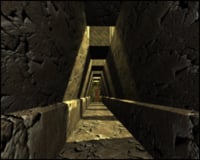 -"Ever tried. Ever failed. Never mind. Try again. Fail better." Sam - Quantum Leap
-"Reality is merely an illusion, albeit a very persistent one." Albert Einstein
-"I don't want to achieve immortality through my work; I want to achieve immortality through not dying." Woody Allen
-"The only thing necessary for the triumph of evil is for good men to do nothing." Edmund Burke
-KLINK: "Hogan, do you expect me to believe that lie?" HOGAN: "I don't know, I've never tried it before." Hogan's Heroes
-"My kingdom for an intelligent octupus!" Hawkeye - M*A*S*H
-"Life is a sexually transmitted disease." R. D. Laing
-"I was ecstatic when they re-named 'French Fries' as 'Freedom Fries'. Grown men and women in positions of power in the U.S. government showing themselves as idiots." Johnny Depp
-"You're not drunk if you can lie on the floor without holding on." Dean Martin
-"Stop the world. I want to get off." Anthony Newly
-"There is more stupidity than hydrogen in the universe, and it has a longer shelf life." Frank Zappa
-"Okay, Okay. I'm going to freak right out." Agent Sands (Johnny Depp) - Once Upon a Time in Mexico
-"I think we've all arrived at a very special place. Spiritually, ecumenically, grammatically." Captain Jack Sparrow (Johnny Depp) - Pirates of the Caribbean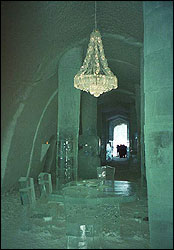 -Reality is an illusion that occurs due to lack of alcohol.
-What contemptible scoundrel has stolen the cork to my lunch? W.C. Fields
-"Don't eat me. I have a wife and kids. Eat them." Homer Simpson
-"I think everybody's nuts." Johnny Depp
-"Have you ever seen one of these? [Holding gun] (Si) Have you used one? (No) Don't ever because they're very very bad. But right now what I need for you to do is to aim this at the bad man who's following us, and shoot him in the head." Agent Sands - Once Upon a Time in Mexico
-"I refuse to answer that question on the grounds that I don't know the answer." Douglas Adams
-"When did I realize I was God? Well, I was praying and I suddenly realized I was talking to myself." Peter O'Toole
-"A raccoon tangled with a 23,000 volt line today. The results blacked out 1400 homes and, of course, one raccoon." Steel City News
-"Warning: Do not drink the battery acid. It doesn't taste good and will hurt you. Also do not bite the tyres, especially while the bike is moving...Our lawyers made us put these warnings in." An Australian motorcycle manual
-"If people are good only because they fear punishment, and hope for reward, then we are a sorry lot indeed." Einstein
-"Any sufficiently advanced technology is indistinguishable from magic." Arthur C. Clarke
-"I find it kind of funny, I find it kind of sad. The dreams in which I'm dying are the best I've ever had." Mad World, Tears for Fears
-"Religions are all alike -- founded on fables and mythologies." Thomas Jefferson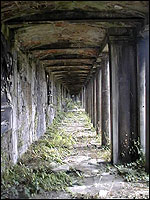 -"And the Lord did grin. And the people did feed upon the lambs and sloths and orangutans and breakfast cereals and fruit bats..." The Holy Book of Armaments - Monty Python
-"Armed? Armed with what? Hmm let's see. Bad breath, colorful language, feather duster. What do you think they're armed with? GUNS YOU TIT! GUNS!!" Lock, Stock and Two Smoking Barrels
-"Listen, strange women lying in ponds distributing swords is no basis for a system of government." Monty Python and the Holy Grail
-ELIZABETH: "Whose side is Jack on?" WILL TURNER: "At the moment?" Pirates of the Carribean
-"Say, you all didn't happen to do a bunch of drugs did ya?"
-"I don't think my parents liked me. They put a live teddy bear in my crib." Woody Allen
-"Don't try to out-weird me. I get stranger things free with my breakfast cereal." Zaphod, H2G2, DNA
-"Its been a rough day. I got up this morning...put on a shirt and a button fell off. I picked up my briefcase and the handle came off. I'm afraid to go to the bathroom." Rodney Dangerfield
-"Christian: One who believes that the New Testament is a divinely inspired book that is admirably suited to the spiritual needs of his neighbor."
-"The beauty, the poetry of the fear in their eyes. I didn't mind going to jail for, what, five, six hours? It was absolutely worth it." Johnny Depp, after being arrested for attacking paparazzi for taking photos of his children
-Lawyer cross-examining a doctor in a courtroom (apparently true)
Q: Doctor, before you performed the autopsy, did you check for a pulse?
A: No.
Q: Did you check for blood pressure?
A: No.
Q: Did you check for breathing?
A: No.
Q: So, then it is possible that the patient was alive when you began the autopsy?
A: No.
Q: How can you be so sure, Doctor?
A: Because his brain was sitting on my desk in a jar.
Q: But could the patient have still been alive nevertheless?
A: It is possible that he could have been alive and practicing law somewhere.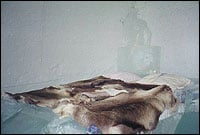 -"We can't stop here! This is bat country!" Raoul Duke (Johnny Depp) Fear and Loathing in Las Vegas
-"Ford, you're turning into a penguin. Stop it." Arthur, H2G2, DNA
-"Death does not concern us, because as long as we exist, death is not here. And when it does come, we no longer exist." Epicurus
-"I wouldn't recommend sex, drugs or insanity for everyone, but they've always worked for me." Hunter S. Thompson
-"Death is caused by swallowing small amounts of saliva over a long period of time." George Carlin
-
Auguries of Innocence
To see a World in a Grain of Sand
And a Heaven in a Wild Flower,
Hold Infinity in the Palm of your hand
And Eternity in an hour
...
Every Night and every Morn
Some to Misery are Born.
Every Morn and every Night
Some are Born to sweet delight.
Some are Born to sweet delight,
Some are Born to Endless Night.
...
William Blake
-"The Church says that the Earth is flat, but I know that it is round. For I have seen the shadow on the moon and I have more faith in the shadow than in the Church" Ferdinand Megellan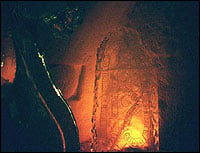 -"Sacred cows make the best hamburger" Mark Twain
-"They say 'guns don't kill people, people kill people'. Well, I think the gun helps. If you just stood there and yelled 'BANG!', I don't think you'd kill too many people" Eddie Izzard
-"Many an ancient Lord's last words have been 'You can't kill me because I've got magic aaargh." Terry Prachett
-"Now, my good man, this is no time for making enemies" Voltaire on being asked to renounce Satan on his death-bed
-"When choosing between two evils, always choose the one you haven't tried yet" Mae West
-"Let me be clear about this. I don't have a drug problem, I have a police problem" Keith Richards
-"Annual drug deaths: tobacco: 395,000; alcohol: 125,000; 'legal drugs': 38,000; illegal drug overdoses: 5,200; marijuana: 0. Considering government subsidies of tobacco, just what is our government protecting us from in the drug war?" William A. Turnbow
-"Only Irish coffee provides in a single glass all four essential food groups: alcohol, caffeine, sugar and fat" Alex Levine
-"Whenever I hear anyone arguing for slavery, I feel a strong impulse to see it tried on him personally" Abraham Lincoln
-"Happiness is a warm puppy" Charles Schultz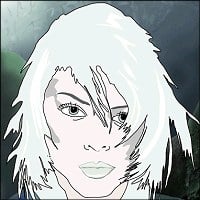 -"You don't really own anything you can't carry on your back at a dead run" Daniel Keys Moran
-"You know the world is going crazy when the best rapper is a white guy, the best golfer is a black guy, the tallest guy in the NBA is Chinese, the Swiss hold the America's Cup, France is accusing the U.S. of arrogance, Germany doesn't want to go to war, and the three most powerful men in America are named 'Bush', 'Dick', and 'Colon.' Need I say more?" Chris Rock
-"The clothes make the man. Naked people have little or no influence on society" Mark Twain
-"I'm living so far beyond my income that we may almost be said to be living apart" E E Cummings
-"Great, that's just what this country needs - a cock in a frock on a rock" Priscilla, Queen of the Desert
-"Beliefs are what divide people. Doubt unites them" Sir Peter Ustinov
-"I'm desperately trying to figure out why kamikaze pilots wore helmets" Dave Edison
-"It suddenly struck me that that tiny pea, pretty and blue, was the Earth. I put up my thumb and shut one eye, and my thumb blotted out the planet Earth. I didn't feel like a giant. I felt very, very small" Neil Armstrong
-"Wit is educated insolence" Aristotle
-"If the brain were so simple we could understand it, we would be so simple we couldn't" Lyall Watson
-"I know not with what weapons World War III will be fought, but World War IV will be fought with sticks and stones" Albert Einstein
-"Those that would give up essential Liberty to purchase a little temporary Safety deserve neither Liberty nor Safety" Benjamin Franklin
-"Politics is made up of two words. 'Poli', which is Greek for 'many', and 'tics' which are bloodsucking insects" Gore Vidal
-"You have to remember one thing about the will of the people: it wasn't that long ago we were swept away by the Macarena" Jon Stewart
-"Only after the last tree has been cut down; only after the last fish has been caught; only after the last river has been poisoned; only then will you realise that money cannot be eaten" Cree prophesy
-
I Am Australian
We are one but we are many
And from all the lands on earth we come,
we share a dream,
And sing with one voice,
I am, you are, we are Australian.
I came upon the prison ship bound down by iron chains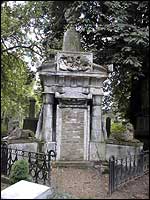 I cleared the land, endured the lash and waited for the rains.
I'm a settler, I'm a farmer's wife on a dry and barren run
A convict then a free man, I became Australian.
Bruce Woodley and Dobe Newton
-"Man will never be free until the last king is strangled with the entrails of the last priest" - Denis Diderot
-"Miracle: An act or event out of the order of nature and unaccountable, as in beating a normal hand of four kings and an ace with four aces and a king"
-"Don't tell me the sky's the limit, when there are footprints on the moon."
-"I don't mean to sound bitter, cold, or cruel, but I am, so that's how it comes out." - Bill Hicks
-"I, on the other hand, am a fully rounded human being, with a degree from the University of Life, a diploma from the School of Hard Knocks, and three gold stars from the Kindergarten of having the sh*t kicked out of me." - Blackadder
-"Just because I don't care doesn't mean I don't understand." - Homer Simpson
-"Some people are alive only because it's illegal to kill them."
-"Keep climbing. If you can't fly, run. If you can't run, walk. If you can't walk, crawl. But by all means, keep moving!" - Rev. Martin Luther King Jr.
-"If Jesus Christ came back today and saw what was being done in his name, he'd never stop throwing up." - Woody Allen
-"In the old days, it was not called the Holiday Season; the Christians called it 'Christmas' and went to church; the Jews called it 'Hanukka' and went to synagogue; the atheists went to parties and drank. People passing each other on the street would say 'Merry Christmas!' or 'Happy Hanukka!' or (to the atheists) 'Look out for the wall!" - Dave Barry
-"Don't go around saying the world owes you a living. The world owes you nothing. It was here first." - Mark Twain
-"'Tis better to be silent and be thought a fool, than to speak and remove all doubt." - Abraham Lincoln
-"The law, in its majestic equality, forbids the rich as well as the poor to sleep under bridges, to beg in the streets, and to steal bread." - Anatole France
-"If the English language made any sense, a catastrophe would be an apostrophe with fur." - Doug Larson
-"When people are laughing, they're generally not killing one another." - Alan Alda
-"Europeans, like some Americans, drive on the right side of the road, except in England, where they drive on both sides of the road; Italy, where they drive on the sidewalk; and France, where if necessary they will follow you right into the hotel lobby." - Dave Barry
-"Half a llama, twice a llama, not a llama, farmer llama, llama in a car, alarm a llama, llama duck"
-"I start to feel like I can't maintain the facade any longer, that I may just start to show through. And I wish I knew what was wrong. Maybe something about how stupid my whole life is. I don't know. Why does the rest of the world put up with the hypocrisy, the need to put a happy face on sorrow, the need to keep on keeping on? ... I don't know the answer, I know only that I can't. I don't want any more vicissitudes, I don't want any more of this try, try again stuff. I just want out. I've had it. I am so tired. I am twenty and I am already exhausted." - Elizabeth Wurtzel
-"Yes we can." - Barack Hussein Obama
-"If you always do what you've always done, you'll always get what you've always got." - DiNozzo, NCIS, and before that probably someone more impressive
-"For God liked the world somewhat, so he allowed the only son he ever bothered to have to suffer briefly, so that some people could escape the hell which God created." - The editor of www.lifesucks.info
I will update these every now and then. I mean this, I started with six. Stay tuned!
1Over a year or two, I didn't just do it four times in a row. That would be obsessive.
Subscriptions
Title
Status

Created

This user has no Entry subscriptions