Elly
"After all, what are birthdays? Here today and gone tomorrow." A.A. Milne / Eeyore

This space has won the Boo Double Digit Award!

Hi. I'm Elly to my English speaking friends, or Yael, originally. I've turned 30 this August 1st. I've been on h2g2 for over 8 years now, and met some wonderful people here:
My love-
Michael
, my sweet, wonderful angel,

my husband

, father of my children and my best friend.
Shea
and
TJ
, good friends and a lovely couple.
Uncle Heavy
, or Tom, for me, always a cynic, always grumpy.

Dragonfly
my Muse mother, who gave me the title Muse of Care.

Ekki
Clive
, the High Thingite Warlord, and the Thingites
Mr. Inertia
,
Average Joe
,
Jon Quixote
, and
Evil Roy,
who isn't evil at all...
Lady Scott
, who's followed her real daughters
Amy
and
Shorty
, and has now adopted myself, Mike, Clive,
Amy P
,
Patrick
,
Happy

, Eris and
Avenging Washcloth.
In the Kingdom of Balwynity I've met
King Cthulhu
, and the lovely
Sad, Mad or Bad
,
Cafram
,
broelan
and
Apollo
.
The first researcher who's talked to me here was
Ottox

, the Danish.
As a Scout I've met
Dancer
.
In lost paths and trails I've met
Seargent Mushroom
,
ex-Rambling
and
Mistadrong
,
Paul H
and my Mutual Admiration Club was built in inspiration of
Gosho
and Shea.
Inkwash-
always has a special place in my heart.

Parrferris
- Who yelled

... My Guardee

Dunky
who's been missing for quite too long...

If I've missed any of you, friends, just yell!

Pop-Up Conversations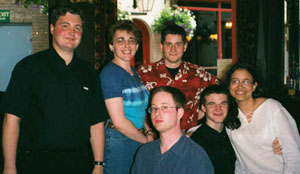 Some Good Stuff...
The Talentless Musicians Club
Words from the Heart
- A nice little poetry entry I'm editing- if you feel like adding some of your own stuff- start a thread, or join the existing ones. Though mind you- I do take my time...
Hugs -
We were amazed to find out just how many there are! Read it!!
Clan McThing
, famous for its No, no, no thread. Just a bunch of crazy people, really.
Dr. Funderlick's weekly grunt
I'm on the
MAP!
My pictures are here: http://public.fotki.com/azahar/h2g2_friends/
Contact me: [email protected]
Messages left for this Researcher

Posted
Conversation Title

Latest Post

Latest Reply

No Posting

No Posting
Title

Status

Created

This user has no Entry subscriptions
Most Recent Approved Entries
Disclaimer
h2g2 is created by h2g2's users, who are members of the public. The views expressed are theirs and unless specifically stated are not those of Not Panicking Ltd. If you consider any Entry to be in breach of the site's House Rules, please register a complaint. For any other comments, please visit the Feedback page.
This user has no Bookmarks