Another Galaxy Guide
A lot of truly creative writing such as personal viewpoints,
tall tales and sophistries, all philosophies and fiction,
meaningful satires, parables and parodies,
..all are forbidden in the official
Edited Guide.
So, that's where we come in.



We are the COMMITTEE for ALIEN CONTENT or CAC.
We are an unofficial volunteer group who scout the h2g2 backwaters for Entries that fail the official h2g2 writing guidelines in one way or another. And you can help us, join us or just enjoy the fruits of our labours.

We are proud to have a brand new logo thanks to Amy T Ant
whose vision of our collective hatching from eggshell escape pods perfectly defines the Committee - a posse of personae dedicated to giving all voices a chance to be heard.
And we are proud to now be able to bring you the worst of the best of the UNDERGUIDE. The Underguide is a semi-official h2g2 group of 'miners' and 'polishers' who scout for the best entries (gems) around the site and manage to get some of them featured on the H2G2 front page. They give us their leftovers.
And we proudly promote as many as we can in our new weekly column in the the H2G2 POST to be known henceforth as "The CAC CONTINUUM" .

It's a long story:
Long time ago, when the earth was green and h2g2 was an independent site, we looked at the Guidelines for Writing Edited Entries and we honestly believed that even DNA himself would find the Edited Guide too restrictive.
Angry and frustrated, we said "it's a waste of precious human resources to discourage any writer's freedom of expression". Few listened, even fewer when the BEEB took over, so we established AGG/GAG/CAC (Another Galaxy Guide / Galactic Anomalies Group / Committee for Alien Content) and created the ALTERNATIVE WRITING GUIDELINES for anyone who wants to contribute their fresh, personal approach to Truth, Life and the Universe.
We even offered an Alternative to the Alternative Writing Guidelines for those with really short attention spans.
We are not the first or the last to try offering a remedy. Most recently, the Editors and Management of h2g2 finally acknowledged the need for greater exposure and support for researcher writers who can not or will not be bound by the Edited Guidelines. Our congratulations to the UNDERGUIDE people who pursued the cause and scored some space on the h2g2 Front Page for "non-edited Entries".


This includes Fiction of course, but should also cover all those other weird and wonderful entries of a first/personal nature. What about opinions and philosophies, lampoons and fairy tales, weird science essays and theories? And anything else you can think of that can be classified as 'kitchen sinkronicities'. We continue to provide support for any entry that cannot endure the Peer Review process or squeek its way past the h2g2 editors of the new
UNDERGUIDE .



While the new UNDERGUIDE system fulfills much of the original Agg/CAC dream, it does not relegate us to the dusty files of History. We will continue to be the voice of the 'loyal opposition' on any issue where 'we the people' of h2g2 feel we need a voice.
There is a link below where you can inform us of any cause, any Entry, any researcher or group, any political issue, any scandal or anything else that you feel needs wider exposure and is due greater consideration.
But, perhaps now would be good time to give you some further background into the struggle for Freedom of Expression at this most wonderful, free and expressive website.

Way back at the beginning of the 21st Century
The Founding Fodders of AggGag,
U162344
U186749
U96220
U129960
U185155
U132240
began a discussion on the merits of non-Edited Guide entries and decided to find some way of providing a forum for fiction and foolishness that was not being supported by the site.
We weren't sure how or where we could create this new forum, but it seemed it would become, in effect, Another Galaxy Guide (AGG) . But, wait! We didn't want to be so other as to be excluded from the site.

There being some safety in numbers we became a Group dedicated to finding and promoting certain Galactic Anomalies (hence GAG) . We were particularly concerned with Entries which might remain anonymous and undiscovered in the eternal internals of cyberspace.
Happily, we found support from the editors at The H2G2 POST

who gave us space in the site's weekly news. Our thanks to shazz and the h2g2 Post Team cannot be overestimated.

Our first 42 issues are lovingly preserved by U129960 in the . These early editions were published under the name AggGag with this logo and slugline.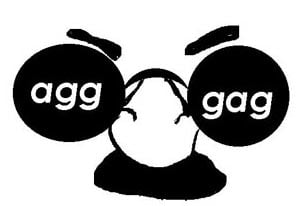 Open your mind and say, "AWW."
After a brief hiatus we carried on as the AggGag/Committee for Alien Content because we like to think that the "Committee" aspect should have ascendency over our earlier Gagging and Agging.

Here is another huge Archive of those later editions published under the name of CAC :
The CAC Archives
But
we've always loved the sound of AGG/GAG/CACC.
Y'see AGG/GAG/CACC is pronounced exactly like Popeye's chuckle, which, however improbable, is exactly what the phrase "Don't Panic" sounds like in Bubblish. But perhaps only drowning men can see that.

We'll carry on scouting the Flea Market and using our magic Random Entry Button to find all sorts of golden wisdom, abandoned and forlorn.
And we are always ready to consider submissions from ..anyone.
I'd like to submit an entry to AGG/GAG/CAC and claim my fifteen minutes of fame... (Be sure to include your researcher U-number and the A-number of the entry you'd like to contribute or recommend.)
We still want quality writing and we don't endorse breaking the laws of plagiarism, defamation or obscenity, but really, the only criteria should be Wit and Wisdom.
If you're not quite ready to write for us, maybe you'd like to help our cause. Or maybe you have a new cause that needs a champion and a voice.
I've got an idea:
The original AGG/GAG School of Thought:

consisted of
119 Researchers
who contributed
154 Entries
in our first
42 issues
according to Sir Bossell's
Complete Index to AggGag
.
Scouting the Guide for the good stuff, we'll continue to bring you AggGag/CAC-C approved entries in each issue of the H2G2POST. And we hope you'll join us!
Our LYNX:

Recent CAC Archives

Archives of the 42 AggGag issues
..........GAMES

Messages left for this Researcher

Posted
Conversation Title

Latest Post

Latest Reply

No Posting

No Posting
Title

Status

Created

This user has no Entry subscriptions
Researcher Details
Name: The CAC CONTINUUM - The ongoing adventures of the Committee for Alien Content (a division of AggGag)

Most Recent Approved Entries
This user has not written any Approved Entries.
Disclaimer
h2g2 is created by h2g2's users, who are members of the public. The views expressed are theirs and unless specifically stated are not those of Not Panicking Ltd. If you consider any Entry to be in breach of the site's House Rules, please register a complaint. For any other comments, please visit the Feedback page.
This user has no Bookmarks