The home of the Sprout
Hi
You have got through to the page of Sprout. This page is best viewed in alabaster or brunel I suspect.
In the real world I live in Belgium (chipsandmayonnaisesmiley). Which is not as dull as some people might think. I work for a big organisation on environmental law issues. In smiley terms this makes me an

I reckon.
If I'm on the site, you might find me contributing in Peer Review or Ask H2G2. But I quite like to lurk around, read the Post, that sort of thing. I sometimes post at work but the articles are written at home. I might start an ALT TAB fan club for other researchers who are keeping one eye over their shoulder while they post
I have an involvement with the Underguide scheme for hootoo. Why not comment on creative, non Edited Guide writing in the Alternative Writing Workshop?
For even more evidence of the amount of interesting stuff hiding in the shadows of Hootoo, use this. Of course sometimes it's just rubbish, but that's life...
I'm a dedicated follower of H2G2's two fantasy football leagues. Recently I have been consistently in the top three or so, but have only won once.
For a more personal journal of my travels in Africa, you can read the archive of Post articles contained here. I've put the graphic for it below.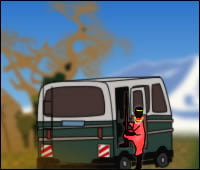 Or for some strange mountaineering stories, try here. It comes with a nice picture, exhibited below.
Another little project is best explained by the following:
The Hootoo archives contain many weird and wonderful bits of writing, which don't always get the attention they deserve. Unless they enter the Edited Guide, or are unearthed by The Post, Underguide or CAC, they may lie unread and unloved for years, while their authors go out for a sandwich or even permanently Elvis1. The best way to find these gems is undoubtedly through the search engine, having ticked the box marked no Edited entries. The infinite improbability engine and searching conversations provides too much dross: searching unedited guide entries is the way to go.
A life in articles
The sprout was brought up in a small town near Bristol. There wasn't much to do, but you can play A907472
Later on I lived in France for a couple of years, in A977222 mainly. I spent quite a bit of time in the mountains A810181 and A871986. One of my favourite spots is A963443.
I also wrote A1004482. I worked for the UK Civil Service before moving to Belgium and the article hopefully gives you an inside view on how to get the most out of your letter.
I have spent a bit of time in airports recently with work - and this got me wondering - why are they so badly designed? Why does the bus from the plane take me to the other end of the airport from where I need to be? Why can't I buy a stamp? This rant is the result.
1In other words - the author has 'left the building'.
Conversation Title

Latest Post

Latest Reply

No Posting

No Posting

No Posting
Title

Status

Created

This user has no Entry subscriptions
Most Recent Approved Entries
Disclaimer
h2g2 is created by h2g2's users, who are members of the public. The views expressed are theirs and unless specifically stated are not those of Not Panicking Ltd. If you consider any Entry to be in breach of the site's House Rules, please register a complaint. For any other comments, please visit the Feedback page.
This user has no Bookmarks