OwlofDoom
| My Conversations  (+) | | Support  (+) | | Peer Review | | Ask h2g2 | | Statistics | | AA h2g2 | | Spicing | | Guidelines | | GuideML | | English | | Random |
About me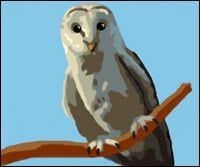 1 Hi. I'm OwlofDoom, a small round purple cartoon owl. NOT a furby as some might have you believe.
In other news, I'm a twenty-one-year old, very happily married, software engineer in Manchester, who is slightly unhealthily obsessed with music.
Get all the information you need about me from my personal web site, including my weblog (online diary) which isn't updated as often as it should be.
My interests
I'm a minger
You're a minger too
So come on minger
I want to ming with you

Indie & Rock music. The music of Super Furry Animals, Mansun or Radiohead, among others. My CD collection bursts with well over 200 albums.

Geeky stuff. Yeah, I'm into programming, hackery, Linux and website design. I'm also a spod.
Nitina. Nitina is my wife (legally, at last!). We live together and we're having a big church wedding in Cyprus this summer. Nitina is the reason why I never stop smiling.

2Irn Bru. The scottish orange stuff is a popular source of caffeine and enjoyment for me.

Coffee. Coffee! What more can be said about this elixir, other than it is the substance that keeps me alive. I generally prefer java if it's on offer. It has to be black with no sugar, and none of that instant stuff that's supposed to be coffee.

Guinness (and possibly some bitters and real ales). When I drink (which isn't that often for a student), I generally prefer these harsh-biting toilet-trip inducers to horrible fizzy beer-substitute.

Cooking. OK, I'm no celebrity chef (I reuse pans!) but I do enjoy putting together variants of classic recipes now and then.
h2g2. I may not be very active as far as posting is concerned, but I find myself here 'most every day to read the articles, and mess around.
Volunteerhood
...or, How I Learned to Stop Lurking and Help Researchers
Guru-who?
I'm an official h2g2 Guru. This means that if you have any trouble with the site, particularly with GuideML, then feel free to ask me a question by leaving a message for me here, or by posting in the appropriate feedback forum, where either myself or one of the other friendly gurus is bound to pop up and help you along.
Sub-Ed head
I'm also a Sub-Editor. I get the chance to apply my unique(?) pedantry to other people's entries as well as my own. Oh the joy! If I've been assigned to sub-edit one of your entries, I'd love to chat about it. Leave me a message below and we'll discuss what should and shouldn't be changed.
Test Pest
I'm a member of the BBCi Testers. Our job is to test new things on the DNA websites before they go live. If something new is broken, it's probably our fault for not spotting it.
My (meagre) contributions to the Guide

Music Sharing and Its Impact on the Industry - my first contribution to the Edited Guide. The history of music sharing on the Internet, as well as the arguments for and against it, is included in the entry, and it sparked much discussion before and after its inclusion in the Edited Guide.

Talkers - Elusive Internet Chat Rooms - a brief look into the world of talkers and spodding. Now in the Edited Guide too!

XML and Friends - this is (or will be, when I have the time) a big project, presenting a layman's-terms look into the world of Extensible Technologies.

NetHack Rogues' Guild - I'm an avid player of this classic adventure game, and together with Pete have set up this Guild for all h2g2's Hackers to have a chat about their ventures into the Dungeons of Doom.
The Panda Joke - this joke is a blast from my past. Guaranteed (perhaps) to have you in hysterics for several months.
Researchers who should have their name in lights

U217434 - my wife. My life is already complete (at my age!) thanks to Nitina. I can't think of any better experience than that of spending every day of my life in her company.

U151654 - geek, NetHacker, music lover, English pedant, coffee drinker. No I haven't been describing myself, but I have noticed the similarities...

U26426 - Snowman's been around since Day 2 (literally) and is not only a great person to talk to, but is also a fellow CABB3 campaigner.

U211824 - an alien, with no gender (and unfortunate resistances to everything on the planet) but also knows everything about the site (despite being here only a few months) and has a secret identity as nighthoover.
Forty-twoism
(2+0) + ((8+0) * (6-0!))
= 2 + (8 * 5)
= 42
find out more about forty-twoisms...
Keeper
I am the Keeper of half-finished good ideas. I've had loads in the past, especially web sites. I did manage to get a web site up, but now I have another good idea...

Another good idea that I only half-finished was the potentially excellent Python-Talk.
I'm also the keeper of Nitina's heart.
find out more about the h2g2 Keepers...
h2g2 Researcher Code
----BEGIN H2G2 CODE BLOCK----
Version: 1.1
RGB Y->++ N+ SA@ A++ P:>++ L- M++(--) s(+) V++ E>+ PR*>++ p a+ B TV?* r D T- nh C+ m t
-----END H2G2 CODE BLOCK-----
find out more about the Researcher Code...
Geek Code (for completeness)
-----BEGIN GEEK CODE BLOCK-----
Version: 3.1
GCS>$ d-(pu) s+: a-- C++(+++) UL>++ P+>++ L+++ E(---) W++(+++) N+ o? - w---() O? M? V? PS+ PE(-) Y? PGP+ t+ 5? X- R* tv(+) b-() DI-- D+ G(--) e>++ h--- r+++ y?
------END GEEK CODE BLOCK------
Messages left for this Researcher

Posted
Conversation Title

Latest Post

Latest Reply

No Posting

No Posting

No Posting

No Posting

No Posting
Title

Status

Created

This user has no Entry subscriptions
Most Recent Approved Entries
Disclaimer
h2g2 is created by h2g2's users, who are members of the public. The views expressed are theirs and unless specifically stated are not those of Not Panicking Ltd. If you consider any Entry to be in breach of the site's House Rules, please register a complaint. For any other comments, please visit the Feedback page.
This user has no Bookmarks