Nick.Grainger (AU)
Researcher U211163
Nick Grainger - Communications
John Ridgway Save the Albatross Voyage 2003-4
AIM: TO PREVENT THE NEEDLESS SLAUGHTER OF THE ALBATROSS
---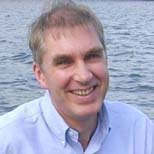 According to John Lennon, "Life is what happens to you while you're busy planning other things..." Thirty years ago, in the middle of the Pacific, I was busy planning other things, specifically a new life in New Zealand, when my small boat was capsized in a storm. Then Life really did happen. And maybe that stroke of fate was the best thing that ever happened to me.
I grew up just north of Cambridge, England, on the edge of the fens, a flat land of great skies and vast horizons. In 1971, aged 21, optics diploma just completed, I joined John Ridgway, as an Instructor at his School of Adventure in the mountains on the wild north west coast of Scotland. And I found I just loved the sea and sailing.
A couple of years later, I set out with my young wife, Julie, to sail the world in the Aegre, a 21ft engineless Shetland fishing boat. We set out from NW Scotland for Madeira, once there, well, we thought we'd cross the Atlantic to the West Indies. And after that, we just kept on going, out into the Pacific. The 4,200 miles from the Panama Canal to the Marquesas Islands took us 65 days and by now we were calling the boat 'God's little Aegre'.
We spent a couple of months on the beach in Tahiti, painting the boat and changing the mast, getting all set up for a long trip to a new life, in New Zealand. By now, the Typhoon season was upon us but Raratonga was only a week along our route, so we packed a little food and set sail. Two days out we were capsized in the middle of the night. Wrapped up in the duvet, I was trapped in an air pocket, in the dark. There was barely sitting head-room below. I felt my way along the floor, now the roof, and dived down to find the hatch, my only exit.
"Nice paint job!" I thought, as my head burst to the surface in the storm. After a while Julie and I managed to roll the boat the right way up in the howling wind. With Julie clinging to the stump of the mast, I bailed frantically with our washing-up bowl. The waves were sweeping the deck and though I managed to shield the hatch a bit, the next really big white comber, which came roaring out of the blackness, always filled the boat again. Some planking was split, I feared the Aegre might break up. We pumped up the dinghy and loaded it with the sextant, some food and things to keep us alive if it came to the worst. Then a really big wave came; the dinghy broke free and disappeared into the night. We had no radio and nobody knew where we were. Without clothes, I was shivering. We were far from home.
Wearily, I found a screwdriver, dived into the cabin and began unscrewing the floorboards, to get at the fresh water cans. I emptied some and stuffed them under the deck to make buoyancy. By the end of the following day, we had the boat bailed out but we were still taking a dribble of water through the patches I'd tacked onto the split planks. Much worse, a good bit of our remaining stuff had gone over the side with the bilge water; it was reduced to so much paper mache. But luckily, we were able to rescue our 1974 Nautical Almanac and we carefully dried its sodden pages in the tropical sun.
The storm worsened and continued for a further six days. And we just rolled along, running downwind before those huge "widow-makers", knowing all the while, that if we went over again, I wouldn't have the strength to do much about it.
We managed to put together a jury rig and began to make some way through the water. There was very little food and we could only guess at our position. Then, in the bilges, we found our chronometer. Still going. Julie thought hard, before making a life-saving announcement: back in England she had been reading pure maths at Warwick University and now she could remember the exact error on the chronometer, checked on our little radio receiver just hours before we capsized.
We couldn't measure the angle of the sun above the horizon each day, to give us our latitude, because we'd lost the sextant. But we could calculate our longitude; by using the chronometer, we were able to get the exact time of local sunrise or sunset. Then we compared that with the time shown in the Nautical Almanac for sunrise or sunset at the same approximate latitude on the Greenwich meridian. There are fifteen degrees of longitude for every hour of time. And from this we could work out how many degrees west, our own longitude was from the meridian of Greenwich.
A few days later we reckoned we were on the same longitude as Raratonga, but we were a little glum to see no sign of the island. It had to be due north or due south of us, but which? If we guessed wrong, we realised we were probably going to die in the empty wastes of the Pacific. For me, a 50/50 chance was just not good enough. We had to find out where we were and then shape our own course to land.
An atoll was not good enough either: Julie couldn't swim, and we might well both be drowned on the reef. And even if we survived that, chances were, an atoll would turn out to be no more than a slim ring of un-inhabited coral, with just a scattering of lonely palm trees.
No, it had to be an island.
I knew the key to our latitude must lie in the Nautical Almanac. There just had to be a way to work it out. The solution lay in the night. The Almanac gave me the declination of stars passing to the north and south of our position. And so, by a process of elimination, I kept narrowing the gap, until eventually I could name a star passing directly overhead, look it up in the book, and determine our latitude.
From our newly calculated position, we agreed to steer due west until we were exactly south of the Samoan islands and then head straight north until we reached them. There was plenty of time to question our gamble on self-reliance, rather than chance the 50/50 option. If we missed the Samoas it was deep blue sea for several thousands of miles north to the Aleutians.
We'd started out with enough food for a week or ten days and eaten normally for two days before we capsized. Some more food had gone with the dinghy. We had maybe four or five days rations left but even this was largely ruined by salt water; all that remained were a few tins without labels and some odds and ends. However, we determined never to run out of food completely: so we just kept on halving the rations.
28 days after leaving Tahiti, we struggled up the beach at Pago Pago. We were rather thin. We had no money, passport nor any form of identification. I was starting out as a truly 'wild colonial boy.'
After a few months we wound up in New Zealand, at the north end of the South Island. At first, we got jobs in the Outward Bound School and later in management. Six years after the Aegre voyage, Julie and I went our own ways. We both re-married, I to Tomoko from Japan. We have a family, Erica (18) and Mariko (16).
One challenge led to another, I got my MBA and by the late '90's I was integrating global computer systems for an eight billion dollar American corporation. It had been an exciting ride. And whenever I'd felt the pressure I had only to recall those 28 days in the Pacific to bring things into proportion.
I had a nice house, a comfortable lifestyle and a wonderful family but by now I was flying right round the world a dozen times a year. All this left little time for family and friends; I began to wonder if this was really truly what I'd struggled so hard to survive for, during those 28 days on the Aegre?
I left the corporation, took a Masters degree in Virtual Communications and jointly set up an online communication consulting partnership.
Then came the call from John Ridgway. 30 years on, it was time to come back. I felt like one of his sheep, being called in from the rough grazing out to seaward of the croft at the end of summer. Well, he spared the knife but I got the message.
Running the communications from English Rose VI, offered me the opportunity to use my collective skills, and I hope, to make a difference.
Well, I would like to thank Tomoko for encouraging me to try.
Nick Grainger
Melbourne, March 2003
---
Back to the Crew on English Rose V1.
Back to the John Ridgway Save the Albatross Contents page
Messages left for this Researcher

Posted
Conversation Title

Latest Post

Latest Reply

No Posting

No Posting

No Posting
Title

Status

Created

This user has no Entry subscriptions
Most Recent Approved Entries
This user has not written any Approved Entries.
Disclaimer
h2g2 is created by h2g2's users, who are members of the public. The views expressed are theirs and unless specifically stated are not those of Not Panicking Ltd. If you consider any Entry to be in breach of the site's House Rules, please register a complaint. For any other comments, please visit the Feedback page.
Nick.Grainger (AU) has no Friends
This user has no Bookmarks