Quizzical's Lair
Greetings, !
Pull up a chair and make yourself at home.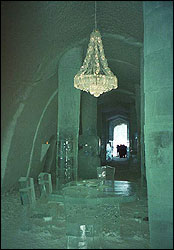 Winter is i-cumen in—/ Lhude sing 'dagnabit!'
Who Am I?
I'm quizzical

. I was born at a very young age, survived a rambunctious and somewhat misspent childhood, and arrived, despite my best efforts, at adulthood. Random likes, dislikes and observations:
One is never too old to have a happy childhood.
If I were stuck on a desert island, I would hope to have a copies of Tao Te Ching and Good Omens (T. Pratchett and N. Gaiman). And the complete works of J. S. Bach. And food. Food would be good.
Actually, if I were stuck on a desert island, what I would most like to have is a boat.
'I don't want to achieve immortality through my work. I want to achieve immortality by not dying.' - Woody Allen
I birds.
Woman does not live by chocolate alone, but some of us sure try.
One can never have too many books.
Favourite sport: figure skating.
Favourite activity: curling up in a comfy chair with a good book, a pot of tea, and my pet cockatiel on my shoulder (not that I get much reading done with the bird demanding my attention).
Current reading: everything by Robert Rankin.
I'm a blonde. (Don't tell anyone.)
In addition to being a Sub-editor, I write a column for

called 'Running with Scissors' and produce a few poems and cartoons from time to time.
Who Are You?
We just love meeting new people! You can leave a message here (blonde jokes are fine): ...
Stuff I've Written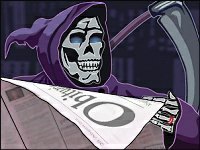 Entries I've written or contributed to:
Grooming Tips (collaborative entry)
Great Horror Movies (collaborative entry)
Stories from World War II (collaborative entry)
The Key to Getting a Balanced Diet (collaborative entry)
Currently being edited:
Nothing at the moment
Currently in Peer Review:
Nothing at the moment (hangs head in shame).
Interesting Places Hereabouts

Peer Review - where entries that aspire to 'Edited Guide' status are reviewed by other Researchers
Alternate Writing Workshop - where entries that don't meet the guidelines for the Edited Guide find an appreciative audience
The Post - the H2G2 weekly newspaper
The HooToo Atelier - good conversation
The Circle - more good convesation
The Cathderal of Terry Pratchett - he da man
42
U216391 --> 2*[(2+1+6+3+9)*1]=42

Messages left for this Researcher

Posted
Conversation Title

Latest Post

Latest Reply

No Posting

No Posting

No Posting

No Posting

No Posting
Title

Status

Created

This user has no Entry subscriptions
Most Recent Approved Entries
Disclaimer
h2g2 is created by h2g2's users, who are members of the public. The views expressed are theirs and unless specifically stated are not those of Not Panicking Ltd. If you consider any Entry to be in breach of the site's House Rules, please register a complaint. For any other comments, please visit the Feedback page.
This user has no Bookmarks