Come in. Make yourself comfy. Have a cup of tea.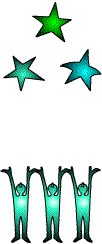 Even if you're just passing through, 1, do drop me a line to say hello
Things Happening in My Life
I've just left my official capacity of Deputy Editor of this site, but am still around - I couldn't ever really leave, h2g2 is too fabulous. See my old life over here.
In September I am starting a graduate conversion course in psychology. Must've been something to do with interacting with you lot over the last four years

I have recently taken up making preserves. The results are so brilliant I predict that jam-making will be the new going out


Motherhood (!)
Dominic joined us on 15 July, 2001, and we've been having fun ever since. His latest escapades have included giggling and laughing, and going out on his bike. Why not join me over at The h2g2 Parent and Baby Group?
1If you are completely freaked out by me using your name, don't be, it's just a technical feature, I don't usually go about over-actively using people's first names like a cheesy advertising salesman, but I thought using it would be a friendly gesture!
Messages left for this Researcher

Posted
Conversation Title

Latest Post

Latest Reply

No Posting
Title

Status

Created

This user has no Entry subscriptions
Researcher Details
Name: World Service Memoryshare team

Most Recent Approved Entries
Disclaimer
h2g2 is created by h2g2's users, who are members of the public. The views expressed are theirs and unless specifically stated are not those of Not Panicking Ltd. If you consider any Entry to be in breach of the site's House Rules, please register a complaint. For any other comments, please visit the Feedback page.
World Service Memoryshare team has no Friends
This user has no Bookmarks