Cheerful Dragon's page
Created 26th July 1999
This is the user page for Cheerful dragon. Happily married, no kids. Feel free (ooh! that's nice

) to browse around. No obligation to buy.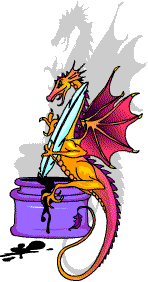 Age: Not telling!

Favourite Colour: Blue
Favourite Stone: Translucent, deep blue (inky blue) sapphire (Not the pale blue ones that were fashionable some years ago or the opaque, nearly black ones you get in a lot of jewellery). Failing that, haematite or black onyx. I also like amethyst, opal and tiger-eye.
Favourite Authors/Books: Wilbur Smith, Dick Francis, The Chronicles of Narnia, Frederick Forsyth, J. R. R. Tolkien
Interests: Needlework - knitting and embroidery, mostly. Playing computer games - preferably ones that involve some mental work. Reading - good fiction / literature, history (mostly pre-20th century), natural history (especially dinosaurs and evolution), travel (especially expeditions pre-Second World War or expeditions that went wrong). Writing - one day I'll finish that novel. Listening to music - almost anything (but not jazz, heavy metal or just about anything in the charts). Going to the theatre / cinema (depends on the play / film, though). Good food. Spending time with my husband.
Dislikes: Moaners. Opinionated people who won't listen to anybody else. Arcade-style computer games and shooter computer games. Loud music or any other loud noise. Muzak. Discos and night-clubs. Doing housework, especially vacuuming. Greasy or fatty food. Pulses, especially broad beans and lentils. Mushy peas

. Shopping, be it the weekly grocery shop or going to the local mall (especially when Richard needs to buy a new suit). Crowds. Badly-behaved children from tots to teens. Being overweight (I am working on it!). People who uses expletives and profanities when it isn't really necessary (like every other word!

) Having MS - especially when a relapse goes on for months.

People who use 'text speak' when posting on internet forums. I can live with it (just!) when it's used on chat, but not on a message board when you have all the time you need to write a proper post.
Member of P.U.D.D.I.N.G. since 1st January 2004
Messages left for this Researcher

Posted
Conversation Title

Latest Post

Latest Reply
Title

Status

Created

This user has no Entry subscriptions
Most Recent Approved Entries
Disclaimer
h2g2 is created by h2g2's users, who are members of the public. The views expressed are theirs and unless specifically stated are not those of Not Panicking Ltd. If you consider any Entry to be in breach of the site's House Rules, please register a complaint. For any other comments, please visit the Feedback page.