Gone away.....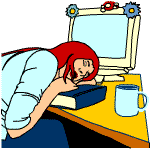 Welcome to Abi's page.
As you probably know, I am not working for h2g2 any more. I have moved a few desks along and am now working for the Celebrity / Expert Q&A team. They are a great team and I am really happy1.
I will still be around, but I will not be using this account. Thank you for all your contributions. I hope that this life brings you many good things.
Hugs and Kisses
Abi

1I wish to make it clear that this has nothing to do with the fact that I might get to meet Busted and Kofi Annan!
Messages left for this Researcher

Posted
Conversation Title

Latest Post

Latest Reply

No Posting

No Posting

No Posting
Title

Status

Created

This user has no Entry subscriptions
Most Recent Approved Entries
Disclaimer
h2g2 is created by h2g2's users, who are members of the public. The views expressed are theirs and unless specifically stated are not those of Not Panicking Ltd. If you consider any Entry to be in breach of the site's House Rules, please register a complaint. For any other comments, please visit the Feedback page.
This user has no Bookmarks