mrs wobbly bum
Researcher U3294375
guess i will have to make this page a little better one day soon!
Welcome to Mrs Wobbly bum's page.

I enjoy playing pool and drinking beer therefore I spend way too much time in the local pub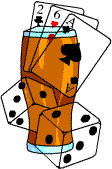 and am just starting to learn how to do this guideML thing so excuse the dodgy page.

OOH and I am proud to be a member of this elite club!!
UnOfficial h2g2 Lurker

oooh and just to aid in the confusion my name is Craig
Messages left for this Researcher

Posted

Sorry, Messages are currently unavailable.
Conversation Title

Latest Post

Latest Reply

No Posting

No Posting

No Posting

No Posting
Title

Status

Created

This user has no Entry subscriptions
Most Recent Approved Entries
Disclaimer
h2g2 is created by h2g2's users, who are members of the public. The views expressed are theirs and unless specifically stated are not those of Not Panicking Ltd. If you consider any Entry to be in breach of the site's House Rules, please register a complaint. For any other comments, please visit the Feedback page.
This user has no Bookmarks