Bumblebee's page
This page best viewed in Brunel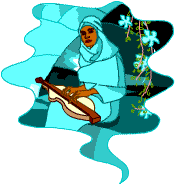 Welcome to my space . Do come in, don't be shy! I almost never bite...
About me
I am living in Bergen, (check out the webcam) and I have my workspace in the old wharve called Bryggen. If you want to contact me you can mail me, but I'm really slack on checking that account. I'm not particularly interested in pigeons but I happens to be closely related to one of the guys who implemented the RFC 1149 protocoll.
I try to keep myself within The Law of Continuity
Member of the The Scandinavian Researchers Club
I am the Keeper of Fluff
To keep mind and body fit I practice qigong. Not that it helps much..
Devoted member of People United in Defence of Depression, Irritability and Natural Grumpiness... PUDDING for short.
Meet some friends of mineHatifnatTitaniaPrez of HeadsnotOne-eyeYossarian PrefectMustapha
aaaaaaa
I am an ACE. If I'm not available, try one of the others:
You can also find me in the H2G2 Natural History Museum run by Amy the Ant.
Do you like birthdays? Find out who's celebrating today!
My conversations
| | | |
| --- | --- | --- |
| |   | |
|   | I'm a Brunel Fan! |   |
|   | Brunel: Skin of the Future |   |
| |   | |
Statistics have always fascinated me!
"Moderation is the chains on the opiate of the means of production. Or something." Join the Zaphodista Army.



OTD
Subscribe to Offsite Topic Drift, a conversation list with no theme other than, well, no theme. Although a number of lists exist as a part of h2g2, almost all of them are forum-related. At OTD (founded December 1999), the only condition for membership is that you be a registered researcher. As a result, the membership is a true cross section of age, nationality and temperament. Discussions, creative writing, surveys, confessions, oh, they all happen here. You can lurk, join in, or start your own discussion.
Click on the link to email the OTD List, and put Subscribe in the message header. List Mom Asteroid Lil will get back to you right away! All researchers are welcome.
bop

---
Messages left for this Researcher

Posted
Conversation Title

Latest Post

Latest Reply

No Posting

No Posting

No Posting

No Posting

No Posting
Title

Status

Created

This user has no Entry subscriptions
Most Recent Approved Entries
Disclaimer
h2g2 is created by h2g2's users, who are members of the public. The views expressed are theirs and unless specifically stated are not those of Not Panicking Ltd. If you consider any Entry to be in breach of the site's House Rules, please register a complaint. For any other comments, please visit the Feedback page.
This user has no Bookmarks