TRiG_Ireland

Why?1
Actually, I'm not a member of the campaign. I just love their banner.
Quantum materiae materietur marmota monax si marmota monax materiam possit materiari?
Now listed in azahar's h2g2 friends photo gallery.
Some fora to which I am subscribed
SEx: Science Explained
:
Ask a question!
The Forum
:
Serious debate.
Ask h2g2
:
Often frivolous, but usually entertaining.
Quite Interesting
:
Give us a puzzle
And more. I haven't listed the lot.
2
This means that new conversations keep popping up on my page. So don't assume I'm interested in everything you see in my conversation list.
2Mainly because I can't remember the lot!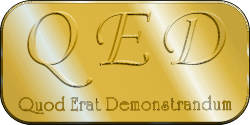 Oi you3! What're you doing here?
Us on Wikipedia
|
ReligiousTolerance.org
|
Me on Wikipedia
My Hobbiesreading; listening to
BBC Radio 4
and to
BBC 7
;
hillwalking; discussing the Bible (& religion in general);
collecting quotations & etemologies.
Now You Can Contact Me Off-site
You can contact me in the normal way by dropping me a note in my Message Centre, or, if you want to be more discreet, you can send me an e-mail. You should be able to work out the four-letter username, and the domain is iolfree.ie.
Conversation Title

Latest Post

Latest Reply

No Posting

No Posting

No Posting
Title

Status

Created

This user has no Entry subscriptions
Researcher Details
Name: TRiG (Ireland) Trying to write, a little

Most Recent Approved Entries
Disclaimer
h2g2 is created by h2g2's users, who are members of the public. The views expressed are theirs and unless specifically stated are not those of Not Panicking Ltd. If you consider any Entry to be in breach of the site's House Rules, please register a complaint. For any other comments, please visit the Feedback page.