Shea's Space
How Ya Doin'!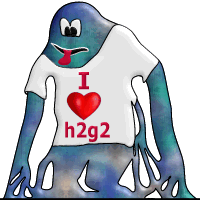 A little about me:
IRL, I'm a native New Yorker who now lives in the U.S. Midwest, although where I live isn't all that far west, and not really mid anything, but I digress. I'm originally from Long Island, and I'm an artist
. I've been bouncing back and forth between web design and print design, but I prefer web design.
I love to paint, but never get the chance to do much of it. My new passion is gardening. I finally own a home on a big plot of land, and I love to garden ... and can my own veggies! Whodathunk a City Girl like me would be doing something so Country?!
U6+39-7+4=42!
Thingites

Never Could Get The Hang Of Thursdays?
Join Clan Thingite!
Officially The Most Popular Up-Rising on H2G2©
Read The Manifesto
for the Campaign to Rename Thursday: "Thing"

Langwich Skool uv Noo Yawk
Do you ever find yourself wishing you could possess the suave self-confidence of a native New Yorker?
Visit the Langwich Skool uv Noo Yawk
The place where sophisticates learn to speak sophisticatedly!
h2g2 ACES
The Aces meet and greet newcomers to h2g2. They are particularly kind and helpful members of the h2g2 community, so if you have a question or need directions, ask an Ace! They'll be only to happy to help.

Pick one! You'll be glad you did!
---
Just call me Mrs. TJ
I met the most wonderful man on the planet here on h2g2. I'm married to the ungrumpy mushy TJ.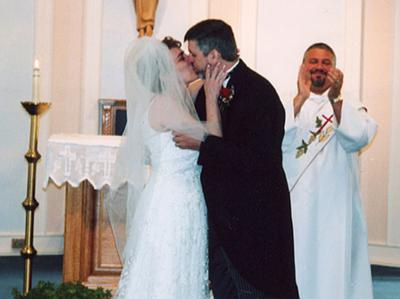 The ever-Warlordly Clive the flying ostrich wrote a wonderful article in the h2g2 Post

about the wedding! Check it out!

TJ and I met here on h2g2 in the Thingite camp
in the wee hours of the morning, and the rest, as they say, is history. I apologize to the good Researchers here for making him all content and happy ... he doesn't come online here anymore!



To have found my soulmate at this time of my life, and right here on h2g2 is a wonder to me. The chances of us ever meeting at all were so slim, and yet here we are, spending the rest of our lives together. h2g2 is a magical place!

I thought I was happy, but I now know what happiness really is. I thought I was incapable of falling in love, but I have fallen blissfully head over heels. I thought I was whole, but I have now found my other half.

Did I mention how happy I am?
---
Me and TJ with the infamous bowl!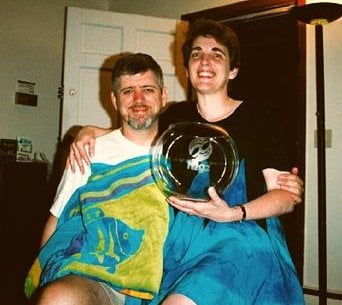 Conversation Title

Latest Post

Latest Reply

No Posting

No Posting

No Posting

No Posting

No Posting
Title

Status

Created

This user has no Entry subscriptions
Most Recent Approved Entries
Disclaimer
h2g2 is created by h2g2's users, who are members of the public. The views expressed are theirs and unless specifically stated are not those of Not Panicking Ltd. If you consider any Entry to be in breach of the site's House Rules, please register a complaint. For any other comments, please visit the Feedback page.
This user has no Bookmarks