Greebo's Lair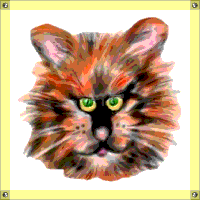 Hello old friends, new friends and friends yet to be, thankyou for coming to visit me in my home on h2g2. On this page you will find links to stuff that me has done at the guide, links to other good pages around h2g2, and a few odd things thrown in just for the fun of it...
As you can see by my picture, me is an orange (not ginger), rather cute cat... called Greebo by my mother (and 'you 'lil b****r' by my father), me grew into the wonderful immature cat you see before you now...
My hero is the Great Cheshire Cat who taught me all me knows... and the love of my life are doughnuts, followed closely by a glass of really cold milk and a straw... luckily you will find both in the Smileys, so they are very easy to give me... ~hint!! hint!!!~
Thank you for stopping by, please feel free to drop me a message if you feel like it... me would very much like to hear from you... Be good to yourself and be happy, the rest will take care of itself...












Me enjoys pottering around h2g2... doing things that make me happy... and hopefully doing things that make others happy as well... See the links below... click on them and see where they go... h2g2 is magic like that... it can transport you to many different places...

Sorry to say most of these links have been buried in soft peat for a couple of years. Sad but true. Dig them up at your own risk... remember to wear a protective helmet at ALL times whilst investigating. THANK YOU.





















Please let me introduce you to a couple of drop down lists who are just dying to meet you. The first is a list of my accepted guide entries, the second is a list of other things that me has done that you may... or may not be interested in.
DROP DOWN LIST ONE

My Accepted Guide EntriesTerry Pratchett's DiscworldAnne McCaffreyAnne McCaffrey's PernThe Dragons of PernLonesome GeorgeHow to make a Hemp Bracelet

DROP DOWN LIST TWO

Other Things of a Greebo nature you might be interested inThe Greebo T. Cat Collection for The PostJohn Wayne- The ActorAlan Dean Foster - AuthorGreebs SpeakMy Acing PageMy h2g2 Art GalleryMy PoemsPictures of ME on h2g2Greebo's PartyThe Cheshire GrinThe Cheshire Grin Pub QuizThud - A work in progressThe Babylon Project - A Work in Progess










'OH GOOD GRIEF!!! CAN ANYONE HELP ME KEEP THIS ST..ST...STOOL STILL!!!'












Messages left for this Researcher

Posted
Conversation Title

Latest Post

Latest Reply

No Posting

No Posting

No Posting

No Posting

No Posting
Title

Status

Created

This user has no Entry subscriptions
Most Recent Approved Entries
Disclaimer
h2g2 is created by h2g2's users, who are members of the public. The views expressed are theirs and unless specifically stated are not those of Not Panicking Ltd. If you consider any Entry to be in breach of the site's House Rules, please register a complaint. For any other comments, please visit the Feedback page.