The Great Demon's Lair MUA HA HA HA HA HA!

& Orcus, archnemesis of Demogorgon, I live deep in the pits of Hell, coming out only at night to raid innocent shopping centres with my deadly horde. If you should come across my black presence (actually its probably more like magenta but don't tell anyone, shhh!) beware as I wield a Wand of Death!
Ooh I'm soooo scary (in my best Dale Winton voice)!
In real life I'm an organic chemist working at Cardiff University in Wales. I am working (slowly to be sure) at adding some more scientific articles to the guide.

Surely this creature cannot be me???!!! Well...maybe

I am a big fan of Liverpool football club. I also closely follow the fortunes of Celtic (my family are mostly glaswegian) and Rushden and Diamonds. For some

distractions why not play Master B's Phantasy football tournament or Greydesk's fantasy footie game? The difference lies in the spelling don't you know.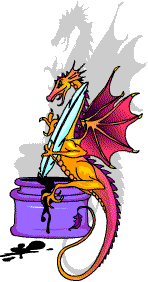 I like reading Science Fiction/ Fantasy novels. Surely an unusual taste amongst h2g2ers

. Read Tolkien (go and look at the website for the upcoming film of Lord of The Rings it looks good
), Robert Jordan, Tad Williams, Stephen Donaldson and George R.R. Martin, they're great. Avoid David Eddings, he's rubbish. Oh, and did I mention Douglas Adams, well, he's not bad really.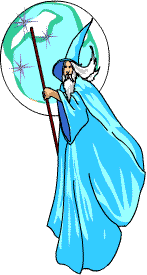 If the sight of h or L makes you jump out of your chair and you constantly wonder how you're going to take off those cursed Boots of Levitation, then like me you must love the roguelike computer game nethack which is a free, single player, role playing game in the mould of Dungeons and Dragons. Its really really good, but don't play it if you're into good graphics 'cos it aint got none. IMHO gameplay before graphics anyday. You can find out about it on the official Nethack website. I would be most interested to hear from anyone else who plays it and maybe start off a stupid death page for it here on h2g2.
---
Some nice people I have met on h2g2
The University of Mice
I have recently been installed as an h2g2 mouse. I have the honorary name of Jerry Mouse and I am Professor of Quizology at the University of Mice. You too could go and claim your own professorship. Just pop on over and request a title.
University of Mice Faculty MembersOrcus aka Jerry Mouse Professor of QuizologyArgon0 aka Frankie mouse -Professor of 42ology. iaoth aka Benjy mouse - Professor of Squeekish.Sad Mad or Bad aka Buffy mouse -Professor of True Love and ButtkickologyArchangel Galaxy Babe aka Minnie mouse - Professor of FlirtologyHenryS - Assistant Professor of 42ologyvogonpoet - Professor of VerseShea the Sarcastic aka Minute Mouse - Professor of SarcasmE G Mel - Professor of Baggy TrousersTabitca - Professor of Shallow ThoughtHugo the Fish - Professor of Bubblishpheloxi - Professor of Interspecies Relations (specialising on mice and cats)Arthbard Vootenoy - Professor of CheatologyMonique - Professor of Something Ending in OlogyPhreako - Professor of InflatologyMistdancer - Professor of SockologyDas Mouldy Sandwich - Extended Visiting Professor of Mouse Trap AvoidancePu Dendal-Shrubbery - Professor of Running About and Eating Little Bits of CheeseAnimel12 - Professor of QuestionismsBob - Professor of Drinking Alcoholic Substances
Whose Line Is it Anyway
Anyone who used to join in the various games is welcome to carry on in my newly created temporary home. Hopefully, this bit will eventually (and I do mean eventually) become just a link to the true Whose Line is It Anyway page.
Newcomers are of course, welcome too. Due to h2g2 being h2g2, it's kind of fragmented into various other fora too so click on these links to play the song titles game and Argon0's Book/Story Titles and Movies/plays/TV shows linking games.
Some Fun Distractions
Why not try H2G2's Paperless Paperchase? Its good fun. Also I enjoy taking part in the H2IQ quiz. Sad mad or bad?'s Word Gymnastics is fun, as is the Limerick game. Come and join the fun at castle Camelot.
Volunteer Groups
I am currently a member of these two volunteer groups. Just click on one of the lists below to find another one of my fellow volunteers.
Links for my own convenience
New Users List
Ask the h2g2 community
Scout Recommendations1
What's Coming Up
My conversations
Oh, and...
Did I mention that...

That's Science Explained
Messages left for this Researcher

Posted
Conversation Title

Latest Post

Latest Reply

No Posting

No Posting

No Posting
Title

Status

Created

This user has no Entry subscriptions
Most Recent Approved Entries
Disclaimer
h2g2 is created by h2g2's users, who are members of the public. The views expressed are theirs and unless specifically stated are not those of Not Panicking Ltd. If you consider any Entry to be in breach of the site's House Rules, please register a complaint. For any other comments, please visit the Feedback page.
This user has no Bookmarks