Ormondroyd's open house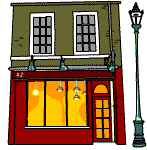 Welcome!

I'm Ormondroyd, a humanoid life-form first sighted in the northern English town of Shipley, West Yorkshire, UK, in 1960.
I live in Bradford - a city famous for curry and riots. Actually there's much more to the place than that, something I tried to convey in this h2g2 Edited Guide Entry on Bradford.

I graduated from the University of Bradford in 2007 with a first class B.A. honours degree in Combined Studies - a kind of pick'n'mix course on which I studied a variety of arts and social science subjects. I am currently taking an ITQ

qualification at Bradford College.
I have a keen interest in theatre, and during the summer of 2003 I had a very enjoyable work placement as a theatre administrator with Mind The Gap, a Bradford-based theatre company that specialises in working with learning-disabled people in the cast and crew of its productions.
I decided to return to Bradford in May 2000, and therefore ended a 15-year exile in London. I moved to London in the mid-1980s mainly because finding a job in northern England was then about as easy as knitting water.
In London, I became a civil servant in the Department of Trade and Industry, where my main duty was to humour absurdly pompous business people on behalf of the UK government. Thankfully, my love of intelligent popular music provided a means of escape. I became a full-time music journalist, and wrote for a well-known (though now defunct) music magazine from 1988 to 1999. Since returning to Bradford, I've kept myself busy writing, studying and collecting qualifications.
I love football, and am perhaps a little old-fashioned in that I like to go and watch the game live and in the flesh. I've been a supporter of Bradford City since 1968 and still visit Valley Parade fairly frequently. Lately, however, I have increasingly been attracted to the charm and good humour of non-league football, and have become a regular supporter of Guiseley AFC, who were the 2009-10 champions of the Northern Premier (Unibond) League and will therefore soon make their debut in the Blue Square Conference North. I have written about the beautiful game for the excellent When Saturday Comes magazine.

My other main interests in life include films and books. I regularly visit The National Media Museum to go to film screenings at the Pictureville and Cubby Broccoli cinemas, where I get to see all kinds of movies from all over the world.
I also do a bit of acting and singing myself. I'm an enthusiastic member of the Bradford University Society of Operettas and Musicals (BUSOM). I made my serious acting debut in March 2003 in the BUTG production of Shakespeare's The Tempest, and was recently seen in their production of Gilbert and Sullivan's The Pirates of Penzance
at the Theatre in the Mill, Bradford.
I am amiable, kindly, impecunious, frequently confused, and delighted to make your acquaintance.
We'll cheer up when we're good and ready...

When someone orders you to 'Have a nice day,' do you often want to reply 'How?' or 'Why'? Have you often been provoked almost to the point of violence by cheery idiots chirping 'Cheer up, it might never happen'?
Then why not join People United in Defence of Depression, Irritability and Natural Grumpiness: P.U.D.D.I.N.G.? Our page is a refuge from forced jollity. We don't celebrate or promote misery. We simply demand the right to look

if we feel

. And on the P.U.D.D.I.N.G. page, there are links to websites and web pages about some of our role models: from Marvin to The Smiths, from Ingmar Bergman to Eeyore.
Come and savour the rich, piquant flavour of P.U.D.D.I.N.G.. You have nothing to lose but your forced
.
FOOTBALL FANS!
Join my Club!
I am h2g2's Keeper of Civilised Soccer Fandom, and I've built a football Club that I hope every soccer fan on h2g2 will want to support.
The Virtual Supporters' Club offers links to lots of great soccer sites from around the world. It also features links to club sites for every League team in England and Scotland. So come on over and get stuck in!
I've also compiled The h2g2 Galaxy of Football, a page providing links to all the useful Guide Entries on football that I was able to find. There are entries on individual football clubs, football competitions, star players, the rules of the game and on all kinds of aspects of football culture. All of football life is there!
My favourite haunts
There are too many cool places and people on h2g2 to list in this Personal Space without making it unfeasibly long (like it used to be). That's why I built Ormy's Highlights of h2g2, where you can find details of the clubs I belong to aside from the ones I started myself, and be introduced to some of the Researchers who make being here such a pleasure.
(Thanks to Dr St Justin for this idea.)
Meanwhile, elsewhere in the galaxy...

Here are links to a selection of my favourite sites outside BBCi. Some deal with deadly serious matters, others are purely for fun; but they all make me smile for one reason or another.
The Real World
Please visit The Hunger Site. Just by doing so, you can help to feed the starving - and it'll cost you nothing.
Here's a site for those of us who believe that we have the right to say what we like and that governments do not have the right to kill or torture us. It's the official site for Amnesty International, the global human rights organisation.
This is the only home planet we've got. Shouldn't we take better care of it? Greenpeace think we should. And if it feels like it's getting mighty crowded on our planet, that's probably because it is... Here are the latest estimated world population figures, courtesy of the U.S. Census Bureau.
It's my party and I'll plug it if I want to: here's the official site for Britain's Liberal Democrats. If you'd like to know about the history of the party, there's an excellent Edited Guide entry on Liberal Democrats - UK Political Party.
At times of international conflict, it's more important than ever to ensure that governments don't seize the opportunity to restrict our civil liberties. In Britain, the main organisation fighting for civil liberties and human rights is Liberty. In the USA, there's the American Civil Liberties Union - despised by the religious right, so they must be doing a good job!
Find the news that the mainstream media doesn't see fit to print at the Independent Media Center.
A site for we British agnostics and atheists who would like to be allowed to practice our faith: The National Secular Society. Americans who share our lack of faith can find sterling support at the Freedom From Religion Foundation.
On h2g2, the congregation of unbelievers can be found not worshipping at The Freedom From Faith Foundation. I am proud to hold the office of Devil's Advocate.
Department of Art and Frivolity
An invaluable resource for film fans of all tastes and none: The Internet Movie Database.
Now that's what I call an eclectic mix of quality popular music, featuring lots of cool new artists and no annoying commercials: BBC Radio 6 Music.
Engage your browser's warp drive and boldly go where many a happy fan has gone before. Beam up to the official Star Trek website.
The heroic Time Lord who has survived 40-odd years of attacks from Daleks, Cybermen and even BBC Director-Generals: the timeless and wonderful Doctor Who is celebrated at the official Doctor Who web pages and The h2g2 Doctor Who Group.
And if that isn't enough stimulation for your sonic screwdriver, there's a fantastic Doctor Who information archive and discussion forum at Outpost Gallifrey, and a sizeable store of diverse and sometimes daring Doctor Who fan fiction at A Teaspoon And An Open Mind.
Terry Pratchett once said that 'Research is what happens when you think you're doing something else.' He's obviously a h2g2 kind of guy. He's also one of the world's funniest writers. Find out more with this h2g2 Edited Guide Entry on Terry Pratchett's Discworld, this British Terry Pratchett fan site, and this American Terry Pratchett site.
For superb satire from the States, just taste The Onion - America's finest news source.
What can turn George W. Bush into 'He Grew Bogus', Tony Blair into 'Liar By Ton', Gordon Brown into 'Born Do Wrong', David Cameron into 'Mad Vain Credo' and Ann Coulter into 'Unclean Rot'? Why, it's the Internet Anagram Server. Great fun guaranteed for all - or my name's not 'Don Dry Room'!
Cool Cartoon Corner
Here are the sites of the comic strips with which I like to start the day:
Philosopher, party animal and amorous aesthete: it's Norway's most gorgeous Goth, and probably my ideal woman - Lise Myhre's magnificent creation Nemi.
It's been gently but perceptively satirising life in the USA for 35 years. It's Garry Trudeau's wonderful Doonesbury.
A strip about a world where co-workers can't be trusted and bosses are mean and manipulative. The strip is very popular! It almost seems as though an awful lot of office workers can relate to it! It is, of course, Scott Adams's brilliant Dilbert.
Warm, witty and sometimes surreal: Brooke McEldowney's dreamlike domestic drama 9 Chickweed Lane.
And here's Mr. McEldowney's other comic masterpiece: the delightful everyday story of fairies, succubi and church organists that is Pibgorn.
Credits where they're due
I would like to thank:
DNA
, without whom none of this could ever have been possible.
BRUCE
,
SHAZZ
and
PETA
for all their invaluable advice and encouragement.
OTTOX
for this very helpful guide to
Web Safe Colours
, which has been useful in choosing some of the text colours for this page.
And
YOU
, for your visit! Please call again!
Messages left for this Researcher

Posted
Conversation Title

Latest Post

Latest Reply

No Posting

No Posting

No Posting

No Posting

No Posting
Title

Status

Created

This user has no Entry subscriptions
Most Recent Approved Entries
Disclaimer
h2g2 is created by h2g2's users, who are members of the public. The views expressed are theirs and unless specifically stated are not those of Not Panicking Ltd. If you consider any Entry to be in breach of the site's House Rules, please register a complaint. For any other comments, please visit the Feedback page.
This user has no Bookmarks