David Beckham - Rise of a Footballer
Created | Updated Mar 29, 2009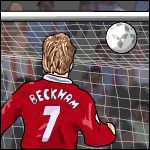 From an early age, David Robert Joseph Beckham wanted to be a football1 player, and not just any football player - he wanted to play for Manchester United and become a leading name in the sport. By the young age of 28, he'd become one of the most well-known names around the world, worn the coveted 'No 7' shirt in the most successful United squad ever, captained the England team in a World Cup tournament and signed a multi-million pound deal with another major name in football, Real Madrid. Objective well and truly achieved!
The Early Years
David was born on 2 May, 1975, in Leytonstone, London to parents Ted and Sandra, and soon the family moved to Chingford, Essex. Encouraged by his parents (his father Ted was also a United supporter), David set about earning his place in footballing history. In 1986, when he was just 11, David became skills champion for his age group at the Bobby Charlton Soccer Schools. This gave him the chance to attend a two-week trip during which he would train with FC Barcelona at the Nou Camp stadium, with the words of Bobby Charlton ringing in his ears stating that David was the best 11-year-old he had seen in his six years of running the school.
Soon after this David was spotted by a scout while playing for Waltham Forest under-12s and was given a trial at Manchester United. He would travel up to Old Trafford for week long trials, and David was, on more than one occasion, invited to meet the manager and the players. He would spend all of his spare time in Manchester watching training sessions, eager to get involved. In the end David had to make a choice between his local team, Tottenham Hotspur, or Manchester United. With his parents backing whatever decision he made, there was no contest. At the age of 16, David Beckham left home and signed for Manchester United as a trainee on 8 July, 1991.
Manchester United
Success at United came quickly, as he won the FA Youth Cup in 1992 with a team including Ryan Giggs, Gary Neville and Paul Scholes. Making such an impact led to his senior team debut on 23 September, 1992. This was as a sub for Andrei Kanchelskis in a League Cup match against Brighton and Hove Albion. David then signed as a professional on 23 January 1993, followed by his first full appearance in September 1994 against Port Vale, again in the League Cup. This was followed two months later with his first goal for United, against Turkish side Galatasaray in the Champions League.
When he was 19, manager Alex Ferguson, reasoning that David was a late developer, sent him on loan to Preston North End to gain more first team experience. He made a great impression there after scoring on his debut against Doncaster. However, he was called back to Manchester after just five games as United were short of players for their next match against Leeds. He scored his first Premiership goal against Aston Villa in the first game of the 1995/1996 season, a match in which the United team were out to prove themselves after a lot of changes to the team. They were beaten that day and TV pundit Alan Hansen stated: 'You can't win anything with kids'. But United had faith in their abilities, so Beckham and the United team went on to prove Hansen very wrong. During that season, Beckham scored eight goals and United won the Premiership and FA Cup double, firmly establishing David in the first team.
Beckham became a household name during the following season after scoring a famous goal against Wimbledon at Selhurst Park from the half-way line. From then on, David was one of Manchester United's most loved players with fans all over the world, playing 311 games, scoring 74 goals and winning 11 medals.
Wearing an England Shirt
After winning England caps at under-21 and youth level, Beckham earned his first senior cap for England against Moldova on 1 September, 1996. Manager Glenn Hoddle made the brave move of putting such a young player in the starting line up, which paid off as England won 3-0.
David then went on to become the only player to make the starting line up in every qualifying game for the 1998 World Cup in France, however, this competition finished in disaster for David. Having been left out of the first two games of the tournament, he set out to prove himself in the third match, against Columbia, scoring one of his now famous free-kicks. In the next game, against Argentina, David suffered the first sending-off of his professional career. Having been tackled from behind by the Argentinean midfielder Diego Simeone, Beckham impulsively kicked out at Simeone in retaliation. His dismissal from the match left England to play with ten men for the rest of a game in which they were only beaten in a penalty shoot-out. Almost the entire country blamed David for England being knocked out of the World Cup that year and so he faced abuse and criticism wherever he went, but over time, through his footballing abilities, he won back the crowd and regained his place in the nation's heart.
Support for David did again rise, and his confidence and ability on the pitch grew, leading to the new England manager at the time, Sven Goran Eriksson to hand David the captain's armband in 2001. In this role he succeeded in taking the England team into the finals of World Cup 2002 in Japan and Korea. One of David's best performances as England Captain was ensuring qualification for World Cup '02. England only managed to draw in this match, but as other players looked woeful on the pitch, Beckham played amazingly. Chasing every ball, and leading by example, he saved the team by curling the ball into the net from a late free-kick to secure a point, and a place in the finals.
Tragedy looked inevitable when he broke his foot in a Champions League match prior to the finals. The whole country willed the injury to heal, and heal it did, leaving Beckham to lead England all the way to the quarter-finals where they were beaten by eventual champions, Brazil.
Family Life
On 4 July, 1999, David married former Spice Girl Victoria 'Posh' Adams and enjoyed a honeymoon in the South of France. The couple claim that it was love at first sight, and David knew that she would be the woman he would marry. He proposed on 24 January, 1998, after six months of going out. The couple have been through a lot together, mainly the public hatred towards David after the World Cup in 1998.
Their first son Brooklyn Joseph Beckham was born on 4 March, 1998, and has already shown that he may have inherited his dad's footballing skills after he passed a three-day course at the Bobby Charlton Soccer School at the young age of four. Brooklyn's brother Romeo James Beckham was born on 1 September, 2002, with a third son arriving for the family - Cruz - on 20 February, 2005.
David Beckham is a dedicated family man, which, unfortunately may have contributed to his departure from Old Trafford. Despite publicly denying the rumours, Alex Ferguson was said to have disapproved of his missing out on training sessions to be with his family. This reported rift between Beckham and his manager was supposedly started in February 2000 when David missed out on a training session because he was looking after Brooklyn, who had a cold. The row was denied, but David was left out of a crucial match against Leeds a few days later.
Showbiz
Like most football stars, David was never far from the back pages of our newspapers... but he was never away from the front of them for long either. David and Victoria, or 'Posh and Becks', were the celebrity couple for the beginning of the new millennium, and there was always some news story being written about them. Their wedding was very high profile, being held in a castle near Dublin, Ireland. About 500 people were flown in for the special occasion, and their guestlist included Sir Elton John, and of course David's Manchester United team mates, and Victoria's fellow Spice Girls.
People were interested in the Beckhams, and so it was difficult for them to stay out of the limelight. David's flair for fashion and individualism fuelled some of this interest. A new hair style, a new outfit, and it's front page news, and there have been many of both. The hair has been shaved off, cut into a Mohawk, been left long and wild and carefully made into plaits, and each one made the headlines. The clothes have a similar effect, for example, David's infamous sarong. This influence has led to many sponsorship deals, and also his own line of Marks and Spencer2 clothes for boys. Indeed, such was the level of his popularity that he even inspired a movie title Bend it like Beckham.
At Manchester United, David earned an estimated £10 million a year, and anyone with this kind of money is going to splash out - David is no exception. Adorned with tattoos depicting a guardian angel overlooking his sons' names, and Victoria's name in Hindi on his arm (even if reports are true, and it is spelled wrongly), a collection of cars, including a £166,000 Bentley Arnage with a 6.75-litre V8 engine and leather baby-seats, and a £2.5m home dubbed 'Beckingham Palace' in Hertfordshire, it's easy to see what he enjoyed spending his money on.
The Next Chapter
In July 2003, David Beckham signed a £25m deal with Real Madrid ending his time playing at the team of his childhood heroes, Manchester United. So a new chapter starts, and everyone waits for the next haircut, fashion statement and footballing milestones to add to the Beckham story.