Glastonbury Festival, Pilton, Somerset, UK
Created | Updated Jul 11, 2011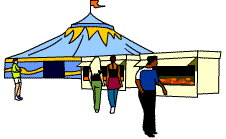 Almost every year, usually towards the end of June and within the confines of a Somerset dairy farm, a magical transformation occurs. The simple dairy farm fast turns into a temporary city in excess of 150,000 people, inhabiting tents in conditions of questionable hygiene, dining from a selection of food courts that would impress any mall-going American tourist, and wandering between various entertainment stages, shops and row upon row of public conveniences.
Somerset locals are consistently amazed by the sheer number of people squeezing into this space during the short time of the festival. Those that visit are similarly amazed, but more so by the contents of the festival itself.
History
Officially known as the annual Glastonbury Festival for Contemporary Performing Arts, the event is situated near the small village of Pilton in Somerset. Michael Eavis, the owner of Worthy Farm where the event is held, runs the festival and is also rumoured to have a large say in many of the acts that are invited to take part.
The first event was held in 1970, apparently inspired by a blues festival at the Bath and West showground. Tickets were just one pound, this price including a free pint of milk from the farm. Around 1,500 people are estimated to have attended the fledgling festival, watching headliners T-Rex, after The Kinks pulled out at the last minute. Since that day the festival has grown in size and stature and is now widely recognised as one of the most important events in the UK's musical calendar.
Each year, Glastonbury seems to go down in festival history as being a momentous occasion, from the recent colossal mud baths of 1997, 1998 and 2005, to the disastrous burning down of the main stage in the months prior to the 1994 event.
A band's performance at Glastonbury can make or break their career. For instance, Pulp was brought in as last minute Sunday night headliners in 1995, and their excellent performance catapulted them into the media spotlight.
Getting into the Festival
Over 135,000 tickets go on sale around Easter-time from authorised ticket agents and via the The Official Glastonbury Festival Website. Tickets usually sell out pretty quickly and well before the festival so, in 2007, a registration system was introduced: anybody that didn't register by mid March wouldn't be able to buy a ticket. This helped to reduce the traffic on the booking lines and websites, but two thirds of the 400,000 who registered were still disappointed. On the face of it, the fee may seem quite astronomical, and the prices have been steadily increasing since the festival's beginnings. However, this is only to keep pace with the increasing costs of actually running the festival in the first place1.
Ticket touts are common around the entrance to the festival, but even if they are selling genuine tickets, they will be doing so at vastly inflated prices. More likely, they will be offering forgeries and the likelihood of getting your money back upon discovering this is zero.
There are, of course, 'alternative' means of getting into the festival, but only one is recommended: volunteering, whereby you effectively 'earn your crust' working within the festival.
Other plucky festival-goers used to attempt to scale the ten-foot-high double perimeter fence or tunnel under it. It is estimated that until recently as many as 20,000 people per festival managed to gain entry in this fashion and many more were caught. In 2002 the height of the perimeter fence increased to 12 feet (3.5m) which has made illegitimate ingress nigh on impossible. As a result the festival has been less crowded, despite more tickets being sold, and has recently had its license renewed until 2010.
As if the incentive of seeing dozens of bands in the space of a few short days isn't enough, there is another good reason to 'do the honest thing' and pay for a ticket. The festival has a great tradition of giving money to charitable causes. Recent major sponsors include Greenpeace, Oxfam and Water Aid.
Getting to the Festival
The festival is easy to find by various forms of transport. If travelling by car, you'll find the site situated just off the A361 between Glastonbury and Shepton Mallet. It is well sign-posted from all the major roads into the area and very large car parks surround the site. Be warned, though: due to most people arriving by car between Thursday and Friday evening, the surrounding area suffers from gridlock - queues of several hours are common. People travelling by car are often known to miss the headlining bands on the Sunday to try and beat the traffic off-site. This isn't really worth trying, as success is unlikely.
For those of you of sounder mind and lighter baggage, try getting to Glastonbury by public transport. The nearby town of Castle Cary has a train station and a regular (free) bus service that goes all the way to the festival gate for ticket holders - much closer than car drivers can get. National Express coaches will also deliver you to the area from many parts of the country.
Unsurprisingly, travel by bicycle is becoming increasingly popular. This is in part due to the improving secure storage facilities for bicycles within the festival. It also allows you to ride to where you pitch your tent, saving on tiresome walking.
The only other option is to become a filthy-rich rock star, celebrity or entrepreneur and arrive by helicopter.
The Camping Experience

There are places to stay in Pilton, but most festival-goers would argue that camping is as much part of the festival experience as the music and by not staying on site you'll miss out on many events and much of the excitement. There is ample camping space, early on at least, but those arriving late may have the misfortune of pitching their tent downwind of a stinky and leaky portable loo site.
The best sites are awesome - those in the know can end up able to watch acts on the main stage from their tent, as some camp sites are situated on high ground surrounding the main performance areas.
Greenfields
Another recommended area to pitch your tent is in the area surrounding Greenfields. Although situated at the bottom of the site, this area is undoubtedly at the heart of the festival. If you can overcome any urban cynicism and mirth at the promise of 'spiritual healing' and the omnipresent stalls selling candle-powered toy boats, this is the most enlightening area of all. A bustling market, yet having a relaxed atmosphere, this is the perfect place to wax lyrical with a brightly-coloured stranger on any topic that takes your fancy, while eating fresh coconut. As you may have guessed, this is a truly remarkable and sometimes surreal place.
The Sacred Space site is located at the very base of Greenfields, and provides the largest of all the night parties. It's the place to go if you want to see a hundred people playing several hours of improvised bongo jamming, fire-eaters, fire jugglers and the most beautiful nocturnal view of the whole festival. Be there at sunset or dawn to marvel at the sun's magical movements in the sky, or anytime after midnight to watch at the stars and chill out, and keep an eye open for the giant wicker man being ceremoniously burned.
Toilets

The toilets at Glastonbury are a thing to behold and come in five easily recognisable forms:
The portable loo - Resembling a telephone box, these are the least enjoyable, as hygiene tends to hit rock bottom about half an hour after the gates open. What could possibly be more fun than being forced to squat in mid-air to avoid sitting in a mound of assorted waste protruding high above the rim of the bowl, while you attempt to avoid inhaling the foul, acrid stench? These are best avoided.

The cesspit - An invention not seen since the dark ages, the glorious cesspit has returned to Glastonbury after centuries of neglect. Row upon row of open-aired green metal cubicles are presented to you, with the doors being about four feet in height. There are no locks to speak of, the security system works as follows: you look under the doors for feet. If there are feet present, the chances are that there is a body attached to them in the process of, well, you know...

The Water Aid long drops - Situated in the Sacred Space, these are African-style thatched toilets where one squats. Water Aid volunteers keep these clean, thus making them the most desirable option within the festival.

Flush toilets - These do exist at the farm for those who miss wasting all that fresh water while 'doing their business'.

The shrub method - While at times this may seem the most desirable option, quite literally doing your business in any large leafy mass of vegetation is a selfish action used by too many, often causing something of a health hazard. If 'doing it the natural way' takes your fancy then seek out one of the compost toilets discretely hidden around the Greenfileds site.
More Tips for the Wary Camper
Regardless of where you end up staying, it is of paramount importance to remember exactly where you pitched your tent and erecting some kind of landmark, be it a flag or some other implement (the higher the better) is very much recommended. You may pitch your tent in an almost empty field, but by the time you get back a few hours later, it could be buried in a sea of identical temporary houses. Additionally, it's also a good idea to befriend your neighbours - they may keep an eye on your tent and belongings for similar favours.
For convenience, 'free' property lock-ups are situated around the festival site, often supplying free soap and loo roll so you can at least retain some semblance of hygiene during your stay. Pseudo-cash machines, essentially large and very secure portacabins, can also be found at the festival, but very long queues tend to appear within a few hours and seldom disappear.
Music and Other Entertainment
Sometimes it might seem of secondary importance, but the true heart of Glastonbury is, of course, the music. Every year there is a bewildering array of artists, crossing all genres, although the main stages are almost always populated by more chart-oriented acts, even if they are of an 'alternative' bent.
Although planning some kind of personal schedule probably seems a good idea, it's very much worth flicking though the programme to find things of interest at the more obscure stages. After all, you can hear the bigger bands on the radio anytime. One good example is the small Avalon tent in Greenfields - the site of Rolf Harris' blistering set at Glastonbury 20002. Another great location is the underground piano bar. It has a maximum capacity of just 40 and was the chosen venue for a duet by Jools Holland and Michael Eavis in 2000, which was one of the most talked about performances of that particular weekend.
The main stage is known as the Pyramid Stage, for obvious reasons, it's shaped like a pyramid. Allow yourself plenty of time to get to where you want to go to, as time disappears astonishingly quickly.
Of course, Glastonbury isn't just about music and there is a huge range of other entertainment for the discerning festival-goer.
There are stages and tents for circus acts, cabaret, theatre, poetry and comedy. At some point you are also almost guaranteed to be assailed by a street theatre performance, though at times during the festival there is little distinction between these performers and genuine festival-goers.
Also, try finding the 'naked protest' man, and marvel at his bare faced cheek, so to speak. His name is Vincent and he is making a very important social/political point.
Food and Shopping

You can find every type of food imaginable at Glastonbury. Whatever your personal tastes, you are likely to find something that suits you, including Mexican, Italian, Indian, Chinese, Thai, English (such as the infamous 'Jacket Spud'), American and French, as well as fresh fruit stands, ice-cream and so on. Portions tend to be reasonable, as does quality, but be prepared to pay well over the odds in what is, after all, an enclosed environment. Of course, you can cook for yourself, but be careful not to set your tent on fire (or your neighbours').
Also of interest is the Somerset Cider Bus, provider of some of the finest hot'n'spicy cider in the world. This is usually located near the Pyramid.
If you like shopping for trinkets, candles, blankets and various stereotypically 'hippy' goods, then Glastonbury is your sort of heaven. It is sometimes possible to barter, so give it a go.
More Useful Tips
Be sure to pack clothes for any occasion: a combination of Wellington boots, suntan lotion, waterproofs, sunglasses and sandals is good, as the weather is never guaranteed, one way or the other. It is not unusual for torrential downpours and heatwaves to occur in the same weekend or even the same day.

We've said it once, and we'll say it again: don't pitch your tent downhill of the toilets, unless you have no sense of smell, or a very liberal attitude.

Drugs - You will be offered drugs at some point at Glastonbury, whether you choose to take them or not is your choice. This is just as illegal as elsewhere in Britain and there are police present. Don't be naive - those truffles in the Greenfields aren't like any you might find in your local confectionery store.

If you have the time, visit the town of Glastonbury itself. Though logistically difficult (transport in and out is a nightmare due to queues, labyrinthine parking arrangements and the vagaries of public transport), it is definitely worth the visit, if not just to calm down.
Why so Spiritual?
It's also worth mentioning that Glastonbury - the town, rather than the festival - much like its not-too-distant neighbour, Stonehenge, has long been associated with all things spiritual. This may go some way to explain the year-round availability of crystals, pentangles, tie-dye and other hippy paraphernalia in the locality. Legends abound on the area's associations with Druidism, St Patrick, King Arthur, Joseph of Arimathea and Avalon:
Glastonbury is said to be the oldest site in the UK for Christian worship. Apparently Joseph of Arimathea came from the Holy Land to Glastonbury, via Gaul, and brought with him the Holy Grail, where it was hidden in a well at the bottom of the Tor.

Glastonbury Tor is a singularly spooky-looking hill with a tower on top of it and is said to the entrance to Annwn, the Celtic underworld.

Also strongly associated with Glastonbury is the Isle of Avalon, where King Arthur's legendary sword Excalibur was made, and where he was brought in his dying moments to be received by the ladies in the lake.

However, the ladies of the lake must have brought him back, as in 1191 the graves of King Arthur and Queen Guinevere were apparently uncovered in the grounds of Glastonbury Abbey.

St Patrick, the patron saint of Ireland, is also said by some to be buried in the area.
Some say that the very feel of Glastonbury is mystical, there's magic in the air. Be it the effects of the mists, the ley lines, the legends or the meditation tapes and joss-sticks, it is, indeed, a spiritual haven for pagans, Christians and festival-goers alike.
1Even the festival toilets, gruesome as they are, cost hundreds of thousands of pounds to hire and install.
2This all round, entertaining septuagenarian performed a dance version of his seminal hit 'Two Little Boys'.