Potato Recipes
Created | Updated Jan 8, 2019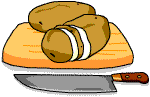 When the English writer of comic and satirical verse, Sir William Schwenck Gilbert, talked of...
An attachment à la Plato
For a bashful young potato
...he single-handedly grabbed this starchy tuber from the ground and hoiked it up in to the lofty heights of poetry and philosophy. And it is here we feel that this magnificent tuber rightfully belongs, such is its history and versatility. From chips to vodka, latkes to gratin, the influence of the potato is felt everywhere. They are such a joy to eat and there are so many different ways to eat them, that we felt it was high time to compile an entry made up entirely of the Community's own particular favourite potato recipes.
Ottik's Fine Spiced Potatoes
This is a great recipe for potatoes if you love spicy dishes. Anyone who has read the Dragonlance Chronicles by Margaret Weis and others should know this one.
Ingredients
As many potatoes as you'd like to eat
2 teaspoons red cayenne pepper (or more if you like it hot)
Enough butter to fry with
Method
Slice the potatoes thinly. Heat the butter in a frying pan until it sizzles. Put the potatoes into the frying pan and fry until crispy.

Sprinkle with cayenne pepper. Serve as a light snack or as an alternative to chips.
Potato Flake Potato Cakes
The mainstay of cheap 'scoop 'n' save' shops, potato flakes have many and varied uses, apart from the obvious instant mash and potato soup base - they can be used to make potato pancakes.
Ingredients
Method
In a mixing jug, beat the eggs into 1/4 pint of milk, adding salt, pepper and whatever herbs/garlic/spices you like. Stir in potato flakes until you get a thick gooey consistency which is barely runny.

Prepare a hot, oiled frying pan, then dollop large spoonfuls of the mix onto it. Press them flat and as soon as they start to bubble from the bottom of the pan, flip them over. Keep flipping until both sides are dark brown.

Serve as a side dish with fry-ups or on their own as a good stodgy snack. They're nice with onion in them too - either shredded fresh onion or with dried onion from the same place you got the potato flakes. If you use the dried onion, put that in with the milk and microwave it for a couple of minutes at the start, then let it cool before adding the egg.
Roast Potatoes
Ingredients
Method
One of the best ways to roast a potato is to cut it into chunks, then make thin parallel cuts on the top.

To make them taste absolutely gorgeous you need to use chicken oil. This is oil that has already been used to cook chicken portions in, or if you are doing a whole roast chicken cook the potatoes in the same dish.

Heat the oil until it's very hot in a dish (preferably in an oven) and put the potatoes in it. Baste the potatoes every 10 minutes and in about an hour you'll have the best roasties ever.
Dauphinoise Potatoes
Ingredients
Potatoes
A small onion
1/4 or 1/2 pint milk
1 egg
Salt, pepper, nutmeg
Method
Peel and thinly slice your potatoes, use a mandolin to get even, thin slices, if you have one.

Layer the spuds in a large ovenproof dish - you can add a few slices of onion every third layer, for extra flavour.

Combine a quarter to half a pint of milk (dependant on the amount of potato) with one egg. Carefully pour this over the layered potatoes. The liquid should almost (but not quite) cover the spuds.

Season well - salt, pepper, and a little nutmeg.

Bake in a hot oven - 180°C for 45 minutes, or until the potatoes are cooked. If the top browns too much before the potatoes are cooked, cover with a sheet of aluminium foil.
Haggety
Ingredients
500g potatoes, briefly boiled, then sliced
1 onion, chopped
Lots of Chedder cheese, grated
Method
In an ovenproof dish, create a layer of the sliced potato, followed by a layer of onion and a good sprinkling of cheese. Season with salt and pepper. Repeat the layering until all the potato and onion has been used.

Place the dish in a preheated oven gas mark 6 for 45 minutes or until it is well cooked through.
Variations of this recipe include having a top layer of crushed crisps (cheese and onion work very well for obvious reasons) and chopped bacon.
Stovies
Ingredients
Several old potatoes
An onion
A couple of tomatoes
Method
Peel and thinly slice several old potatoes. Leave to soak in cold water for about half an hour.

Put layers of potato, thinly sliced onion, and tomato in an ovenproof dish, seasoning as you go.

Pour a cup of milk over the top and put in a moderately hot oven (about 180°C) for an hour or more. This is one of those dishes which is usually better for being cooked for longer.
You can also add bacon, cheese, or whatever you have to hand.
Potatoes Done on an Open Fire
Anything barbecued or done on an open fire is guaranteed to taste better that anything cooked in a kitchen.
Ingredients
Method
Take a potato in its skin.

Microwave it until the middle is cooked.

Wrap it in several layers of foil.

Throw it on a barbecue or put in the glowing ashes of a bonfire.

Leave it there until you think it might be cooked.

Take it out and eat it.
Quark Baked Potatoes
No, nothing to do with physics or Star Trek... Serves four.
Ingredients
One large potato per person - already baked, or boiled but still in its jacket
2oz Cheddar cheese (or Edam or Gouda - something that melts nicely) grated
1 egg
4oz Quark (or cream cheese if you can't get it)
4oz sour cream
salt and pepper
1oz butter/margarine or some olive oil
Method
Heat the oven to 200°C.

Cut the potatoes in two lengthways, and scoop the flesh into a mixing bowl. Make sure the skins are still intact.

Mass all ingredients together, and season to taste. Divide the potato mixture between the potato shells and bake in the oven until the tops start to brown. Eat them hot.
For a variation substitute the cheese for a blue cheese, add bacon bits (if you must), or crispy fried onions, or chopped tomato, chopped chives, chopped onion/spring onion. Actually, you can let your imagination go wild.
Baked Potatoes and Tuna Salad
An old favourite, this one; perfect if you've got a microwave and don't want to make anything too time-consuming or that'll leave loads of washing-up either. Serves two.
Ingredients
Two baking potatoes
A red onion
A tin of tuna chunks, preferably in water
Passata or creamed tomatoes
Capers (optional)
Sour cream or crème fraîche
Butter or olive oil
Method
Bake potatoes in microwave or oven. Heat passata/tomatoes gently whilst doing so - piping hot is too hot.

Chop onion into fine rings; open and drain tin of tuna.

Once potatoes are done (ie no longer 'crunchy' in the middle), slice an 'X' into the top and put in the butter or oil, tuna, capers and onion.

Pour over tomato sauce, then add cream to taste.
Crisps - Recipe One
Ingredients
Thoroughly washed potato peelings
Oil for frying
Method
Method one makes use of the skins that you would otherwise waste when preparing another potato dish. Simply wash and scrub the potatoes before peeling, and make sure the peelings are nice and long. Then simply deep fry them in really hot oil.
Crisps - Recipe Two
Ingredients
Method
Wash and scrub the spuds. If you don't want the skins on your crisp, peel the potatoes. Then slice thinly (a mandolin is excellent for this) and deep fry in really hot oil.
Fries
It doesn't get any easier than this.
Ingredients
Method
Peel potatoes. You might want to put the potatoes/fries in water after you peeled/cut them to clean them...

Cut potatoes in whatever size, shape and thickness you prefer

Fry them
Janssons Frestelse
Janssons Frestelse is a traditional Swedish Christmas dish. The name translates as 'Jansson's temptation'.
Ingredients
5 - 6 medium potatoes
2 large yellow onions
15 - 20 anchovy fillets
2 tablespoons butter
3/4 cup heavy cream
Breadcrumbs
Freshly ground black pepper
Method
Serve with bread and preferably a beer.
Peel and grate the potatoes, then place them in cold water (to help wash out the starch).

Slice the onions thinly.

Grease a casserole dish measuring about 20 x 30cm, then layer the potatoes, onions and anchovies in the dish, starting with potatoes.

Pour cream over and dot the butter on top. Add breadcrumbs and pepper evenly. Do not add any salt.

Bake at 200°C for approximately 45 mins (until the top has turned golden brown).
For a veggie alternative, replace the anchovies with whatever root vegetables you prefer. Without the addition of salty anchovy fillets you can add salt according to taste.
Rösti
Ingredients
Method
To make a rösti, peel and grate your potato(s). Some people recommend placing the gratings in a tea towel, and squeezing the excess water out...

Get your frying pan nice and hot, and add a couple of tablespoons of oil. Place the potato in - you can do one big rösti, which fills the whole pan, or smaller ones. For the smaller rösti, you can just place small mounds of potato in, or use a ring mould to help shape them.

Let it cook for a few minutes, and flip it over. The starch in the potato should hold it together. It is done when both sides are as brown as you like them.
For variations, you can add small amounts of other vegetables to the potato before frying: eg onion, carrot, turnip, swede... any root vegetable will certainly work.
Raspeballer
Raspeballer is traditional Norwegian dish that you usually find as the day's special on Thursdays. Serves four.
Ingredients
1.2kg uncooked, peeled potatoes
0.4kg boiled potatoes
2 teaspoons salt
3 - 4 teaspoons barley flour
Method
Grate the potatoes in a mouli grater. Mix in the salt and flour. The amount of flour used depends on how much liquid the potatoes contain.

Shape into tennis ball size balls. The balls should be firm but not dense. Some like to put a piece of bacon or fat or suet in the middle, that makes them juicer.

Raspeballer can be served with bacon with bacon fat, mashed swedes, cooked lightly salted mutton. Cook the raspeballs in the stock from the mutton to get the best result.

You might find this dish under other names, depending witch part of Norway you are in: Komle, Potetball, Raspekaker.
Potato and Leek Soup
Simple, hearty, tasty, can be served hot or cold. The only drawback is that it shouldn't be frozen - not that there's ever had any leftover...
Don't worry about cutting up the veggies finely, blending at the end makes for a velvety texture and if you aren't a purist, you can leave the skins on the taters and use the green leaves of the leeks.
Using bacon to wilt the leeks in makes for a better flavour, but olive oil is more healthly.
Ingredients
4 strips bacon or 2 tablespoons olive oil
4 cups cubed russet potatoes
4 cups chopped leeks
4 cups chicken stock (approximately)
Cracked black pepper
Salt
Sour cream
Method
In a large soup pot, cook bacon over medium heat until crisp. Remove the bacon, turn up the heat to medium high and add the leeks. Cook the leeks for approximately five minutes, stirring constantly so they do not burn.

Turn the heat up to high and add the potatoes, pepper and just enough stock to cover the vegetables. (The potatoes and leeks will release water as well.)

When the stock boils, put on the lid and simmer for 40 minutes to an hour (or until any dark green leaves are soft. If you are only using the white part of the leeks, you will only have to cook it for approximately 25 minutes). When done, remove lid and allow to cool slightly.

In batches, purée the soup in blender. If it's too thick, add a little more stock (but not so much that the soup becomes watery).

Add salt to taste and a dollop of sour cream. If you're really not watching your waistline, you can crumble the bacon on top.
Potato Soup with Caraway
Ingredients
An onion
Several potatoes
Milk and/or stock
Caraway seeds
Salt and pepper
Method
Chop the onion and sauté until soft.

Chop the potatoes into little cubes, add to pan and stir around for five minutes or so.

Add the remaining ingredients. Simmer for 20 minutes.

Blend mixture to required consistency, reheat and serve.

For variety add leeks or parsnips or whatever else is lying sadly neglected in your vegetable rack.
Potato Soup with Herbs
While it might take the bluest of moods to make you sit down to a plate of plain mashed potatoes for dinner, a bowl of potato soup tells a more cheerful story. You still have the comforting mellow earthiness and finely grained texture of mashed potatoes, but the flavour grows in depth and complexity with the addition of simple winter ingredients such as onions, garlic, bay leaf, cream, kale, celery or smoked fish.
Choose one of the same potato varieties you would use for mashed potato. If retailers are doing their job properly, these will be labelled floury or all-purpose potatoes.
You don't need to use stock when you make potato soup, particularly if you include plenty of onions and garlic but it does deepen the flavour. Use enough liquid to barely cover the potatoes and thin the soup down after it has been puréed. This is easier than trying to thicken up soup that is too thin. Milk or cream will enrich the flavour and smooth out the texture.
A mouli is still the best tool for producing a smooth soup without lumps, but a hand-held processor wand is irresistibly convenient for most occasions. Use the wand in short bursts while moving it around the pot, so that the potato is puréed in as short a time as possible. This minimises the risk of the potato turning to glue. Using this basic recipe and its variations as a guide, you can build up a repertoire to last all winter long. You need to use one medium potato for each serving.
Ingredients
2 tablespoons butter
1 large onion, finely sliced
2 cloves garlic, finely sliced
3 medium-sized floury or all-purpose potatoes, peeled and finely sliced
Salt, pepper and a little cayenne
1 small bay leaf
Water or chicken stock
Milk or cream
Soft green herbs, such as parsley, dill, chervil, chives
Method
Melt the butter in a heavy pot and add the onion and garlic. Cook very gently, stirring occasionally, for several minutes until the onion is pale gold.

Add the sliced potatoes and continue to cook until they start to stick to the bottom of the pot, but have not started to colour.

Season with salt, pepper, cayenne and the bay leaf and add enough water or stock to cover the potatoes. Cover the pot and simmer until the potatoes are very tender and starting to break up.

Remove the bay leaf and purée the potatoes in the pot with a wand processor, or put the contents of the pot in a bowl processor, or use a mouli or ricer.

To thin down the soup to the right consistency, add extra water, stock, milk or cream. Reheat, taste and adjust the seasoning. Just before serving, stir in finely chopped soft green herbs. Ladle into heated bowls and serve with toast or croutons. Serves 3.
Potato Soup with Roasted Garlic
Method
Put the garlic on to roast before you start the soup. Preheat the oven to 190 degree C. Take two whole heads of good-quality garlic, put them on a chopping board and slice across the tips to expose the inside of each clove. This will make it easier to squeeze out the cooked garlic after it has been roasted.

Put the heads of garlic on a double thickness piece of aluminium foil, pull up the edges of the foil and sprinkle with a little olive oil and water. Seal the package and put in the oven for about 30 minutes, when the aroma of roasted garlic will start to escape from the oven.

Take the package out, unwrap and check that the garlic cloves are very tender when tested with a skewer. Set aside to cool a little. Make the soup as shown in the method above, then when the potatoes are ready to be puréed, use your hand to squeeze the roasted garlic into the pot, and purée. Adjust the consistency and seasoning, ladle the soup into bowls and trickle a little fine olive oil over the top of the soup.
Potato Soup - with Garlic and Winter Greens
Method
Roast garlic heads (as described above) and add to the soup (as described above).

When the soup is almost ready, take a bunch of winter greens, such as kale, savoy cabbage, watercress or tender silverbeet. Blanch the leaves in boiling salted water, then drain, refresh with cold water, squeeze dry with your hands, and chop.

Add to the soup after it has been puréed. Trickle each bowl with olive oil or add a knob of butter.
Potato Soup with Smoked Fish and Parsley
Method
Steam a 300g fillet of a smoked white-fleshed fish and pull off the skin. Add the flakes of fish to the soup after it has been puréed.

Season the soup with a little curry powder and lots of finely chopped parsley.
Perfect Mashed Potatoes
An alternative to the other recipe for Perfect Mashed Potatoes.
Ingredients
Potatoes... as many as you think you could possibly begin to consider eating
Butter
Milk
Salt
Freshly ground pepper
English mustard
Method
Peel and boil the tatties as usual. Make sure you don't boil them for too long though as this just makes them into a gooey mess, and renders them useless on the mashing front.

Heat up the correct amount of milk in the microwave so that it is warm but not boiling.

Mash the spuds, add as much butter as you dare. Mashing furiously, pour in the warm milk and you will get the fluffiest, cuddliest mash in the world.

Add salt and pepper to taste and then a good healthy dollop of English mustard. This gives the mash a tang yet to be surpassed.

Delicious hot or cold, with anything you choose so long as it's accompanied by a healthy dollop of mayonnaise... yummy!
Garlic Mashed Potato
Ingredients
Six large potatoes, peel them first if you like
A carrot or two, peeled (optional)
A piece of turnip-rooted celery (optional)
2 or 3 cloves garlic, peeled
Some butter or olive oil
Cream and/or milk
Salt and pepper
Method
Boil the potatoes and the other veggies and the garlic.

Mash together with butter/olive oil.

Add milk/cream.

Season with salt and pepper.
You can use any additional root vegetables you like. Or consider adding small bouquets of cauliflower. Grated cheese stirred in is also delicious.
Garlic mashed potatoes goes well with grilled fish, fried chicken or you can eat it on its own as a main vegetarian dish.
Lefse
A favourite Norwegian potato dessert.
Ingredients
Potatoes
Butter
Flour
Sugar
Cinnamon (optional)
Method
Boil the potatoes until soft, drain them, mash them, then add the butter and flour. Roll the potato mixture into balls a bit smaller than a fist.

Put the little potato balls on a flat surface dusted with plenty of flour and roll them crêpe-thin with a waffle-pattern rolling pin.

Griddle these 'pancakes' on a very hot 16" griddle iron.

When cooked, dust with sugar and cinnamon and dab with butter. Roll up the pancakes and slice into three bite-sized pieces.
You can also add vegetables to the lefse. They taste yummy.
Chocolate Cake
Ingredients
150g self-raising flour
150g caster sugar
5 tablespoons cocoa powder
Pinch salt
75g cooked mashed potato
100g butter
2 eggs
4 tablespoons milk
Method
Cream together the butter, sugar and mashed potato. Add the cocoa.

Beat the eggs and add to the potato mixture. Fold in the flour and salt.

Add the milk and mix gently.

Put the mixture into two greased 8" sandwich tins.

Bake at 400°F/190°C (gas mark 6) for 20 - 25 minutes. It's cooked if you spear the cake with a skewer and it comes out clean.

Leave the cakes to cool, then sandwich together with whipped cream and dust with icing sugar.