A History of Opera
Created | Updated May 17, 2013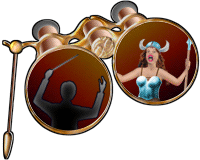 Opera; an exotic and irrational entertainment.
- Dr Samuel Johnson, A Dictionary of the English Language (1755)
Opera today still seems exotic to many people and opera-lovers will be the first to admit that the plots of their favourite works are utterly irrational. However, even if the producer sets the work in a dog-food factory or a lap-dancing club, the original composer was writing in a particular style or tradition and a little knowledge of the background will help a listener's chances of being entertained.
The First Operas
Opera developed from the pageants and musical entertainments that were popular in the courts of Europe in the 16th Century. The first true opera is thought to be Dafne (1598), composed by Peri for the court of the Medici in Florence. A better-known early operatic composer was Monteverdi. His early works, including Orfeo, (1607) were composed for the court of the little Italian state of Mantua; he later wrote for the first public opera house, which opened in Venice in 1637. Apart from Monteverdi's works, the chief 17th-Century opera still performed today is Dido and Aeneas (1689), written in English by Purcell.
The 18th Century
18th-Century opera continued the tradition of Baroque music and was dominated by the Italian school. Serious operas were called, unsurprisingly, Opera Seria, while comic operas were Opera Buffa. Operas written in a more common style, with spoken dialogue, were called Singspiel in German, Opéra Comique in French, and Ballad Opera in English.
Opera Seria
This genre had plots based on serious subjects taken from myth and history. The important solo parts were often sung by castrati (the male singers who were castrated as boys in order to keep a soprano/alto voice). Many German composers wrote successfully in this genre, and the works still remembered today include Handel's Ariodante (1735) and Gluck's Orfeo ed Euridice (1762), which was written in an effort to reform the Opera Seria style. A distinctive musical feature is the da capo aria; a solo song which repeats the basic tune with special ornamentation. The connecting bits between the arias were also sung and are usually called recitative.
Opera Buffa
These operas had comic subjects, with ordinary people, plots involving disguises and impersonations, and leading roles sung by tenors and basses rather than castrati. Mozart's Cosi Fan Tutte (1790) and Le Nozze di Figaro (The Marriage of Figaro, 1786) fit in this style.
Ballad Opera and Singspiel
The classic Ballad Opera was The Beggar's Opera (1728), written in English by John Gay, with spoken dialogue and songs set to tunes of old ballads. This was so popular that for a while it eclipsed Italian opera in London. Singspiel was a similar German style where the sung sections were connected with spoken dialogue rather than sung recitative. Mozart's Die Zauberflote (The Magic Flute, 1791) was partly written as a Singspiel, but with Opera Seria music for the higher characters, and Opera Buffa style ensembles. Beethoven's Fidelio (1805), has the spoken dialogue of a Singspiel, but is classed as a 'rescue opera' inspired by the French Revolution.
The 19th Century
With the rise of nationalism in the 19th Century, different countries developed different traditions. In Italy, Bel Canto operas developed from the Opera Seria tradition. Verdi, the greatest of all Italian composers, started out in a similar vein, but developed his own unique style. At the end of the century, a new school of realism, or Verismo, developed. Meanwhile, in France, the two contrasting genres of Opéra Comique and Grand Opera arose, while in Germany, Wagner developed a revolutionary new approach. Russian and Czech composers worked in their own independent styles, with at first little influence on the wider European tradition.
Bel Canto
The style of opera developed in Italy in the early 19th Century continued the tradition of Bel Canto or 'beautiful singing' found in the castrato roles of Opera Seria, but combined this with the Opera Buffa features of having tenor heroes and more varied plots. Some examples are Rossini's Il Barbiere di Siviglia (The Barber of Seville, 1816), Bellini's Norma (1831), and Donizetti's L'Elisir d'Amore (The Love Potion, 1832).
France - Grand Opera and Opéra Comique
Rarely performed today, Grand Opera was the most over-the-top version ever produced, found mainly at the Paris Opera from the 1820s to the 1860s. These works, for example Les Huguenots (1836) by Meyerbeer, had five long acts, a ballet, an enormous cast, and dramatic lighting and scenery effects1. Opéra Comique was the lighter genre of French opera, with spoken dialogue, and, in spite of its name, in the later 19th Century it was often quite serious. Bizet's Carmen (1875) while tragic in tone, belongs to the Opéra Comique school.
Verdi
Verdi was the greatest Italian opera composer, whose long career spanned the years from his first premiere in 1836 to Falstaff in 1893. Never academic, he had an instinct for dramatic effect, and an understanding of how to write for the human voice. His early and middle operas are full of show-stopping arias and dramatic choruses, and the middle operas like Rigoletto (1851) and La Traviata (1853) show a deeper characterisation and effective atmosphere. His final works, Otello (1887) and Falstaff (1893) have a flowing unity of musical and dramatic elements that make them his crowning achievement.
The Rise of Wagner
German Romantic opera of the early 19th Century (by composers like Weber and Marschner) evolved from the earlier Singspiel, influenced by the French Opéra Comique and with strong supernatural overtones. Wagner started out influenced by these works. However, he gradually developed a revolutionary new theory and practice of music drama. His carefully-written librettos were based mainly on subjects from legend, and had the musical feature of the Leitmotif2 where each person, place or theme in the drama was represented by a recurring musical phrase.
The orchestra was given such a powerful part in his works that a new type of singer was needed in order to be heard above the instrumental competition. He had a special opera house built at Bayreuth to present his works, and still remains the greatest figure in German opera. His crowning work was the Ring cycle of four operas, intended to be heard on four consecutive evenings: Das Rheingold (1869), Die Walkure (The Valkyrie, 1870), Siegfried (1876) and Gotterdammerung (The Twilight of the Gods, 1876).
No later composer could really live up to Wagner's theory of music drama, but his powerful use of the orchestra, and the continuous flow of his works strongly influenced subsequent German composers such as Richard Strauss.
Russia and Eastern Europe
Both the Russian and Czech styles of opera developed in a strongly nationalistic tradition. Plots and inspiration were derived from history, as in Mussorgsky's Boris Godunov (1874); national literature, as in Tchaikovsky's Eugene Onegin (1879), based on a story by Pushkin; or folklore and legend, as in Dvorak's Rusalka (1901). However, due to language difficulties, it was well into the 20th Century before these operatic traditions became as widely known in Western Europe and America as they deserve3.
Verismo and Puccini
Verismo or realism was the aim of a new school of Italian composers towards the end of the 19th Century. This 'realism' was as narrow in its own way as the style it replaced, concentrating on criminal, violent lowlife and crimes of passion. Two classic Verismo works are Cavelleria Rusticana (1890) by Mascagni and Pagliacci (1892) by Leoncavallo. The last great Italian composer, Puccini, was strongly influenced by Verismo in works such as Tosca (1900). The typically harsh and even sadistic treatment of his heroines was controversial at the time, but his work remains enduringly popular.
The 20th Century
The Early 20th Century
The trends of the late 19th Century continued into the 20th. In France, Debussy produced the dream-like Pelléas et Mélisande (1902). In Germany, Richard Strauss turned to opera, writing works such as the powerful Salomé (1905) and the lighter, nostalgically Viennese Der Rosenkavalier (1911). The Czech composer Leos Janacek was producing works such as The Cunning Little Vixen (1924) and Katya Kabanova (1924), with strong references to folk music and the rhythm of ordinary speech. In the years from 1900 to 1925, Puccini and the Verismo school of Italians were still going strong.
The premiere of Puccini's Turandot in 1926 (completed by Alfano after Puccini's death in 1924) is often taken as the last great event of the classic operatic tradition, where instant success could be expected for a new work from a well-known composer.
The Mid-20th Century
After 1925, many composers were still writing operas, but they rarely got automatic acceptance from the opera-going public. Instead of a broad general tradition, there were many individuals, following their own ideas of progress in rapidly diverging directions.
Alban Berg, deeply influenced by Schoenberg, wrote two works with austere music and gloomy plots, Wozzeck (1925) and Lulu (1937). Kurt Weill took a different approach, strongly influenced by jazz and other popular music, when writing Die Dreigroschenoper (The Threepenny Opera, 1928). Another work on the borderline between opera and the modern musical is Gershwin's Porgy and Bess (1935).
In England, Benjamin Britten explored a number of directions, writing some classic large-scale operas such as Peter Grimes (1945) and Billy Budd (1951), but also reviving the idea of chamber opera, which could be presented cheaply by a small cast, for example The Turn of the Screw (1954).
In Russia, Shostakovitch's exciting Lady Macbeth of Mtsensk (1936) was denounced by Pravda (the then-leading Soviet newspaper), and the composer never wrote another opera. Away from this censorship, both Prokofiev and Stravinsky wrote successful operas in other countries.
The Later 20th Century and Today
The most popular composers among the general audience today are still Mozart, Wagner, Verdi and Puccini. However, the full repertoire of today's opera houses is more varied than ever before, stretching back to the earlier works of Handel and Monteverdi, and forward through the varied masterpieces of the 20th Century.
1Grand Opera is known to people today mainly as the background of the popular musical The Phantom of the Opera by Andrew Lloyd Webber.
2Wagner himself didn't use the term Leitmotif, but it is used by later commentators discussing his work.
3Thus giving rise to the convention followed here, that Russian and Czech opera titles are normally given in their English form, where the original language is used for Italian, French or German titles.