Madeira
Created | Updated Feb 28, 2012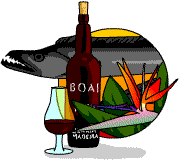 The island of Madeira is the largest of a handful of small volcanic islands in the Atlantic, off the coast of Morocco. With its mild climate year-round and fertile volcanic soil, Madeira is also known as the 'floating garden' and is famed for its wine and countless varieties of flowering plants. Formerly a Portuguese colony, Madeira is now an autonomous region but remains Portuguese-speaking and like the rest of Portugal uses the Euro as currency. The pace of life on Madeira is relaxed and unhurried so bring a good book and leave your mobile phone behind.
Geography
Madeira and its neighbours Porto Santo and the Desertas lie around 370 miles off the west coast of Morocco, directly on what was once a key shipping route from England to South America. Discovered 'officially'1 by Zarco and Tristao Vaz around 1420, this small group of volcanic islands once formed a key stop-over point for merchants, where their goods could be traded and ships re-supplied. It's one of the few times Europeans have 'discovered' somewhere that was not actually populated at the time!
While the vegetation on the island is lush and varied, relatively few species of land-based animals have managed the journey from the mainland. Obviously, man has introduced some, and you are bound to meet a few stray dogs, but generally the wildlife is timid and largely invisible. There are no snakes and very few biting-things.
The Madeira island itself is vaguely kidney shaped and around 35 miles (55km) east to west by 15 miles (25km) north to south. Although now long extinct, the volcanic origin of Madeira is still evident in the centre of the island which is steep and ruggedly mountainous, with the highest peak, Pico Ruivo, at over 6,000 feet (1,800m). There is amazingly little flat level ground on the island, but the gradients tend to be gentler towards the sea2.
Madeira itself has effectively no sandy beaches, although sea-swimming from the rocks is popular in summer. For a doze on the sand, head for the (relatively) nearby island of Porto Santo (see below) which boasts a stretch of golden beach miles long.
The capital, and by far the busiest city on the island, is Funchal. Historically, nearly everything entering or leaving the island did so by ship and so it's unsurprising that the largest city grew up around a sheltered bay on the south coast. Funchal remains a busy container port although most people now arrive at the island's airport, some miles to the east, towards the second city of Machico.
In the south of the island, nearly every square foot of land that's not a house and is at less than 45° (and amazingly, a great deal that's steeper) has something growing on it. This particularly applies a short way in from the coast where towns are smaller and fewer and many families still work the land by hand. Towards the centre the land becomes higher and rockier and the air cooler, while much of the north remains dense jungle3.
An interesting feature of Madeira is the network of irrigation channels known as levadas. The first were built several hundred years ago to bring water from springs in the mountains to the fertile land in the south. They have since spread and now total more than 1,300 miles (2,000km), of which 25 miles (40km) is through tunnels. For most of their massive length, the levadas have footpaths along their banks and these gentle, meandering routes make superb hiking trails.
The neighbouring island of Porto Santo is the second largest of the group (at a 'massive' 8 miles by 4 - 13×6km) and the only one besides Madeira to be inhabited. Long ago, this island was green and fertile, but early settlers deforested it to the extent that much of the soil was washed into the sea and the island dried up. Attempts at reforestation continue.
The Desertas are small uninhabited rocks off the south east coast of Madeira island. They are of essentially no interest but can sometimes serve as a useful weather guide (see below).
Getting Around
If you can't walk to where you are going on Madeira, about the only option is to go by road. The island is simply too small to fly across and too rugged for trains.
The bus network is extensive and reliable and visitors from the UK should be careful not to be caught out by buses that leave on time! Timetables are available from the bus terminals, along the seafront in Funchal and can generally be relied upon. The fares in and out of the capital are set by zones and tickets can be bought either on the bus or in advance. Booking certain discount tickets requires a passport.
Taxis are common on the island and are almost all vintage Mercedes. Fares for local rides tend to be metered but the drivers will negotiate for longer journeys and it is not unusual to hire a taxi for the day to tour the island. In general, prices are quite reasonable. Be aware, however, that there may not be a cab around, if you finish your day in one of the villages.
Hiring a car is relatively easy at the airport, in Funchal or in Machico and many hotels have a car-hire franchise on-site. You will need your passport and own a national driving license. Things are also simplified if you have a credit card number to leave as a deposit. Hire cars are usually modern and comfortable.
Be warned, roads on Madeira are steep and winding and hair-pin bends are the norm. The Madeiran driving test also requires drivers to have all sense of fear sucked out with a syringe. Cars, buses and over-loaded trucks hurtle along at terrifying speeds and stop anywhere and without warning. Needless to say, taxis with view-seeking tourists are the worst. Sounding your horn when approaching a blind-bend gives some warning to oncoming motorists and if you hear a hoot as you reach a hairpin, bear in mind that a bus may appear on your side of the road. All this said, driving is a very effective way to tour the island and all but the most timid drivers will find a car worthwhile for a day or two. You will feel safest however if you hire the smallest car you can find!
Boat trips are run out from Funchal and a day on a sailing yacht, cruising along the cost and swimming off the deck is a great way to see more of the island. If you're lucky you may see the odd dolphin, too. Some boats arrange one-way trips so that you can return to Funchal, or carry on round the island, by land.
The ferry from Funchal is also the most economical way to reach Porto Santo, but even this is not cheap. For most of the year the ferry leaves Madeira each morning (around 7am) and returns from Porto Santo in the evening. The trip each way takes just under 3 hours and is usually a little rougher on the way out than on the return leg.
The faster way to Porto Santo is by plane and a small turboprop makes the return trip a few times a day. It is around twice the price of the ferry.
Products of Madeira
Madeira's most famous product is Madeira wine, but it is also known for 'Madeira cake'. There are also a number of other local specialities to try.
Madeira Wine and Drinks
Madeira wine is a fortified wine with a taste somewhere between that of sherry and port. The distinctive taste of Madeira wine is due to a combination of the volcanic soil, the grapes used and a unique process of manufacture.
There are four common, 'classic' varieties of Madeira wine, named after the four varieties of white grapes traditionally grown on the island; Malmsey (also know as Malvasia), Boal, Verdelho and Sercial. Malmsey4 is probably the best known and is the sweetest and richest variety. Sercial is relatively dry and crisp with Boal and Verdelho filling in the middle-ground. There are other traditional, lesser-known grapes and more recently much of the wine on the island has been made from the tinto negro (black) grape, which is used for the cheaper 'mass market' wines of all sweetness levels.
Much of the distinctive character of Madeira wine is due to the unique maturation process. This was a chance discovery and is a relic of times when wines were transported vast distances by ship. It was found that Madeira wine that had travelled out to the East Indies tasted better than it had before the voyage. The cause of this was investigated and discovered to be the high temperature storage of casks in a sun-baked ship.
To reproduce the effects of a long, hot sea voyage, Madeira wine made with 'classic' grapes is today matured in vast oak barrels within sun-lofts and good vintages may be stored there for many years. This baking process is also responsible for the keeping qualities of Madeira. In contrast to port, an open bottle of Madeira remains palatable for up to a year5!
Madeira wine is 'fortified' with grape brandy to give it an alcohol content of around 20%. This is again a relic of times when wines were treated in this way to preserve them for long voyages. Due to the way the oak-vats wick6 water very slowly to the surface, where it evaporates, wines that have matured for many years tend to be slightly stronger than younger wines.
The Madeira Wine Company lodge, next to the tourist information centre in Funchal, is a great place to learn about the history of Madeira wine and for a small fee you can have a guided tour and tasting. There is also a vintage tasting room where bottles of all ages can be bought or you can simply relax and try a few. You will have to pay by the glass for vintage tastings. Why not find a variety which suits your taste for sweetness in the free-tasting and then compare the same grape for a few vintage years. The variation between years can be quite startling - the Verdelho 1972 and 1973 are good examples. Many other wine lodges exist and some people return to the island year after year simply to tour them.
As an accompaniment to food Madeira wine is rarely served with the main course, but rather as an aperitif or with dessert. An amusing drink of honey, lemon and Madeiran sugar-cane rum is also supposedly traditional and may accompany a 'traditional' meal. It is generally preferable to local table wine which can be excessively floral. Restaurant coffee is also to be handled with care. If offered a 'large' or 'small' coffee after dinner, you are essentially being offered a choice between strong, rather bitter coffee and the same drink boiled down to about one fifth of the volume. It's something of a Hobson's choice.
Food
If you come to Madeira and you don't eat fish or beef, or you have an aversion to garlic then you are going to have to self-cater or spend a great deal in expensive restaurants.
The best value restaurants tend to be congregated in the two major cities and especially in Funchal, on or near the seafront. Nearly all will provide a tasty, sustaining meal without breaking the bank and some of those down on the edge of the marina are particularly worth checking out. There is a great deal of competition for visitors' custom and you will not be able to walk past a restaurant at meal times without having a menu thrust at you. Offer the restaurant owners a polite 'we've eaten thanks' and they won't trouble you.
Madeiran seafood is fantastic and often the best choice in less expensive eateries. Today's fish is often sold by weight and you can choose your fish and watch it being cooked. Fish cooked 'with head' tends to be grilled whole while 'without head' tends to be filleted and battered or crumbed. If you find yourself in Seixal on the north coast, follow signs for 'Cais' and there is a great fish restaurant right on the coast, where you can sit on the balcony and start your meal with periwinkles or little whole crabs.
Beef is also a staple of cheaper cafés and restaurants and is frequently superb, grilled with herbs and garlic.
The basic restaurants mostly offer a similar range of foods and you will rapidly discover that most dishes are served with the same accompaniments; boiled potatoes, carrots and green beans. As a result, if you can afford to do so, you will probably want to splash out now and again on a meal in a more up-market establishment.
Generally, the more expensive restaurants offer the widest range of dishes. If you crave pork, or can't stand the sight of another boiled potato then these are for you. Many hotels have their own restaurants which fall squarely into the 'more expensive' category. Close to the better hotels is also the place to look for nicer independent restaurants.
There are two 'classic' Madeiran dishes which many restaurants serve and are worth trying during your stay. Predictably, one is of beef and the other of fish.
The Madeiran espada or cutlass fish is an evil looking eel-shaped fish with razor sharp teeth which is brought up on lines from a depth of around 2,000 feet (600m). Despite its unpleasant appearance it makes a pleasant dish and is pretty much unique to the island. If you feel brave enough to see a whole one, the covered fish-market is towards the east end of Funchal, a block or two from the sea. It might be worth trying the dish before you visit the market, however!
The second 'traditional' Madeiran dish is espetada. This is notionally a giant piece of skewered beef, shared between many diners. In practice, most restaurants serve a miniature version to feed one or two.
Many people have heard of Madeira because of 'Madeira cake'. This is a little misleading however because it refers to an English cake traditionally taken with a glass of Madeira wine. Either spontaneously, or perhaps in response to constant requests for Madeira cake, a local cake speciality is available in the shape of Madeiran honey cake. This is a rich, heavy fruit cake which is very tasty, but extremely sweet. Anywhere that sells food sells honey cake.
Wickerwork and Embroidery
Another classic product on Madeira is wickerwork. This can be seen and bought in markets in Funchal or particularly in Camacha, a few miles north-east. Here you can visit vast wickerwork warehouses and buy anything from a bottle-holder to a wicker three-piece-suite. There are amazing wicker animals on display but bizarrely nobody knows how they were made so they aren't for sale.
Embroidery is also a Madeiran cottage industry and there are embroidery factories in the capital which will do you a much better deal than the touristy shops. While you are at the factory, you may be able to take a tour. Don't be disappointed if you don't see many needles though; the patterns are stencilled on at the factory and then embroidered at home. You will see the finished item however, which is returned to the factory for pressing and packing.
Flowers
Another product that is readily available on Madeira is an amazing variety of flowers. Virtually none of these are actually native to the island, since they were mostly brought over by rich European merchants whose wives tended to have a 'Keeping up with the Blandys' (see below) approach to gardening. The island sports many flower shops and nearly all will pack flowers suitably for the luggage-hold of a plane. It is a good idea to order in advance, if you are organised enough, and they will deliver them pre-packed to you on the morning of your departure.
The national flower of Madeira and probably one of the strangest in creation, is the 'bird of paradise' flower. This strange, bird's-head-shaped specimen has orange and purple plumes which gradually unfurl as it opens. If you buy one cut, only the first of the groups of flower heads will open naturally. As these die, you can lift out the two or three remaining sets by carefully parting the green leaves at the top. In this way, a single flower can last a week or more. Another speciality is the 'flamingo flower' which is so amazingly glossy and obviously plastic-looking that you will just have to touch one before you'll believe it's real.
Things to Do
The two classic things to do on Madeira are levada walks and wine-lodge visits (see above). Both come highly recommended. Because the levadas are so long, they span all types of Madeiran terrain. Some are grassy, others through dense forest and still more wind down the sides of mountains with a sheer drop to one side. Don't be put off if you don't fancy a climb or a precipitous edge, there is a levada somewhere to suit you. It is worth taking a good torch for each member of your group to help you through the occasional tunnel.
In addition to the relatively flat terrain of the levada paths, moderately fit walkers may wish to venture towards the centre of the island where some spectacular hill walks can be found. If you intend to walk to any great extent while on the island, there are dedicated walking guides available which will guide you to the levada of your choice and have regular updates on routes and the condition of paths.
Generally, if you are going to spend a day walking on Madeira, it is worth getting an early start. Mornings tend to be bright and clear with mist often rolling in from the sea in the afternoon. It can be an odd sensation to be on a hill towards the centre of the island watching the clouds forming in the valleys below you. It may look beautiful but the mountain paths can be narrow and treacherous and you really do not want to be stuck on one with thick mist rising around you. A quick guide is that if the Desertas are barely visible, or quite hazy with the wind somewhere between south and east then you are probably in for a good walking day.
Another classic pastime when on the island is garden visiting, and again, some visitors come year after year simply to do this. Probably the most famous garden on the island is Blandy's garden, in the grounds of the old Blandy mansion (Quinta do Palheiro Ferreiro), just off the road from Funchal to Camacha. The Blandys were once the richest family on the island and they imported subtropical plants from around the world, creating a spectacular botanical collection. The grounds remain expertly tended and, to help support this, there is a fee for entry. Madeira has no dry-season and so something in the Blandy garden is bound to look fantastic whatever time of year you visit. To reach the Blandy's Garden, you have to more-or-less pass the Jardim Botanico, Funchal's botanical garden, sited on the old Reid's family estate. If it doesn't grow in one of these two, then it probably just doesn't grow.
More fantastic parks and gardens can be found throughout the south of the island and a visit to Monte, a few miles north of Funchal, is well worthwhile for those of a botanical bent. The parks surrounding the ivy covered bridge are pretty and relaxing and the garden at Jardim do Monte Palace is vast, if expensive. While you're in Monte, why not take a ride through the streets on a wickerwork sled? Bizarrely, these were a common method of getting back to Funchal, before motor vehicles were easily available, and while they are now laid on for the tourists, the trip is no less fun for that.
Night life on Madeira is (predictably) best in Funchal where you can find bars, clubs and even a casino. Most large hotels put on evening cabaret and usually do not limit tickets to those staying in the hotel.
Summary
Madeira is a Portuguese-speaking island in the Atlantic with a mild climate and relaxed atmosphere. Visit it for the wine, weather and walking or to doze in a sub-tropical garden. Don't expect a highly-charged atmosphere of hustle and bustle. The most stressful activity you are likely to find is negotiating Madeiran roads.
1The island actually appears on a Genoese map from around 1350.
2The island still boasts one of the world's highest sea-cliffs however.
3The whole island was once densely forested and in fact the Portuguese word madeira means 'wood'.
4When asked how he would like to be executed, the Duke of Clarence (brother of Richard III) chose to be drowned in a butt of Malmsey wine.
5Whatever Flanders and Swann may say: 'And once it's been opened you know it won't keep.' - Have Some Madeira M'dear.
6Wick (vb): 'absorb or draw off (liquid) by capillary action' - Concise Oxford Dictionary.