Jimmy Connors - Tennis Player
Created | Updated Jun 28, 2012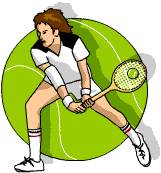 I'm an animal. Which one, I can't tell you, but I would say that's the way I played my game from start to finish. I went out there with one goal in mind, and that was to play the absolute best I could and give it everything I had; win or lose.
- Jimmy Connors reflecting on his on-court personality
A battler right to the very end of his 21-year career, Jimmy 'Jimbo' Connors was a man whose determination and brash personality was adored and hated by Grand Slam organisers, the ATP1, fellow tennis players and fans alike.
Once called 'the heavyweight champion of tennis' by his manager, Connors certainly lived for the biggest challenges that the game of tennis could ever produce.
Introducing...
James Scott Connors was born on 2 September, 1952, in East St Louis. He was raised by his mother, Gloria Thompson Connors, a professional tennis coach, and his grandmother Bertha 'two mum' Thomson. He grew up the other side of the Mississippi River, in Belleville. His tennis training began young:
My mother rolled balls to me, and I swung at them. I held the racket with both hands because that was the only way I could lift it.
This was at the age of two.
A little later, when he had just turned teenager, the family moved to California so that the young Connors could receive training from Pancho Gonzales and Pancho Segura. The training that he received from such tennis greats paid off when he attended the University of California at Los Angeles. In his freshman year, 1971, he won the US Intercollegiate Singles. The next year, he turned pro.
Not the tallest of tennis players, left-handed Connors stood at 5'10", and he battled his opponents by throwing himself into every single shot, demonstrating the characteristic two-fisted backhand2, probably developed from the training as an infant. He did not have the best groundstrokes, like Björn Borg, or even the delicate volleying skill of fellow American, John McEnroe. Only what he lacked in natural talent, he certainly made up for in a sheer will to win every single point, no matter how fruitless the challenge.
The Professional
Once turning pro at 1972, aged 20, the tournament titles began to accumulate. He won his first singles title in Jacksonville, in the US. In 1973, he took the US Indoor title. Then came 1974, when he was to play in the Grand Slams.
The Australian Open
At this time, players from the Northern Hemisphere were often loath to play this Grand Slam, simply because it took so much time and effort to get there, and once there, they had to face the hangover of jet-lag. So it was rare to see such players come to this much-maligned tournament. However, Connors, ever up for a challenge, turned up in 1974, and took the title.
The All England Club Championships, Wimbledon
Wimbledon, however, is in the Northern Hemisphere; not only that, it is regarded by many to be the most coveted tournament in the tour. So it seemed only natural that Connors, too, would want to win here. In 1974, he reached the final, where he was to meet Ken Rosewall3. The final was not to take long. It was a straight sets demolition in just 93 minutes, where Connors won, 6-1, 6-1, 6-4.
He didn't just bring his determination onto the green and pleasant courts of SW19, he brought his attitude too; and plenty of it. Flinging himself around the court to win every single point as if his very life depended on it, as well as being very vocal to court officials, it is not without surprise that the British crowd were simultaneously entertained and offended by him. Other, older players considered him to be more of an arrogant little wiseguy.
Then came the 1975 final. Dogged by legal controversy (see below), he was to meet his opponent, in all senses of the word, Arthur Ashe. It seemed, on paper, straightforward for Connors; this should be a straight sets demolition as with Rosewall the year before. However, if Connors did have a gameplan, this match certainly didn't go according to it.
It was a difficult four sets, Connors still throwing himself around the court, and losing to boot. The signs of stress on his face were all to see. When a well-meaning fan shouted out some encouragement for Connors, he was rebutted by Connors shouting back, 'I'm trying for Christ's sake!' It was then when everyone realised that he was in real trouble. Then the confirmation of that came, when he lost the title, 6-1, 6-1, 5-7, 6-4, and Ashe became the first, and at the time of writing, the only black man to win the singles title at Wimbledon.
1977 was the Centenary year of the All England Club Championships at Wimbledon, so a 'Champion's Parade' took place on the first day. Players who had won the tournament in the past, were asked to attend to celebrate 100 years of this tournament. Connors, a fiercely independent man, had very little time for such traditions, and refused point blank to attend. Instead, he concentrated on his game, out on the practice courts. So when he reached the finals again to meet the inexplicable Swede, Björn Borg, he was faced with an unusual situation: a hostile British crowd.
To change tack a little, it may be worth explaining why here. Tennis players, even today, often remark on how different the crowds are at different locations on the Grand Slam Tour. At the risk of reinforcing national stereotypes, the crowd at Wimbledon, UK, is very reserved. They will clap politely, with equal praise to both players, and be pin-droppingly silent during play, with the occasional 'oohs' and 'aahs' when play gets tight. However, they get incredibly partisan when a British player, or indeed, an underdog4, is playing a very good, established player. The crowd at the Australian Open are typically boisterous, very vocal, but, again, supporting both players, with gracious manners. The crowd at Roland Garros, France, is more demure, somewhere in-between the Australian Open and Wimbledon. The crowd at the US Open, New York, is more boisterous than the Aussies, and just as, if not far more partisan than the British crowd when a homeboy is playing.
Borg, the clay-courter, had won the title in the year previously. Although his cool exterior didn't show it, he was determined to retain it. Connors, however, was just as determined to get it back, and typically, with much effort. As written before, he didn't have the natural talent at the baseline like his opponent. Unfazed by this, he ran around the court, lashing at the fierce groundstrokes that Borg was powering down at him. This worked for four sets; his tenacity holding off Borg's baseline battery. Except his gameplay was not to hold him to the final set, which Borg took, and with it, Connors' chances of a second title. He lost, 3-6, 6-2, 6-1, 5-7, 6-4. The following year, he got to the final again, but he was to face Borg again too. Again, Connors was outclassed, and outgunned.
Come 1982, a 30-year-old Connors, surely at the end of his tennis career, appeared at Wimbledon. Only his determination, and again, his unashamed arrogance, had not aged. This time, he was to meet the young upstart, John McEnroe. He was certainly not as talented as McEnroe. No matter how much topspin or indeed, how much power you could force into your groundstrokes, McEnroe's hands were so quick, he would forcibly tame them with an audacious drop volley. Borg had found this out the hard way the year before. Also, there was the question of age. Connors, although there was no doubting his determination, was much older than McEnroe; so there was a youth advantage in McEnroe's favour. It promised to be a spirited match, with McEnroe's trademark competitiveness, and Connors' trademark ferocity. It certainly lived up to its expectations, many now calling it less of the solemn formality of a tennis match and more of a brutally violent street fight. Four sets into the match, Connors was three points down, in a tiebreak. Everyone remembered the other time when McEnroe was faced with a tiebreak in the fourth set, back in 1980 against Borg. So it seemed that this soldier had fought his last. However, it would be an understatement to say that Connors is a very different player to the ice-cool Borg. Connors came into the match as an underdog, and thus had nothing to lose. Pure determination and inspired tennis, along with Connors characteristically speeding after every single ball, pulled him through, and startled McEnroe into a fifth set. McEnroe must have been severely rattled by Connors' inspiration on-court, because eight years after Connors had won his first Wimbledon Title, he won his second, 3-6, 6-3, 6-7 (2-7), 7-6 (7-5), 6-4.
The US Open
New Yorkers love it when you spill your guts out there. Spill your guts at Wimbledon and they make you stop and clean it up.
- Jimmy Connors, on the different attitudes of the crowds at the US Open and Wimbledon
For all the Grand Slams in the world, his heart never really travelled far from home. This was the one place where he could really get his teeth into, and where the crowd would more than likely, not ignore you, but cheer you for chucking yourself around the stadium. The home crowd loved every minute of it, and this reward for the hard work no doubt helped him to no end.
After crushing Rosewall at Wimbledon 1974, he proceeded to do the same to him again in the final of the US Open of the same year. Yet again, Rosewall's execution was another demolition in straight sets by Connors, 6-1, 6-0, 6-1.
In 1976, he faced Björn Borg, and also, an unusually split home crowd. By this time, his often vulgar on-court behaviour had offended stereotypically, the British crowd, but also the French and the Australian crowd. Tennis fans, including those in the US, hated Connors' obnoxious behaviour, and let him know that by whistling and booing him. Another, less tennis-related reason for the split crowd, was that Borg, by this time, had become a pin-up for teenage girls. Hence, a sizeable proportion of the crowd consisted of screaming teenyboppers, who would support Borg, no matter what. This didn't faze Connors. It wasn't a crushing by any means, but Borg, the Wimbledon Champion, went out, 6-4, 3-6, 7-6 (11-9), 6-4; the third set tiebreaker which had Connors, typically flinging himself around the court for every last point. He did it again against Borg in 1978, this time in a more typical style. It was a straight sets pasting of the now, three times Wimbledon Champion, 6-4, 6-2, 6-2.
In 1982, and 1983, he reached the final. In both cases, he was to meet clay-aficionado, Ivan Lendl. In both cases, the return of serve was vital. Connors then shocked Lendl with the fantastic return of his opponent's serve, which was probably the key to him winning in 1982, and retaining the title in 1983.
Swansong
I hate to lose more than I love to win. I hate to see the happiness on their faces when they beat me.
- Jimmy Connors on his dislike of schadenfreude and losing
You may have thought that a 33-year-old tennis player, after winning Wimbledon twice, the Australian Open once in his 20s, and the US Open five times, would have thought it was time to hang up the racquet for good. Connors, always one to buck the trend, continued on. Unlike Borg, who had retired at the tender age of 26, probably to preserve the memory of his successes, rather than future losses, Connors carried on regardless. In 1990, at the age of 38, with an injured left wrist, he played and lost three matches in total that year. His ranking dropped to 936. He still played on. Then, he had surgery on that wrist, and came back fighting.
The All England Club, despite disapproving of his violent approach to tennis, remembered his past successes to be, at the least, entertaining, so gave him a wildcard in 1991. He got as far as the second round. However, there was far more to come.
The US Open was always his Slam. The US Open organisers loved him, as well as home fans, who had, by now, grown to love his outbursts. They too gave him a wildcard in the 1991 tournament, for his ranking of 174. Again, everyone thought that he would exit early, like in Wimbledon. Bucking the trend, yet again, he quite literally exploded John McEnroe's younger brother, Patrick, from two sets down. He then took out Michael Schapers and the 10th seed, Karel Novacek. He celebrated turning 39 by fighting it out against fellow American, Aaron Krickstein, coming back from 2-5 down in the fifth set to force a nailbiting tiebreaker, and winning 3-6, 7-5 (10-8), 1-6, 6-3, 7-6 (7-4). A set and a break point down against Paul Haarhuis, he got inspired and took him out too. It took fellow countryman, Jim 'The Rock' Courier, to outplay him and give Connors a taste of his own medicine; a straight sets pasting, 6-3, 6-3, 6-2. Even though it was Stefan Edburg who eventually took the US Open title, for many it was Connors' tournament.
At 39, he became the oldest pro to play in the US Open and reach the semis, since Rosewall, whom Connors himself removed in a similar fashion 17 years before.
Legal Battles
His fierce independence also led him into several sticky moments off-court. He refused to join the newly formed ATP in 1972, and plumped instead for the WTT5, signing up to play for Baltimore6. His manager, Bill Riordan, was also a very clever promoter, and acted more like a promoter of a boxing pro7, than the more demure managers of the tennis pros. The reason why he never won at the French Open, Roland Garros, was due to his shunning of the ATP; at the time, the Roland Garros organisers and the ATP refused to allow players who were members of the WTT to play, as it conflicted with their tournament schedule. He was refused entry into this tournament in 1974; probably his best year, and this angered him to no end. Many now think that had he been allowed to play, he would have won the French Open easily.
At the end of 1974, Connors and his manager brought several lawsuits, amounting to the sweet sum of $10 million, against not only the ATP, but its president at the time, Arthur Ashe. The reason; for restricting his freedom to play. The 1975 Wimbledon final was then played out in the most bizarre circumstances. Two players, fighting over the most coveted Grand Slam title was not unheard of. Add to that the legal battle with $10 million at stake, then you can see how the game became fiery. Connors lost that match, and embarrassed, dropped the suits. Shortly after, he parted company with Riordan.
Rudeboy Connors
I'm not going to f*****g run away from you like that f**kface McEnroe!
- Jimmy Connors' dispute with the let-caller gets personal
The period in which Connors played in was not shy of a few verbally astute characters. McEnroe was the spoilt brat who would scream his head off if a line call didn't go his way. Ilie Nastase would insist quite loudly that the umpire call him 'Mr Nastase' after being ticked off for another verbal outpouring. But at least, these players had some sort of reason to get mad about. For McEnroe, it was just the fact he was a perfectionist and 'felt' that the ball was in, or felt hard done by a poor line call. Nastase was the Romanian showman, utterly aware of the entertainment he was providing. Connors was just outright rude, plain and simple. In the Millennium Parade of Champions at Wimbledon 2000, he still refused point blank to turn up. On-court, a dispute with a let-call led him to address the court official as above, despite the let-call not being the fault of McEnroe. In fact, he wasn't even playing McEnroe in that match.
He never liked the Davis Cup either. Unlike the fiercely patriotic McEnroe, he preferred to concentrate on his professional career instead of playing for his country. Fans never really forgave him for this. One theory was that it may have been his defence of his independence and the freedom to play whenever and wherever he wanted, which became the reason why he didn't play Davis Cup tennis, until brief appearances in the 1976, 1981 and 1984 team.
Another theory as to why Connors disliked playing Davis Cup tennis so much may have been McEnroe's dedication to that tournament. At the time, Connors and McEnroe were fierce rivals; unsurprising when you see their spectacular clashes on-court. McEnroe has since said that he and Connors would play the psychological battle of wills all throughout the tour. This of course, only inflamed the on-court tensions between the two players. In short, Connors may have not wanted to play Davis Cup tennis, because he would have to play with his foe, the fuzzy haired McEnroe.
The words of fury occasionally still fly between the two rivals, and McEnroe is still fuzzy haired.
The rudeness, on the other hand, had a positive effect. He used it to grab the tennis world by the scruff of the neck, shake it very hard, and then once more for effect. Connors had always wanted to make the comparatively small tennis crowds (capacity about 20,000) make as much noise as those at the football matches (capacity 60,000+), complaining that, '... you don't get that kind of atmosphere with the country-club set.' Somehow he wanted the appeal of tennis to be widened further, to include the fan on the street, rather than the corporate seats so often seen now. In his own words:
Once you got the people [the fans] that like the baseball games and the football games and the hockey games where they go to a fight and they see a hockey game, I wanted those people into tennis too. Those people may not know anything about tennis but they want to see a guy breaking his back for you out there and coming off bleeding and scarred and walk out of there saying, 'Jesus, I didn't think you could bleed playing tennis.'
Connors Now
Experience is a great advantage. The problem is that when you get the experience, you're too damned old to do anything about it.
- Jimmy Connors, on the advantages and disadvantages of experience
His tongue may have mellowed with age, but Connors, at the time of writing, in his late 40s, is still thrashing it out on the ATP's Senior Circuit. His appeal his not diminished among the fans, who still squeeze in to see him, and his attitude, chasing after every point like there is no tomorrow. He still powers down the tennis balls at old adversaries Björn Borg and John McEnroe, and is still held with great affection by the organisers and players, who have nicknamed the Senior Tour the 'Connors Circuit', despite it having various sponsors.
Like Borg, he still has an influence on the game today. His emotion-fuelled personality and the groundstrokes which were hit so astonishingly hard, were a great influence on the hard serving Goran Ivanisevic. Certainly the outbursts and the racquet smashing rubbed off on the young Ivanisevic, as we see so graphically in his game.
The highly publicised romance and subsequent engagement with women's tennis No.1, 'Ice Princess' Chris Evert at the time when Connors himself was No 1 in the men's game, sadly, did not last; she eventually married the British No 1 at the time, John Lloyd, but divorced him after eight years. Connors is currently married, with two children.
Never Say Die
So here we chronicle the records and highlights that Jimmy Connors has set throughout his career:
Records Set
Jimmy Connors set a precedent for all future tennis players, as the man that you could never really beat, whatever the scoreline. Love him for his fearless attitude, grit and longevity, or hate him for his vulgar and obnoxious behaviour on and off court, you can't help but respect him for his own self-determination and will to win, at whatever cost.
He is the only man to have won the US Open Men's Singles title five times in total.

He holds the record for most tournaments played; 401.

He has also played, and won more matches than any other male professional; 1337 matches won to 285 lost in all.

Not only that, he was ranked in the Top Ten for 16 years; from 1973-1988.
Grand Slam Highlights
US Open
Singles Winner
Singles Runner Up
Doubles Winner
1974, 76, 78, 82, 83
1975, 77
1975
Wimbledon
Singles Winner
Singles Runner Up
Doubles Winner
1974, 82
1975, 77, 78, 84
1973
Australian Open
Singles Winner
Singles Runner Up
1974
1975
1Association of Tennis Professionals.
2For definitions of tennis terms used throughout this entry, have a look at this Tennis Glossary.
3The only man to have reached four Wimbledon finals, yet not cross the Rubicon between runner-up and winner of the Championships.
4Usually the words 'British tennis player', and 'underdog', are always found together, often in a sentence along the lines of; '[enter name of British tennis player here] will enter into the match very much the underdog versus the Australian/American/French/German/Brazilian/Ecuadorian/Spanish/Russian/Croatian/Swede/Swiss... etc.' Tim Henman and Greg Rusedski, both talented British world-class tennis players, appear to be the exceptions that prove the rule.
5World Team Tennis.
6He is currently playing for the Philadelphia Freedoms.
7He would organise one off exhibition 'tournaments' in such places as Las Vegas and Puerto Rico, against people such as Rod Laver, John Newcombe and Ilie Nastase. These matches were similar to prize fights in boxing. They were also just as lucrative.