The World's Best Campsites
Created | Updated Sep 13, 2010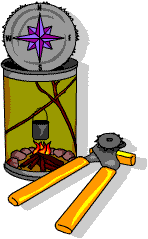 This is an atrocious idea!! I'm not telling everyone about my favourite campsite - it'll be full of people next year and a total nightmare instead of a glorious retreat!
For some of us, watching a near-death survival programme is about as close as we get to the great outdoors. Watching the skies darken, the cameramen heading for their accommodation warmed by wood-fired stoves and leaving the ex-army survival expert in a shallow snow hole at minus 30°C causes awe at a human being's ability to overcome the most extreme elements. It's no better if the scene of action isn't Alaska. Seeing someone live off mealy grubs and roasted iguana evokes feelings of sympathy for both the source-of-protein victim and the survivor.
It's a world away from your average family camping holiday, but setting up a tent for the weekend in a field in the countryside, is one step closer to communing with nature, even if there are showers, toilets and a souvenir shop at hand. Yes, this entry is about getting closer to nature, but in ways where you don't have to abandon all civilisation... welcome to the h2g2 guide to the best campsites!
First Things First
There are, some would say, two schools of thought on what makes a good campsite.
One is that the site should be thoroughly well-equipped with hot and cold running water, satellite television and the like. This type of camp site is ideal for those of us who are less adventurous or willing to do without their essential home comforts.
The other insists on everything being 'back to basics'; in the real countryside, remote and wild with no creature comforts, but in a stunning location.
Whichever one you decide to go for, it's always worth planning ahead and ensuring you have the right equipment for your adventure. In either event, a pair of good, strong walking shoes or boots are imperative.
Árbúdir, Iceland
Campsites in Iceland tend to be of the 'basic' variety, and this is no exception. Located near Kjölur, some way through the highlands, the main attraction here is a breathtakingly beautiful view of the mountains.
With no on-site accommodation, the camping site itself is just a small piece of meadow next to a mountain hut (for which you have to book in advance). There is just one shower, a scattering of toilets and three outdoor sinks. There are no shops of any kind, so once you're there it's too late to worry about anything you might have left behind. But if you choose the time of year for your visit well, and if you have good company, you'll have a nice stay in the middle of nowhere and you'll love it!
Sudersand, Gotland, Sweden
Off the Swedish east coast there's an island called Gotland, known for its fabulous nature and landscape scenery. The island is approx. 170 kilometres long and half as wide. You can travel to Gotland either by ferry from Nynäshamn or Oskarshamn, or by aeroplane from mainland Sweden. On the north side, there is another, smaller, island called Fårö which can only be accessed via Gotland thanks to a free ferry service that is on duty around the clock. (There are no direct routes to or from the mainland.)
On Fårö there's a lovely campsite called Sudersand, located closely to one of Sweden's longest and most beautiful sand beaches. The site offers good around-the-clock service, but you'll have to bring your own tent or caravan. If you bring a caravan it might be a good idea to book a spot in advance. In the area there are plenty of utility shops as well as souvenir shops and restaurants.
Of course, the thing you come to Fårö and Sudersand for is to experience nature and scenery that is seen nowhere else in the world. For instance, on the west coast, there's a nature preservation area that is widely famous for its huge stone formations, called 'raukar'. Above all it's a place for recreation and contemplation, and you will have no problem with finding solitude despite the many tourists that travel there each summer from around the world.
Le Grand Metierie, Carnac, France
One Researcher offered this account of holidays spent in la campagne of France, at Le Grand Metierie in Carnac:
My family came to this campsite every year for about five years when I was a teenager. I haven't been back there for about 12 years so I don't know how much it has changed but it was an ideal camping holiday destination then.
The site was large with grassy plots separated by hedges and conifers - the smell of fir trees will always remind me of holidays because of this. It was very popular with the French (especially in August) so did wonders for my language skills. Some distance from the beach, the site had two large pools that were watched over by lifeguards. The facilities were good and clean. You could bring your own tent, hire one through Keycamp or Eurocamp or one of those sorts of company. You could also hire large static caravans. In our final year there we went in a camper van and found that the pitches had all the hook-ups for water and electricity.
There was a little club house-type-thing called Doux Dingues for the teens that had arcade machines and table football. The site felt very safe and my parents were happy to let my brother and I go off and do our own thing most of the time.
The main attraction for the area were rows and rows of ancient standing stones right by the site that stretched for what seemed like miles. Nobody knows who put them there, or why. There is, however, a visitor centre that possibly has a little more information about them.
When we used to go you could get among the stones and it was a regular meeting place for us at night to get away from the adults. We even witnessed some sort of druidic ritual there. I have heard since that tourists aren't allowed to crawl all over them nowadays, which is probably a good thing.
There were a few decent restaurants within walking distance of the site (although as we were camping we mainly ate barbecued stuff or fresh bread and cheese from the camp shop) and there was a good restaurant and takeaway on site.
I had many very happy times there, I hope it is still as nice a place as it was then.
Meanwhile, in North America...
Oregon Coast, USA
Oswald West State Park is set in a nice cove filled with giant old trees. You have to wheelbarrow your gear down a trail through the trees from Highway 101.
I was there in midsummer last year and the weather was misty and cool making for lots of nice hikes through the trees and along the beach.
Bahia Honda, Florida
Nestled among the more travelled and touristy spots in the Florida Keys is an amazingly beautiful state park called Bahia Honda. It is the first key you reach after you cross the seven-mile bridge from Marathon. Located at Mile Marker 37, Bahia Honda is next to one of the deepest channels of water between the Gulf of Mexico and the Atlantic Ocean. This makes for excellent swimming, snorkeling, diving and fishing, as this Researcher will testify:
As a Florida State Park, maintenance and amenities are top-notch. 80 campsites are available, and the equipment you can rent includes boats, dive and snorkel gear, fishing rods, kayaks, bicycles, and even beach chairs. Most exciting of all - there is a boat ramp!
The shining jewel of Bahia Honda is the beautiful beach. Most of the Keys are coral rocks with stony shorelines, too much development, and too many people. Not so with Bahia Honda. The campsite faces a sandy shored lagoon, on a natural wild Key. This truly is what most people visualise as paradise.
Fees for admission to the park are nominal: the last time I was there it cost fifty cents per person, or $4.00 per car. Camping and equipment rental fees are extremely agreeable as well.
Bear in mind that the weather can quickly turn wicked between August and November, and total evacuation of non-residents is always required when a hurricane is forecast for the Keys area. There is nothing romantic about weathering a hurricane, and the two weeks afterward are often an invitation to go camping without leaving your home. Our last big blow left us without electricity or water for ten days!
If the peace, quiet, and tranquility start to get to you at Bahia Honda, Key West and all of its temptations are only thirty minutes away.
Angel Island, San Francisco Bay, California
The brochure for Angel Island puts it this way:
Camping in the environmental campsites at Angel Island State Park is a unique experience. You are surrounded by the millions of people who live on the shores of San Francisco Bay, and yet here on this grass-and-tree-covered island, you are isolated 'away from it all' with the chance to enjoy some of the most spectacular views anywhere.
Our Researcher for this divine location was lucky enough to be there at the high-point of the lunar month:
During my visit last month, we witnessed the full moon rise above the 20 mph wall of fog streaking in from the Golden Gate; having a huge Barn Owl swoop through our camp, two feet over our heads; outwitting two large raccoons with nimble fingers trying to get into our food locker; and having a music and laser light show piped in to us courtesy of a dinner/dance cruise boat a few hundred feet below us on the bay.
There are three camping areas comprising three campsites each, plus a Kayak camp. The East Bay sites #1, #2 and #3 are the most sheltered. Ridge sites #4, #5 and #6 are more exposed and windy, but offer a view of San Francisco and the Golden Gate Bridge. In a third area are Sunrise sites #7, #8 and #9 which can be combined to make a group camp for up to 24 people.
The Kayak camp is on the western side of the island and can handle up to 20 people for $20 a night compared to the $7 a night fee for up to eight people in the other sites.
...unless you Kayak in, which in all honesty should only be done by the most experienced, owing to six knot currents and some vicious chop... you will need to take one of the public ferries; the most frequent being the Angel Island - Tiburon Ferry Company. This roughly 25-minute crossing runs hourly on weekends until about 6pm, but rather annoyingly only has a handful of crossings during the week. The last one to the island leaves just after 3pm; the first back does not leave until 10am.
On arriving on the island, you will essentially be backpacking all your stuff in approximately two miles, no matter which site you reserve. You need to check in with a Ranger immediately after disembarking and make sure you get explicit directions, as many of the sites are hidden in the trees and are not well marked.
We had site # 2 (very sheltered, but a little drippy from the fog in the morning) which came with a standard eight-seater picnic table, food-locker (with a wonky latch) and a waist-level charcoal grill. No ground fires are allowed. The nearest neighbour, in site #3, was fifty yards away over a small ridge.
Our area had a clean pit toilet and water tap, and there are real honest-to-gosh flushing WCs at the ferry landing and museums, for those with more sensitive noses.
A pretty decent café at the ferry landing sells wine and beer, as well as snacks and beverages and has indoor and outdoor seating overlooking Ayala Cove by the visitor centre. One downside is, it can be very crowded on Saturday and Sunday afternoons in the summer, once the last ferry leaves the 'drawbridge' has effectively been pulled up, leaving only a handful of campers and the remaining support staff to share the island with deer and other critters.
The entire island is dotted with historic sites from its checkered past. It was a Civil War defence post; a quarantine station for soldiers returning from overseas; and most infamously the 'Ellis Island of the West' detention centre, which was used to dissuade and exclude, mostly Chinese, immigrants before the Exclusion Act was repealed in 1940. Ask the ranger about museum opening hours.
There are several miles of hiking trails leading up and around the 750 foot Mount Livermore plus two bike trail loops. You can rent/hire bikes right next to the cafe but tents/sleeping bags etc. need to be rented before you go from one of the many sporting goods and recreational equipment stores in the Bay Area. Berkeley probably has the biggest concentration.
I think my most enduring memory was the sight of ship after ship steaming in and out of the bay through the Golden Gate Bridge.
Hidden Valley Boy Scout Camp, Pennsylvania
The first thing you need to be aware of with regard to our next location is something that might be fairly self-evident from the name - you must be a Boy Scout to go camping here.
Located in Perry County, Pennsylvania, the Hidden Valley Boy Scout Camp there are cabins and half-shelters for the winter as well as dozens of campsites for pitching tents. Sherman Creek runs through the centre of the camp and provides a great place for canoes and row boats. There's a rifle range and archery range and a swimming pool - great for earning all those merit badges!
Much of the surrounding countryside is pine forest so everything smells great and you can really feel the silence of the woods as the carpet of pine needles absorbs the sounds of your own footsteps.
Sitting alone and meditating on the top of Eagle Rock, a rock outcropping that overlooks the creek, is one of my fondest Scouting memories. (Yes, I learned to meditate and shoot firearms in Scouts).
The mess hall was perfect - or rather, you could complain about the food, but it isn't bad enough to make you not want to eat.
Pacific Rim National Park, Canada
Just one of the many stunning camping spots in Canada, the Pacific Rim National Park provides a beautiful location for you to set up camp and see miles of white beaches, crashing surf, and nothing between you and Asia but water. Nearby towns have great supplies of local fresh caught fish as well as native art, hot springs, and excellent restaurants if you want to cheat. There are paved bicycle paths set away from the road that go past Royal public gardens and surf shops, but for the most-part, the area's prime attraction is the (safe) wildlife still living in their natural habitat.
A Nation of Camp Sites
The UK and Ireland are blessed with a number of beauty spots that seem to have been crafted specifically for the interests of the keen camper. One such site can be found not far from the south-west coast of England...
Mill Park, North Devon, England
We stayed at Mill Park campsite three years running; the fourth year we stayed at a site with a swimming pool, petting zoo and scuba lessons, but after a week there we returned to our usual site so could wake up every morning in mist and fog and got down to the town to find blazing sunshine. This place is forever in my memory as fantastic; there is a rope slide/swing running over the stream that flows through the site - I've spent hours on that swing and in the stream as well.
We would wake up each morning to the sound of the duck quacking and waddling their way through the site trying to eat tent ropes on route. There is a full size lake (supposed to be for fishing) on site and the number of rabbits, ducks, geese and other wildlife is fantastic - especially when coupled with the glorious location.
The camp is within walking distance of, reputedly, one of the nicest coves in Devon (although admittedly, like most of the English south coast, it has a shale beach, not sand). Just walk back to the main road (through the woods) across and up the track on the other side, past another campsite (with all the facilities but bad weather and terracing that is not fun to come across in the middle of the night on the way to the loo) and down approximately 390 steps (that's why the beach is so private).
I've got photos of this beach and every one I show them to is always amazed they are of Devon and not somewhere more exotic. The cliffs and the vegetation are wonderful - there is also a peninsular/island (depending on the tide) that you can climb up to fairly easily. The only thing to watch out for is the tide - it doesn't come in too fast but we've had to end a few trips by having to wade through the surf back over to the steps.
The site has everything you might hope for (within reason) - plenty of toilets and showers (including free hot water) and lots of proper sinks for doing the washing up in. The nearby shop is small, but it has all the basics and they will refreeze your freezer packs for free if you write your name on them. Anything else you need can either be bought from the village shop in Berrynarbor or by shopping in Ilfracombe or Combe Martin (depending on which way you choose to travel along the coast). The site is also within walking distance of Watermouth Castle - a great day out.
The last time we visited, one of our guests ended up panning for gold in the Gnomes Stream - she was 16 at the time and had only ever been on holiday to Spanish resorts.
It has been too long since I last visited (almost 10 years) but from looking at the website not much has changed. I'm currently working on persuading my other half that camping is a good idea (he's not quite convinced yet but I'll get there) - this is solely so that I can have another go on the swing over the stream (we managed to get five kids on it when I was young, so it should take my weight).
St Martins, Isles of Scilly
The island of St Martins, one of the Isles of Scilly, is not the easiest of places to get to - which is probably why it's one of the most perfect places to have a camp site. To get there, you get the ferry, helicopter or plane to St Marys (the main island) and then catch the small off-island boat to St Martins. You can send all your luggage by the Scillonian (ferry from Penzance to the Islands) and it'll be transferred to the correct off-island boat for you (if you remember to label it well!). The only condition is that someone has to be on the boat to St Martins with it.
The campsite owners meet the boats from St Marys with a tractor to pick people up. The site itself is near the western end of the island, three large fields right next to the beach, and within easy distance of the quays, restaurants (the hotel and the guest house), shops (post office-cum-store, bakery, and a grocer/local store) and the pub.
You can't hire tents, but they have a fantabulous barn where you can get things you might need - meths, camping gaz, barbecue equipment, food, books for loan - and you can even freeze ice packs for cool boxes. You can also get fresh (that's straight-out-of-the-cow fresh) milk from them at the farm house; you can order it to be there the morning and/or evening when you arrive.
The on-site facilities are great, plenty of bins, water-taps, and spotless toilets and showers (50p, and long) and they have now got laundry facilities too.
Nearby the beach is the perfect place to go and unwind and take that huge pile of books you've been meaning to read for ages. You can visit the other islands, stroll around, go snorkeling, diving, fishing, sailing, wind-surfing, shell collecting, bird-watching or just sit back and eat your picnics to your heart's content. We are told that the local artist Sue Lewington welcomes visitors to her gallery too.
If you're wanting to go in July and August it's very advisable to book well in advance as they have quite a few regular campers who will go for the entire school holidays.
Juniper Hill and Carrick Dhu, Northern Ireland
For all Motorcycle road racing nuts, Juniper Hill and Carrick Dhu in Ireland are apparently a must for the week of the North West 200. Both these caravan and camping sites are located right on the circuit so you can stand at the northern perimeter fence and see the action. Juniper Hill is just past the pits and start finish line and has a corner named after it. Carrick Dhu is just before the finish line.
The advantage of both sites is that they are within walking distance of the hub of activity for the events. The disadvantage at that time of year is that unless you have a permanent sited caravan you may not get in. For the rest of the season, these sites are near the wonderfully sandy beaches of Portrush and Portstewart and within easy access of the Giant's Causeway and other attraction of the North West of Ireland
Pontcanna Fields, Wales
Actually inside the city park that runs up to Cardiff Castle walls, you will find Pontcanna Fields. Running water, washing machines, security cameras, and a site within easy walking distance of the castle and city centre (where shopping is good). It's a quiet site, grassy, with sheltering trees. There's easy access by road from outside the city, and plenty of easy-to-get-to attractions in the area.
Isle of Mull, Scotland
The Shieling Holiday campsite on the Isle of Mull is slightly different from a normal campsite, in that, although you can pitch your own tent, you could alternatively stay in one of their permanent tents (called 'shielings') that are already erected on the site. So you get all the usual joys of camping in Scotland (rain, midgies, snoring family members) without having the hassle of putting up the tent. You even get an indoor toilet, shower and cooker.
The campsite is barely a mile up the coast from the ferry terminal at Craignure, with car ferries every two hours from Oban. The facilities are excellent, at least in the en-suite shielings. The camp beds are surprisingly comfortable, and the showers had hot water all day, including the communal ones on the site.
One of the best things about this site is the view - on a clear day you can see across to the mountains on the mainland, including Ben Nevis. You can try canoeing and dinghy sailing here, or hire out a motorboat for an hour to see the seals on rocks off the coast.
Sykes Farm, Buttermere, English Lake District, UK
Sykes Farm really is a lovely campsite - not so much for the small quiet site, but for its location - smack-bang in the middle of the most beautiful valley in (some believe) the most beautiful part of England. From your tent door you can see Buttermere and Crummock Water, Sour Milk Gill, Red Pike, High Stile, Haystacks, and many other lovely mountains. 30(ish) minutes walk from the campsite brings you to Scale Force (120ft waterfall) or Bleaberry tarn on the slopes of Red Pike (absolutely beautiful, clear and still and silent when encountered in hill fog). The tiny village of Buttermere is surrounded by lush pasture and wildflower meadows, and many small birds and even red squirrels are everywhere.
The site itself is populated by a small flock of sheep (mostly herdwicks) who provide entertainment by grazing right outside your tent door then legging it in comedy sheep fashion when you stick your head out. There is a small, clean, toilet and shower block - only 20p for a 10 minute shower which is pretty much the cheapest shower in the lakes unless you actually live there. The site costs (at the time of writing) £4.00 per person per night (although we negotiated a discount as we didn't have a car). If you're the private sort then you can easily find a small rise to put your tent behind so you don't even have to look at any other campers.
Right next door to the campsite (across a small stream) are two inns serving absolutely enormous portions of excellent food at very reasonable prices. There is only one downside of this wonderful hamlet:
There's a small tacky cafe next to the bus stop which, during the daytime in summer, is populated by sticky children covered in ice-cream, Mars bars and vomit. However, they can easily be avoided as they never get further than the start of the lake path before whining so much that their parents give in and drive them back to the bright lights of Keswick.
... and the local farmer is really friendly too!
And Finally...
To finish, two recommendations that could hardly be more different. One might require a fair amount of travelling to get to, the other requires no travelling at all:
Nxai Pan National Park, Botswana.
Deep in the heart of Botswana lies the Nxai Pan National Park, which boasts three separate campsites.
When you get there, chances are, the sites will have no facilities whatsoever and are occupied or at least frequented by the indigenous creatures - such as elephant, hyena and leopard. If the water is on, it's a bonus. But, as has already been stated, it all boils down to personal taste. Some might prefer to stay at home than to go to a camp site that was little more than a simplified holiday camp - which surely defeats the purpose of camping. This site offers the least home comforts, but surely the most in terms of adventure and surroundings. If the spirit is strong, this could be the ultimate in 'roughing it' experiences and arguably the most rewarding as a consequence. Alternatively...
Your Back Garden
Most of us have spent a night in a tent erected in the back garden, and when we were small it was the best campsite of all. All the romance and adventure of a night spent under canvas, but all the comfort and convenience of being a stone's throw from your own loo, shower, fridge and - most importantly - the TV. This also involved midnight feasts and being brought breakfast in the morning by your mum or dad.
Who needs a comfy bed when you have the night sky as your duvet and the dawn chorus as your alarm clock?