The Name of the Rose - By Umberto Eco
Created | Updated Jul 18, 2004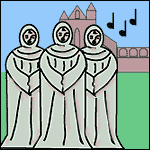 Title: The Name of the Rose (Il nome della rose)
Author: Umberto Eco



First published 1980

First translated into English 1983



Synopsis

The year is 1327, and there is a clash afoot between the Holy Roman Emperor Louis, and Pope John XXII, over the Emperor's support for the Minorites (a division of the spirituals, who themselves are a division of the Franciscans) and their claims regarding the poverty of Christ.



It is against this backdrop that the Franciscan friar William of Baskerville and his assistant, a young Benedictine named Adso of Melk, arrive at a medieval castle, run as an Abbey by the order of St Benedict. William (a former inquisitor) is renowned for his intelligence, and the Abbot makes a request of him. A young monk, an illuminator named Adelmo of Otranto, has been found dead, and the Abbot, suspecting murder, asks William to investigate. As William delves into the secrets of the Abbey, and in particular its enigmatic library, more deaths occur. With a delegation from both the Emperor (of which William is a part) and the Pope due to meet at the Abbey to discuss their differences, William is under pressure to locate the murderer as quickly as possible, but before it is over, there will be fire, death, and heresy within the Abbey.



The first book by Umberto Eco, the Name of the Rose is a mix of murder mystery and theological debate. Brilliantly written, the book evokes many feelings, as over seven days it explores fundamental aspects of our nature and beliefs.