DEVON'S NEW FLAG
Created | Updated Mar 8, 2004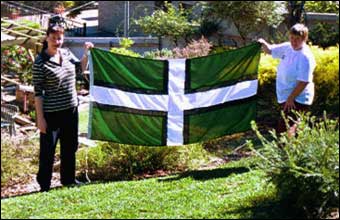 Devon has a brand new flag which it's hoped will become a symbol of pride in the county.
The flag has already been seen flying at a number of events and can be purchased in various sizes on the internet.
You chose the distinctive green and white design following a heated debate on the BBC Devon website.
Many of the designs used the traditional Devon colours of black, green and white.
The most favoured design topped both the original BBC Devon poll and the follow-up shortlist vote, and was designed by BBC Devon contributor Ryan Sealey.
The design received 49% of the total votes cast in the final count.
See the full story on Devon's new flag. CLICK HERE FOR MORE
You can refer back to the original designs by visiting the Devon Needs a Flag page.
To discuss Devon's Celtic roots see our Celtic Devon debate.
See how the votes were cast in our original "just for fun" poll. CLICK HERE FOR RESULTS