Douglas Adams 1952 - 2001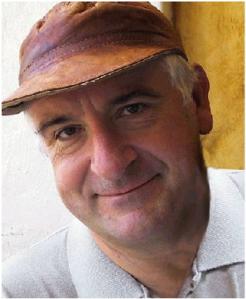 We were deeply shocked to learn that Douglas Adams, creator of The Hitchhiker's Guide to the Galaxy and friend to us all, died on Friday 11 May, 2001. Our deepest sympathy goes out to his wife Jane, and his daughter Polly.
If you would like to leave a message of condolence, then please click on the 'Discuss this Entry' button below.
The order of service for Douglas' funeral, which took place at 3pm California time, Wednesday 16 May was:

The Schubler Chorals - Johann Sebastian Bach
Sue Adams, Jane Garnier, James Thrift
Mary Allen

The Marriage of Figaro - Wolfgang Amadeus Mozart
Simon Jones
Terry Jones

'I Wannabe (A Rockstar)' - Margo Buchanan1
Michael Nesmith
Chris Ogle

'Imagine' - John Lennon

'Hey Jude' - The Beatles

'Drive My Car' - The Beatles

'Paperback Writer' - The Beatles


A Tribute from Robbie Stamp
Robbie, Chairman and Co-founder of h2g2 with Douglas and Richard Creasey, has written the following personal tribute to Douglas.
I feel very privileged to have been both a business partner and friend to Douglas. Over the years that we worked on The Digital Village, which latterly became h2g2 Ltd, we became genuinely close. Whether he was here or in the USA we would talk three or four times a week, and for long periods we talked daily.

Many many words will be written about his life and his works of genius, so it is his friendship that I would most like to celebrate. Douglas was a loyal and caring man and much of our talk was about friends and families and our children. He adored his daughter Polly and recently was so proud of her learning to ride. He basked in the confidence that it gave her. The last conversation I had with him was the evening before he had his heart attack. My own father had died only a few hours earlier and Douglas listened with such compassion to the story I wanted to tell him about his final hours. We then gently moved on to one of our perennial topics of conversation, 'the movie', and then on to new ideas for the future. And there in that one call was all that I valued about my friendship with Douglas: care for the things that really matter, love, friendship, family and loyalty, alongside his passionate enjoyment of ideas and his hunger for thinking about the world.

We had talked recently about the new home that h2g2.com has found at the BBC and how glad we were that it has a parent now who can help it to become what we dreamed it might. I know that Douglas would be happy to think that h2g2 will long be a place where people congregate to share stories, and piece by piece build the Earth Edition of The Hitchhiker's Guide to the Galaxy.
Other Tributes and Obituaries
Here's a selection of other tributes and obituaries.
A Selection of Douglas' h2g2 Guide Entries
Here's a selection of h2g2 Guide Entries written by Douglas. They're just the tip of the iceberg; on top of the books, TV series, radio series, computer games and towels, a major part of Douglas' legacy is and always will be the online Guide he created - this site. His words in the first two entries here are more relevant than ever, and show what a genuine visionary he was. We'll really miss him.
A Selection of Douglas' Work for the BBC
Douglas enjoyed a long and fruitful relationship with the BBC, from early Doctor Who episodes, through the radio and TV series of The Hitchhiker's Guide to the Galaxy, and more recently his work on Radio 4. Here's a selection from elsewhere on BBC Online.
Douglas' Favourite Charities
Some people have been asking which charities were Douglas' favourites, so here are two that Douglas supported wholeheartedly:
1Douglas shot a video of Polly singing 'I Wannabe (A Rockstar)', which you can find at the Apple site.
Conversations
| Conversation Title | Latest Post | Latest Reply |
| --- | --- | --- |
| Scrambled Eggs | Jul 2, 1999 | Mar 14, 2006 |
| My take on this article | Apr 14, 2000 | Jun 25, 2005 |
| Mark Knopfler's playing | Jun 6, 2000 | Oct 11, 2003 |
| Radios in tunnels | Sep 10, 1999 | Apr 4, 2003 |
| Better late... | Apr 12, 2000 | Sep 1, 2002 |
Subscriptions
Title
Status

Created

This user has no Entry subscriptions