I Am Buzz Lightyear, International Space Ranger!!!!!
Bienvenue! Bienvenidos! Benvenuti! Wilkommen! Welcome! Yo, Whassup!!
Please come in and make yourself @ home. Heck, you don't even have to wipe your feet!


Well Done, you have successfully whether intentionally or not found your way to chez Buzz on h2g2!!
[Apologies if you think my little greeting above reads too much like an International tourist resort, but thought it appropriate here!]. It´s amazing when I think just how long it took me to find this little corner of the Internet galaxy considering how much time I spend surfing the Information Super-Highway!! Now, I just can't keep away (Hint: you may have to release the hounds soon!!). No sooner have I logged on, then up comes the login in page and...ALAS! Well, even International Space Rangers need a day off from time to time after fighting the Mighty Zurg and tending to my trusty ol´ space ship. Although my warrior status is legendary, you should fear not for I come in peace! Pray, take a pew, read on and leave a message if you like, I'm always glad to hear from fellow travellers!!
Alternatively, you may want to exeunt with haste when you realize you've taken a wrong turn in the guide. Please don't go!

If you feel the need, there's always
The Post
;
Ask h2g2
;
United Friends of h2g2
and now over 5000 Exclusive Edited Guide Entries!


NAME
: You must know me by now. I'm the famous Buzz Lightyear, the one and only authentic one (not one of the toy Buzzes!).
OCCUPATION
: Great nemesis and scourge of the Mighty Zurg and intergalactic villainry, and useful mechanic! Hoping to add
"Accomplished h2g2 Researcher"
soon too...Keepin' on dreamin'!!
HEIGHT
: Diminiutive, but every bit the Intergalactic Space Ranger!
WEIGHT
: Sleek, and Muscular (Kept in Shape by fighting the Mighty Zurg!).
PASTTIMES
: Well, when I'm not busy patrolling the galaxy, I stop by at the great hotspots of the known universe and hang with my good friends.
FRIENDS
: The boy Andy, Woody, Slinky, MR And MRS Potato Head, Rex... Who knows, I may even be adding some of you fellow researchers to this list some day (or, more likely after visiting my domain here, you'll rather want to keep well away!)
LIKES
: All his good pals, honing my warrior skills, chocolate, thought-provoking talented h2g2 researchers (just about anyone on here really!)...just about anything really. I´m easily pleased!
DISLIKES
: The Dark Side (including Zurg), bad things happening to people like homelessness or bankrupcy, Manchester United!
PROVERB TO LIVE BY
: "Keep your friends close, and your enemies even closer" - John F. Kennedy, 1917 to 1963
NEVER A TRUER WORD SPOKEN
: "There is no sincerer love than the love of food" Mmmmmm...-George Bernard Shaw, 1856 to 1950
ONE I EMPATHISE WITH
: "Forgive your enemies, but never forget their names"-John F. Kennedy, 1917 to 1963
NOTE TO STUDENTS
: "Education is a progressive discovery of our own ignorance" Still trying to work out what it's for!! - Will Durant
MOREOVER
: "Imagination is more important than knowledge" -Albert Einstein, 1879 to 1955
AI, THAT'LL BE RIGHT
: "Only two things are infinite, the universe and human stupidity, and I'm not sure about the former"-Albert Einstein, 1879 to 1955
Okay so the game is up! I was trying to find something deep as well as meaningful to say here, but felt haplessly uninspired!!

Let's Remember: "There was life before Coronation Street. But it didn't amount to much!"

And, not forgetting: "The Capitalist System is oiled by the blood of the workers!"
Anyway, if you folks would like to find out more about me for real, check out my blogspot, an online journal evolving all the time. Enjoy! I do tweak and prod it every now and again, Honest I do guv'!
That'll be all folks 4 now!!
Now, I must be off to search and explore this intriguing part of the universe I have just about reached ..... This galaxy needs me!! Buzz Lightyear to the rescue!!
Live Long and Prosper!

To Infinity and Beyond!


Here's this space ranger

wishing all my fellow researchers on h2g2 A Very Prosperous New Year!!

May 2003 bring you nowt but wealth, health and happiness!!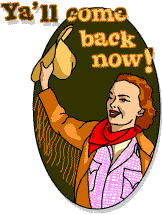 1
2
3
1[ALAS, fear not for this personal space shall continually evolve!]
2Incidentally, if you happen to be passing, I´d be delighted to hear what your advice is on writing these introductions, and anything else you have to say so that I can continually improve upon it. Have I got this right, or should it be more true to self (so to speak!)? Thankee, good people!
3Just hope Disney don't come and screw me for breach of copyright!!

Messages left for this Researcher

Posted
Conversation Title

Latest Post

Latest Reply

No Posting

No Posting

No Posting

No Posting

No Posting
Title

Status

Created

This user has no Entry subscriptions
Researcher Details
Name: Buzz Lightyear: Getting Ever Warmer

Most Recent Approved Entries
Disclaimer
h2g2 is created by h2g2's users, who are members of the public. The views expressed are theirs and unless specifically stated are not those of Not Panicking Ltd. If you consider any Entry to be in breach of the site's House Rules, please register a complaint. For any other comments, please visit the Feedback page.
Buzz Lightyear: Getting Ever Warmer has no Friends
This user has no Bookmarks