Taking Stock

Hello, and welcome to my personal space. Here, meet my towel.
I'm beginning to feel okay with the amount of my content here, but it has been gradually building. The future? Well, nobody can truly predict that.
I still miss the concept of the idea, of considering the inkling of the thought, that there may yet be one more complete Hitchhikers or Dirk Gently story about to be born. The rumours did prove true. There was someone selected to take on the mantle. Whether or not he succeeded is a matter of personal taste; but I've been left unsatisfied, and the book has remained unfinished. I'll eventually get around to finishing it, but I found those written by DNA impossible to put down without significant threat to my health and welfare.
But, if nothing else ever comes from the life and life's work of DNA, it is enough for me to know that the answer to Life, the Universe, and Everything is finally and well sorted out; and, of course, that his legacy has left us with this very splendid and worthwhile earthbound edition of the Guide.
No one was more surprised than I when the answer turned out to be the simple, yet elegant, 42 (Binary 101010). It took me months of mental hypergymnastics to sort out just what the question actually was; largely because my brain is only the size of a small moon and not, like Marvin's, that of an entire planet.
Don't ever expect to hear it, though; or expect a reasoned debate on the subject. Despite my effort to help along the DNA and philosophy fans, by creating an entry the extracts the conditions for gauging the fitness of any proposed Ultimate Question, as set forth by DNA in his fantastic universe, it looks doubtful that it will ever hit the EG, or any other portion of the guide where someone could point to it and say, 'Adams said that it has to...' or 'The lore points out that it can't...' or 'The answer forty-two doesn't fit with that question'.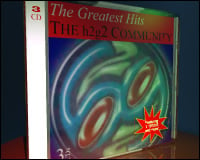 My solo contributions to the Edited Guide:
A1097255 Some Tips on Making Stage Props (Sep 3, 2003)
A1920458 Inherit the Stars - the Giants novels (Feb 2, 2004)
A2054602 Burning Mouth Syndrome (Feb 6, 2004)
A2818668 Adult Sleep Apnoea - Apnea - OSA (Jul 23, 2004)
A2715301 Spotted Dick (Jul 26, 2004)
A2960633 The Amazing 42-Minute Gravity Sled (Oct 5, 2004)
A2922167 Trigger Thumb (Oct 19, 2004)
A3006307 Time: A Bi-directional Dimension (Nov 18, 2004)
A3283049 Whipple's Disease (Dec 13, 2004)
A3599292 Hoke Howell - Character Actor Par Excellence (Feb 21, 2005)
A5907251 Glass Sponge (Nov 24, 2005)
A6563126 Horse Riding - a beginner's guide (Dec 12, 2005)
A6756636 Cuban Sandwich - an engineering marvel (Jan 11, 2006)
A16133591 Invader Zim - (Dec 20, 2006)
A19552179 A Guide to Metal Detecting - (Feb 20, 2007)
A30560906 The Monkees - Legends of Television and Rock 'n' Roll (Feb 20, 2008)
A30652715 MENTOR - The Electronic Opponent (Feb 27, 2008)
A39787131 The Art of Making Devilled Eggs - (Sept 8, 2008)
A40756025 Brown Sauce - (Sept 12, 2008)
A41427254 Understanding Literary Plots - (Sept 29, 2008)
A56598178 An Introduction to Water as Steam (Sept 7, 2009)
A68504295 Making Coffee-Flavoured Liqueur (Aug 10, 2010)
My Updates to previous entries:
A241912 Truffles - (Jan 12, 2000 - Updated March 15, 2010)

My solo contributions to the Under Guide:
A14197917 Cinco de Mayo - (UG) (August 8, 2006)
A11995860 How Pyramids Got Their Shape - Revealed (UG) (May 24, 2006)
A2218565 A Guide to Woodworking Tools and Terms: (UG) (Jan 20, 2004)

Other General Weirdness of the Day:
A2498367 Siddhartha - By Hermann Hesse - Ultra-Condensed (Apr 6, 2004)
A5243492 How to Use a Sword (Aug 21, 2005)
A4557404 A Mercifully Brief Introduction to Disgusting Insects and Insect Disorders (Mar 27, 2008)
A33912416 A Guide to Steam: (Jul 27, 2005)

And, for those who have not yet read them, or have been directed to them: (these, I had no hand in)
A53209 The Writing Guidelines
This great person here hepled with the CAC, and we thank you very much. Love Tom AKA Cider shark
Glad to have hepled!
Messages left for this Researcher

Posted
Conversation Title

Latest Post

Latest Reply

No Posting

No Posting

No Posting

No Posting

No Posting
Title

Status

Created

This user has no Entry subscriptions
Most Recent Approved Entries
Disclaimer
h2g2 is created by h2g2's users, who are members of the public. The views expressed are theirs and unless specifically stated are not those of Not Panicking Ltd. If you consider any Entry to be in breach of the site's House Rules, please register a complaint. For any other comments, please visit the Feedback page.
This user has no Bookmarks