Wedding Etiquette
Created | Updated Nov 19, 2010
Updated 17 November 2010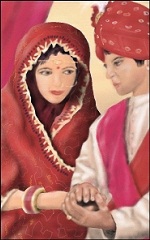 Always get married in the morning. That way, if it all goes wrong, you haven't wasted the whole day.
Weddings are, without a doubt, an utter nightmare for all those involved in any official capacity. It can also be equally horrific for the guests. Why is it so tough on all involved? When it comes down to it, it's all about etiquette and deportment and ensuring your hat doesn't clash with the mother of the bride's. It's a minefield that needs very careful navigation...
... Which is why we asked for your advice on wedding etiquette to help us address the usual (and unusual) issues within the context of marriage:
Transport
To start with, here are some observations on how the modern bride might expect to get to her 'big day':
An open car looks good, but will mess up the bride's hair en route to the church.

Consider the diameter of the bride's dress and the height of the hair before picking the car.

An open car will have to have the hood up if it rains. Insist on sitting in the car with the hood up before you hire it - some are very cramped.

A little old car is picturesque, but it might well be painfully slow. Get a new car or a big car if you've got to travel more than a couple of miles.

Horse-drawn carriages are romantic, but messy - especially if you step in 'it' just before you enter the church.

Ask the wedding car people to guarantee a fallback provision if 'your' car fails to arrive or to start. And have your own private backup in case they really let you down.

Get the wedding car to the bride's house at least 30 minutes before you need to depart. Until you've been there you've no idea how long it can take to get one (emotional) bride and one (haggard) father out of the house.

If you have a stretch limo with dark glass then no one will see you as you drive to the church and you won't be able to wave goodbye as you drive away from the church.

The very best wedding car I've seen was a Type 2 VW bus; plenty of space, big sliding door, big windows, and high off the floor so you get a good view.
Control your Photographer!
With everything running on a tight schedule, it's almost guaranteed that one of the biggest causes for delays is the activities of the photographer. Though the happy couple want a record of the day - with snaps taken at the beginning, during and after the ceremony - the last thing anyone needs is someone being overly-perfectionist about the whole thing. Some photographers use their few minutes in the limelight to boss everyone around and generally keep everyone waiting around in the hope that a cloud might move a few miles to the right and give the scene more light. If at all possible, delegate the responsibility of 'photographer herder' to someone who can be tactful, but firm and make sure that the 'artist' doesn't keep everyone hanging around for way too long.
I've nothing personal against photographers as individuals when they're not harassing poor newly-weds. I've just suffered too many weddings as a bellringer when I've rung for 30 minutes before the service is due to start, the bride is then delayed by the photographer at home so arrives about 20 minutes late at the church, is then stopped by the photographer again at our rather picturesque lynch-gate and is arranged and posed for another ten minutes or so.
We continue to ring, the service starts 30 minutes late; the happy couple has decided to include a sermon in the service just to really get things going, so we poor ringers hang around in the graveyard for about 45 minutes or so before going back up the tower to ring the happy couple out of the church.
They never make it, they process out of the front door, are dragged back in through the back door by the photographer to have more pictures taken and the guests are left hanging around outside desperate to lob confetti around and go off to eat. These couples seem to have no control over the photographer, he manages to override everything they say and they are left in his mercy. The number of times I've been to ring and this has happened repeatedly.
However...
If you find yourself in the position where you'll be responsible for taking the official photos for a friend's wedding, the golden rule is to plan! Sit down with the bride and groom, and agree beforehand what photos will be taken and when. The basic set could comprise:
Bride arriving at the church
Bride flashing her garter (optional)
Bride at the church entrance with her father
Bride at the church entrance with her bridesmaids
The wedding ceremony goes here... then take pictures of:
Bride and groom signing the registry
Bride and groom at the church door with confetti
Bride and groom and family at the church door
Bride and groom with maids and pageboy (and possibly best man)
Bride and groom with bride's family
Bride and groom with groom's family
Bride and groom with family and friends (make sure nobody stands behind the couple)
That's it for the church!
While the guests go to the reception, the bride and groom and their immediate family can go to a nice picturesque spot, followed by a few 'special' photos... Bride and groom running towards each other through a meadow of grass, etc.
Then on to the formal reception where the only photos required are:
Bride and groom at the high table raising a toast
Bride and groom cutting the cake
Bride and groom on the dance floor
Bride and groom being sent on their way... with more confetti!
Always use an autofocusing/autoexposure camera and try it out a few days beforehand with a flash test. Also give the bride's mother an instamatic camera for informal photos of the bride getting ready before the event, and leave a few disposable cameras at the tables for the reception. If you live in the UK, prepare alternative photo venues in case of rain. If you plan ahead, you won't upset anyone and it takes less time.
Duties of Bridesmaids and Others
It's lovely to be asked to be a bridesmaid, but there's more to it than a pretty frock (unless you're really unlucky). It is also an honour and a duty. Many brides pick a couple of grown-up friends as maids so they can help out. Duties may include:
Helping the bride get ready, (and supplying stiff drinks, if needed).

Keeping the teeny flower girls amused and under control.

Keeping the mothers apart and persuading them the bride knows best.

Distracting drunk relatives when they are about to be vulgar.

Dancing with everyone to get the party going.

Running, fetching and carrying for the bride. There are some things you just can't do in a big frock.
So don't just get squiffy as soon as you hit the reception and pass out on the best man. Have fun, but stay on duty. Your effort can help make it a magical day for your friend.
Speeches
If you must have speeches, then here are some simple rules:
Do not compose the speech on the way to the wedding - write it beforehand and take some time over it. Write it yourself (or type it) so you can read it easily.

Don't get drunk but do have a few drinks to calm your nerves. A room full of strangers is even scarier if you're stone cold sober.

If you're the groom, don't forget to compliment the in-laws for their hard work (if they did any). It'll give you brownie points for at least a couple of months.

Try not to burst into tears - this just embarrasses everyone and you become totally incomprehensible.

Keep it short, sweet and try saying what you really mean.
Superstition
Apparently, in some areas and for some generations of people, it's considered bad luck to offer 'congratulations' to the bride and groom.
It's a word I always avoid saying at weddings and I cringe when I hear someone else say it. I don't know why it's bad luck (perhaps some Pennsylvania Dutch folk wisdom?), but I do know I've never said it at a wedding.
Some, however, believe that it's OK to congratulate the man - he has, after all, managed to capture a prize against huge competition and has worked long and hard for this day. But it never harms to wish the bride happiness as there should be no suggestion that anyone could have been competition for her or that she had to work to get the groom.
Some Other Questions Answered
Marriage can be a confusing thing at the best of times. What makes some people go for traditional church weddings? Why do some churches have such odd and restrictive rules about who is and isn't allowed to be married there, depending on whether or not they're regular members of the congregation? Is it important that couples are part of the church community, or is it acceptable to use the church simply as a nice venue? Why is it that some people believe that divorcees shouldn't get remarried in a church? And why do people want church weddings even when they aren't remotely religious? One Researcher set out to answer a number of these questions, with special reference to the Church of England:
The Church of England is a mixed bag with vicars being given a large amount of autonomy - this was how Elizabeth I designed it (after the extremism of her step-siblings' reigns). The requirements for getting married in a Church of England church vary from vicar to vicar - the first one we asked wanted us to worship there for a minimum of six months and undergo counselling before he would even consider marrying us; the second asked us to come to a service so we could see if we liked his style and that was about it. So ask around.
We got married in the church I was christened in (which was enough of a link for that particular vicar). If you are getting married outside of the parish in which you reside (and therefore cannot have your banns read), then you will need a special or a common license. The common license is granted to people temporarily resident in the parish for a minimum of 15 consecutive days. A special license is granted by the Archbishop of Canterbury - you need to have a good reason for it, the vicars of your residential parishes must give their approval and both partners must have been christened and (of course) single. Special licenses are also granted for ceremonies taking place in church buildings without a wedding license, eg St Georges' at Windsor Castle, or St Paul's Cathedral.
The Church of England's rules can appear to be a bit random but that is because the Church was created from above (by Henry VIII and later reformed by monarchs and Parliaments) rather than being created by theological debate and pressure from the populace. It was partly designed to create a national Church – there to bring people together and as a stage for the 'big things' in people's lives ('hatches, matches and despatches').
While not being deeply religious myself, I wanted a church wedding for 'traditional' reasons. Not just because the building looked nice or that that sort of wedding is programmed into my psyche, (though things are both true) but because of the 'magic' of ritual and repetition. We had the 1660 service (complete with my 'obeying', but in exchange the groom has to 'worship me') and I doubt I would have wanted a church wedding if we couldn't have had that service. It was important to be taking my vows, saying the same words as my parents, grandparents, great-grandparents, had said all the way back to Thomas Cramner's introduction of the Prayer Book. After 400 years of repetition, those words have a sort of 'magic' that I wanted to be part of and build on.
I think that even if you lack a deep belief in God, then the Church of England (or any national church) has a part to play in the big events in peoples' lives. They have the space, the buildings and the best words (honed over centuries) to express the big emotions that we have difficulty dealing with ourselves – birth, death and marriage. The centre of community is often the church even if it is only in a physical sense and we respected that and wanted to be a part of it.
The problem with divorcees is I think linked to the nature of the vows you are taking (even in a civil ceremony) – 'til death do us part' is a vow and if vows mean anything then they should be unbreakable. But even this is not a hard and fast rule – talk to a number of vicars and see what they say.
Well, that's that sorted!
'Speak Now, or Forever Hold Your Peace...'
It's the most nerve-racking moment in any ceremony - the point at which the officiating person (such as the priest, vicar or registrar) asks if anyone has any good reason why the couple should not be married. It's somewhat akin to a livestock auction, in that everyone instinctively freezes, knowing that if you cough you will end up buying the farm, metaphorically speaking. However, if you do know of a lawful reason, or just wish to avail yourself of the final chance to sexually harass the bride(groom) some more, the correct procedure, for UK attendees at least, is as follows:
When the presiding official asks that question, say in a clear voice 'I do'; make yourself known to the official by either raising your hand or making clear eye contact.

Ask if you can raise your objections in private. This will clearly be less embarrassing for all concerned, and may stop you being lynched by irate relatives.

If you have a legal reason for objecting to the marriage, providing evidence is the only sure-fire way to stop the ceremony. The official is quite entitled to proceed nevertheless with the consent of both parties.

If the service does proceed, the polite course of action is to leave the church/registry office/tightrope immediately. Do not attend the reception unless the other guests have a broad sense of humour or you don't bruise easily.
Weddings in the Morning
One Researcher, who was living in the US, found it strange that so many weddings were held in the evening - in the UK they are almost always conducted during the day. What might surprise you to learn is that the reason for this is that in the UK you have to get married during daylight hours.
This is so that the groom can see the he is marrying the person that he thinks he is.
As the law currently stands, weddings must take place between 8am and 6pm. The law was established before the widespread introduction of electric light. The British government issued a white paper a couple of years ago, which if it becomes law will allow evening weddings, but they haven't as yet managed to give it parliamentary time. It would also allow people to get married outside for the first time (all wedding ceremonies - including civil ones on licensed premises - have to be held within a permanent structure, as the current law stands).
That is amazing. Here in Oz we can get married just about anywhere. I think it is anytime as well - I know of people who have got married at sunrise and that was well before 8am.
Pagan Weddings and No Fuss
You can of course avoid all the stuff by not inviting anyone at all. If you choose to have a pagan wedding, you can do what this Researcher suggests:
We had our pagan wedding on Lughnasadh (31 July) and asked nature to witness our vow of togetherness through all eternity. We then had the 'paperwork' ceremony on Beltane (1 May), invited the minimum of people, no dresses, no speeches, no photographer, no flowers apart from a sprig of hawthorn, which is sacred on Beltane. We then went out for Chinese food and everybody had fun and remained relaxed.
Marriage and Immigration in One Move
If you're a non-resident foreigner looking to get married in the UK, you must 'prove' that you understand English sufficiently well to understand that you are in fact getting involved in a marriage ceremony and that the outcome is that you will be married, as this Researcher can testify.
It starts off with basic carefully pronounced 'What is your name'-type questions. But, in my case at least, the official couldn't keep up with this unnatural way of talking. The actual vows (during this pre-marriage check), rapped out in some weird accent, were incomprehensible!
To make sure everything goes smoothly, remember: a leg-nudge and a glare from your partner means 'yes!', disdainful rolling of the eyes means 'no!'. Remember this and all the questions will be answered successfully. After this, you will get a copy of the vows to practice with. This is just as well because, whatever you do, do not use the nudge/eyes-rolling system during the actual ceremony. If you do, your in-laws are going to think of you as the biggest wimp/wimpess in the world.
So with that out of the way, let's take a look at some of the alternatives...
Viva Las Vegas!
Weddings in Las Vegas are among the quickest; one reason is actually (no joking) for return customers, serial monogamists who enjoyed the experience so much they decide to repeat the experience with someone new.
Some chapels accept drive-in ceremonies. As a consequence, Las Vegas is the only place likely to have a visible queue for the chapel, so please be considerate to those behind you in line. Another perk of Las Vegas weddings is that, because buffets are often extremely cheap in most casinos, this often replaces the more regimented wedding meals; informal table manners are therefore acceptable in such circumstances.
A Long Island Wedding
Since getting married last year, I've found out that the 'traditional' wedding I'm used to from living on Long Island is quite different from those in other parts of the USA. Receptions seem to be more formal, catered affairs here and there are many local 'wedding factories' that exist solely to put on big, lavish affairs. My husband's mid-western family was rather taken aback by the whole thing, while enjoying it immensely! Even if they couldn't bring their own covered dish of food. They also commented on the fact that it was a short reception... 'only' six hours versus their typical going on all night affairs!
Muslim Weddings
The Muslim 'desi' wedding is, like many Asian customs, influenced greatly by the parents, as dictated by tradition. The bride might find herself coerced into wearing the old sari of her prospective mother-in-law's mother's mother, while the groom's parents host a walima - a 'party' where a dinner or lunch is served, but there's no dancing and it goes on for hours.
Why oh why don't Asians have wedding lists? I mean, they make sense!
Muslim weddings and walimas are not the most exciting of celebrations. As one Reseracher pointed out, if you want to have fun, then go to the mehndi party - that's where the dancing happens.
Eastern Orthodoxy Etiquette
Often when someone gets married in a church, they are marrying someone not of the same faith. As a result, the wedding ceremony can often be mystifying for those who are not of the faith of that particular church. Luckily, those little programmes that are handed out usually go over the service and what's happening. More seriously, however, the visiting family members often forget that what might be acceptable in one church will be frowned upon elsewhere, as this Researcher, a member of an Eastern Orthodox church, shows:
The first thing is the applause after presenting the bride and groom. This is strictly taboo in our church and very rude. However, it never fails to occur at every wedding I go to. The other is the talking before the service. This is also taboo and rude, as it devalues the importance of God's temple to a social hall.
So, a vital tip - if you're visiting someone else's place of worship, show respect for the venue and check ahead what might be allowed. Of course, if you're expecting people to travel to your own church, it might also be good etiquette to warn your guests in advance...
I'm also Eastern Orthodox, (and for the record I think the film My Big Fat Greek Wedding did not paint a fair picture of us). I have heard many people complain that most of our weddings are on Sundays. This is not because halls are cheaper, but because weddings are supposed to be celebrated after a Divine Liturgy and most churches do not celebrate daily Liturgy. Be aware that no musical instruments are used in Eastern Orthodox services so all of the songs will be done á capella by the church choir, so there will be no 'Here Comes the Bride'. I know that when my parents married, my father's family, who is not Orthodox, complained about the length of the service, probably over an hour and half, which is about standard for a church wedding.
Scottish Weddings
A proper traditional Scottish wedding will have all of the male guests asserting their masculinity in a kilt. This is usually a novelty to them.
Getting Hitched In Bahrain
In Bahrain, if a couple agree to marry, the boy and his family must go to the home of the girl's family. There they will negotiate to agree the 'dowry', the amount which the boy must pay to the girl (not the girl's family) to get married. The agreement will also specify what standard of living the girl may expect. Some chicanery is permitted here. First, if the girl is dead-set on the fellow, then she will influence her father to accept a lower price on her behalf, which presumably she will have discussed with her beloved in advance. Second, to 'save face' there can be agreement that the boy will pay, say BD1,000 as requested by the girl's father, but that she will return half the money to him 'under the table'... perhaps to enable him to buy a dishwasher or something. However, despite what various media would have Westerners believe, there are no camels involved.
The boy must then arrange a small 'engagement' party at the home of the girl's family. Friends and family will be invited to attend. Nuts, dates, sweets and coffee are served. A 'mullah', a religious official from the Ministry of Islamic Affairs will bring and read an agreement, to be signed and witnessed. The boy must hand over some gold and furnish rings for both. This is the bureaucracy of the wedding over and done with, and in the eyes of the law, family and friends, they are now to be regarded as husband and wife.
Together they will arrange simultaneous 'wedding' parties, the details for which the groom must organise. One is a ladies' party only, to which only females will be invited from both sides of the family. They dance and chat and laugh and sing traditional songs, the bride dressed in a fine white frock adorned with plenty of gold, including a 'curcy jahba' - a kind of gold tiara (perhaps rented if, like most, they're a bit short of readies). The groom prays and at midnight, or late on anyway, he may enter the ladies' party and take her away.
Next stop is the reception to which all are invited. During the reception the couple exchange rings and receive presents. Presents to give to newly-weds include all the usual domestic stuff, dinner service, crystal decanters, and so on. Grooms like to receive clothes, though.
In Russia, However...
In the interests of the Guide (and of course only for this reason), one h2g2 Researcher went and married a Russian in Russia last year. Just for good measure, she attended her husband's cousin's wedding, too. And this is what she discovered...
You can only get legally married in the equivalent of a registry office, in a civil ceremony. If you want a (Russian Orthodox) church wedding you have to have a second go, and they won't do it until you produce your marriage certificate. I'm afraid we haven't got around to that yet, so I don't know the church ceremony. I believe that the poor old best man and chief bridesmaid are called upon to hold a crown above the heads of the bride and groom for the entirety what is probably (if I know orthodox services) quite a long ceremony, though.
The wedding will either take place at a ZAGs (I forget what that stands for, but it's a sort of local documents repository) or a glorified ZAGs called (literal translation) a 'wedding palace'. You can only book this two months (to the day) in advance, and slots are filled on a first come first served basis, so if you want to get married in summer on a Saturday you will be getting up to go and take your place in a queue at 5am.
When I say slots, I mean slots. There is no pretence that this is your unique day here, and on the day, while you are waiting for your number to be called you will be rubbing shoulders with lots of other brides/grooms and their wedding parties. Actually this isn't so bad, as it is quite pleasant to be hanging out in quite nicely done out antichambers with lots of decked out people.
The ceremony itself is short but sweet, and pretty similar in structure to western weddings. Generally, the bride and groom enter first, followed by the (chief and probably only - big weddings with lots of bridesmaids are not the norm in these places) bridesmaid and the best man, and everybody else shuffles in after. The best man, and bridesmaid will, ideally, be wearing a special sash (white/cream/pink or pale blue) which mark them out as the 'friends' of the couple. Neither of ours did, as a unanimous vote was taken that they looked horrid and tacky, but most people do.
However, I expect you can process and what-have-you in whatever manner you want to, but don't expect big consultations with the 'minister'. She'll do her stuff her way regardless of what you are doing. Basically, then, the bride and groom stand shoulder to shoulder with each other and the bridesmaid and best man before the 'minister' for the vows, lose the friends in order to sign the documents at a table and then shift to the 'ring table' for that bit (the best man is not in charge of the rings) and the kiss. Then everybody comes and greets you, starting with parents. One major and widespread tradition here is that everybody gives the bride flowers at this point, which personally I am all in favour of. My flat was like a hothouse for weeks afterwards. This is in addition to whatever other present you give. Wedding lists are regarded with much amusement and not a little horror here, but then we did end up with multiple steamers, so perhaps they will succumb eventually.
The next bit is quite fun. The ZAGs have devised a way of keeping the guests happy while various photos (by the in-house photographer - if you have bought him) are taken: they are taken downstairs and shown a video of the ceremony they have just watched 'live'. Actually it's a sales pitch (if you like it, you buy it), but this is when the Champagne starts to flow and there are places to sit down, so there you go.
Then comes my favourite bit: after this ceremony you go and show yourself off around town. In Moscow, for example, particular hot spots include Red Square, especially laying flowers on the Tomb of the Unknown Soldier round the back. The panoramic view of the city from the university is also extremely popular. And Victory Park comes in third these days, as it is scenic and has lots of pretty fountains. Go to any of these places, particularly on a Saturday in summer, and the place will be crawling with white dresses and suits and Champagne bottles. And why not. If you've spent that amount on the clothes and the hairdo and so on, I think you should be allowed to show it off. Not all the wedding party is obliged to go, though, and I suspect that if you are having the reception at home this is the point at which strategic members of the family hare off to get the potatoes on. If you don't do it in Moscow, every town seems to have it's favourite spot.
Before we move on, actually, it seems that attendance at the actual ceremony is considered less important than attendance at the party afterwards, wherever that is. There is, after all, only so much space at ZAGs - I don't think you could fit more than 40-odd guests into the hall, and there certainly aren't that many chairs. In fact, before their go, my husband's aunt was muttering something about how she wasn't going to her daughter's ceremony at all, as she claimed there was some kind of tradition which said that mothers of the bride shouldn't go. Although she did actually go in the end. Thank goodness. I was trying to imagine the look on my Mum's face: 'Thanks for coming Mum, had a good flight? Well, if you just sit at home here tomorrow morning, we'll send someone to collect you when it's all over.'
The reception you can do what you like with. My cousin by marriage had hers at home, a colleague arranged a 400-people-strong bash at some posh hall for her friend's wedding, and we went to a restaurant with about 30 people. I gather a lot of people hire a 'master of ceremonies' or 'tamada'. I'm not sure what he does exactly, except organise the traditional 'games' which are designed to test how good the marriage will be. Things like sawing a log in half together - to test your 'teamwork' skills. Other traditional elements seem to be the 'protection of the bride' throughout the day. I'm not clear on how this works, but the idea is not to let the bride get stolen. If she is (by whom, I do wonder), the groom/best man have to perform forfeits such as drinking Champagne out of the bride's shoe. Another big part of this traditional game-playing happens before the ceremony, as actually the guests tend to congregate at the bride's house first before going on to ZAGs. The groom also comes there, but is not let in until he has overcome some tasks set by the bride's family. For example, the groom might be asked to identify which of six lipstick kisses on a piece of paper is his fiancée's, or answer questions about who her best friend is or what kind of face cream she uses. The sorts of things you see on those game shows for newlyweds.
You can tell we left that bit out, can't you? We did, however participate in the shouting of 'gorka' ('bitter') at regular intervals by the guests, which is a signal for the bride and groom to kiss - the longer you hold it the longer you'll be married.
Anyway: the reception. Speeches are not really customary, though toasts (longer than English regular toasts ('cheers'), shorter than English wedding speeches) are, and at our wedding at least, given by anybody and everybody including me. Perhaps the master of ceremonies would organise this better, and perhaps there is a set way to do it, but none of the Russian guests at our do knew, so we pleased ourselves.
A Few Danish Wedding Quirks
Emma Gad - a stern lady who wrote the book on how to be well behaved in Denmark ages ago - would have it that wedding guests sit in the church a) according to how well-connected to the couple they are, and b) with men and women separated to either side of the church. The former, we're reliably informed, still holds true - at least, if you're just there for the church part and not invited to the rest of the day, you should keep to the back. But men and women sitting apart is something that rarely happens today.
As for the wedding dinner and speeches, the speaking order should be the host, the best man, the groom - and then it gets passed to the (many) others who believe they have something to say. In Denmark, it's common for some of the speeches to actually be songs written for the occasion (to well-known tunes). At this point, as always, the rule should be 'Stand up so that everybody sees you, speak up so that everybody hears you, sit down quickly so that everybody likes you'. Sadly, this rule is the least adhered to of all.
During the dinner, at irregular intervals (probably there is a straight correlation between how short the intervals are and how much wine is served), everybody will make a huge clamour with the cutlery against their plates. This simply does not stop until the wedded couple stands on their chairs and kiss. If one of the happy couple should step outside - maybe for a call of nature - in many places it is customary that the one still at the table will be 'attacked'. In case the groom is out, all the men will as quickly as possible run to the head of the table and kiss the bride (usually on the cheek, though...), and vice versa if the bride steps out.
During the mandatory wedding waltz, all the guests will form a circle round the couple - and then make it smaller and smaller, leaving less and less room for the couple to dance. If you're not too good at waltzing, this will not make it easier, and when space is restricted enough to make further dancing impossible, often the (so-called) friends of the groom will catch him, hold him, take off his shoes and cut the toes off his socks.
Weddings in France
If, by some stroke of fortune you are British and find yourself being invited to a wedding in France, you're advised to get into training early. Unlike your average UK wedding, where everyone has drunk, got drunk and fallen over by 3 am, the French do things a little differently...
For a start they may well have two weddings. The first is in the town hall, and generally lasts about 45 seconds. The second is the more traditional church affair. The reason for this is simple, the town hall wedding is the only way of 'officially' getting hitched in France, the church doesn't legally count.
Problems start for your average Brit during the evening. First, everyone sits down to eat. Being France, the food is very important, and it's not uncommon for the meal to last three or four hours. Then, the dancing, games and general lunacy is quite likely to continue through the night, culminating with a 'survivors' breakfast in the morning (and yes, there is a chance that the bride and groom might still be there!). For your average, pale-skinned, roast-beef-eating 'Anglais', it can be quite a shock to the system when you realise that it's 4am and the party is only just getting started - so take your time!
From personal experience, I can recommend that if you attend a wedding in Paris, at midday, in the middle of the summer, in temperatures of up to 35°C, you will need to drink lots of water! The civil ceremony I attended was delayed by a previous event... standing around in a town hall courtyard of white flagstones for half an hour almost got the better of me last year. For anyone planning such an event, have bottles of water on standby for those guests who aren't acclimatised to the hot French weather.
And naturally, the language barrier might cause problems too...
I attended a French wedding last year where the bride's family was from the UK. The mayor who presided over the civil ceremony didn't speak a word of English (out of pride I was told later...) which made things very baffling. However the day got better during the church ceremony, where the priest took the time not only to give the sermons in both languages, but also explained each part of the complex service to the English members of the congregation.
Some Final Tips on Wedding Etiquette
Number one rule for attending a wedding - it's the bride's day - don't outshine her, it's only polite. Especially if you are the new mother-in-law!

Loo brushes, while funny as a gift to the bride, should really be accompanied by at least something a bit more appropriate for a wedding.

If they are handing out little papers at the door to the chapel, it's probably important information - get one or you won't be able to sing along with everyone else.

If you go to the wedding reception and find to your surprise a little disposable camera, don't assume it's a present for you. It's there so you will take pictures of the people at the table and the wedding and then leave it there for the bride and groom at the end.

Open bars can be very dangerous.
As ever, this is merely a starting point for the greater discussion, which you're free to continue in the Conversations below.