Independent Samoa: Its Culture and Atmosphere
Created | Updated Aug 30, 2009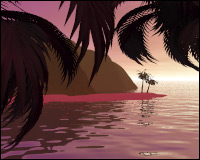 Picture a coral isle, fringed with reef and turquoise blue lagoons lapping on white sand beaches, under coconut palms. High peaks coated in tropical rainforest, small coastal villages of bamboo and pandanas huts, outrigger canoes heading into the waves and pretty much endless sunshine.
Got it?
It's called Independent Samoa1.
It is Polynesia at its purest and most traditional and is relatively unimpressed by modern tourism. Poet Rupert Brooke said that Samoa and the Samoans
... are the loveliest people in the world, moving and dancing like gods and goddesses, very quietly and mysteriously and utterly content. It is sheer beauty, so pure it's difficult to breathe in.
Robert Louis Stevenson, one of Samoa's most famous residents, said:
They are easy, merry and leisure-loving ... song is almost ceaseless.
Where is Samoa?
Independent Samoa (hereafter called Samoa) lies immediately west of the 171st meridian2 at 13° south of the Equator. It is made up of two large volcanic islands, Upolu and Savai'i, and two smaller inhabited islands, Manono and Apolima. The remaining five islands are uninhabited. Apia is the only town and is the nation's capital, located on the north coast of Upolu.
Air New Zealand and Pacific Airlines both fly into the international airport at Faleolo several times a week. Arrivals and departures tend to be during the night and the runway lights are switched on when an incoming flight is imminent. It is a 35-minute drive from Faleola into Apia, where most of the accommodation is located and it is a good place to start a visit to Samoa. The tourist information bureau is here, as are the shops, the ANZ bank and the post office.
Transport and Accommodation
The second language of the Samoans is English and everybody speaks it, which makes getting around relatively straightforward. It is possible to hire cars, or use the immaculate taxis. Bus services exist, but are irregular once beyond the immediate surroundings of Apia. The taxis are possibly the best in the world, with friendly and helpful drivers who don't appear to overcharge tourists.
The most famous place to stay is Aggie Grey's Hotel, overlooking Apia harbour. Agnes Swann was the daughter of a Lincolnshire chemist and a local girl from Toamua village. She married Charles Grey and, in 1942, bought land in Apia. There she set up a kiosk selling hamburgers and coffee to US servicemen based in Samoa during World War 2. Her kiosk became a Pacific-wide institution for war-weary soldiers. Aggie herself is alleged to have been the inspiration for James Michener's character Bloody Mary, later to become famous in the musical South Pacific. Over the following decades the kiosk expanded into an hotel, visited by many celebrities. These days the movie stars that visited the hotel are commemorated in the names of the individual fale (Samoan hut) rooms within the hotel grounds.
Along the road from Aggie Grey's, and opposite Vaiala Beach, is the only Backpackers' accommodation in Apia: the Outrigger Hotel, which provides dormitory, twin and single rooms for travellers. Breakfast comes as part of the deal - always fresh local fruit. There is a full range of accommodation between these two extremes: enough to suit all tastes.
For a real tropical paradise experience, the most atmospheric option is a beach resort. These are found along the coasts of both main islands and consist of a number of bamboo beach fales, with roll-up pandanus walls3, thatched roofs, a basic mattress or two, mosquito nets (a necessity) and an electric light. Food is cooked and provided communally and often eaten with the family running the resort, at a large table in a fale beneath the palm trees, just a stone's throw away from the ocean.
Everyday Life in Samoan Villages
Traditionally, Samoans live and sleep in communal family fales, in small villages close to the sea. Villages on Upolu tend to be made up of many smaller fales these days, but in some parts of Savai'i these communal living arrangements are still the norm. Fales are oval-shaped and in order to catch any breeze available, all the walls are made of flexible pandanus and roll up. At night, or when it's raining or blowing a gale, the walls are let down. Sleeping mats (also made from pandanus), pillows and cotton sheets are piled up during the day, to be laid out across the fale each night. Samoans have few belongings. One TV per village is not uncommon. Chairs are a rarity. Tables are not normally seen and cupboards are kept to a minimum.
Food crops are grown around the family fales - crops such as bananas, taro, breadfruit, yam and mangos. Each family is allocated a piece of land inland - the Plantations - where cash crops of squashes and coconuts are grown. In some places, herds of cows graze under giant coconut palm plantations: a surreal sight to anybody used to temperate agriculture.
Cooking takes place outside, either over an open fire, fuelled with coconut husks, or in an umu, which is an earth and stone oven, within which the midday Sunday meal is made, as well as food for feasts. Chicken, fish, roast suckling pig, various root vegetables and coconut-based concoctions are typical feast food. Perhaps the most popular dish amongst locals and visitors alike, is palusami: baked coconut cream in taro leaves.
Clothes-washing is done manually, using whatever fresh water supply is available. Many villages have stand pipes, whilst others rely on streams or wells. Washing is laid out to dry over the immaculate grass, garden bushes, or on the black lava rocks in northern Savai'i.
Every village has two or three imposing white churches. Missionaries arrived in Samoa in the early 1800s and the local people were readily converted by Methodists, Roman Catholics, Presbyterians and Mormons. There are distinctly Samoan versions of these denominations now, but they all have one thing in common: fantastic singing. Sundays are characterised by service after service of unaccompanied voices raising the rafters, in beautiful harmonies, clearly audible throughout the islands. Practice nights are as good as the Sunday services.
The Influence of Nature
Samoa is a volcanic landscape and the inland mountains are spectacularly sharp, sheer and jagged, although wherever soil is secure, there is a coating of lush rainforest or plantation trees. Mount Matavanu on Savai'i erupted continuously from 1905 to 1911, creating a massive lava field covering the north of the island. The black moonscape is still there, lying 150 metres deep in places. The area is largely infertile and the villages in the area rely more than most on remittances from family members overseas (mostly in New Zealand). It is a baking hot landscape where fales are constructed from lumps of black rock and every food plant is surrounded by a small circular rock wall, to hold moisture and soil close to the roots.
Samoans fish in the lagoons, on the fringing reef and out at sea. Outrigger canoes are often seen pulled up out of the water, lying beneath the palm trees at the top of the beach. The men paddle the canoes into the lagoons to spear fish and crabs, or they go over the reed and into deeper water, where they employ nets and work as a team to catch bigger fish. On the reefs themselves they leave the canoes and throw castnets in a great arc, pulling them in and collecting the catch of small, brilliantly coloured fish.
Not to be Missed
A pair of fins, a snorkel and a mask are all that are needed to see the reef fish and the varied textured and multi-coloured coral at its best. For experienced reef-divers, Samoa does not offer anything as spectacular as the Great Barrier Reef or the Red Sea, but it holds delight on a small scale. Perhaps the most diverse patch of reef is at Palola Deep, just east of Apia. There is a small charge for the use of a changing area and a stand-pipe to wash down. It is a 50-metre swim over shallow reef to reach the coral drop-off. It lies within the fringing reef, so it is calm with few currents. The coral cliff consists of every kind of coral and is thronged with small fish. There are also a few larger tuskers (big parrot fish), wrasse and cod around, as well as the occasional moray eel.
The fringing reef elsewhere tends to be narrower, shallower and therefore not as diverse as Palola Deep. The turquoise lagoons that lie off the sandy beaches are perfect still-water practice places for novice snorkellers. The colour is created by the pure sand of the lagoon-floor, on which there is little fish-life. However, most lagoons have patches of dark blue, which are either lumps of coral, or small areas of seagrass. Fish will congregate within and around such features. For the bolder swimmer, the inside edges of the fringing reef will provide more of a spectacle, but should not be approached on a falling tide, as the tidal current over the reef can be strong.
Choir singing comes out of the churches every September, when choirs compete at the Tueila Tourism Festival on the waterfront in Apia. The final of the choir competition is eagerly awaited by all Samoans. The festival also features war canoe races, marching brass bands and the annual Miss Samoa pageant. It is an opportunity for Samoans to celebrate their culture and for visitors to appreciate it in all its glory.
Sport
Samoa is a great rugby-playing nation and the annual rugby tournament engenders fanatical support. Many of the country's best players move to New Zealand and play with the All Blacks4, although the Samoans can instil fear into the hearts of the best rugby-playing nations, with the strength and fearlessness of their tackles. For those less interested in the game, it's worth watching the opening ceremony of the annual tournament, when all the teams, local and from overseas, march through Apia behind the police brass band. The band is resplendent in blue and white lavalavas (sarongs), white dress jackets, white helmets and gleaming white instruments. The teams too are dressed in uniform lavalavas but little else.
Rugby however, is not the national sport. That honour falls to Kirikiti; a bizarre variation of cricket, with flexible rules only known to the players. The ball is made of rubber and wrapped in pandanas - and is very hard. The bat is three-sided, ensuring that even the batsman has no idea where the ball will end up. No pads and no face protection add to the excitement. Every village plays Kirikiti and there are male, female, mixed and junior teams of indeterminate numbers (whoever turns up basically). National championships are held in August, but the game is played all year round, all over Samoa.
If You Missed Those, Don't Miss These
There are four places that any visitor to Samoa should strive to see. The three markets in Apia are where the locals shop and hang out and where visitors can pick up locally-produced goods at a fraction of the price in the shops. Don't be put off by being a lone foreigner wandering around. The people are very friendly and although the stallholders will charge a visitor more than a local, it's hard to begrudge them a mark-up when it's a matter of a few UK pennies or US cents.
Maketi Fou is the food market, selling produce brought into Apia fresh every day. It doesn't have a huge variety of vegetables and fruit, but is all high-quality and cheap: yams, sweet potato, squashes, beans, paak tsoi, tomatoes, bananas by the branch, coconuts, pawpaws, breadfruit and pineapples. All kinds of meat can be found; the most common is chicken. And there are kiosks selling cold coconuts to drink, ready-made palusami and cakes. The locals come here to sell, to socialise and to eat and drink.
The Fish Market is close to the harbour and is at its busiest - and best-stocked - on Sundays. Get there early before the best of the catch is bought for the Sunday umu, and before the stallholders pack up to attend church. The majority of the fishes are small reef and lagoon fish, brightly-coloured and numerous. There are also some oddities there such as the occasional sea slug (beche de mer), and edible seaweeds.
The Flea Market is full of craft stalls and stalls selling lengths of locally-designed and printed cloth and lavalavas. Others sell clothes, shoes and cheap household goods. It is worth taking time to wander around, checking the quality of the goods on sale. It varies from stall to stall, but the prices do not.
Finally, visit Vailima. The Scottish author Robert Louis Stevenson spent the last years of his life here in the hills above Apia. He was seeking a climate which would reduce his tuberculor problems, but sadly he died from a stroke in 1894. While he lived in Samoa, he became an activist for Samoan rights, at a time when the great (and distant) powers of Britain, Germany and the USA were fighting to rule the islands. Stevenson came to be loved by the Samoans for his defence of their culture and for his storytelling. They still refer to him as Tusitala: the teller of tales. Stevenson's house, with its beautiful gardens, is now a museum celebrating the life and work of the author. It has a startling red corrugated roof, enormous verandahs and polished wooden floors - all far away from the traditional Samoan fale. Yet it is cherished by Samoans as part of their culture and their history.
Stevenson was buried at the top of the nearby Mout Vaea, where his wife's ashes are also placed. The epitaph he wrote for himself is familiar and poignant. There is no more to be said.
Under the wide and starry sky,
Dig the grave and let me lie,
Glad did I live and gladly die,
And I laid me down with a will.

This be the verse that you grave for me:
Here he lies where he longed to be;
Home is the sailor, home from the sea,
And the hunter home from the hill.
1Formerly known as Western Samoa and not to be confused with American Samoa, which lies immediately to the east.
2And was therefore the last country in the world to welcome the Millennium.
3Pandanus leaves grow up to 2m long and hang from Pandanas trees. The leaves are cut and placed in the sun to dry, then boiled to bleach them and to make them manageable. Once cooked, the pandanus leaf is scraped both sides to make it straight and pliable. Mats and designs were woven for different events such as ceremonial occasions. Larger shapes and weaves are used in the construction of houses, sails for canoes, and flooring mats.
4Va'aiga Tuigamala is probably their most famous recent export.