Brian Blessed - Actor, Explorer and Author
Created | Updated Oct 16, 2007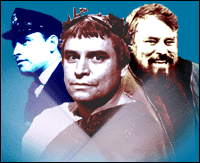 Brian Blessed is one of Britain's most recognisable actors1 for his imposing stature (although he is not particularly tall, his weight and breadth make up for it), booming voice and, in later years, an impressive beard in which small woodland creatures could seek refuge. Blessed is also an adventurer and explorer, an author and has loaned his vocal talents to televised Sumo Wrestling, as well as adverts for the British National Lottery.
Background
Brian was born in 1937 in the small coalmining community of Mexborough in Yorkshire, England; his father was a coalminer and a staunch socialist. Blessed was forced to leave school early due to family financial troubles. He spent several unhappy years taking a number of jobs, ranging from undertaker to plasterer's assistant, until he suffered a nervous breakdown at the age of 18, from which he recovered to pursue an acting career. He also served in the RAF for three years during his national service2.
Blessed trained as an actor at the Bristol Old Vic Theatre School. Although his later acting work, particularly on screen, tends to be of a rather ebullient type (big and shouty), his talents have scored him a wide variety of roles such as the surprisingly subtle portrayal of Caesar Augustus in the BBC series I Claudius (for which he won the New York Critics Award). He has also enjoyed numerous roles on stage as a member of the RSC3 including a stint as Claudius in Hamlet.
His earliest TV work consisted of bit-parts in such cult shows as The Avengers and the original Randall and Hopkirk (Deceased). But the part for which he is best remembered - by older viewers at least - is the firm-but-fair PC 'Fancy' Smith in the BBC's acclaimed police drama Z Cars - a part he played from 1962 to 1965 (he was almost thin back then).
Gordon's Alive?!
Despite the many roles Brian has played over the years, he is often called upon to play a variation of one particular part - that of Vultan, leader of the Hawkmen in the 1980 Mike Hodges / Dino De Laurentiis film Flash Gordon. This enthusiastic, bombastic performance has since been mirrored or revised in parts such as the raucous Richard IV in Blackadder and King Yrcanos in the Doctor Who story 'The Trial of a Time Lord'. However, he has continued to play a variety of subtler parts on stage and screens big and small. Witness his portrayals of Lord Locksley in the Kevin Costner-starring film version of Robin Hood - Prince of Thieves, Sir Tunbelly Clumsey in The Relapse, Baron Bomburst in the stage version of Chitty Chitty Bang Bang, Clayton the hunter in Disney's Tarzan and Old Deuteronomy in Andrew Lloyd Webber's stage musical, Cats. A more comprehensive list of Brian's screen work can be found at the IMDb website.
Despite this, when most people mention the name 'Brian Blessed', they invariably think of Vultan shouting lines such as 'DIIIIIVE' and 'Gordon's alive?'. Understandably, it is a role that remains one of his favourites to this day. It turned him from a popular British TV actor into an international star, and it epitomises the persona of 'Brian Blessed' for a lot of his fans, as a cheery, gruff and lovably roguish champion of the underdog.
Brian has also performed with, among others, the London Symphony Orchestra and Bolshoi Symphony Orchestra in works such as Peter and the Wolf and Prokofiev's Ivan the Terrible. Blessed's fame and cult status has been boosted enormously by his work on Star Wars: Episode 1 - The Phantom Menace - he provided the voice of the character Boss Nass, a connection which has now caused the rate of his fan mail to become unmanageable.
Explorer
Blessed's personal heroes include George Mallory and Ernest Shackleton. As an adventurer and explorer himself, he has climbed many mountains including Mount Kilimanjaro and Aconcagua in the Andes. He has made three attempts to reach the summit of Mount Everest, becoming - at the age of 65 - the oldest man to reach the dizzy altitude of 28,000ft without oxygen. He also holds the record for being the oldest man to trek (on foot) to the magnetic North Pole and has made an expedition deep into the jungle interior of Venezuela to the plateau of Mount Roraima - a boyhood dream instilled in him by a BBC Radio production of Sir Arthur Conan Dolye's The Lost World, which is set on that plateau.
A keen author, his books include Blessed Everest, a history of the mountain and expeditions to it, and Quest to the Lost World, about his trip to Venezuela. Ever since a couple of old school friends developed cerebral palsy - one of whom had gone on to achieve medals in the Paralympics - he has become a tireless supporter of the charity SCOPE and Brian derives a large amount of personal motivation and inspiration from the sufferers of the disease that he meets. An ecological campaigner, Brian is the current President of The Council for National Parks. Brian is also an animal lover and has counted over 2,000 animals at his home in Surrey, England that he also shares with his wife, actress Hildegard Neil.
1Brian was voted the God lookalike in a poll asking which actor most resembled the Judeo-Christian Creator, receiving over 65,000 votes.
2National Service is a now-defunct programme that saw all males over 18 serve three years in the British armed forces.
3The Royal Shakespeare Company, one of the most respected theatre companies in the world.