Lyndon Baines Johnson - 36th President of the United States
Created | Updated Jul 23, 2013
Presidents of the USA
Before George Washington | John Adams | Thomas Jefferson | William Henry Harrison
The Life of Abraham Lincoln | Legacy of Abraham Lincoln | Death of Abraham Lincoln
Jefferson Davis | Ulysses S Grant | William Howard Taft
Dwight D Eisenhower - Early Life | President Dwight D Eisenhower
John Fitzgerald Kennedy | John F Kennedy Administration | Assassination of John F Kennedy
Lyndon Baines Johnson | Richard Milhous Nixon | Bushisms of George W Bush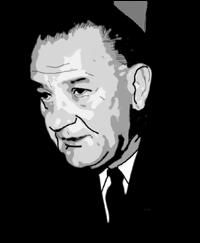 Lyndon Baines Johnson (known as LBJ) was the Democratic President of the United States from 1963 until 1968, becoming president after the death of John F Kennedy. He was a highly controversial and powerful figure in American politics. He was credited with many positive accomplishments by creating several useful and important domestic laws that would benefit society in many ways. However, his escalation of the Vietnam War is very controversial and led many to discredit him as a great President. Some people consider him to be one of the greatest Presidents in history. Some consider him one of the greatest blunders in American politics.
Johnson's critics and supporters do however agree on one thing - his political genius. Few men have ever been able to control and manipulate the political scene like Johnson did. Richard Nixon (a Republican opponent) called him 'one of the ablest political craftsmen of our times'. Johnson was crude and power-hungry (or perhaps just very ambitious) for sure, but he was patriotic and worked hard to try to help America.
Early Life
A United States Senator was born this morning...
The announcement of Samuel Johnson on his first son's birth.
Lyndon Baines Johnson was born on 27 August, 1908 to Rebekah Baines and Samuel Ealy Johnson in a farmhouse in southwest Texas. Lyndon was the eldest child of five. Samuel had been a member of the Texas House of Representatives for five terms, but had also been a schoolteacher and farmer. Rebekah was also a teacher. Lyndon's father had political aspirations for his eldest son, declaring that he would be a US Senator, on the day he was born. Johnson was from a political bloodline. His relatives had served many offices, including Governor of Kentucky, Texas Secretary of State and a member of the Texas State House of Representatives1.
As a child, Lyndon was normal and intelligent. He was religious, and learned quickly. Lyndon was active, and lived a full life. His family was not a rich one, though it was not poor, but the family had to work for what it earned.
When he was five years old, the family moved to a small town called Johnson City2. Young Lyndon did not particularly enjoy school, but worked hard and achieved consistently good grades. However, he was a great debater and, with a partner, won a debating competition for his county. He graduated in 1924 from Johnson City High School as President of his class of seven.
I know that as a farm boy, I did not feel secure, and when I was 14 years I decided I was not going to be the victim of a system which would allow the price of a commodity like cotton to drop from 40 cents to 6 cents and destroy the homes of people like my own family.
Into his teens, Lyndon was thin and tall; he was six feet by the age of 15. After he left High School, Johnson made money by doing various odd jobs throughout his hometown and surrounding areas. He did not want to go to college, at least not right away. He travelled to California, where he collected money with some other odd jobs. He still didn't want to go to college, but after some urging from his parents he said 'I'm sick of working just with my hands. I don't know if I can work with my brain, but I'm ready to try.'
Starting in early 1927, Lyndon attended Southwest Texas State Teachers' College in San Marcos, majoring in history. He went there with only 75 dollars, and took jobs around campus to pay his way through college. He worked as a janitor through much of his time there, as a secretary to the College President and at one point as a teacher. As a student, Lyndon was the leader of the debating team and played an important role in campus politics. He was energetic and a strong leader, two characteristics that would be present in his political career later. He led a group called the White Stars (this name was because of another political group for the college was called the Black Stars, led by the college's athletes). Johnson was also editor of the college newspaper. College was his first political success.
When he ran out of money, Johnson had to take a year off from college in order to finance the rest of his education. He taught in a small town called Cotulla in southern Texas. He finished college in 1930, after attending school for only 312 days.
After he graduated, young Johnson taught public speaking at Sam Houston High School in Houston, Texas. The teams he taught were awarded honours at State Contests.
Early Political Career
Johnson's first year active in politics was 1931. He campaigned for Richard M Kleberg to be elected into the office of US Representative in a special election. Johnson made many speeches and spoke with a large portion of the voters. When Kleberg won the election, he made Johnson his secretary and took him along with him to Washington DC, only 23 years old. During his brief time as a Congressional Secretary, Johnson began to understand how the politics of the US worked. He impressed many figures in Congress.
In 1935, President Franklin Roosevelt made the 26-year-old Johnson Texas State Administrator of the National Youth Administration (NYA). He was the youngest of the NYA State Administrators. At his post, Johnson helped put 12,000 young people to work and helped 18,000 young people attend higher education.
Marriage
While he was a Congressional Secretary, Johnson often visited his home state of Texas. There, he met a woman named Claudia Alta Taylor, nicknamed 'Lady Bird' since her infancy, who was the daughter of a wealthy family. Johnson immediately asked her for a date, but he returned to Washington without one. Back in Washington, he called Claudia and sent her letters and telegrams. After two months, Johnson returned to Texas and asked her to marry him. She accepted, and they were married on 17 November, 1934, and honeymooned in Mexico.
They would have two daughters - Lynda Bird and Luci Baines - both with the initials LBJ, like their father and mother. These initials would become famous. The Johnsons acknowledged this, and even named their family dogs Little Beagle Johnson and Little Beagle Junior.
Congressman Johnson
In 1937, Johnson left his job as Texas NYA Administrator to run for US Congress as a Representative of 10th Congressional District of Texas. He ran to fill in for James Buchanan, who had died while he was serving in the office. He was one of ten men working for the office and most of his opponents were most distinguished with much more money to campaign with. Most of these men, who were more conservative than Johnson, were against President Roosevelt's 'New Deal' Proposal. But Johnson supported Roosevelt and he considered a vote for himself as a vote for Roosevelt. Many of his opponents were critical of Johnson for this support and mentioned him often in their campaign speeches - which in turn gave both men useful publicity.
Two days before the election, an emergency procedure had to be performed to remove Johnson's appendix. On 10 April, while he was recovering in a hospital bed, he was told that he had won the election with ease. One day after his election victory, Roosevelt asked the young Johnson to meet him in Galveston, Texas. Johnson rode through Texas on his train, speaking with the President and developing a friendship. Roosevelt became a mentor to the young Congressman.
Johnson was sworn in as a Representative on 14 May, 1937. As a Congressman, he was appointed to the House Naval Affairs Committee because of the help from President Roosevelt. In the House, he worked to turn bills benefiting his home district into law. In 1938, he was elected to his first full term as a Representative without any opposition.
Johnson was once more re-elected - unopposed - to the House of Representatives in 1940. He also campaigned for Roosevelt to be nominated in 1940 against John Nance Garner, and used his position as the head of the House Democratic Congressional Campaign Committee to help this. Roosevelt, of course, won the nomination and re-election - partially because of Johnson's work.
In 1941, Johnson announced from the White House that he would attempt to run for the US Senate. He ended up being defeated narrowly by Texas Governor W Lee O'Daniel by only 1,311 votes3. After this loss, Johnson consciously made himself more conservative in ideas and policies to make himself more politically attractive to traditionalist Texas voters.
World War II
When World War II began in 1939, Johnson used his position on the House Naval Affairs Committee to have a naval air-training base built in Corpus Christi, Texas and shipyards in Houston and Orange, Texas. Johnson also supported Roosevelt's policy of preparing the USA for a potential war.
Johnson said that if war became apparent:
my vote must be cast to send your boy to war, that day Lyndon Johnson will leave his seat in Congress to go with him.
An hour after Congress declared war (as an effect of the Pearl Harbor bombing on 7 December, 1941), Lyndon left his office and, as a Naval Reserve member, asked to be put into active duty. Johnson thereby became the first Congressman to leave his office and go into the military.
Lieutenant Commander Johnson visited New Zealand as a representative of President Roosevelt. He went around the Pacific, visiting bases and operations centres. He even flew in missions, and during one, when a Japanese aeroplane attacked his bomber, Johnson exhibited prowess, and was awarded a Silver Star award by General Douglas MacArthur.
While still working in the Army, in 1942 Johnson's advocates entered him as a candidate for re-election to the House of Representatives, and he was unopposed. After winning, in July, President Roosevelt called on Congressmen in the military4 to return to the capital. He was again elected to the House of Representatives in 1944.
Senator Johnson
In 1948, Johnson decided to run for the office of US Senator for Texas again. His opposition for the Democratic nomination was wide, with 10 opponents. His strongest opponent, Coke Stevenson, who had been Texas Governor from 1941-1947, beat him 477,077 votes to 405,617 in the primary. However, because there were 11 candidates, no candidate received a majority, so a runoff election had to be held5. In it, Johnson won very narrowly by 87 votes6! Johnson would win the election as well.
As a Senator, Johnson was on his party's Armed Services Committee, which is where he called for the nation to prepare for the Cold War. He was on this committee when the Korean War began, where he pushed for more troops and weapons to be used.
In 1951, Johnson was elected the Majority Whip7 of the Senate. While serving this office, Johnson helped increase the unity of the Democratic Party, and started to develop his charm and powers of persuasion. Many found that he had the ability to make people reach agreements.
During the elections of 1952, Johnson supported Adlai Stevenson to be elected President, campaigning relentlessly. Through one three-day period, LBJ made over 20 speeches in support of Stevenson. Republican General Dwight D Eisenhower easily won the election with 442 electoral votes over Stevenson, and the Republican party gained control of both houses of Congress, making the Democrats a minority. But Johnson attracted the attention of his party.
In January 1953, the minority Democrats of the Senate unanimously elected him as their Minority Leader - Johnson, at the age of 44, was the youngest person to serve as a Senate Party Leader. This opportunity came as Senate Democrat leader Ernest McFarland had lost his election in Arizona.
Johnson's term as a Senator ran out in 1954. He easily won the Democratic Primary for his office, so he campaigned for other Democrats all over the nation. The Senate majority party changed again in the 1954 election, as the Democrats won control of both houses of Congress. This made Johnson the Senate Majority Leader. Basically, the responsibility of the Majority Leader is to keep everything working well, deciding which senator will sponsor bills, and when certain bills will go up for voting. This new position made Johnson one of the best-known politicians in the country.
By this time, Johnson had crafted a skill of persuasion and negotiation. He knew how to get bills he favoured passed - he was able to convince people easily, and used certain techniques to push the Democratic agenda. He consulted every Democrat in the Senate when bills were disputatious or controversial and he would postpone voting on a bill until he was able to convince every Senator he could to vote his way. He also used a system of favours to bring in votes. Johnson often cooperated with Republicans, and the Republican President Eisenhower. He did not want the parties to fight against each other simply for the sake of fighting. He explained:
All of us are Americans before we are members of any political organisation.
Johnson had been Senate Majority Leader a short time before he had a heart attack on 2 July, 1955. He spent just over a month at the Naval Medical Center in Maryland before he left for his hometown in Texas to recover. While at his ranch in Johnson City, he went on a diet and gave up smoking to help his health. He went back to his Senate position six months later.
Johnson's agenda through his years in the Senate included encouraging space exploration. He worked to bring about the Senate Aeronautical and Space Committee, which he made himself the chairman of. Johnson also sponsored the bill establishing NASA - the National Aeronautical and Space Administration.
Also on his agenda was working for Civil Rights. During his later years as a Senator, the Civil Rights Movement was active. Johnson's influence helped to bring into law the 1957 Civil Rights Bill, which was the first such law in almost a century. His opinions on Civil Rights would later guide his Presidency. In 1960, Johnson brought through Congress a second Civil Rights law, which guaranteed that all citizens of the US could vote.
Johnson became a very well-known and respected figure in American Politics, and he was becoming very powerful. His only interests were in politics, and he knew the art of politics thoroughly. Few people in history could match his knowledge of working bills into law. Through his life in politics, he had managed to find various connections to Texas businesses, especially the petroleum industry. He would eventually become very rich.
Vice President Johnson
Only a week before the Democratic National Convention of 1960, Johnson announced that he would seek the Democratic nomination as President. He had not participated in the primary elections of 1960, claiming he was too busy at his job as Senate Majority Leader. Johnson received 409 votes at the Convention, but the young and ambitious John F Kennedy had 806 votes, winning him the nomination. However, Johnson was quickly offered the position of Vice Presidential running mate by Kennedy, which surprised many.
Because Johnson was a Texas native, his place as Democratic Vice Presidential Nominee was intended to help bring in votes from the South, and bring in conservative votes8. Johnson was a balance to Kennedy, who was a Northerner and a Roman Catholic Liberal politician. Johnson's influence in the Senate could also help Kennedy later.
In the elections of 1960, Johnson and Kennedy narrowly defeated Richard M Nixon and Henry Cabot Lodge Jr in one of the closest elections in history. At the same time, Johnson was elected for his third term in the Senate (which he ran for on the chance that Nixon and Lodge would defeat Kennedy and himself). He resigned from the Senate and was sworn in as Vice President of the United States.
As Vice President, Johnson liked President Kennedy and respected him. He was sometimes bothered by the decisions of Kennedy, but didn't make those concerns public. Johnson also occasionally had problems with Kennedy's Cabinet, especially with Attorney General Robert Kennedy.
As Vice President, Johnson was one of the most active people serving in the office in history. As chairman of the National Aeronautics and Space Council, he continued to push for more space exploration. When his council was asked by Kennedy to investigate the feasibility of space exploration, Johnson reported:
To be first in space is to be first period, to be second in space is to be second in everything.
He also chaired the new Peace Corps National Advisory Council, which was created by Kennedy during his term. Johnson also served on the President's Committee on Equal Employment Opportunity and the National Security Council. Working on these assignments, Johnson became more pro-civil rights and favoured Space Exploration more.
Johnson took trips abroad to speak with citizens of the world about America's intentions and actions. He was also able to report back to Washington about the world and how it reacted. He, personally, learned a great deal from these trips about the world.
President Johnson
On 22 November, 1963, President Kennedy was assassinated while riding in a motorcade in Dallas, Texas. Johnson was only three cars behind Kennedy at the time of the assassination, and only 39 minutes after Kennedy died, Johnson was sworn in as the new President aboard Air Force One. The oath of office was performed by a friend of Johnson's, Sarah T Hughes, a US District Court Judge.
All I have, I would have given gladly not to be standing here today...
Johnson's first address as President to a joint session of Congress on November 27
LBJ was an energetic man and was ready to become President. He took the opportunity as President to try to make the nation the best place he could. With the United States mourning the death of the beloved Kennedy, Johnson used JFK's legacy to help pass laws and bring into action things that Kennedy fought for and that Johnson held in high regard. LBJ said:
No memorial oration or eulogy could more eloquently honour President Kennedy's memory than the earliest possible passage of the civil rights bill for which he fought so long.
Johnson fought for (what would become) the Civil Rights Act of 1964 to be passed. His adept skills in passing legislation contributed to this being passed swiftly. It would be passed by the 88th Congress within a year of Johnson's succession.
These and other accomplishments under his administration made him enormously popular by the time he finished Kennedy's term. He ran for his first full term in 1964, with Hubert H Humphrey as his running mate, nearly doubling his Republican opponent Barry M Goldwater in popular votes (with the largest popular vote margin in US History) and having nine times the electoral votes of the Republican. The Democrats advanced in Congress consistently as well, aiding his ability to pass his bills and continue his foreign policies.
'Great Society'
Johnson often spoke about a 'Great Society', which would almost become a motto of the Johnson Presidency. He first spoke about a Great Society on 22 May, 1964, when he addressed University of Michigan students. He said:
We have the opportunity to move not only toward the rich society and the powerful society, but upward to the Great Society.
His 'Great Society' idea was composed of a domestic agenda which led to the following accomplishments:
Civil Rights was the most important part of the Great Society. His Civil Rights Act of 1964 was one of the most important domestic laws established in decades.

Johnson declared an 'unconditional war on poverty in America'. He put several programs into action to improve the poverty condition in the US and to raise employment levels. Johnson also had the Job Corps established, which was created to help train and employ young citizens.

A tax plan that Kennedy had pushed for (including a tax cut) was approved. Johnson also made a relatively small Federal Budget of 98 billion dollars.

Medicare, a health insurance plan for elderly Americans, was established.

The Railroad workers unions called a strike across the US on 10 April, 1964. Johnson realised that this could be one of the largest labour catastrophes ever, and he brought leaders from labour and business sides to negotiate at the White House. Leaders agreed to a 15 day delay of the strike, and Johnson helped both sides end the strike three days before the delay was up.

In 1965, the Voting Rights Act was passed, outlawing literacy tests and other barriers that prevented citizens from voting. This was really a Civil Rights law, as it regularly prevented minorities from voting.

The Housing and Urban Development Department, as well as the Department of Transportation were established under Johnson.

Education was a large concern to Johnson. He increased Federal Aid to the public education system.

The 25th Amendment to the Constitution was approved by Congress and ratified by the states. It strove for a clearer line of succession for the US President.

Largely because of his social and economic plans, the economy boomed under Johnson, especially through his second term.

The Appalachia Bill was designed to improve the quality of life in the poor region around the Appalachian Mountains.

A law in 1968 prevented discrimination in selling, leasing or renting housing. A law was also created that year that provided over five billion dollars in Federal money to assist in buying houses and apartments.

In 1966, Robert C Weaver was appointed by Johnson as the Secretary of Housing and Urban Development. He was the first African-American appointed to the Cabinet. In 1967, Thurgood Marshall (known as the lawyer who argued against segregation in public schooling in the Brown vs. Board of Education decision) was appointed to the Supreme Court of the United States, making him the first African American on the Supreme Court.

As President, Johnson continued to push for an expansion of the USA's space exploration programme.
Foreign Problems
President Johnson inherited several problems from JFK's administration: in particular, JFK's foreign policies caused a great deal of criticism for LBJ all over the world. Some important foreign issues, accomplishments and meetings included:
At the funeral of President Kennedy, many leaders of the world met with JFK's successor. It would help him form his first fundamental ideas of foreign policy. On 27 November, only five days after the assassination of JFK, LBJ said that:

This nation will keep its commitments from South Vietnam to West Berlin. We will be unceasing in the search for peace; resourceful in our pursuit of areas of agreement even with those with whom we differ; and generous and loyal to those who join with us in common cause.

The first foreign policy issue for Johnson was the Panama Crisis of early 1964. Rioters surrounded the Panama Canal Zone. Panama's President, Roberto Chiari, ended diplomatic relations between the two nations until the Panama Canal Treaty was renegotiated.

Only a few months after Johnson succeeded Kennedy, Fidel Castro, the Communist Leader of Cuba, called for the US to give up its military base on Cuba in Guantanamo Bay and he had the water to the base cut off. Johnson told the men at the base to find their own water supply, and when a few Cuban fishing boats were seized by the US, Castro gave Guantanamo its water back.

The Dominican Republic endured a large revolt in April 1965. Johnson sent US troops to help bring order. This was controversial, but Johnson told Americans that they couldn't let Communists take over governments in the Western Hemisphere. No one quite knew whether communists were involved, though.

In June, 1967, a large-scale conflict (less than a war, more than battle) broke out in the Middle East between Arabs and the Israelis. The Soviet Union got involved, as it sold arms to the Arabs. Johnson refused to involve the US in the war, but did speak from the White House about the war. He held a conference with Soviet Premier Aleksei Kosygin in Glassboro, New Jersey. Little resulted from the conference, but Johnson regained an image as a master statesman throughout the US and the world.
The defining feature of Johnson's Presidency was the Vietnam War - possibly the least popular war in the history of the US. It really had actually begun three administrations before him, with Truman in 1945 (he did not start the war with any battle, but the seeds for the war were sown during Truman's administration). Eisenhower sent less than 1,000 US 'Military Advisors' to Vietnam to assist the South Vietnamese government. About 25,000 military workers were sent to Vietnam under the Kennedy administration, as resistance and fighting escalated in the early 1960s. Kennedy also secretly supported a coup to oust South Vietnam Premier Ngo Dinh Diem from office. However, he did not seem to want a full-scale war. He said:
...it is their war. We can help them, we can give them equipment, we can send our men out there as advisors but they have to win it.
The Vietnam War officially began in August, 1964 when Johnson received intelligence that North Vietnamese torpedo ships fired on US ships. Some doubt that this really happened, and many that were there at the time are not sure. On 5 August, Congress authorised Johnson to use any means necessary to prevent further aggression. However, as 1964 elections were around the corner, Johnson did not support escalation of the war, fearing popular opinion against this. One of his key campaign platforms was that he was against a US war in Vietnam.
By November of 1965, just a year after Johnson campaigned on non-escalation of the war, about 165,000 military personnel were in Vietnam. 1,104 Americans died in combat that year. The war continued to escalate, with the amount of troops and the number of fatalities increasing exponentially. Back in the US, the number of people protesting against the war continued to grow. Of course, some thought that the US was not working hard enough to oust the Vietcong resistance. Much of the government was divided into 'hawks' (advocates of a larger scale war) and 'doves', who were in favour of a smaller role for the US. The war's cost led to a tighter US budget, and many of Johnson's social programmes were stripped back.
Youth protest against the war was rampant. A common chant outside of the White House was 'Hey, hey! LBJ! How many kids did you kill today?' Before the war, LBJ had been extremely popular - but as the war heightened, opposition to his Presidency grew. Johnson's advisors seemed to underestimate the determination of the Vietcong, and the death toll for the US Armed Forces continued to mount.
For further information on the Vietnam War, see the following entries:
His Fall
LBJ's allies and foes turned against him because of the Vietnam War. Protesters demonstrated all across the United States. LBJ became less and less popular. On 30 November, 1968, famous Senator Eugene McCarthy challenged Johnson for the Democratic nomination by announcing he would run in the primary elections. McCarthy showed a clear advantage in the New Hampshire Democratic Primary. Senator Robert Kennedy would also become one of Johnson's opponents.
On 31 March, 1968, Johnson announced that he would not seek a second full term. After an address to the nation about limiting the war in Vietnam, he said:
Believing this as I do, I have concluded that I should not permit the Presidency to become involved in the partisan divisions that are developing in this political year.

With America's sons in the fields far away, with America's future under challenge right here at home, with our hopes and the world's hopes for peace in the balance every day, I do not believe that I should devote an hour or a day of my time to any personal partisan causes or to any duties other than the awesome duties of this office - the Presidency of your country.

Accordingly, I shall not seek, and I will not accept, the nomination of my party for another term as your President.
This was a huge shock to the world of American Politics. Few predicted that LBJ would not run for a second full term. Some thought it was brave and unselfish, though some didn't trust his reasons for this. In his last few months in office, LBJ stripped back US involvement in the Vietnam War and left the office, not in disgrace, but in an atmosphere of cooperation and unity. His choice to end escalation of the war and begin peace talks would be one of his legacies to future administrations.
Other Parts of Johnson's Presidency
Johnson's style often got more attention than his actual work and achievements. He is generally considered to have been a very crude man, and not nearly as charismatic as his predecessor Kennedy. The image of the handsome, popular and cultured Kennedy, in comparison to the coarse Texan who hosted barbecues instead of balls, was often brought to the public's attention.

Johnson was known for not responding to threats and remaining calm under pressure. Leaders such as Charles de Gaulle repeatedly did things that might prompt a response from other Presidents, but Johnson remained composed. He also gained a reputation as a great statesman, for his ability to calmly and easily negotiate with world leaders.

Like Kennedy before him, and Nixon after him, Johnson had many of his phone calls recorded. He is famous for his crudeness, and some of his phone calls demonstrated this. In one, he described a pair of trousers he wanted made for him, 'The crotch down where your nuts hang - it's always a little too tight. It's like riding a wire fence. See if you can't give me an inch where the zipper ends, right back to my bunghole.'9.

Johnson and the Kennedy family feuded occasionally. After JFK's assassination, Johnson spoke with the widow Jackie Kennedy frequently. She shared these conversations with her family, and made fun of him. Robert Kennedy also disliked Johnson. They could rarely work together under John Kennedy's administration, and after JFK's assassination, Johnson felt threatened by Robert.
Retirement
Republican Richard Nixon defeated Hubert Humphrey for the Presidency in 1968, and after Nixon's inauguration, Johnson retired to his ranch in Johnson City. He remained interested in politics, but didn't participate. He published his memoir in 1971, called The Vantage Point: Perspectives of the Presidency, 1963-1969. In 1972, Johnson had another heart attack and became a recluse in his ranch. On 22 January, 1973 Johnson had a heart attack and died.
Johnson is gone but definitely not forgotten. His birthday, 27 August is a state holiday in Texas. The Manned Spacecraft Center in Houston, Texas was renamed the Lyndon B Johnson Space Center in his honour. His Presidential Library may also be worth a visit if you're in Austin, Texas.
Further Reading
Read the White House's history of LBJ.
1Two of Lyndon's relatives served this office - his father and his maternal grandfather.
2Which had been founded by Lyndon's grandfather years earlier.
3Possibly because of election fraud.
4This, of course, was only Johnson.
5A runoff election is called when no candidate receives a majority, and the two candidates with the most votes are entered in another election, with the winner of this election winning the office.
6Possibly because of election fraud.
7The whip is the assistant to the party leader in the Senate, whose job is to make sure that the senators are before Congress when important votes are held.
8Even though Johnson was less conservative than your average Southerner of the time, he was more conservative than Kennedy.
9Upon completing this sentence, Johnson belched.