Falkland Islands, South Atlantic Ocean - A Tourist's Guide
Created | Updated Jun 6, 2013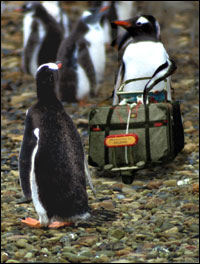 The Falkland Islands are made up of two main islands, East and West Falkland, and some 700 or so tiny islands dotted around the area bounded by Latitudes 51° and 53°S and Longitudes 57° and 63°W, in the South Atlantic about 400 miles east of the southern point of Argentina.
South Georgia and the South Sandwich Islands, 2,900km further east, are dependencies of the Falkland Islands and are home to British Antarctic Survey scientists and numerous seals. South Georgia was occupied by the Argentinians in 1982, sparking off the Falklands War.
The Islands have a population of around 3,000 (mostly of British descent), with a further 530 military personnel providing a permanent garrison. Approximately 1,900 of these people live in Stanley1, a sheltered north facing harbour situated on East Falkland. The rest of the population live in settlements or farms in what is known as the 'camp2' - this being the name given to the area outside of Stanley. The population in Stanley has grown in recent years as more people leave 'camp' to live in the town - raising potential problems of depopulation, particularly on the West Island. Stanley is also in danger of becoming, demographically, a 'Grey Haven3' for many Falkland residents.
The Falkland Islands is an Overseas Territory of the United Kingdom, but are internally self-governing with the exception of defence and foreign affairs. The Islands are economically self-sufficient and trade successfully in sheep ranching and major offshore fishing. As a point of particular interest to gardeners, the national flower is the Pale Maiden (Olsynium filifolium).
Discovery
The Falkland Islands were (allegedly) first sighted by Captain John Davis in 1592. His ship was called the Desire, and this has been incorporated into the islands' motto; Desire The Right. The first landing was in 1690 by Captain John Strong and the islands have a long maritime history, as can be verified by the number of wrecks in Stanley harbour. The Islands were also known as Hawkins Maiden Land, sighted and named by Richard Hawkins in 1594 - and some of the first maps of the Islands were drawn during this period.
The Falklands Environment
The Falkland Islands have roughly the same type of weather as the UK, only in opposite seasons and a little more severe. They have a slightly higher rainfall than the UK and average temperatures of between -5°C and 22°C. The temperatures can seem higher in the summer due to the combination of unpolluted air and the position of weak points in the ozone layer. Due to occasional strong winds, most buildings are built on short stilts allowing gusts to pass beneath, rather than through buildings.
The winds can reach up to gale force 8, which is over 40 miles per hour - with gales of this strength accounting for 12% of all winds during the winter. While the stilts that houses are built on do indeed allow wind to pass under rather than through, it should be noted that, particularly in Stanley, many of the older buildings are erected on the steep north facing slope. The land does become flatter at the western side of the town, and the eastern side also flattens out, however, this narrows down somewhat between the inner harbour and the Southern Ocean.
Power and Electricity
Until 2007, the Stanley electrical supply came from a diesel alternator supply located at the western end of the town, which with the growth of Stanley is now actually, geographically, in the centre of town. During late 2006 and early 2007 three wind turbines were erected to the south of Stanley. Of German manufacture, the units' cost is expected to be recouped in a short space of time, particularly following the sharp rise in the cost of diesel fuel. The Falkland Islands Government expect to erect at least three further turbines in the coming years.
A Unique Holiday Destination
There are two main ways to reach the Falklands.
Make your way to Chile and then hop on a connecting flight to the Islands, presently LAN Chile via Madrid and Santiago4.
In times gone past you could have flown to the Falklands in a Royal Air Force Tri-star from RAF Brize Norton, Oxfordshire, UK. However, the RAF have not flown passenger Tri-stars to the Falklands for some time as these aircraft are utilised elsewhere in the world. The Royal Air Force flights are contracted out, and have been flown over the years by British Airways, British Midland, Air Luxor (Portuguese) Air Atlanta5 (Icelandic), Omni Air International (American), and the latest airline to jump in is Flyglobespan - a Scotland based holiday carrier.
Flying directly from the UK will set you back approximately £2,000 for a return ticket. The flight takes about 18 hours, including a one-hour stop-over on Ascension Island. That's a long enough flight to read a complete average sized novel in one go. Alternatively, there are the in-flight movies to help keep you entertained. A round trip from London to the Falklands via the Chile route costs in the region of £1,100, with return flights from Chile taking place once a week.
First Sightings
On reaching the Falkland Islands, the aircraft banks gently starboard on its approach to Mount Pleasant Airport, which is situated on East Falkland. The view at this point can be quite daunting - depending on the time of year. For example in August, the Islands can be covered in light mist and will probably still be snuggled under a blanket of snow. From the aircraft, it all appears a bit bleak and barren - more so, if you are a member of the British forces whose stay will not exactly be a holiday.
Once landed, you make your way through the familiar customs rituals, and get your passport marked with the Falkland Islands stamp. It's worth noting that the authorities insist that you have pre-booked accommodation for your visit, have enough money to last your stay and possess a return ticket to get home. Then you're out the other side and ready for whatever adventure you've booked - unless you're with the forces, of course, when your adventures are pretty much predetermined.
What Now?
The Falkland Islands are not your typical 'get-away-from-it-all' holiday destination, although because of their location, you will certainly have 'got-away-from-it-all'. Still, it does have its exotic location comparisons. It has beautiful white sandy beaches and has its moments of glorious hot sunshine. OK, it's a little short on bars and clubs, but it does provide breathtaking scenery and an abundance of striking wildlife the Bahamas would be proud of. To excel even further, the Falklands' benefits from incredibly clear air that will amaze your lungs and the beaches are clean and unpolluted. The Falkland Islands would sell very well in a holiday brochure - but it is not the location for everyone.
The majority of the islands are open to the elements and are a dangerous place for those unfamiliar with the land and its weather. There are still plenty of minefields left over from the war of 1982, although they are clearly marked and cordoned off with barbed wire. It is extremely advisable to enlist a local guide experienced in Falkland Islands travel if you intend to wander around. Alternatively, most holiday packages provide details of available tours.
The Falkland Islands Tourist Board has expanded in recent years and holidays in the Islands are now featured by several tour operators. The Islands have tourist lodges - mainly at Port Howard, San Carlos, Sea Lion Island and Pebble Island. These lodges offer full board, mostly en-suite accommodation and local home cooking.
For the more independent traveller, it is possible to rent cottages, either on mainland farms or isolated islands. Some of these cottages provide the chance to share in the day-to-day running of the farm - an opportunity to get a rare taste of real Falkland life. For a small fee, some farms will provide an area for camping, even supplying the tent and laundry facilities. To reach this remote accommodation, the Falkland Islands Government Air service will provide transport from its base at Stanley airport. These flights are generally part of pre-booked packages, although flights are provided as and when requested, depending on demand.
In addition to two small hotels, which have recently been upgraded, Stanley has three guest houses and a growing number of Bed & Breakfast establishments. Accommodation prices vary, but on average you will be looking to spend around £60 per night in winter, to £100 in summer. To travel in and around Stanley, transport is provided by two taxi firms. However, for greater freedom, it is possible to hire 4x4 vehicles from the Falkland Islands Company, based in Stanley. There are (reputedly) more Land Rovers (Pre Series 1 and onward) in the Falkland Islands than resident civilian population. If you get a chance to visit the FIC Land Rover stores, it's like stepping back to the time when you could go to the spares counter in your local car showroom and buy just one nut or bolt - and not a complete vehicle!
What To See And Do
For those holiday makers who prefer to explore the historical trails rather than languish on the beach, you should find sufficient to hold your interest. As well as a visit to the museum, the whole of the Islands are a testament to Falklands history. There are shipwrecks from all periods of time, minefields and aircraft wreckage from the war of '82, and in Stanley you will find a memorial to the Battle of the Falklands in 1914 - and a monument commemorating the liberation of 1982. Cape Pembroke lighthouse at the eastern most tip of the Island makes for an interesting off-road trip too.
For souvenir hunters there are a range of local crafts to choose from. There is knitwear made from wool provided by the local sheep, paintings by local artists, sculptures and even jewellery crafted from beach pebbles. For more general shopping requirements, Stanley has two supermarkets and several smaller shops. Prices are much the same as in the UK.
Fauna
The Falkland Islands have a large and diverse selection of wildlife. The waters of the South Atlantic, which surround the Islands, provide a rich range of marine life which attracts a wide variety of animals.
Penguins are perhaps the most well known species on the Islands. There are five breeding species, Rockhopper, Gentoo, Magellan, King and Macaroni. If you time your visit to coincide with the start of the breeding season, usually in October, you will see an abundance of penguin eggs on the beaches, being lovingly protected and nurtured by their parents. The penguins seem accustomed to human visitors and it is possible to get quite close to the nests to take those unique holiday snap-shots. There are also numerous types of petrels, ducks, geese, gulls and grebes, in addition to finches, pipits, falcons, hawks, etc.
Also breeding on the Island are the elephant seal, sealion and fur seal. The leopard seal, which doesn't breed on the Island, is occasionally spotted on some beaches. You may even sight the odd porpoise, dolphin and perhaps a whale if you're lucky.
Something For Everyone
Although tour operators can provide you with tailor-made activities, you can enjoy whatever pastime or hobby that takes your fancy. Obviously the Islands are a wildlife photographers dream, similarly for painters and even poets. Another popular activity is horse trekking, which is ideally suited to the open landscape. You can also enjoy rock climbing, walking, mountain biking and camping.
Whatever your preferred adventure, you're sure to find it here.
1The most southerly capital city in the world.
2Apparently derived from the Gaucho word Campo (meaning countryside).
3A place full of people with grey hair.
4At time of writing there is only one LAN Chile flight per week to Mount Pleasant Airport in East Falkland. This departs Santiago on a Saturday morning via Puerto Mont and Punta Arenas. About once a month this flight also flies via Rio Gallegos in Argentina.
5If you're familiar with Top Gear you may have noticed the a 747 in the background of some shots. This is an ex-Air Atlanta airframe, heavily modified for use in a James Bond film.