Anne McCaffrey - Author
Created | Updated Dec 13, 2005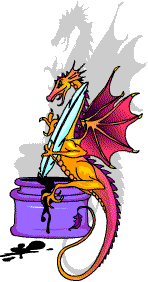 Anne McCaffrey has written over 54 books, including collaborations with various authors and over 54 short stories. She has received 17 awards for her writing, including the Margaret A Edwards Lifetime Literary Achievement Award in June 1999. Her works in science fiction and fantasy are known throughout the world, and are a must in any library.
Early Chapters
Anne was born on 1 April, 1926, to Anne and George McCaffrey in Cambridge, Massachusetts, and has two brothers, Hugh and Kevin. After graduating from Radcliffe College, majoring in Slavonic Languages and Literature, she became a character actress on the stage and studied voice for nine years. Anne became very interested in the stage direction of operas and operettas, and ended up directing the American Premiere of Carl Orff's Ludus de Nato Infante Miricus, in which she also played a witch.
Anne married in 1950 and has three children: Alec, born in 1952; Todd, born in 1956; and Georgeanne, born in 1959. By the time all three children were in school, she had already achieved enough success with short stories to devote herself to writing full time.
Her first novel, Restoree, was published in 1967 by Ballantine Books, and in her own words, 'was written as a protest against the absurd and unrealistic portrayals of women in science-fiction novels in the 1950s and early 1960s'. She is probably best known for the Dragonriders of Pern series of books, which has caught the imagination of readers young and old.
Anne now lives in a house of her own design, called Dragonhold-Underhill, in County Wicklow, Ireland. She runs a livery stable, and her horses have been successful in horse trials and showjumping.
When asked if there was one thing that she would like people to know about her, she replied, 'That I am alive!' which goes to prove what a great sense of humour she has. Anne also has a new book coming out in 2001. It is, as yet, untitled, but it is a Pern novel.
Complete List of Anne McCaffrey Titles to June 2000
Note that a lot of these were written in conjunction with other writers.
'Dragonriders of Pern' Series
Dragonflight
Dragonquest
The White Dragon
Moreta: Dragonlady of Pern
The Smallest Dragonboy1
Nerilka's Story
Dragonsdawn
The Renegades of Pern
All the Weyrs of Pern
The Chronicles of Pern: First Fall
The Dolphin's Bell
The Girl Who Heard Dragons2
The Dolphins of Pern
Red Star Rising3
The Masterharper of Pern
Runner of Pern4
Harper Hall Trilogy
Dragonsong
Dragonsinger
Dragondrums
Pern-related Works
The Dragonlover's Guide to Pern
The People Of Pern5
Atlas of Pern
A Time When
Crystal Singer Series
Crystal Singer
Killashandra
Crystal Line
Talent Series
Lady in the Tower
A Meeting of Minds
To Ride Pegasus
Pegasus in Flight
Pegasus in Space
The Rowan
Damia
Damia's Children
Lyon's Pride
The Tower and the Hive
Brainship Series
Ship Who Sang
Partnership
Ship Who Searched
City Who Fought
Ship Who Won
Ship Errant
Ship Avenged
The Ship That Returned6
Cattani Series
Freedom's Landing
Freedom's Choice
Freedom's Challenge
Doona Series
Decision at Doona
Crisis on Doona
Treaty at Doona
Acorna Series
Unicorn Girl
Acorna
Acorna's Quest
Acorna's People
Dinosaur Planet Series
Dinosour Planet
Dinosaur Planet Survivors
The Planet Pirates
Sassinak
The Death of Sleep
Generation/Warriors
Petaybee Series (Written with Elizabeth Ann Scarborough)
Powers That Be
Power Lines
Power Play
Body-heir Series
The Coelura (Novella)
Nimisha's Ship
Stand-alone Novels
Restoree
Mark of Merlin
Cooking Out of This World Cookbook
Ring of Fear
Stitch in Snow
The Year of the Lucy
The Lady (aka The Carradyne Touch)
An Exchange of Gifts
No One Noticed the Cat
If Wishes Were Horses
Space Opera
Black Horses for the King
Kilternan Legacy
Serve it Forth (cookbook)
Dragon Lover's Treasury of the Fantastic
Three Women
A Diversity of Dragons
Alchemy and Academe
1A short story as part of the compilation Get off the Unicorn.
2Short stories, one of which is set on Pern.
3The US title is Dragonseye.
4A short story as part of the compilation Legends, edited by Robert Silverberg.
5The artwork of Pern - with Robin Wood.
6From the short story collection Far Horizons, edited by Robert Silverberg.