Paddington Bear's London
Created | Updated Jan 8, 2012
Paddington Bear started out as a lonesome teddy on a shelf in London's illustrious Selfridges department store. Seeing the bear, BBC cameraman Michael Bond bought him on 24 December, 1956, as a Christmas present for his wife Brenda. He named him Paddington after the area of north west London he lived in. In the following week Bond had almost finished the very first stories in the Paddington Bear adventure series.
Since then, Paddington Bear has gone from strength to strength - his life stories have been published in the East as well as the West in a number of languages. He is particularly big in Japan where he was made UNICEF's Friendship Ambassador in 1986. Actually, 1986 was a really busy year for Paddington Bear; as well as his important new role for UNICEF, he also accompanied British business tycoon Richard Branson on his attempt to circumnavigate the globe in a hot air balloon. In 1994, Paddington Bear was the very first bear to be passed through the newly hewn Channel Tunnel.
All this illustrious globetrotting belies some very humble beginnings that we will explore in this entry.
A Little Background
The Browns are the family who give Paddington his name and take him into their family home.

Mr Curry is Paddington's next door neighbour who can't stand the sight of the little bear.

Mr Gruber is Paddington's best friend. He runs an antiques shop in Portobello Road and is always giving the little bear advice and help. Paddington goes there for his elevenses1.

Marmalade is Paddington's favourite food. It tastes even better in sandwiches.

Paddington has a duffel coat which was given to him by the Browns.

When Paddington arrived in the UK, his only item of clothing was a Red Peruvian Hat2.
Paddington Station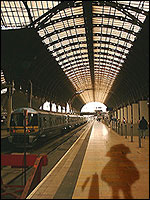 Paddington's adventures started when he left darkest Peru after his Aunt Lucy went to the Home for Retired Bears in Lima. Our intrepid hero arrived at Paddington Station, quite ill-prepared for the British climate, in nothing but his hat. He also had a battered old suitcase and a sign around his neck announcing:
Please look after this bear - thank you.
The Browns did just that - bless them.
Paddington Station was opened at the height of the Victorian industrial revolution, but really came into its own in 1863 when the London Underground opened and ran from Paddington to Fenchurch Street3. There is precious little of this Victorian splendour left around the station - the steam trains have long gone, the waiting rooms have been converted into coffee houses and there is even an über-modern supermarket structure tacked on to the front of the station. However, if you look closely, you will see the splendid Victorian clocks and Gothic detail above the doorways of the offices which run alongside the platforms.
Paddington is an amazingly light and airy station with billboards swaying gracefully in the foggy London air. The station has the feel of an international airport where you can get soup, sweets, coffee, newspapers, bagels, pizza, croissants, electrical goods, socks, underpants and even jewellery. You can also get trains to the south west of England and this is the station where you can hop on the ultra cool Heathrow Express - a delight of modern rail travel which transports you from the heart of north west London to Heathrow Airport in a stunning 15 minutes. The only downside is the cost - prices start (at time of writing) from £12 one way but children travel for free.
Apart from all the retail services which are on hand, Paddington Station offers two wonderful services - one you pay for, one you don't. The public toilets at the station, although charging 20p, are an absolute pleasure. Clean, tidy, almost spotless - they are the epitome of 21st Century hygiene. The wash basins are pretty trendy too - they are huge circular dishes operated by a pedal. It's groovy - honest.
The other wonderful service provided by the station is the Club Car. This is a great big motorised trolley that will carry you and your luggage from one end of the station to the other.
Windsor Gardens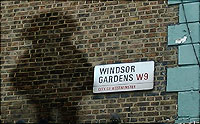 When Paddington Bear was adopted by the Browns, he was welcomed to their family home at 32 Windsor Gardens, just round the corner from Paddington Station. You could walk there, but to be truthful it is a really grim trudge through depots and warehouses. The best way to get there is to go on the Hammersmith and City line for one stop to Royal Oak.
When you arrive at Royal Oak, take a right out of the station and head for the pedestrian subway. If you are of the kind of person who is scared of long, eerily lit tunnels, then you have to do one of two things - go in a group or run fast. When you get to the end of the tunnel, take a left up the stairs and keep walking straight ahead. Windsor Gardens is the fourth turning on the left. When we think of 32 Windsor Gardens from the Paddington Bear series, we think of Georgian terraces, scrubbed steps, polished bells and aromas that promise a fun family night in, full of good cheer and great promise for the future. Be prepared to be shocked. Upset even.
It is no wonder that Paddington Bear felt quite at home here with all the friendly residents offering South American marching powder4 and strange and exotic herbs of all and every description. Disappointingly, the area is really grim with 1960s developments on either side and windowless façades of government buildings promising little more than a cold shoulder. There are new developments in the area but these are sadly following the recent London trend of fencing themselves in - thereby creating a 'them and us' scenario with local residents. The area also has all the problems endemic to many inner city suburbs such as the aforementioned drugs, street crime and vandalism.
Windsor Gardens is a road that is no more than 20 metres long, it doesn't have a number 32 and is, in a word, grubby. The only greenery is the mould at the base of a drainpipe and its central feature is an uneven private car park. You know when you've arrived because you'll see the Windsor Castle pub on the corner. Again, you think of Windsor Castle and you conjure up images of Tudor battlements, knights and general medieval elegance. What you get is a grotty little pub, with dappled windows, peeling paint and a teeny forecourt with ostentatious cars parked unevenly outside.
Unlike Paddington Bear, the pub has a rather pleasant neighbour. She holds erotic dancing sessions between 10pm and 1am and kindly asks that you don't park your car in front of her doorway. The mind boggles...
Portobello Road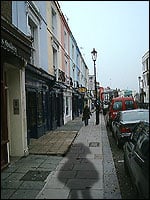 When you've had enough of Windsor Gardens, the next stop on the Paddington Bear trail is Portobello Road. This is where our little bear from darkest Peru would visit his friend Mr Gruber for advice over elevenses. To get there you continue up the road from Windsor Gardens, past the police station and church. When you get to Great Western Road, take a left. When you get to the bottom of the road take a right onto Westbourne Park Road - Portobello Road bisects this busy London thoroughfare.
You will now notice that you are in the posh part of town where the houses go for six million. This is where Madonna lives, this is the area that was made famous by the film Notting Hill starring Julia Roberts and Hugh Grant. In other words, it's fab, funky and absolutely full of tourists.
The road is famous for its antiques market on a Saturday. Anyone who is looking for a serious bargain has to get there very early and have a rummage through the bric-a-brac to find that one true treasure. This is a Londoner's market too and many of the antique jewellers from London's Bond Street head here to snap up the bargains so they can sell them for a higher price in their West End boutiques. An example of a bargain is an art deco rhombus silver ring, studded with ten diamonds and a beautiful Colombian emerald which was bought for £400 in 1996 - you can expect to pay up to three times that amount in London's West End. Haggle if you want, but don't go too far - it's not the British way. If you can't get there on a Saturday, there is always something on Portobello Road to draw you in, such as a regular street market, interesting shops and international cafés.
When on Westbourne Park Road, if you take a right on to Portobello Road you'll hit a street market which sells clothes, fruit, bags, purses, books, Halal meat and vinyl records. As you work your way along the market you'll have to side step puddles of spilt milky tea and mounds of cigarette butts and polystyrene cups. The road is lined with cafés, many with trendy flat rooftops so you can sit, sip your tea and watch the world go by.
If you're looking for the antique shops, you'll have to take a left when you are on Westbourne Park Road. Apart from the usual silverware, pottery and portraiture, you'll also find shops selling salvaged stained glass and holy statues - these shops are well worth a peek into as they give an insight into British ecclesiastical art. The owners of these outlets are also terminally amiable and will answer any questions you may have. This side of the Portobello Road is also the best place to buy an antique Kit Kat frame. The Kit Kat Club was an association of Whigs5 established in the early 18th Century. When the members had their portraits done, they had to be painted slightly less than half length because the room they were to be exhibited in was too small for full length tableaux. They were painted at this shortened length with one arm in view. Because of the uniformity of the portrait size and its popularity, there is now an abundance of these frames in existence.
If you keep walking down Portobello Road you'll see a building, number 22, which has a blue plaque on it. This is where George Orwell, author of 1984, Animal Farm and Homage to Catalonia used to live. Once you've taken in this gem, keep heading down the road, when you get to the end you need to take a right . Walk to the end of this little road and you'll see Notting Hill tube station in front of you - a welcome sight after your mammoth Paddington Bear trek.
1Elevenses is the tea break that the British take at 11am. It usually involves a nice cup of tea in a china cup with some tasty cakes and pastries.
2Some Paddington Bears come with black hats but the little chappie has a red hat on in his Official Website.
3Paddington is now served by the Circle, District and Bakerloo lines. The Hammersmith and City line also serves the station but has a different terminal than the other lines.
4Cocaine.
519th Century British reformists.