Great Vegetarian Dishes
Created | Updated Aug 4, 2012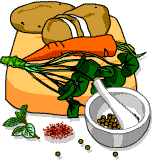 Then a sentimental passion of a vegetable fashion
must excite your languid spleen,
An attachment à la Plato for a bashful young potato,
or a not too French French bean!
- WS Gilbert, Patience (1881)
Many kids are forced to eat their vegetables and maybe as a result of this, some of them grow up hating the things. But vegetables are good for you! And they can be absolutely delicious too. They needn't just be served up as farty old sprouts or watery cabbage - there are lots of ways of preparing vegetables. Vegetarian dishes around the world are rightly fêted, considered to be mouth-wateringly scrumptious - even among the carnivores! So, we challenge your mouth not to water as you savour the following delights brought to your table by our dear Community.
Mexican Cooking
Authentic Mexican cooking can be very vegetarian - here are some delicious examples:
Stuffed Chillies
The best chilli by far to stuff is the Poblano. If you can't find them you can stuff other chillies. However, they may taste bland or very hot (stuffing jalapenos for example). The usual process is to burn the chillies and sweat them to remove the skin. Slit them open, remove veins and seed carefully, and stuff them. For example, stuff them with cheese, or both cheese and nuts. Then roll them in flour, dip in a light egg batter and fry in oil quickly until crispy. chillies have one of the highest concentrations of vitamins among all fruits.
Stuffed Squash Flowers
Much like the chillies, take fresh flowers and stuff them with thin strips of cheese - stuff them into the cavity of the flower and batter and fry them. These are delicious with Emmenthal cheese. Squash Flower Soup is also delicious - it's made with squash flowers, maize, squash, cream and a few other ingredients. It is excellent.
Tamales
Tamales are corn (maize) cakes made with treated and ground corn (not sweet but white or field corn, or even better blue corn). The corn is made into a sort of cake batter with some oil or fat (vegetarians can use vegetable fat). These are rolled into dried corn husks with a filling of choice. Good fillings can, for example, be cheese and nuts or green vegetables. The tamales are steamed before eating. The best tamales are made from corn. If you make them starting from blue corn grain it is a lot of work, but they taste great.
Quesadillas
These are simply tacos (a tortilla with something in it) with cheese inside. The flavour of fresh corn tortillas goes well with melted cheese. They are very simple. To prepare a corn tortilla, you need a hot griddle or pan. Put the tortilla on the pan for a few seconds (up to 30 seconds or so until it is slightly toasty but not browning). Turn it over, place some cheese in the middle. After the other side is toasty, fold the thing in half - this is a quesadilla. You could use flour tortillas and you can always plop in some tomato and chilli salsa to spice it up.
Beans
There are many ways to prepare beans. An excellent dish from Southern Mexico is refried (ie, really just fried) black beans with fried plantain. Cook the black beans in water until very well done and remove when very soft. Then mash them, and fry in a pan. Serve with a very ripe plantain, cut in half lengthways and fried in a pan until golden. Serve them side by side, or like a banana split. Crumble cheese on the beans and stick in a couple of wedges of fried tortilla wedges.
Nopal Cactus
This is easy to get in Mexico; very hard elsewhere. The Nopal is that large flat bunny-ear paddle cactus. You take some paddles and scrape off the skin and spines. Then slice and chop it into bits rather like chopped string beans. They are delicious when cooked stirred in with tomato and fried onion as a sauce. They taste nice and a little acid, with a slight mucilaginous texture. They are full of vitamins. The fruit of this cactus (tuna) is very nice - it has a watermelon texture with many seeds and a scent somewhat like violets.
Huevos Rancheros
Mexican is definitely my favourite style of cooking. One of my favourite dishes is 'Huevos rancheros' - traditionally eaten for breakfast. My version consists of a portion of black beans in a chilli and tomato sauce (preferably from the night before!) with scrambled egg, cheese and sour cream - wrapped in a warm tortilla. One of these and a Bloody Mary is an excellent hangover cure!
Courgette and Aubergine Bake
Ingredients
Courgettes (zuchinni)
Aubergine (eggplant)
Tomato purée
Oregano/parsley
A little water
Cheese
Method
Slice the courgettes and aubergine, wash them and then salt them and leave for a while. Dry off the courgettes and aubergines and then fry them. Mix together some of the tomatoes purée, some garlic and the herbs. Then layer the courgettes and aubergine with the paste in between and then top with cheese. And cook. The proportions can change to suit your taste - some people like more garlic than others, etc.
Chilli Bean Lasagne
Ingredients
Can of chilli beans
Can of whole peeled or chopped tomatoes
A couple of courgettes
Half a head of broccoli
Other veges, like silver beet, carrots, mushrooms (OK, they're a fungi), etc etc
An onion
A few cloves of garlic
Half a teaspoon ground cumin
Some sweet chilli sauce if you feel like it
About a cup of cheese sauce
Lasagne sheets
Grated cheese
Method
Line the bottom of a baking dish with lasagne sheets.

Put the tomatoes, chilli beans, garlic, onion and all the other chopped veges in a pot and heat them a little. This is really just an easy way to mix them through a bit.

Pour about a third of the above mixture onto the lasagne sheets in the bottom of the baking dish. Then pour about a third of the cheese sauce on to it.

Put down more layers: lasagne, chilli bean mixture, cheese sauce, lasagne, chilli beans, more lasagne, and then a finish with a big layer of cheese sauce. Top it all of with some grated cheese.

Put in the oven at the temperature recommended by the lasagne manufacturer, and leave it there until the lasagne is soft.
It's really messy when you go to serve it up when you first take it out of the oven, but it tastes good. It does firm up a bit on sitting, but who wants to wait that long?
Spicy Chick Peas
Ingredients
250g Chick Peas (dried weight)
2 onions
1 each red, green and yellow pepper
Fresh root ginger, grated (about 2 tbsp)
3 tbsp tomato purée
1 tsp cumin
2 tsp coriander (dried)
Dried chilli powder (according to taste - be careful!)
A little oil (of your choice) for frying
Fresh coriander (if available - not totally indispensable) for garnish
Method
Day 1 - Soak chick peas overnight (or you could use tinned, but they go a bit mushy).

Day 2 - Put chick peas in a large pan and cover generously with water. Bring to the boil, reduce the heat to a 'strong simmer' and leave to cook until tender (top up water if necessary).

When cooked, drain - reserving the stock - and put to one side.

Heat the oil in a frying pan and when it's hot add the spices and cook them for a minute or two.

Turn down the heat and add the onions and peppers.

While they are cooking, mix the tomato puree to the stock and mix well.

When the vegetables are just starting to go soft, add the chick peas and stock and simmer for 20 - 30 minutes. Most of the liquid should disappear.
That's it! This can be eaten hot (with rice, bread.... whatever) or cold as a salad. It tastes best on the second day, hot or cold. You can add/subtract ingredients as you like, or increase/decrease the proportions according to taste.
Roasted Vegetable Risotto
We'll let one of our Researchers introduce this dish...
I have never weighed or measured anything when cooking this and the ingredients can vary according to what I have got in or what I can lay my hands on easily. I love this dish as it is very warming comfort and my boyfriend will have it as a main course even though he is an anti-vegetarian and usually refuses to eat things without meat in them. It takes a while, but is really worth it.
Ingredients
Red pepper (capsicum sort not chillies)
Green pepper
Orange pepper
Courgette (zucchini)
Aubergine (egg plant)
Large flat mushrooms
Baby corn
Whatever other veg you like to roast
Olive oil
Sun dried tomato (the kind that comes in oil)
Large red onion
Some rice (about half a mug per person)
Garlic
White wine
Crème fraîche (or cream)
Basil
Thyme
Oregano
Any other herbs you happen to have hanging around
Vegetable stock cubes
Method
Roughly chop all of the veg up put in on a baking sheet and drizzle some olive oil over it. Some flavoured oils are nice - use the stuff the tomatoes are stored in. Roast it in a medium oven until it gets that nice slightly blackened look about it.

Put some olive oil in a big sauce pan on a medium heat. Crush the garlic into the oil (one or two cloves will give the right flavour) then add the chopped onion. Heat until the onion starts to get soft then add your roasted veg and sun dried toms to the pan. As an alternative for mushroom risotto, you could add fancy mushrooms at this point instead of the roasted veg.

Add the dry uncooked rice to the pan and let it cook far as long as you can stand so that it absorbs loads of flavour and juices from the veg and onion and garlic. When you really can't wait any longer add a good slug of white wine (a large glassful is about right) and stir everything until all the wine is absorbed - this doesn't take long. Chuck in all your herbs and salt and pepper and anything else you fancy.

The next part is tricky. Make up your vegetable stock and start adding it gradually stirring as you go. If you add loads in at once you might end up adding too much and you will end up with soup. It is safe to say you can add more at the beginning and then add smaller and smaller amounts as it gets absorbed. Keep doing this until the rice is cooked then add a dollop of crème fraîche. Mix it in, add some more black pepper if you like and serve.

Eat your meal, and finally sit back to receive the compliments and general adoration of whoever else is lucky enough to be eating with you.
Leek and Taleggio Risotto
Another carnivore convert...
Risotto is the best advert for meat free food there is. I am a carnivore but eat vegetarian food for more meals than I eat meat. I eat it often in winter months. I also never measure. You can see how much you need.
Take some leeks (about three or two big ones), chop 'em up.

Put a lump of butter in a pan and melt it.

Dump the leeks in and cook slowly for about 15 minutes on a low heat.

Add your arborio rice.

Add some dried mixed herbs (for some reason dried herbs work better than fresh here but feel free to dump whatever makes sense to you in).

Start adding vegetable stock (you'll need just short of a litre on average but you'll know its ready when the rice tastes ready ie, soft but still with bite) a ladle at a time and let it simmer until the rice has absorbed it.

With the last ladle full add the Taleggio chopped up (Taleggio is available in most supermarkets here in the UK and is a soft Italian cheese with a pink/grey mould growing on it.). The Taleggio should ooze into the already creamy risotto to make an unctuous gorgeous (and slightly naughty) meal for two.
Couscous, Artichoke Heart, and Walnut Salad
It might not be vegan, but it certainly is vegetarian.
Ingredients
1 box couscous
As many walnuts you want (about 2-3 cups, chopped)
As many artichoke hearts you want (a jar) quartered up nicely
Butter
A handful of fresh parsley, chopped
A tablespoon or two of dill
A squeeze or two of fresh lemon juice
Salt and pepper (if you want it)
Cook the couscous according to the package directions (putting 2 tablespoons of butter into the water) and mix with the artichoke hearts, walnuts, parsley, dill, lemon juice, and two more tablespoons of butter in a big bowl. This makes for a very yummy salad!
Stuffed Bell Peppers
This is so good you might quit eating meat forever.
Ingredients
4 Green Bell Peppers, tops off, seeds and spines removed
1/2 cup regular old rice, uncooked
1/2 medium onion, chopped
Garlic to taste
2 big porcini mushroom caps, sliced into 1/4 inch slices
4 stalks broccoli, broken into small florets
1 zucchini or courgette, diced about 1/2 inch chunks
1 can stewed tomatoes
Vegetable oil
Salt
Pepper
Method
Put the bell peppers and 1/2 inch of lightly salted water in a covered saucepan, bring the water to a boil, and let them steam for about ten minutes.

Meanwhile, in a large sauté pan, put about two tablespoons of the vegetable oil and saute the uncooked rice and all of the fresh vegetables and garlic for about six minutes over a medium heat.

Add the can of tomatoes with liquid, and add about half of the canful of water. Season with salt and pepper. Simmer, uncovered for about 15-18 minutes, stirring occasionally, until the rice is tender.

Take the bell peppers off the heat, and remove from the sauce pan. Let them cool while you finish the rice filling.

Once the rice mixture has absorbed most of the liquid, fill the peppers with the mixture. Place in an ovenproof dish, and heat through in a preheated 350 degree oven for about 30 minutes.
It sounds complicated, but it's not. You won't believe how good the rice mixture tastes when it's cooked in the peppers.
Vegetable Bake
My other half didn't think it was a proper meal unless there was some meat in it somewhere. Then I cooked this!
Ingredients
Vegetables - whatever you like: parsnips, swede, carrots, celeriac, potatoes, sweet potatoes, butternut squash, fennel, peppers and red onions. The main thing is that they have to be things that can be cut into chunks. You want three or maybe four different types.
Herbs - thyme is good, or maybe rosemary or oregano
Garlic if you like
Olive oil
A splash of stock - Marigold vegetable bouillon is good - or maybe wine if you're feeling flush. Stock does well enough.
Bread crumbs - about 2 thick slices of bread's worth
Grated cheese - a good handful, Cheddar, Parmesan, again whatever you fancy or happen to have knocking around in the fridge. Hard cheeses are best.
Method
Cut all the vegetables into large chunks and arrange them in a roasting dish. Sprinkle with herbs and add salt and pepper. Tuck in the garlic (whole cloves, unpeeled) if using. Drizzle liberally with olive oil and pour over the stock. You only need enough to cover the bottom of the dish. If you have some leftover tinned tomatoes or tomato sauce you could use that instead. Put the dish in a low oven (about 120-150C depending on your oven and how long you want to wait for dinner) and leave it until the vegetables are soft and starting to brown at the edges. This could be anything from 1-2 hours. If you want to leave it longer, put the oven lower and cover the dish.
Mix the bread crumbs and cheese together and sprinkle over the vegetables. Bake for about 20-25 minutes until the cheese has melted and the bread crumbs are browned. You could also leave the topping off and make a fondue to dip the vegetables in. I have to try that one soon!
Middle Eastern Cooking
The importance of vegetables in Middle Eastern cookery is major. After all, a roaming desert nomad doesn't have too many animals to kill off, and so a vegetarian menu is important for most of the year. Back older times, meat was only for the very special occasions.
The staple diet for the Middle East is couscous which is cracked semolina, served traditionally with a number of thick vegetable sauces. You can experiment with these. Couscous is best cooked by first soaking for a couple of hours and then steaming over the vegetable sauce as it cooks so the flavour permeates the couscous.
However, with the spice routes running through the Arabic nations, rice and noddles were soon added to their traditional cuisine.
Tabbouleh
This salad is great in the summer. It's quick and easy because you don't have to worry too much about amounts; just make sure there's plenty more salad vegetables and dressing than grains. This is one of those recipes that tastes even better if left in the fridge for as long as possible before serving.
Ingredients
8 Oz bulgar wheat or couscous (white or brown rice is very good too)
Juice of one lemon
About two tablespoons of olive oil
8 Table spoons of chopped parsley
4 Chopped spring onions
A 10cm piece of diced cucumber
4 Table spoons of chopped mint
4 Tomatoes, de-seeded and chopped
Olives and sun dried tomatoes in olive oil can be very nice too
Method
Cook the grains as directed on the packet, wait for it to cool. Mix everything together.
Pizza
Obviously, you'll need a pizza base. You can use a ready made one, or make your own. When making your own, it's usually easiest to use a pizza base mix - just add water!
Having got your base, you need to top it. Start with a tomato sauce. You can use passatta, or make your own sauce; a combination of tinned tomatoes, tomato purée and ketchup is fine. (Purée on its own is too thick, and ketchup too thin.) You need to find a combination that has loads of flavour, but is spreadable! This is also a great time to add extra flavour - you could add herbs (basil and oregano work well), crushed garlic, a little chilli powder or paprika. Spread your tomato mix over the base - it should completely cover it, and not be too thin.
Next comes the cheese - Mozzarella is traditional, but you could use pretty much any cheese. A mix of Mozzarella, Cheddar and Leicester is quite nice. Now for the fun bit! You can add practically any vegetables - peppers, tomatoes, mushrooms, onions, sweetcorn, garlic, olives, capers. Even tiny broccoli florets are allowed! Layer the veg up, covering the pizza evenly but not too thickly - otherwise the middle will still be uncooked while the edges are starting to char. For extra sweetness, you could roast the tomatoes/peppers/onions first. You may want to put some fish on - tuna and prawns are quick and easy.
Finally sprinkle with herbs (basil/oregano), add a little black pepper, and a drizzle of olive oil. Then just bake in the oven according to the instructions for the base. Easy!
When making your own base, you don't need to make it perfectly round! It's good to have it looking a bit rustic. And you can do cheesy crusts - cut some of the cheese into thin(ish) strips, and put it round the edge of the rolled out dough. Then go round, folding the edge in, and seal it down with a little water. I'm still experimenting with the ideal amount of cheese. You could also do this with (say) strips of roasted red and yellow pepper.
Insta-Pizza!
For the hungry in need of rapid relief (also great for a quick breakfast).
Ingredients
One slice bread
Marmite (yeast extract)
Grated Mozzarella cheese
Grated mature Cheddar
Pizza spices
Method
Toast bread.
Spread thinly with Marmite (no butter necessary).
Sprinkle with cheese 50/50.
Spice.
Place under grill.
Grill until cheese melts and turn brown.
Vegetable Lasagne
Even committed meat eaters think this recipe is great - it works very well.
Ingredients
400g Can chopped tomatoes
5 or 6 Medium field mushrooms, peeled and sliced
4 Large carrots, peeled and chopped into cubes
Vegetable stock cube or teaspoon bouillon paste
4 Red peppers, skinned,de-seeded and chopped
2 Courgettes, chopped into cubes or sliced
1 Clove garlic, crushed
Medium onion, chopped
Tub of soft cheese eg, Philadelphia (the one with garlic and herbs is especially good)
1 Pint of milk
2 Tablespoons corn flour
Herbs to taste, either fresh or dried. Basil, thyme, marjoram and oregano are all good.
6 Sheets oven ready lasagne
2 Tablespoons olive oil
Method
Preheat the oven to the temperature suggested on your lasagne box (usually about 180-200C).

Lightly fry the onion and garlic in the oil until soft, but not coloured. Add the carrots and fry for another 2-3 minutes.

Add the courgettes, mushrooms, peppers, chopped tomatoes, stock cube or bouillon and herbs and simmer on a medium heat for 25-30 minutes. Stir occasionally.

While the vegetable sauce is cooking, heat the milk until boiling. Use a little of the boiling milk to make a paste with the corn flour, then return this to the rest of the milk. Simmer gently.

Melt the soft cheese slowly into the milk (it may be best to remove from the heat at this stage). Stir until no lumps remain. If this proves problematic, use a whisk or put it through a blender.

To assemble the Lasagne, spread half of the vegetable sauce in the bottom of an oven-proof dish. Top this with three sheets of lasagne, followed by half the white sauce. Repeat the layers. Cheese can be grated on top if desired.

Cook in the oven for the time suggested on the lasagne packet, usually about 30 minutes.
Serve with a green salad and lots of crusty bread. Bon appetit!
Student Veggie Goulash
Ingredients
This recipe is so easy and relatively cheap, great for students! It serves four as a side dish or two as a main dish.
1 Tin Baked Beans
1 Tin plum tomatoes
2 Peppers
1 Handful mushrooms
1 Onion
A couple of tablespoons of paprika
Garlic
Mixed herbs (basil, oregano etc)
Black Pepper
Bread to serve with
Method
Chop everything that needs chopping.
Soften onion in little oil using medium sized pan.
Add garlic, mushroom and peppers and soften.
Add tin of tomatoes and herbs.
Simmer for half hour (approx) over medium heat.
Add beans (drained) and stir, stir, stir for 5 minutes.
Serve with crusty bread, might need a bowl if you are a messy eater.
Parsley Spaghetti
Serves two people. You may want to have a nice green salad as a side dish. Serve the meal with dry white wine.
Ingredients
A bunch of parsley
One medium-sized onion
Oil
Garlic (optional)
Salt and pepper
Roughly 200g spaghetti
Method
Prepare spaghetti as you like (longer than al dente recommended).

Fry the chopped onion with some oil until they are almost transparent.

Chopped garlic (not pressed) may be added.

Add chopped parsley and let it fry a little longer.

Add salt and pepper to your gusto.

Add the not-too-dry spaghetti and mix thoroughly.
Leeks in Cheese/Cauliflower Cheese/Macaroni Cheese
Ingredients
1/2 pint milk
Cheese
1-2 tablespoons corn flour
1/2 teaspoon mustard/mustard powder (if desired)
Cauliflower/leeks/macaroni
Method
Warm all but a couple of tablespoons of the milk slowly in a pan. Mix the remaining milk with the corn flour and mustard to a thick paste.

If using cauliflower, you can cook it whole or in large florets. Leeks can be chopped into large slices. Boil or steam whichever vegetable you're using (or boil the pasta), but be careful not to overcook it.

When the milk is almost boiling, pour it over the corn flour mix, stirring continuously. Then pour back into the pan, and return to the heat. Slowly add the cheese to the sauce, reserving a few slices for topping. The cheese will tend to stick together in a lump if you grate it, but cutting it into small pieces allows it to separate.

When the cheese has melted and the sauce is thickened (add more corn flour for a thicker sauce), put your veg/pasta into the serving dish, and cover with the cheese sauce. Place the remaining slices of cheese on top, and brown under a hot grill for a few minutes.
A few tinned tomatoes, warmed up go extremely well with these dishes. To add extra flavour to the tomatoes, add a pinch each of sugar, basil, oregano, pepper, paprika whilst warming through. You might also like a few drops of tabasco or Worcestershire sauce.
The Best Damn Tomato Sauce Ever Bar None!
Ingredients
Two 28oz tins diced tomatoes
1/4 Cup sherry vinegar
1/4 Cup sugar
1 Teaspoon dried oregano
1 Teaspoon dried basil
1 Onion
1 Carrot
1 Stick of celery
4 Cloves of garlic, minced
1/2 Cup of white wine
Salt and pepper
Method
Drain the juice from the tomatoes into a large saucepan, add the vinegar, sugar, oregano, and basil, and reduce the liquid by 1/2 (or until it's thick and syrupy) over a low heat. Meanwhile, cut the carrot, celery, onion into small pieces, add the garlic, and sweat in olive oil over a low heat in a large skillet until the onion is translucent (15 - 20 minutes). This is called a mirepoix, and you should start off with the carrot, then celery, then onion, because the ingredients take different times to cook. Add the drained tomatoes to the mirepoix, and grill for 15 - 20 minutes, stirring about every 5 minutes (the tomatoes should begin to caramelise slightly around the edges). Remove from the grill and return the skillet to a low heat. Add the wine to de-glaze the pan. Add the reduced tomato juice, season with salt and pepper, blend to a smooth consistency, and serve with pasta. Bloody delicious!
Another Best Ever Tomato Sauce Bar None!
Ingredients
1 red onion, finely chopped (or grated, if you have a food processor)
Two cloves of garlic, finely chopped
One chilli pepper, de-seeded and chopped crossways into thin strips
One table spoon chilli sauce
Two teaspoons of castor sugar
1-2 glasses of red wine or half a glass of good quality balsamic vinegar
One small packet or jar of passata (about 250 grams), or a tin of chopped tomatoes
Vegetable oil for frying
Seasoning
Method
Slow fry the onion, garlic and chilli pepper together for a few minutes, until they begin to soften.

Add the sugar and continue to fry until the sugar begins to caramelise.

Add the chilli sauce and continue to fry for a few more minutes (the longer you cook the chilli sauce the hotter the sauce will become).

Turn the heat up and get the pan really hot before adding the wine or vinegar. The liquid should sizzle when it hits the pan and immediately begin to boil. reduce the heat and simmer until the liquid has reduced by half and has become sticky and thick.

Add the passata and simmer on a low heat until warmed through. This sauce benefits from being allowed to cool slightly before serving.
The chilli in this sauce is a flavouring, so the sauce shouldn't be to hot. You can eat it with pasta; add coriander to make a vegetable chilli; add vegi gravy powder and cook with vegi sausages to make a sausage casserole; or thicken it slightly with corn flower to make a base for pizza. Enjoy!
Bon appetit!