The TV Western
Created | Updated Jan 10, 2017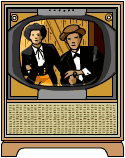 In the 1950s and '60s, one of the ruling genres in television was the Western. Cheaply made television programmes that chronicled the pioneers of the Wild West of America in the mid to late 19th Century. There were many to choose from but they all shared a common formula. They were quickly taken aboard by American broadcasters, where they spread like a disease. The '50s Westerns were also a springboard for many famous actors, who are immortalised by their presence.
Nowadays, the Western genre has long gone as a major force on our screens. They now appear mostly on Saturday mornings, and only sometimes attract our attention.
The Best Of The West
There were many Westerns, but here are some of the most memorable.
Rawhide
1959-66. 217 52-minute episodes
Starring:
Rowdy Yates - Clint Eastwood
Gil Favor - Eric Fleming
Harkness Mushgrove - James Murdock
Wishbone - Paul Brinegar
...this is the landscape of Rawhide: desert, forest, mountain and plains. It is intense heat, bitter cold, torrential rain, blinding dust, men risking their lives - a life of challenge - Rawhide.
So intoned the voice, which introduced all 217 episodes of Rawhide. Starring Clint Eastwood as cattle drive worker Rowdy Yates, this series featured events in the lives of the men who worked on the great cattle drives between San Antonio, Texas and Sedalia, Kansas. Set during the rugged and lawless days of the 1860s, the constant travelling in the program allowed for many stories of the people they visited on the way.
Created by Charles Marquis Warren, and based upon material from an 1866 diary by drover George Dutfield, Rawhide had similarities with Howard Hawks' feature film Red River (1948). Warren had previously directed the film Cattle Empire and originally called the series Cattle Drive.
The team of men who regularly risked their lives to keep the cattle on course to Kansas included trail boss Gil Favour, supervisor of the operation. His right-hand man and second in command was ramrod Rowdy Yates, played by a young Clint Eastwood (who stayed for the entire run of the series, and took off as trail boss in 1965 when Fleming left).
The rest were cantankerous cook Wishbone, trail scout Pete Nolan, played by country music comedian Sheb Wooley, and drovers including good-natured Mushy, Quince, Jésus and civil war veteran Simon Blake, played by Raymond St Jaques (real name James Arthur Johnson) who was the first black actor regularly featured in a Western series.
Contrary to popular myth, they did finish their original drive and went on to other cattle drive-related adventures. Eastwood, needless to say, went on to fame and fortune - Spaghetti Western director Sergio Leone spotted the young actor and rocketed him to superstardom on the big screen as The Man With No Name.
Move 'em on, head 'em up, head 'em up, move 'em on...Rawhide!
Laramie
1959 - 1963. 124 52-minute episodes.
Starring:
Jess Harper - Robert Fuller
Slim Sherman - John Smith
Jonesy - Hoagy Carmicheal
Andy Sherman - Bobby Crawford Jr
Mort Corey - Stuart Randall
Mike Williams - Dennis Holmes
Daisy Cooper - Spring Byington
Laramie was a superior domestic Western series set in the eponymous Wyoming town in the 1880s. After a no-good varmint shoots their father, young Slim Sherman and his younger brother Andy Sherman carry on the family ranch. Saddle tramp Jess Harper (Robert Fuller from Wagon Train) drifted in as a partner, while Jonesy (played by that old music maestro Hoagy Carmicheal) was the chief ranch hand. In 1961, Dennis Holmes, as Mike, and Spring Byongton, as Daisy Cooper, the housekeeper, joined the series.
The Sherman ranch also doubled as a stagecoach depot for the Great Overland Mail Stage Line, which allowed a long list of guest actors to mosey through the series, including Charles Bronson and James Coburn.
Cheyenne
1956 - 1963. 107 60-minute episodes.
Starring:
Cheyenne Bodie - Clint Walker
Bronco Layne - Ty Hardin
Smitty - LQ Jones
Alongside Gunsmoke, Cheyenne was the show most responsible for the stampede of adult Westerns in the '50s. Loosely developed from the 1947 movie of the same name, the series starred six-foot-six, barrel-chested Norman Clint Walker as Cheyenne Bodie, a half-breed loner possessed of an implacable sense of justice who drifted around the 1870's frontier changing jobs and women in every episode.
What set Cheyenne apart from the juvenile Westerns, which preceded it was that it had maturity and psychological nuance, as well as gunplay. The stories flowed out of the characters Bodie met on his wanderings. By 1957 the show had entered the top 10 in America.
The show's off-screen history is as interesting as its on-screen action. The series first appeared on TV as one of three rotation elements in Warner Brothers Presents. At this stage, Cheyenne had a sidekick, mapmaker Smitty (cult Western star LQ Jones, aka Justus E McQueen and the director of the classic low budget sci-fi film, A Man And Dog), but he was quickly dropped to allow Clint Walker to bask in undiluted glory.
In 1958 Walker quit the series over a contract dispute, and the leading character was changed to Bronco Layne, an ex-Confederate officer played by Ty Hardin. Eventually, however, Walker was tempted back to the Cheyenne corral by an increased salary. Ty Hardin's popular Layne, meanwhile, was given a show of his own, Bronco, in which he encountered many Western historical characters such as Billy the Kid.
In 1960, Cheyenne returned to being an anthology series, The Cheyenne Show, rotating with Sugerfoot (starring Will Hutchens as dude cowpoke Tom Brewster) and Bronco.
Despite an often-lavish screen look, the making of Cheyenne was famously fast; episodes were shot in five days on a budget of $75,000, at a time when a low-budget feature film would cost $450,000. Warner Bros packed episodes with surplus stampede and bar-room footage from their movies, sometimes even writing Cheyenne scripts to fit them.
Clint Walker's subsequent TV career has included the lead in the Alaskan police series Kodiak.
Gunsmoke
1955 - 1975. 233 26-minute, 402 52-minute episodes.
Starring:
Marshal Matt Dillon - James Arness
Kitty Russel- Amanda Blake
Doc Galen Adams - Milburn Stone
Deputy Chester Goode - Dennis Weaver
Quint Asper - Burt Reynolds
Sam - Glen Strange
Deputy Festus Hagen - Ken Curtis
The grandfather of TV Westerns, Gunsmoke began life on the radio with William Curtis in the role of frontier lawman Marshal Matt Dillon. Initially the part of Dillon in the TV series was offered to John Wayne who turned it down; however, he recommended instead his rugged six-foot friend James Arness (Howard Hawks' The Thing and TV's How The West Was Won). Arness proved perfectly cast, the personification of the Western hero.
Set in Dodge City, Kansas, in 1873 - a date chosen arbitrarily by the producers - Gunsmoke debuted in the same week as The Life And Legend Of Wyatt Earp. It had an innovative, mature approach which balanced the Marshal's lawkeepin' action with human and social dilemmas that soon began to win it a huge viewership.
By 1958, it was the most popular show in America, its success, along with that of Cheyenne, causing a TV Western boom. By the following year there were over thirty Western series per week showing on US television. Gunsmoke was still a top thirty hit, when, after 20 years, it was cancelled in 1975, the last Western on TV. By then, only Arness and Stone were left from the original cast.
Stylistically, the series - also known as Gun Law and syndicated under the title Matt Dillon - was often of top calibre, shot with a no-nonsense, spare, style. In 1958 Gunsmoke received an EMI Award for Best Dramatic Series, and Dennis Weaver won an award for Best Supporting Actor the following series. The revival of the Western in the 1980s saw two TV movies based upon the series, Gunsmoke: Return to Dodge and Gunsmoke: The Last Apache.
The show's other notable characters were Kitty Russel, the soft-hearted owner of the Longbranch saloon, Dillon's limping deputy Chester B Goode and bullet-removing Doc Adams. In 1964 Deputy Chester was replaced by hillbilly deputy Festus Hagen. Half-breed blacksmith Quint Asper, played by Burt Reynolds, was also a regular.
The Life And Legend Of Wyatt Earp
1955 - 1961. 226 26-minute episodes.
Starring:
Wyatt Earp - Hugh O'Brian
Ben Thomson - Denver Pyle
Bat Masterson - Mason Alan Dinehart III
The story of how, armed with his trusty long-barrelled Buntline Special .45 pistol, real-life Marshal Wyatt Earp imposed law and order on the West. First he cleaned up Ellsworth, Kansas, before moving on to Dodge City, and finally he tamed Tombstone, Arizona, shooting it out (over five blaze-of-glory episodes) with Old Man Clanton's gang at the OK Corral.
As its title suggests, Wyatt Earp mixed fact and fiction about the marshal in roughly equal proportions, but kept its sights on quality entertainment. It had an unusual semi-serial format, with continuing characters and stories. Playwright-author Frederick Hazlitt Brennen penned nearly all the scripts for the show (borrowing heavily from Stuart N Lake's 1931 biography of the lawman), which premiered almost simultaneously with Gunsmoke.
Among the regular characters which appeared in the series was Sheriff Johnny Behen, played by the splendidly named Lash LaRue, star of TV's Lash of The West and numerous Western flicks in which he bullwhipped the baddies into surrender. As well as Hugh O'Brian, other actors to play Earp on the small screen were Med Florry in Maverick and Bruce Boxleitner in I Married Wyatt Earp, a TV movie from the Osmond Corporation.
Maverick
1957 - 1962. 124 52-minute episodes.
Starring:
Bret Maverick - James Garner
Bart Maverick - Jack Kelly
Samantha Crawford - Diane Brewster
Beauregard Maverick - Roger Moore
Brent Maverick - Robert Colbert
Dandy - Efram Zimbalist Jr
Jack Darby - Richard Long
A dust-covered stranger rides into a seedy mining town, enters a hotel, surreptitiously cuts a stack of bill-sized pieces from an old newspaper, takes a $1,000 bill from the lining of his coat and tucks the whole pile into an envelope. He approaches the sniffy desk clerk, demands the best room in the hotel and, on being refused, asks to put his envelope of 'money' in the safe. Before doing so he removes the lone $1,000 bill - letting the clerk get a good look - and reseals the newspaper-filled envelope. The clerk, now paying the rich stranger respect, personally escorts his guest to the penthouse suite.
This was the first of many tricks executed by Western anti-hero Bret Maverick, perfectly incarnated by James Garner, in the first episode of Maverick. One of the small-screen Western classics, this clever, subversive series turned the late '50s TV Western on its head, featuring as it did a devious, cowardly card-sharp hero who relied on guile rather than guns and drifted from one easy opportunity to the next.
Creator Roy Huggins intended to turn conventional Westerns inside out: '...I wanted to see how many rules I could break and get away with it,' he said. The result was that Bret Maverick was more interested in himself than high ideals of justice. As far as he was concerned, the poor could fight their own battles.
Fast-talking ladies' man Bret was joined by his strait-laced brother Bart, in November 1957, to keep the series from straying too far from the traditional Western mould, but neither of the brothers were heroes in the usual sense. The untrustworthy duo roamed the West on the search for rich prey and, when faced with violence would unhesitatingly run away.
Bret and Bart alternated as leads and sometimes appeared together, but Bret was the more visible. Their exploits took them to frontier towns such as Hounddog, Apocalypse and Oblivion, and sometimes out of the country, such as when Bret sailed to the South Pacific.
Putting in occasional appearances were Bart's friends Dandy and Gentleman Jack Darby. During the second series, female interest was introduced when Bret had a running feud with fellow con-artist Samantha Crawford.
In 1960 James Garner walked out on Warner Bros, demanding a better contract. The studio refused and hired a new actor to replace him. Enter cousin Beau Maverick - played by a young Roger Moore - an expatriate Texan who had fought with valour in the Civil War, moved to England and returned as a cultured Englishman to further the family fortunes in America. Garner never returned to the show. Cousin Beau and Bart alternated for the rest of the series and in 1961 another brother, Brent, entered the fray.
In 1979, Warner Bros attempted to revive the series with a made-for-TV movie, The New Mavericks, also starring James Garner. Instead it resulted in a short-spin-off series Young Maverick featuring Beau's son and Bret's nephew Ben Maverick played by Charles Frack. Garner himself returns when Cherokee Productions produced a series of Bret Maverick with Maverick finally settling down in Arizona as a rancher and saloon owner. 13 years later, a movie version of Maverick was released, starring Mel Gibson.
The Virginian
1962 - 1970. 208 90-minute episodes.
Starring:
The Virginian - James Drury
Trampas - Doug McClure
Emmet Ryker - Clu Glanger
John Grainger - Charles Bickford
Clay Grainger - John McIntire
Steve - Gary Clarke
Belden - L Q Jones
Alan McKenzie - Stewert Granger
Roy Tate - Lee Majors
Henry Garth - Lee J Cobb
The Virginian first rode the range in Owen Wister's classic 1902 novel of that name, before being thrice filmed by Hollywood, including a 1929 version that launched the career of Garry Cooper. However, for most people The Virginian will always and forever be a TV series with James Drury as the eponymous ranch foreman. Drury first played The Virginian in a 1958 TV pilot which flopped. Despite this failure, the American NBC network was eventually persuaded to make a series, with Drury reprising the role in a more suitable set of clothes.
The Virginian - the first Western to have 90-minute episodes - was set on the Shiloh Ranch, near Medicine Bow in rugged Wyoming, and mainly concerned the fortune of the 'mysterious' Virginian himself, his impetuous cow-poke friend Trampas, top hand Steve, and the successive owners of the ranch, Judge Henry Garth, John Grainger and Clay Grainger. Guest stars were frequent and impressive, including George C Scott, Lee Marvin and Robert Redford.
In the final series, the show was renamed The Men From Shiloh, and had moved forward to the 1890s. Here Stuart Granger played the new English owner of the ranch, Alan McKenzie and Lee Majors (Six Million Dollar Man) was introduced as Roy Tate.
The Virginian was the last of the classic Westerns. Although the comic outlaw saga Alias Smith And Jones, Little House On The Prairie and the chop suey Western Kung Fu all enjoyed success in the '70s, the traditional Western spent twenty years in the sunset after The Virginian. Not until the very end of the '80s with Young Riders, Paradise and the outstanding Lonesome Dove, did the genre make a real return to the small screen.
Wagon Train
1957 - 1965. 252 52-minute, 32 90-minute episodes.
Starring:
Major Seth Adams - Ward Bond
Flint McCullough - Robert Horten
Chris Hale - John McIntire
Bill Hawks - Terry Wilson
Charlie Wooster - Frank McGrath
Duke Shannon - Scott Miller
Cooper Smith - Robert Fuller
Wagon Train is the true epic among TV Westerns: the story of pioneers trekking their way in conestogas (covered wagons) from St Joseph to Sacramento in the 1860s. Initially the wagon train was led across the Plains and Rockies by Ward Bond as Major Seth Adams, with Robert Horten as scout Flint McCullogh. After five series, however, Horten quit to work in films and was replaced by Laramie star Robert Fuller as Cooper Smith. When Bond died of a heart attack on location in Texas on 5 November, 1960, John McIntire took other the reins as wagon master Chris Hale.
Stylisticaly, the series had a distinctive format; each episode featured the problems of one of the pioneers, usually a newcomer. Invariably, the story was of some moral complexity. For inspiration, Wagon Train writers raided everything from stocks of Western clichés to British Literary classics.
Production values were notably high. The entire Wagon Train cast and crew were moved periodically to panoramic locations such as Monument Valley, Utah and New Mexico. Another huge chunk was spent on the weekly guest stars. Ernest Borgnine, Barbara Stanwyck, Henry Fonda, Mickey Rooney, Ronald Reagan and Joseph Cotton - all appeared on the show's nine-year trail, and Dennis Hopper and Clint Eastwood both played their first bit parts, right at the beginning of their careers.
Based loosely on John Ford's film Wagon Master (1950), the series itself was perhaps the closest TV has come to the Hollywood director's particular, dramatic, mytho-poetic vision of the American West. Among the most successful Western series ever, Wagon Train dominated ratings on both sides of the Atlantic on its initial release. In Britain it was in the top ten from 1958-60. (The Labour Party leader wanted the General Election of 1959 held on a day when Wagon Train wasn't screened, in case it kept his voters at home.) In 1962, the series expanded to 90 minutes and was shot in colour. Somehow, Wagon Train wasn't the same. However, the classic shows are still shown on television.
Wagon Train, Keep on rollin'...
Bonanza
1959 - 1973. 430 52-minute episodes.
Starring:
Ben Cartwright - Lorne Greene
Little Joe Cartwright - Michael Landon
Eric 'Hoss' Cartwright - Dan Blocker
Adam Cartwright - Pernell Roberts
Hop Sing - Victor Sen Yung
Sheriff Roy Coffee - Ray Teal
Candy - David Canary
Dusty Rhoads - Lou Frizzel
On 12 September 1959, the Bonanzaland map flamed across the American nation's television screens for the first time. Set in Virginia City, Nevada, during the Civil War years, Bonanza was the first of the 'family formula' Westerns, more saddle soap than violent actioneer, and told the tale of the upright, prosperous Cartwright clan, owners of the thousand-mile square Ponderosa ranch (named after its Ponderosa Pines).
Canadian actor Lorne Greene was plucked from an episode of Wagon Train for the role of Ben Cartwright, thrice-widowed patriarch of an all-male family of three sons. The boys that Pa Cartwright had to raise single-handed were half-brothers, each the son from a different marriage. Pernell Roberts, demanded by the network for his Marlon Brando-esque acting style, played oldest son Adam; Dan Blocker, an ex-school teacher from Texas, played 21-stone gentle giant Eric 'Hoss' and Michael Landon played youngest son Joe.
The story of Ben Cartwright's three marriages was told out in flashbacks: Adam was born in New England to Ben's first wife Elizabeth, Hoss was the son of second wife Inger, a woman of Norwegian extraction killed by Indians. Little Joe was the son of Marie, who died as a result of a fall from a horse. Other regulars included Hop Sing, Sheriff Roy Coffee, wanderer Mr Candy who was hired as a ranch hand in the 1967-68 series, and when he left three years later, Ben's friend Dusty Rhoads.
The four Cartwright men lived for each other, protecting their land, helping the helpless and fighting corruption while Pa Cartwright, owner of the largest expanse of land in Nevada territory, also played the guardian of Virginia City. A host of passers-through meant that most of the episodes revolved round guest stars, who varied from misfits, misunderstood vagabonds or historical characters such as Samuel Langhorne Clemens. There was also plenty of comedy, especially when Little Joe and Hoss got together.
From the outset, Bonanza had a high standard of camera work and a distinctive look established mostly by the high-quality directors that worked on the show. Robert Altman, especially, gave the show's large-scope look an even more impressive sheen.
In March 1988, the syndicated TV movie Bonanza: The Next Generation continued the Cartwright saga with a new cast: John Ireland as Aaron, the late Ben's brother; Barbara Anderson as Annabelle, the wife of Little Joe (who was killed in the army) and Josh, Hoss's illegitimate son.
The Westerner
1960. 13 25-minute episodes.
Starring:
Dave Blassinghame - Brian Kieth
Burgandy Smith - John Dehner
The story of Dave Blassinghame, a working but wandering ranch hand in the American Southwest of the 1890s, helping out pioneers in their troubles. Intelligent, devoid of clean-cut heroes and easy gunplay, The Westerner was unlike almost any other Western show of its day. Essentially a character study of a cowboy set against a bitterly realistic period backdrop, the series was beautifully, even lyrically, shot.
In retrospect, the special quality of The Westerner should be no surprise for it was the creation of Sam Peckinpah, the most talented of the directors to come up through the mill of the '50s TV Western. Not only did Peckinpah write, produce and direct much of the Westerner, he was also responsible for the inspired casting of the burly but sensitive Kieth as Blassinghame, a hombre who was tough but inclined to muse on the complexities of life.
For viewers in 1960, however, the series was 'too adult', and minimal ratings ensured its death after just one season. It was buried in the vault of obscurity, and sadly has never been show in Britain.
The Western Today - Where to Find Out More
The Western is a bit more of a specialist topic nowadays, but you can still buy episodes on tape and there are plenty of books and resources available to feed your hunger for more.
Check out the Fifties Western Web site, which is one of the most compendious Western sites out there, and includes information on over 30 Westerns.