Pie Recipes
Created | Updated Jan 9, 2019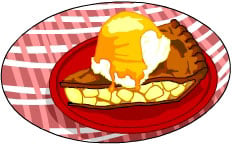 Don't go into Mr McGregor's garden: your father had an accident there, he was put into a pie by Mrs McGregor.
- Beatrix Potter, The Tale of Peter Rabbit
Ahhh... pies! Lovely hot pies! There's something filling, homely, steaming and scrumptious about pies, with their crispy, flaky pastry and rich, warming fillings. You see, implicit in the cry of 'Who ate all the pies?' sung by many a belligerent football fan directed at an 'overweight' target of their choosing, is the notion that pies are irresistible, being snapped up quickly and greedily scoffed, such is their maddening appeal. Sure, they make you fat if you eat too many of them, but when you're tired and hungry, the pie is king of the dinner table!
We'll kick off this entry, then, with three scrumptious pie recipes, each having a distinct Southern US flavour:
Buttermilk Pie - Very like a cheese pie, but richer and creamier.
Pecan Pie - Very simple, but delicious. Pecans, honey, sugar, and pie crust. Just one slice is 550 glorious calories!
Sweet Potato Pie - Tastes a little like a pumpkin pie, but has a much smoother, silkier texture.
Buttermilk Pie
Ingredients
1/2 cup margarine, softened
2 cups white sugar
3 tablespoons all-purpose flour
1/4 teaspoon salt
3 eggs
1 cup buttermilk
1 teaspoon vanilla extract
1 9" deep dish pie crust
Method
Preheat oven to 400° (200°C)

In a large bowl, cream margarine and sugar. Beat in flour and salt. Blend in the eggs.

Stir in the buttermilk and vanilla and pour into pie shell.

Bake in the pre-heated oven for 15 minutes, then reduce temperature to 325°F (165°C) and bake 45 minutes, or until filling is set. When done, texture should be custard-like. Calories per serving: 444!
Pecan Pie
Ingredients
1 1/2 cups all-purpose flour
1/2 teaspoon salt
2 tablespoons white sugar
1/2 cup butter, chilled
4 tablespoons ice water
3 eggs, beaten
3/4 cup light corn syrup
2 tablespoons dark corn syrup
3/4 cup light brown sugar
3 tablespoons butter, melted
1 pinch salt
1/2 cup pecans, finely crushed
1 cup pecans, quartered
1 cup pecan halves
Method
Before doing anything, pre-heat the oven to 350°F (175°C).
To make the crust:
In a medium bowl, combine flour, salt and white sugar.

Rub butter into flour mixture until it resembles coarse crumbs.

Gradually sprinkle the water over the dry mixture, stirring until dough comes together enough to form a ball. On a floured surface, flatten dough ball with rolling pin.

Roll it out into a circle that is one inch larger than pie dish and place pie shell into dish and refrigerate until pie filling is complete.
To make the pie filling:
In a medium bowl, mix together eggs, light and dark corn syrups, brown sugar, butter, salt and finely crushed pecans. Spread quartered pecans over bottom of refrigerated pie crust. Pour syrup mixture over top of pecans, then arrange pecan halves on top of pie.

Bake in a pre-heated 350 degrees F (175 degrees C) oven for one hour or until firm; let it cool for one hour before serving. Calories per serving: 550!
Sweet Potato Pie
Ingredients
2 cups cooked and mashed sweet potatoes
2 eggs
1 1/4 cups evaporated milk
3/8 cup white sugar
1/2 teaspoon salt
1/2 teaspoon ground cinnamon
1/2 teaspoon ground nutmeg
2 tablespoons rum
4 tablespoons melted butter
1 (9 inch) unbaked pie crust
Method
Pre-heat oven to 425°F (220°C).

Into food processor, put sweet potatoes, evaporated milk, sugar, salt, cinnamon, nutmeg, rum, eggs and butter or margarine. Blend until smooth and then pour into pie shell.

Bake for 10 minutes in preheated oven. Reduce heat to 300°F (150°C). Bake for about 50 minutes more, or until the filling is firm.
Now, my mom never used rum in her sweet potato pie, and I don't remember her putting any nutmeg in there either. Eagle Brand evaporated milk is a favourite with my family, but it's not available in the UK... I think. For those US residents, here's the Eagle Brand official sweet potato pie recipe.
Eagle Brand Sweet Potato Pie
Ingredients
1 (1lb) or 2 medium sweet potatoes, cooked and peeled
1/2 cup margarine (softened)
1 (14oz) can Eagle brand condensed milk
1/4 cup orange-flavoured liquor or 2 tsp grated orange rind
1 tsp ground cinnamon
1/2 tsp ground nutmeg
1/4 tsp salt
1 (9") unbaked pastry shell
2 eggs (slightly beaten)
Method
Preheat oven to 350°. In a large mixing bowl, mash yams with margarine, add remaining ingredients except the eggs and beat until the mixture is smooth and well blended.

Stir in eggs. Pour in pie shell. Bake for 50 to 55 minutes. Cool. Refrigerate the leftovers.
Huckleberry Pie
Huckleberry is a misnomer. It is actually a wild berry native to the Rocky Mountains and the northwestern United States. It is wonderfully tart and pungent and is a distant cousin to the humble blueberry. If you are ever so lucky to come across the huckleberry pie, you're bound to relish its intense tangy flavour. This recipe can also be used for blueberry pie.
Ingredients
4 cups huckleberries
1 cup sugar
1/4 teaspoon nutmeg
1/4 teaspoon cinnamon
3 tablespoons lemon juice
3 tablespoons corn starch, flour, or tapioca pearls
Method
Make your favourite pastry first (see directly below). Pre-heat the oven to 350° Fahrenheit.

Mix all of the filling ingredients in a bowl. If the berries were frozen or are extra juicy, be sure to add more thickener (corn starch, flour, tapioca).

Roll your crust out and pour the filling atop the bottom crust in your pie pan. Dot with butter to prevent the filling from bubbling over and put the top crust on.

Brush a little milk and sprinkle some sugar on the top to make a glossier finished pastry. Be sure to vent the top crust by making a decorate pattern with a fork or small knife.

Bake for 45 minutes or until golden brown.
Pastry
Each kind of pie has it's own 'ideal' kind of pastry. The standard is, of course, shortcrust pastry, although that nasty 'flaky' pastry is all too common. Personally I'd like to see more (savoury) pies with suet crust pastry. I expect it's fattier, but it has a lovely texture. And then there's filo pastry and even choux-pastry (although you wouldn't use that for a pie).
To follow - a really good shortcrust pastry recipe (using American measurement terminology:
Ingredients
2 cups flour
1 teaspoon salt
1 teaspoon sugar
2/3 cup plus 2 tablespoons vegetable shortening, lard, or butter
4-5 tablespoons ice cold water
Method
Mix the flour, salt, and sugar together with a fork. Add the butter/shortening/lard in small chunks and mix with a pastry blender until it has a clumpy meal-like texture. Leave some of the butter chunks whole - it will make a flakier pie crust!

Add the water in small amounts until the mixture just comes together. Be careful because you may not have to use all the water. If you do, and it is too gooey, just add more flour until it becomes workable again. Use with any of your favourite fillings. If you use this recipe for a savoury filling, omit the sugar.
Tips for Decorating Pies
Get one of those pie stampers. They look a lot like big pie-sized circles with many cookie cutter holes in them. Some times it will be some stars, or some Valentine hearts, or even a message! Then when you have your top layer of crust rolled, use the pie cutter on it. The result will be a pie with neat shapes cut into the crust. They also work as the steam holes, but look a lot nicer than fork marks! If you don't have/can't find a pie cutter, use a cookie cutter or two in the same manner. It gives the pie a very unique look.
Some general tips on working with pastry:
Refrigerate any pastry after mixing it for at least 20 minutes. It will prevent the butter or fat from melting (thus making the pastry less flaky) and will make it easier to work with.

Flour the surface you will roll it on and lightly dust your hands and the rolling pin with flour.

Always roll from the centre of the dough to avoid making the edges too thin and easier to crack or crumble away. Also, learn to work quickly. This will prevent the body heat emanating from your hands from, again, melting the fats or making the pastry sticky.

To transfer the rolled-out dough from the kitchen countertop or table top without breaking or cracking fold the dough in half and then fold it again using a flat pastry knife or thin spatula.

Lift the folded pastry into your pie plate and unfold.
Quick and Easy Pie
All this basic pie requires is:
Crusty pastry that crumbles in your mouth
Some kind of gravy
A meat or vegetable (or both) filling
To make the pastry:
Get some Pastry out of the freezer. You can buy pastry ready made from your local supermarket and it is usually as good if not better than anything you could make at home. With most freezable pastry you can microwave for a few minutes to defrost. Just follow the instructions on the packet. Puff pastry tastes nicest, but takes ages to defrost, so only use it if you can plan in advance.

Get a big metal tray that's nice and deep and coat with a thin layer of butter. Line the greased up tray with pastry, not to thick mind. Once the filling is in you can place a pastry lid on top. Pinch round the sides to stick them together then brush milk around the edge - this is supposed to hold the pastry together.
To make the filling:
So what do you want in your pie? Mince, Chicken, Potatoes, Onions? Sounds good! Put whatever you want in a large saucepan and cook for a bit. The meat doesn't have to be over cooked, because it will cook inside the pie as well. Basically cook it however you want, then it's almost ready to be added to the pastry.
To make the gravy:
Drain any juices in the filling mixture into a separate sauce pan. Now put a suitable stock cube (or two if your feeling daring) into boiling water and mix it up a bit so the stock cube has fully dissolved. Now add it to the juices.

Here's the harder bit - get some corn flour and add it to a bit of cold water in a mug and stir it until it's a thick and creamy solution. You can do the same with normal flour if there isn't any corn flour.

Now add the thick mixture to the pan and stir it well. If you get the consistencies right it should work. If you don't, simply add more corn flour, or something else to make it thick.
To make the pie:
Now add the mixture into the pastry. And the gravy on top. Make a lid, as discussed above. Now prick the lid so the expanding air inside can escape.

Put your lovely pie in the oven and turn it on (the oven, not the pie). What you can do is to have it quite high then check on it every other minute, just in case. When it looks just about done and the smells are wafting through to your front room, tantalising your taste buds, take it out the oven and place on the side for a bit and wait for it to cool down.
Taking the pie out if the case is very hard. Usually I simply turn the case upside down and shake it onto a plate. The advantage with this is that you can put it back in the tray with ease and then in the oven if the bottom is still uncooked.
Now you may reap the spoils of your work by eating the pie. In one go.
Shepherd's Pie
Shepherds' pie has to be up there with the best of them. People would dispute it's pie-ish heritage but, oh no, not we...
Ingredients
As much lamb mince as you think you could possibly need
An onion - size depends entirely on how many you're planning on feeding
A knob of butter
Tomato purée
Salt and pepper
Potatoes
A glug of milk
Method
Chop the onion and then in a casserole dish melt the butter and soften the said onion.

Add the mince to the pan and brown all the way through. Cover the dish and let the lamb bubble away in its own juices, stirring occasionally. This can take some time.

When the lamb has browned thoroughly and the juices have reduced, add a good slug of tomato purée as well as a good slurp of Tommy K (tomato ketchup), a healthy glug of Lea and Perrins' (Worcestershire sauce) and stir rigourously.

Add salt and pepper to taste. You'll probably need to add more salt than you'd think - lamb mince can taste incredibly bland.

While doing the above you should peel and chop enough potatoes (about three medium/small tatties per person, plus one for the pot, to be sufficient - depends how think you want your mash!) and boil them until they fall apart without much persuasion. Don't over boil them as then they don't mash properly.

Once cooked, drain them, and mash vigourously, stirring in a knob of butter, as much milk as is necessary to make 'light fluffy peaks' and salt and pepper to taste.

Cover the mince in the casserole dish with the mash and bung in the over for 20-30 minutes until warmed through and golden brown on top. Serve with a green (Broad beans, cabbage, broccoli) and relish.
Artichoke Pie
Here's a good, quick one that's really a quiche. Oh well... it all goes down the same way.
Ingredients
9" ready made pie crust
1 can drained artichoke hearts/pieces (cut to bite size if needed)
5 eggs
1 can black olives (diced)
A handful of grated mozzarella cheese (or flavour of your choice - if soft)
1/2 medium tomato chopped
A handful (more or less to taste) of chopped onion
Dash of salt
Dash of pepper
Any other dried spices you like (basil, dill, thyme, etc) - a shake or two to taste
Method
Beat eggs in large bowl.

Add all other ingredients and stir well.

Pour into pie crust

Bake at 350° Fahrenheit for about 40 - 45 minutes or until top is golden brown and knife stuck in centre comes out fairly clean (it can be juicy, but not have lots of egg on it)

Let pie rest for about 5-10 minutes and then serve
Another Great Pumpkin Pie Recipe
When I made this I burnt it, but it tasted good anyway; so in better hands than mine, it should be great.
When choosing a pumpkin, do not use the large, bright orange ones that are traditionally used for Jack-o-Lanterns. Use the smaller 'sugar' pumpkin, the brownish-orange 'cheese' pumpkin (the shape is like a wheel of cheese), or some other sweet, orange-fleshed winter squash. In fact it seems that the terms 'pumpkin' and 'squash' vary in meaning from place to place, and what you get when you buy canned pumpkin is rarely what an American calls 'pumpkin', so take the term lightly. The important part is that it should smell good before you cook it.
The cheese pumpkin I used smelled like a melon when I cut it open, and took on a more pumpkiny flavour when cooked.
Ingredients
3 cups puréed pumpkin
1 1/2 tsp salt
3/4 tsp allspice
3/4 tsp ground cloves
3/4 tsp nutmeg
6 eggs
1 1/2 cup honey
3/4 cup milk
3/4 cup heavy cream
Method
Cut open the pumpkin and scrape out the seeds and stringy part of the flesh, then bake at 325° F for about 45 minutes to an hour.

When it cools, scoop the flesh off of the skin and purée it.

Blend all of the ingredients together, put in two 9" pie shells (crust on the bottom only) and bake at 350°F for about 50-55 minutes.
1Note from the Editor: 'We think the reference to 'hon he hon he hon' was this Researcher's particular way of conveying a sense of French culinary flair. Notwithstanding the fact that 'hon he hon he hon' sounds more like a pig than it does a French chef, we've decided to keep it in. Mind now, and enjoy your pies!'