George Harrison - a Tribute
Created | Updated May 15, 2012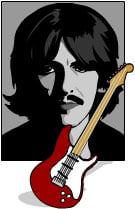 On Friday 30 November, 2001, George Harrison died.
Youth
George, famous for being the best guitarist in The Beatles, yet always in John and Paul's shadow, was born in Wavertree, Liverpool on 25 February, 1943, living there until he was five, when the family moved to a council house in Speke, not far from Paul McCartney.
It was when he was being treated in Alder Hey Hospital for inflamed kidneys when he was 13 that he was given his first guitar; his mother, Louise, bought him a second-hand one for £3 10s (£3.50). From that moment on, he was guitar-obsessed, and while at Liverpool Institute School with Paul McCartney, he would spend more time drawing pictures of guitars in his schoolbooks than learning his lessons, and was described as a 'scruffy rebel'. He left school with no 'O' Levels, and worked as an apprentice electrician at Blackler's Department Store. Despite this, he kept in touch with Paul McCartney.
The Quarrymen
On Saturday 6 July, 1957, Paul McCartney met John Lennon when he was playing with the Quarrymen at St Peter's Parish Church fête at Woolton, where Paul McCartney not only impressed John with his guitar playing and the lyrics to Eddie Cochran and Gene Vincent songs, but also tuned John Lennon's guitar, something John did not know how to do. John asked Paul to join, and Paul then introduced George to the group. However, as George was two-and-a-half years younger than John, he was initially treated only as a fill-in when one of the band regulars couldn't make it. George persisted, and eventually, after teaching John more guitar skills ('he didn't really know how to play the guitar... I put the six strings on and showed him all the chords'), he became a fully-fledged member of the band.
By 1959, though, the band was beginning to fall apart after an argument with their initial drummer Colin Hanton. For most of 1959, between 24 January and 29 August, the Quarrymen did not exist. George played with other groups, especially the Les Stewart Quartet, and it was him who saved the Quarrymen, and therefore The Beatles, from oblivion: on 29 August, 1959, at the Casbah Coffee Club in Liverpool, the Les Brown Quartet broke up when Les Stewart and Ken Brown, the bass player, had a fierce argument. Brown desperately asked George if he could find someone to help out, and George rounded up Paul and John, and the Quarrymen played again (although Ken Brown stayed in the Quarrymen for only six weeks). They played at the Casbah Club until 24 June, 1962.
The Birth of The Beatles
If you had to be in a pop band it might as well have been the Beatles.
The story of the Beatles' rise to fame through Liverpool, Hamburg, England and the World is well known. By the 16 August, 1960, after a final name change to The Beatles, the group had arrived in Hamburg. There they played from 8pm - 2am each weekday night, from 7pm - 3am on Saturdays and 5pm - 1.30am on Sundays until the 4 October, when they played split-shifts with Rory Storm and the Hurricanes, a band whose drummer was Ringo Starr.
On Monday, 21 November, however, George Harrison was deported from West Germany because, being 17, he was legally too young to be in, let alone work in, a nightclub after midnight. However, in 1961 he turned 18, and so by April Fools' Day 1961, he had returned to Hamburg. George once described his Hamburg days as really what formed the Beatles, saying:
Before we went there we didn't have a clue. We'd never really done any gigs. We'd never had a drummer for more than one night. We were ropey, just young kids. It was there we found our voice as a band. At first we just played our heroes like Little Richard and Chuck Berry, but when you've got eight hours to fill you learn to expand.
It was in Hamburg in June that they made their first record, backing Tony Sheridan on a recording of 'My Bonnie', with George playing the opening lead guitar. It was this record that brought them to the attention of Brian Epstein, and eventually, George Martin. George Harrison also encouraged the others to replace Pete Best, their drummer at the time, with Ringo, and had even visited Ringo's parents in order to determine if this was likely. When Pete Best was officially replaced on 16 August by Ringo, it was George who was given a black eye by an annoyed fan. But on Friday 5 October, 1962, their first single was released, 'Love Me Do', the start of the Beatles' career.
The Boom of The Beatles
The usual thing was we'd do 14 of their tunes and then they'd condescend to listen to one of mine.
For George, the Beatles were a mixed blessing. In many ways, he felt sidelined in comparison to Paul McCartney and John Lennon. Of the 22 singles released in the UK, each containing two songs, only three of the 44 were George Harrison compositions. The first of which, 'The Inner Light' was released as a B-side on 15 March, 1968, five years after the first George Harrison song, 'Don't Bother Me' was released on the album With The Beatles. His second, 'Old Brown Shoe', was released on 30 May, 1969, as the B-side to 'The Ballad Of John and Yoko'. Only one of his songs, 'Something', described by Frank Sinatra as the greatest love song ever written, was released as a single in October 1969. It was a well-deserved number one.
It was George who, by playing the sitar on 'Norwegian Wood', was the first person to play a sitar on a pop record.
George also often felt resentful at the group's decision to stop playing live after 1966. Although he fully supported the idea that The Beatles should become a studio band, as he couldn't stand playing shows where he was unable to hear himself play over all the screaming fans, he later regretted the way that the fans had forced this decision on him.
I stopped working live at 23. I was just getting good when I was forced into an early retirement. If I'd've stayed at it for another few years I could have been a real challenge to Eric Clapton and Gary Moore. You can't practise guitar if you're just sitting at home on your own.
This frustration came to a head on Friday 10 January, 1969, during the Get Back sessions. Paul McCartney and John Lennon were having a bitter argument, and George Harrison, fed up, left the group. George Harrison later described the Get Back sessions as 'the low of all time'.
On Wednesday 15 January, George had a five-hour meeting with the other three and said he would return to the Beatles if they made an album and not a live performance, and also move from Twickenham Film Studios into the Apple Building. The Apple recording sessions were a lot happier than at Twickenham, mainly because Billy Preston, a talented pianist, was there; he encouraged everyone to act on their best behaviour. The Beatles had met Billy Preston in Hamburg in 1962, where he was in Little Richard's backing group.
When it was decided that their final performance together would be a concert on the roof of the Apple Building on Thursday 30 January, both George and Ringo were unwilling to perform, and were forced into it by John and Paul. Of the 11 songs performed on the roof, George Harrison only sang once, on 'I've Got A Feeling'. By April 1970, the Beatles had split up.
Harrison Songs on Beatles Albums
| Song | Album | Year Published |
| --- | --- | --- |
| 'Cry For A Shadow'1 | Tony Sheridan And The Beatles | 1961 |
| 'Don't Bother Me' | With The Beatles | 1963 |
| 'I Need You' | Help! | 1965 |
| 'You Like Me Too Much' | Help! | 1965 |
| 'Think For Yourself' | Rubber Soul | 1965 |
| 'If I Needed Someone' | Rubber Soul | 1965 |
| 'Taxman' | Revolver | 1966 |
| 'Love You To' | Revolver | 1966 |
| 'I Want To Tell You' | Revolver | 1966 |
| 'Within You, Without You' | Sgt Pepper's Lonely Hearts Club Band | 1967 |
| 'The Inner Light'2 | Past Masters: Volume 2 | 1988 |
| 'While My Guitar Gently Weeps' | The Beatles: The White Album | 1968 |
| 'Piggies' | The Beatles: The White Album | 1968 |
| 'Long, Long, Long' | The Beatles: The White Album | 1968 |
| 'Savoy Truffle' | The Beatles: The White Album | 1968 |
| 'Only A Northern Song' | Yellow Submarine | 1969 |
| 'It's All Too Much' | Yellow Submarine | 1969 |
| 'I Me Mine' | Let It Be | 1970 |
| 'For You Blue' | Let It Be | 1970 |
| 'Old Brown Shoe'3 | Past Masters: Volume 2 | 1988 |
| 'Something' | Abbey Road | 1969 |
| 'Here Comes The Sun' | Abbey Road | 1969 |
Family Life
It was while filming A Hard Day's Night that George met Patti Boyd, who was playing a schoolgirl on the train during the 'I Should've Known Better' sequence. Before that film, she had only appeared in adverts for Smith's Crisps, directed by Richard Lester, who directed A Hard Day's Night and Help!. They married in 1966, and many of George's love songs were written for her. It was Patti who introduced the Beatles to the Maharishi Mahesh Yogi. Eric Clapton, one of George's best friends, also loved Patti, and wrote 'Layla' and 'Wonderful Tonight' for her. After 11 years together, George and Patti divorced, and in 1979 Patti married Eric - George went to the wedding. Eric and Patti divorced five years later.
George Harrison later found love again with Olivia Arias, who worked in the Los Angeles office of his record company, Dark Horse. They married in 1978, a month after their son Dhani was born, and stayed together until his death.
After The Beatles
Music
The biggest break of my life was getting into the Beatles. The second biggest break since then was getting out of them.
After the Beatles split up, George Harrison was, at first, the most successful Beatle. His triple album All Things Must Pass, showed straight away what he was able to do when out from John and Paul's shadow. Sadly, this success didn't last long, as the copyright owner of Lonnie Mack's song 'He's So Fine' which was a number one hit for the Chiffons in 1964, successfully sued George Harrison - the music of 'My Sweet Lord' was too similar to the Lonnie Mack song. He was convicted of unintentional plagiarism. His record company initially rejected his album Somewhere In England for not being good enough, and he was also sued for not finishing one of his albums on time.
In 1971, George Harrison organised two concerts in Madison Square Garden to help the people suffering from the war in Bangladesh, the first star to use music and celebrity to help feed the starving, with artists including Ringo Starr, Bob Dylan, Leon Russel, Eric Clapton, Billy Preston and Ravi Shankar. This work continued with his Material World Foundation.
Despite The Beatles having broken up, he still performed with the other members of the band. He played on Ringo Starr's first and second singles, 'It Don't Come Easy' released in April 1971, and 'Back Off Boogaloo' in March 1972. He also played on several tracks on John Lennon's 1971 album Imagine: 'Crippled Inside', 'I Don't Wanna Be A Soldier Mama, I Don't Wanna Die', 'Gimme Some Truth' and 'How Do You Sleep?'. It was not until 1995, with the Beatles Anthology project, that he again performed with Paul McCartney.
George's career blossomed in the late 1980s, not only when he formed the super-group The Traveling Wilburys, with Bob Dylan, Tom Petty, Jeff Lynne and Roy Orbison, but also in 1988 with his hit solo single 'Got My Mind Set On You'. Sadly, this period ended shortly after Roy Orbison's death. Since then, his only musical contributions came with his tour of Japan, and his contribution to the Beatles Anthology project, on 'Free As A Bird' and 'Real Love'.
Solo Albums
Wonderwall Music (1968)
Electronic Sound (1969)
All Things Must Pass (1970)
Living In The Material World (1973)
Dark Horse (1974)
Extra Texture: Read All About It (1975)
The Best Of George Harrison (1976)
Thirty Three And 1/3 (1976)
George Harrison (1979)
Somewhere In England (1981)
Gone Troppo (1982)
Cloud Nine (1987)
Traveling Wilburys: Volume 1 (1988)
Traveling Wilburys: Volume 3 (1990)
Live In Japan (1992)
Films
In 1979, when Bernard Delfront (Monty Python's financier for Life of Brian) pulled out, George Harrison mortgaged his house and risked his fortune to sponsor the film, which turned out to be not only a success, but one of the funniest films ever made. George even appeared in a brief cameo role. After this success, George formed a film production company, and, throughout the 1980s, went on to sponsor 25 more British films, including The Long Good Friday (1980), Time Bandits (1981), A Private Function (1984), Mona Lisa (1986), and Withnail And I (1987).
The Last Few Years
The last five years of George's life were a fight against cancer caused by smoking.
In 1997, George Harrison was first diagnosed to have cancer, when a lump was found in his neck. The growth was removed at the Princess Margaret Hospital in Windsor, and George recovered after weeks of painful chemotherapy at the Royal Marsden Hospital in London. In 1998, he was again diagnosed as having throat cancer, which he overcame again.
On 30 December, 1999, came the knife attack, when in the early hours, Michael Abram, a heroin-addicted schizophrenic, broke into his house and stabbed him in the chest, puncturing his lung. George was saved only when his wife defended him by hitting the attacker with a lamp and a poker.
Soon after, he was found to have developed lung cancer. The growth was removed, including half his lung, in an operation in March 2001. He was then diagnosed as having a brain tumour, and was treated at a clinic in Switzerland with two months of aggressive chemotherapy, followed in November by radiotherapy treatment in Staten Island University Hospital, New York. Sadly, people suffering from brain tumours after having lung cancer rarely live more than five months; not unexpectedly, at the age of 58, George Harrison died, with his wife and son beside him.
He was cremated at a private ceremony hours after his death, and, in accordance with the teachings of Krishna, the ashes were scattered in the holy river of Yamuna.
Legacy
George left a sizeable legacy of music to the world: as well as the Beatles albums, there were his solo albums and Travelling Wilburys albums left. The last album he recorded, 'Brainwashed', was released in November, 2002. The last song he recorded, 'Horse To The Water', can be found on the Jools Holland album Small World, Big Band.
On 14 January, 2002, George Harrison's most famous solo single, 'My Sweet Lord', was re-released, getting to number one in the charts almost 31 years to the day after it was a number one hit back in 19714. Then it stayed at number one for five weeks. The money went to the Material World Charitable Foundation, which Harrison established in 1973.
In November, 2003, a tribute album was released entitled 'Concert for George'. This featured mainly songs written by Harrison and performed by Jeff Lynne, Anoushka Shankar, Eric Clapton, Gary Brooker, Joe Brown, Tom Petty and the Heartbreakers, Dhani Harrison, Billy Preston, Ringo Starr and Paul McCartney.
Related h2g2 Articles
1 An Instrumental co-written with John Lennon.
2First released as the 'Lady Madonna' single B-Side 1968.
3First released as the B-Side of the single 'The Ballad Of John And Yoko' 1969.
4'My Sweet Lord' knocked Aaliyah's 'More Than a Woman' off the top spot in the UK charts. Aaliyah died in a plane crash in August, 2001, and this was the first time in chart history that one posthumous number one had been replaced by another.