'Porridge' - the TV Series
Created | Updated Dec 20, 2005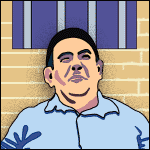 Norman Stanley Fletcher... You have pleaded guilty to the charges brought by this court, and it is now my duty to pass sentence.

You are an habitual criminal who accepts arrest as an occupational hazard and presumably accepts imprisonment in the same casual manner... We therefore feel constrained to commit you to the maximum term allowed for such offences. You will go to prison for five years.
- The opening narration, as voiced by Ronnie Barker
So began one of the best British comedy series of all time - Porridge. Detailing the lives of criminal Norman 'Fletch' Fletcher and his fellow inmates in HM Slade Prison, the series ran for three years and enjoyed a number of successful repeat runs as well as a spin-off series and theatrical feature film. It also helped consolidate its star, Ronnie Barker, as one of British TV's best-loved funny men.
Origins of the Series
Ronnie Barker was already a familiar face to British TV audiences by the time Porridge came to their screens. A regular on shows like The Frost Report (a satirical news show fronted by David Frost) and, with comedy partner Ronnie Corbett, one half of The Two Ronnies1, Barker displayed a knack for accents and unparalleled comic timing. As part of the deal in poaching Barker from LWT (a division of the ITV network), the BBC lined up a number of projects for him, which included Seven of One, a series of seven stand-alone half-hour plays.
Seven of One
Seven of One was an attempt to find a new sit-com for Ronnie Barker. The idea was that each of the seven plays might work as a pilot2 for the new series. Executive producer James Gilbert set about commissioning scripts from writers he thought might produce suitable concepts for a potential series. In among the selected batch was Open All Hours, a script by Roy Clarke (creator of the BBC comedy Last of the Summer Wine3) about a stuttering shop-keeper, two from writing duo Dick Clement and Ian La Frenais4 - one about a criminal being escorted to prison, another about a family of gamblers - and One Man's Meat from Barker himself (writing under the pseudonym 'Jack Goetz'). Clement and Le Frenais' prison idea particularly appealed to Barker - he'd wanted to do a prison series for some time, though his natural inclination was to make it more farcical than Clement and Le Frenais' more factual concept. Entitled Prisoner and Escort, the idea would be to have Barker as a recidivist thief on his way to prison, escorted by two prison wardens, one kindly and forgiving, the other cynical and strict. For the roles of the prison wardens who would escort Barker's criminal, well-known character actors Fulton Mackay (no doubt inspired by the name of the character he would play) and Brian Wilde were chosen.
Prisoner and Escort
New Year's Eve. Having been sentenced to five years in jail, Norman Stanley Fletcher is in a prison van en route to HM Slade Prison in the north of England. His companions on the journey are prison warders Mackay and Barrowclough. Whereas Mackay is a strict, disciplinarian who barks orders like a sergeant major, Barrowclough is a gentle, forgiving man who prefers a 'softly softly' approach.
Claiming to be in need of a toilet, Fletcher is instructed to relieve himself round the side of the van, and he takes the opportunity to urinate into the van's petrol tank. As Fletcher expected, this sabotages the van and they are soon stranded on the windy moors. While Mackay goes to find help, Fletcher remains hand-cuffed to Barrowclough. Fletcher manages to convince the trusting Barrowclough that they might be at risk of freezing to death and so warden and prisoner go in search of shelter for the night, eventually finding a deserted cottage. Fletcher manages to play on the gullibility of his captor and persuades him to release the handcuffs. Once Barrowclough has fallen asleep, Fletcher makes a break for freedom. After roaming the moor through the night, he finds a remote cottage and breaks in - only to discover he's gone full circle and ended up where he left off. Under the belief that Fletcher has been there all night, Barrowclough is pleased to find his faith in human nature undisturbed while Fletcher prepares himself for the beginning of his five-year stretch.
The Series
Prisoner and Escort was broadcast on 1 April, 1973, placed second in the series after Open All Hours. Well-received by all, the production team discussed which of the seven plays might make the best full series. Both of Clement and La Frenais' ideas were on the table, but it was felt only Prisoner and Escort had enough room for expansion5. There was only one problem - the writers themselves were not convinced they could write a comedy about being inside a prison. James Gilbert introduced the writers to Jonathan Marshall, who had recently written a book entitled How to Survive in the Nick (a slang term for 'prison'). Marshall explained to them the routine of prison life as well as the language of the prisoners themselves - terms such as 'screw' to describe a warden, 'snout' for tobacco, etc. It was also Marshall's use of a certain phrase that shaped the series and gave Clement and La Frenais the inspiration they needed to make the show funny. Marshal described how prisoners tend to keep themselves going by looking for the 'little victories' each day, little things like getting extra helpings of food, managing to get an easy job for their prison tasks or just winning at cards. These 'little victories' would be what the show would be about.
Trying to find a title for their show, Clement and La Frenais considered 'Stir' and 'Inside' before settling on Porridge - slang for a prison term (so called because of the porridge-like gruel that used to be fed to prisoners in Britain). Coincidentally, Ronnie Barker had also come up with the same name, which must have made them feel as if the title was fated to be.
The Characters
Joining the characters established in Prisoner and Escort would be a seemingly unexciting, yet vital, role - Lenny Godber. The writers realised that they would need to explain the lifestyle of the prisoners to the audience. Having two old timers as the main characters might make any explanations seem fake or forced, so they decided to create a character who needed things explaining; Lenny Godber would be a young first-timer placed in Fletcher's care. It would fall to Fletch to show Lenny how to survive in prison and how to get the most of his time there, how to score those 'little victories' that Jonathan Marshall had mentioned. One of the best examples of this comes in the episode 'A Night In', where Fletch and Lenny talk after 'lights out'. Fletch's experience comes to the fore as he tries to cheer the spirits of his depressed young cellmate.
To play Lenny, Ronnie Barker had suggested Paul Henry - familiar to TV viewers as Benny from the soap opera Crossroads - but producer and director of the series, Sydney Lotterby, suggested the actor Richard Beckinsale, who had starred in the romantic comedy The Lovers. Beckinsale was a popular choice, bringing an honesty and believability to a difficult role.
The expanded cast also included Sam Kelly (who would later appear in the WWII comedy 'Allo, 'Allo) as the illiterate Warren, Christopher Biggins as the gay cook, 'Lukewarm' (so named because by the time he served up the evening meal it would be near-cold) and Peter Vaughan as Harry 'Grouty' Grout. Grouty represented the ever-present threat that the prisoners faced from each other. Mr Venables might have been the Governor, but it was the Godfather-like Harry Grout that ruled Slade prison. A vicious, intimidating man, he had his own cell and a network of informers who kept him in touch with everything going on in the prison. An illegal card game could not progress until Grouty had given his permission and stated his cut of the prize money.
An ironic twist of fate brought a new face to Slade Prison in the third series with the episode 'Poetic Justice'. Rawley is an elderly man (played superbly by the veteran actor Maurice Denham), but to Fletcher he is much more than that; he is the judge who sentenced Fletch to prison in the first place. Sentenced to three years after being found guilty of corruption, Rawley was later released after his appeal was accepted. The news comes as no surprise to Fletch, especially considering Rawley and the governor are old friends.
One of the cleverest - and most surprising stories came in series two with 'Happy Release' which saw the 63-year-old convict 'Blanco' (played under heavy make-up by the considerably younger David Jason6) released from prison after gaining a pardon for a crime he always maintained he didn't commit - the murder of his wife. Blanco had always claimed that it was his wife's lover who had murdered her and finally, after 16 years, the authorities believed him and granted him his freedom. Before he departs, Blanco tells Fletcher that it was true that he hadn't killed his wife, though - he reveals in confidence to a stunned Fletch - he did kill her lover.
After 20 episodes of the series (including two Christmas specials), Ronnie Barker decided to move on. The final episode saw Lenny released, leaving Fletch to serve out the rest of his sentence with a new cellmate. Lenny has one final bombshell for Fletch however - he's now dating Fletch's daughter, Ingrid!
The Cast
The Inmates
Ronnie Barker - Norman Stanley Fletcher
Richard Beckinsale - Lenny Godber
Sam Kelly - Warren
Christopher Biggins - 'Lukewarm', the Cook
Tony Osoba - McLaren
Peter Vaughan - Harry Grout
David Jason - 'Blanco'
Ronald Lacey - Harris
Ken Jones - 'Orrible' Ives
Brian Glover - Cyril Heslop
Maurice Denham - Judge Rawley
Ray Dunbobbin - Evans
The 'Screws'
Michael Barrington - Mr Venables, the Governor
Fulton Mackay - Mr Mackay
Brian Wilde - Mr Barrowclough
The Episodes
Written by Dick Clement and Ian La Frenais
Produced/Directed by Sydney Lotterby
Series One
'New Faces, Old Hands' (5 September, 1974)
'The Hustler' (12 September, 1974)
'A Night In' (19 September, 1974)
'A Day Out' (26 September, 1974)
'Ways And Means' (3 October, 1974)
'Men Without Women' (10 October, 1974)
Series Two
'Just Desserts' (24 October, 1975)
'Heartbreak Hotel' (31 October, 1975)
'Disturbing The Peace' (7 November, 1975)
'Happy Release' (14 November, 1975)
'The Harder They Fall' (21, November 1975)
'No Peace For The Wicked' (28, November 1975)
Christmas Special, 1975
'No Way Out' (24 December, 1975)
Christmas Special, 1976
'The Desperate Hours' (24 December, 1976)
Series Three
'A Storm In A Teacup' (18 February, 1977)
'Poetic Justice' (25 February, 1977)
'Rough Justice' (4 March, 1977)
'Pardon Me' (11 March, 1977)
'A Test Of Character' (18 March, 1977)
'Final Stretch' (25 March, 1977)
Going Straight
Though Ronnie Barker had decided to bring Porridge to a close, there was still enough enthusiasm for his character that a spin-off series was proposed which would show Fletcher newly-released from prison and trying to rehabilitate to society. In the final episode of the series, Fletcher acts as both best man and father of the bride when his daughter Ingrid marries his ex-cell-mate, Lenny Godber (played once again by Richard Beckinsale).
Lasting just six episodes and gaining very respectable ratings, Going Straight was, nevertheless, a pale reflection of the show that spawned it and a second series was not forthcoming.
The Episodes
Written by Dick Clement and Ian La Frenais
Produced/Directed by Sydney Lotterby
'Going Home' (24 February, 1978)
'Going To Be Alright' (3 March, 1978)
'Going Sour' (10 March, 1978)
'Going to Work' (17 March, 1978)
'Going, Going, Gone' (24 March, 1978)
'Going Off the Rails' (7 March, 1978)
Porridge - the Movie
A Black Lion Films/Witzend Production
Written by Dick Clement and Ian La Frenais
Produced by Ian La Frenais
Directed by Dick Clement
When Harry Grout begins to take notice of a celebrity versus inmates soccer match, Fletcher has cause to worry, especially when he and Lenny walk straight into the middle of an audacious escape bid. Finding themselves suddenly on the outside, Fletch and Lenny must do the unthinkable; attempt to break back into Slade Prison.
A successful transfer to the big screen, Porridge - the Movie, released under the alternative title Doing Time in North America, still has all the charm and wit of the original version, even though it was made some time after the TV show and its sequel had ended. The bonus of a real prison to film in, on location at Chelmsford, Essex (a 'luxury' the TV version had never had) and the return of the show's regular cast add to the sense that the show had never really been away. Sadly, Richard Beckinsale died of a heart attack before the film's release, aged just 31.
On The Rocks
As often happens with successful British shows, Clement and La Frenais were able to sell the format of Porridge to America in the form of On the Rocks, a 22-part sitcom for the ABC network. What was unusual about it though, was that after they had adapted the initial run of episodes, Clement and La Frenais were forced to write new ones for the American show, which - as they were working on both shows almost simultaneously - they then rewrote for the British version.
1A BBC sketch show that ran from 1971 - 1987. As well as the opening and closing segments, where the two Ronnies presented spoof news items, the programme invariably contained a monologue by Corbett in which he told a long-winded joke, a sketch where Barker gives a lecture that involved him juggling with the English Language and an instalment of the on-going serial for the series, such as 'The Phantom Raspberry Blower of Old London Town' (a Jack-The-Ripper spoof) or 'The Worm That Turned' (a gender switch satire where men are reduced to second-class citizens by over-domineering women). The show always ended with Corbett saying 'It's goodnight from me', followed by Barker adding '...and it's goodnight from him.'.
2Most shows start off with a 'pilot', a one-off test piece to show off the basic format to TV executives in the hope that they'll commission a new series. Sometimes, the pilot will be incorporated into the final show, or it will be remade to incorporate changes for the series. In Porridge's case, the pilot is not considered part of the 'official' run of episodes. For every series that reaches our screens, there are many more that never get past the pilot stage.
3A sitcom which first appeared on BBC television in 1973 about a trio of retired men who find their musings on life often interrupted by baths on wheels, runaway tractors and other bizarre incidents. Brian Wilde, who played the character 'Foggy' in the series from 1975 - 1997, also appeared in Porridge, as the kindly warden, Mr Barrowclough.
4Famous at the time for the immensely popular sitcom The Likely Lads, Clement and La Frenais later created Auf Wiedersehen Pet - the comedy drama series about builders who move from Newcastle to Germany in search of work.
5Roy Clarke's 'Open All Hours' would, however, eventually be expanded into a successful BBC series of its own, running from 1976 - 1985.
6David Jason would later star alongside Ronnie Barker in Open All Hours before heading the cast of another of Britain's most popular series, Only Fools and Horses.