Biscuit Recipes
Created | Updated Jan 9, 2019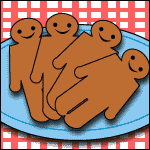 Home-made biscuits1 are one of those things that for the amount of effort you put into making them gives exponential pleasure to both the baker and the consumer. There are no disadvantages to baking your own. Just the physical activity of mixing ingredients and shaping them into rounds gives a sense of achievement, satisfaction and a warm home-baked glow. The aromas released are deliciously buttery, nutty and caramel-scented, and touch pleasure zones that nothing else can. Then there is the eating of them. It's hard not to eat two or three in one go, but if you can hang on to a plate of them until they're cool, there's no better accompaniment to a large pot of tea and a chat with several close mates. The murmured, full-mouthed noises of appreciation will make you feel much loved and valued as a dear friend.
More moorish than the shop-bought variety, this week's topic of the week is biscuit recipes. Get your pinnies out and try some of our Researchers' old faithfuls that never fail to impress.
Aggression Cookies
If you're feeling a little domestically stressed, the kids' tantrums are wearing you down and you want to vent some steam, why not try the following recipe? It's a sure fire way of calming down the most rampant temper...
Ingredients
1 cup light brown sugar
1 cup margarine
1 cup all-purpose flour
2 cups rolled oats
1 tsp bicarbonate of soda
Method
Mix all ingredients together like pie crust until soft.

Flatten 1-inch balls of dough on an ungreased baking tray using the bottom of a glass that has been dipped in brown sugar.

Bake in a moderate oven for 10 minutes.
The aggression comes out when you flatten them!
Citrussy Biccies
You need a rolling pin, a grater and a little bit of patience for this recipe, as well as all the usual stuff, but the results will take you to biccy heaven.
Ingredients
350g or 12oz plain flour
25g or 1oz dark chocolate, melted and cooled slightly
175g or 6oz butter, softened
300g or 10.5oz caster sugar (that's not confectioner's sugar but sugar which is a bit finer than standard granulated sugar)
1 egg, beaten
Method
Preheated oven, 190°C or 375°F or Gas Mark 5

Grease baking tray.

In a large mixing bowl, cream the butter and sugar until light and fluffy.

Gradually add the beaten egg to the creamed mixture, beating well.

Sieve the flour into the creamed mixture and mix until you get a soft dough.

Transfer half of the dough to another bowl and beat in the cooled melted chocolate.

Stir the grated citrus rind into the other half of the plain dough.

On a lightly-floured surface, roll out the 2 pieces of dough to form rectangles of the same size.

Lay the citrus dough on top of the chocolate dough.

Roll up the dough tightly into a sausage shape. A sheet of baking parchment can help.

Leave the dough to chill in the refrigerator for at least half an hour.

Cut the roll into about 40 slices and place them on the baking trays. (Cook the ends and edges too, don't be fussy, they taste just as good, just watch out for them getting done earlier than the rest.)

Bake in your preheated oven for 10-12 minutes or until lightly golden.

Transfer the pinwheels to a wire rack and scoff before anyone else can get to them.
Gingersnaps
This is a firm family favourite that is not only sweet and slightly sticky, but it also packs a little bite all of its own.
Ingredients
2.25 cups all-purpose flour
2tsp baking soda
2tsp ground ginger
2tsp ground cinnamon
1/2tsp ground cloves
1/4tsp salt
1 cup packed brown sugar
1 egg
3/4 cup cooking oil
1/4 cup molasses
Sugar (optional)
Method
Stir together flour, baking soda, ginger, cinnamon, cloves, and salt.

In a large mixer bowl combine brown sugar, cooking oil, molasses, and egg. Beat well. Add flour mixture and beat till well mixed.

Shape the dough into 1-inch balls. Roll in sugar, if desired.

Place 2 inches apart on an ungreased cookie sheet.

Bake in a 375°F/190°C oven about 10 minutes or until done. Remove and cool.
Makes about 48
Ginger Biscuits
This is one Researcher's vague recollections for ginger biscuits which uses black pepper to really bring through the flavour of the ginger.
Ingredients
2 thick slices of brown bread, turned into breadcrumbs (hooray for food processors!)
6tbsp flour
3tbsp lard/margarine/low-fat spread
3tbsp butter
3tbsp honey
2tbsp brown sugar
An inch of fresh ginger, finely grated
A teaspoon of mixed spice
Half a teaspoon of freshly ground black pepper
Method
Mix all the ingredients together and put blobs on a baking tray. Cook at what sounds like a sensible temperature (I think I used gas mark 7) until golden brown (I think it took about 20-25 minutes). Once cooled the biscuits should be slightly soft, with a pleasant gingery taste (which is really helped by the pepper). If they don't seem quite right then I've gotten the amount of something wrong, but I think this is right.
Vague Recipe
Melt chocolate, add crushed digestives, various bits of dried fruit, nuts, evaporated milk if you want it creamy, mix lots and put in fridge. You can cool it in a lump and then cut it up, or make balls before you cool it.
Not really something to dip in your tea , but good if you don't have access to a working oven.
Good Old-fashioned Shortbread
Traditionally associated with Scotland, shortbread now has an international reputation. What is beautiful about this particular biscuit is that it is simple to make yet divine to taste.
Ingredients
8oz (277g) butter
4oz (138g) sugar
12oz (340g) plain flour
Method
Cream the sugar and butter together, mix in the flour.

Rest for about half an hour, then roll out to 1/2"-3/4" (13-20mm) thick.

Put into a shallow tray. Prick surface all over with a fork to prevent bubbling.

Bake at 180°C, 350°F, Gas Mark 4 for about 30 mins.
If you boil an unopened tin of condensed milk for about 2, 2.5 hours, you make a caramel which can be poured over the cooked shortbread. Top with a layer of melted chocolate for millionaire's shortbread.
Window Biscuits
Kids love biscuits. That's a fact. But to make your cookies that little bit more interesting, why not try the following recipe which will add a splash of colour to an otherwise bland batch of biscuits.
Method
Make a batch of biscuits.

Before you bake them, use a small cutter to take a hole out of the biscuit.

Put the biscuits on a baking tray, lined with greaseproof paper.

Put some boiled sweets in a plastic bag and bash them with a rolling pin until they are reduced to small fragments.

Sprinkle the crumbs into the holes, forming a layer as thick as the biscuit.

Bake the biscuits as normal, peel off the greaseproof paper carefully, let them cool, then eat
Hedgehog Slice
Though I guess not actually a biscuit at all, this slice is made from biscuits and required (my favourite part) no cooking whatsoever... unless you consider the melting of margarine or butter as cooking. Great for kids, this recipe only requires minimum cooking experience and shelf space in the fridge
Biscuit Ingredients
250g plain biscuits (coffee biscuits, cheap shortbread, etc)
1 cup desiccated coconut
1/2 cup cocoa
250g cooking butter or margarine
1 tin sweetened condensed milk
Icing Ingredients
1/2 cup icing sugar
1 tablet chocolate
Crushed nuts to decorate
Method
Crush the biscuits into they are only crumbs. Don't worry about large pieces left over, they add texture to the final product, but do try to make sure that most of the biscuit is crushed down to crumbs. Best method for crushing is putting a few biscuits in a plastic bag and either rolling over them with a rolling pin or crushing them with the back of a spoon. Using you hands leads to more mess, inconsistent crumbs and is just plain disgusting

Throw all the dry ingredients together in a large mixing bowl.

Melt the butter/margarine (easiest in the microwave) and cut into smaller pieces so that it melts quicker. Note: if melted in the microwave to remember to place a paper towel over the container... fatty things tend to spit in the microwave.

Pour melted butter into a well (a hole made in the dry ingredients) and mix thoroughly. You should get dry clumps of a bread crumb consistency.

Pour in the sweetened condensed milk and mix in. Now the mixture will stick together. Time for the fridge.

Spread ingredients out in a slice tray (long shallow tray). Level out and pat down the ingredients with the back f your spoon as much as possible and put in the fridge for an hour or two. It will be ready to slice when it's rock hard and you can't make a dent with your finger.

For the icing, mix dry ingredients with a little water until you have a thick paste. Spread this over the top of your slice and then cut into squares for storage or eating.

Always store in the fridge... unless you decide it's better stored in your stomach of course.
Iced Biccies
These are the little petit fours that your granny used to make and are guaranteed to make the mealiest mouth water.
Ingredients
250g plain flour
125g butter
125g brown sugar
1 egg (beaten)
2tsps mixed spices or cinnamon
Pinch of salt
125g icing sugar
2tbsp warm water
Food colouring
Cakes decorations (100s and 1000s, etc)
Method
Set the oven to gas mark 5/190°.

Grease two baking trays.

Beat the butter and sugar together in a bowl and add the beaten egg bit by bit. Put the flour, salt and spice into a sieve, and add to the butter, sugar and egg mixture. Mix it altogether until it makes a dough.

Dust a board lightly with flour and dust your rolling pin. Roll out the dough to a thickness of half a centimetre. Then using cutters or a knife, make some shapes.

Put the biscuit shapes on the greased tray, and bake on a high shelf in the oven for 15 minutes (depending on your oven).

Take the biscuits out of the oven and put them on a wire rack until they are cool.

Make up the icing with the icing sugar and water, adding the water drip by drip so it's not runny. Add food colouring to the icing if you like, then ice the biscuits. Once the icing starts to set, bung on the decorations (candy balls, jelly diamonds, chocolate strands).
Delicious Italian Biscuits
This is one Researcher's mother-in-law's recipe which comes from the heartland of great Mediterranean cuisine - Italy. Simple, effective and tasty. Bellissimo!
Ingredients
1 cup sugar
1 cup virgin olive oil
1 cup Vin Santo
Flour
Method
Preheat oven to 160°C.

Mix sugar, oil and wine thoroughly, then add flour until you get a nice firm dough that is easy to knead.

Roll out to 1-2 mm and cut. (If you don't have a proper cutter, use a glass.)

Put on a baking plate covered with baking paper in the middle of the oven for about 20 mins or until slightly tanned.
Makes about two to three plates.
Baton Rouge Marble Brownies
From Louisiana, USA, the following recipe draws on a great American tradition and adds a little local twist all of its own.
Ingredients
4tbsp cocoa powder
120g butter or margarine
175g caster sugar
2 eggs
65g plain flour
50g Chopped walnuts
1tsp vanilla essence
1/2 teaspoon salt
Preheat your oven to 180°C 350°F Gas 4 and grease a 7"x7" shallow tin and line it with greased greaseproof paper.

Stir the cocoa powder and 40g of the butter together in a bowl and mix over a pan of simmering hot water. Cream together the remaining sugar and butter then beat the eggs in, one at a time. Stir in the walnuts, vanilla and salt.

Divide the batter into two lots.

Stir the chocolate mixture into one half.

Drop the mixtures into the tin in alternate spoonfuls. Swirl them altogether with a knife in a zig-zag motion. Bake for 30-35 minutes in the preheated oven. They should be chewy, not cake-like

Cool in the tin then turn out. Peel off the greaseproof paper and cut into 12 squares
Honorable Mention Chocolate Chip Cookies
This is a favorite cookie recipe of mine. With that in mind, I made the cookies as an entry in the culinary competition at the Western Montana Fair in August of 2001. They won Honorable Mention - not good enough to win first class. The strange thing, though, is that my entries were entirely eaten; the first, second, and third class entries were still intact on their presentation trays. Go figure.
Ingredients
2.25 cups flour
1tsp baking soda
1/2tsp salt
3/4 cup vegetable shortening or butter
3/4 cup sugar
3/4 cup brown sugar
2 eggs
1tsp vanilla
2 cups chocolate chips
Method
Preheat oven to 375° Fahrenheit.

Stir together dry ingredients (flour, baking soda, and salt).

In a separate bowl add cream shortening, sugar, and brown sugar.

Mix in the eggs and vanilla and beat well. Then add the flour mixture in thirds and thoroughly incorporate.

It should be a really sticky, thick dough. Add the chips last.

Drop by spoonfuls onto cookie sheets and bake for 9-11 minutes or until golden brown.
Makes about two to three dozen cookies, depending on how much of the dough you eat!
Delicious Variations
If you have a biscuit recipe that gives you the ideal crunchy/brittle texture, you might want to add a little something for flavour. Not just chocolate, coffee or vanilla extract, but also :
Lavender (flowers, or extract)
Dried jasmine flowers
Ground nutmeg and/or black pepper (yes, even in sweet biscuits)
Ground cardamom seeds
The possibilities are endless!
1By 'biscuits' we mean cookies.